FOOD & DRINK
Should Rude Customers Be Charged More For Their Coffee?
Being nicer to your barista might save you some dosh.
Anyone who has ever worked in hospitality will tell you the same thing about their customers: they're awful. For some cruel and arbitrary reason, all human decency tends to go out the window when someone is wearing an apron. Sure, this isn't true of all customers, but definitely an alarming majority. Now, a cafe on the NSW south coast is doing something to change the etiquette game.
The Seven Mile Beach Kiosk in Gerroa has been displaying a sign for the past few months advertising cheaper coffee for polite people. "A coffee: $5. A coffee please: $4.50. Good morning, a coffee please: $4," the sign reads. Though intended as more of a gimmick than a serious rule, the sign does pose some interesting questions. Is this problem so bad that we actually need to introduce incentives for general manners?
Owners of the cafe Kev Chilver and Kylie Pickett told the Daily Mail that they created the sign to curb some of the rude interactions (read: caffeine-addled demands) they were receiving from their customers. Apparently, despite living in a small town on an idyllic strip of surf beaches, Gerroa coffee-lovers are just as abrupt and demeaning as those in the major cities.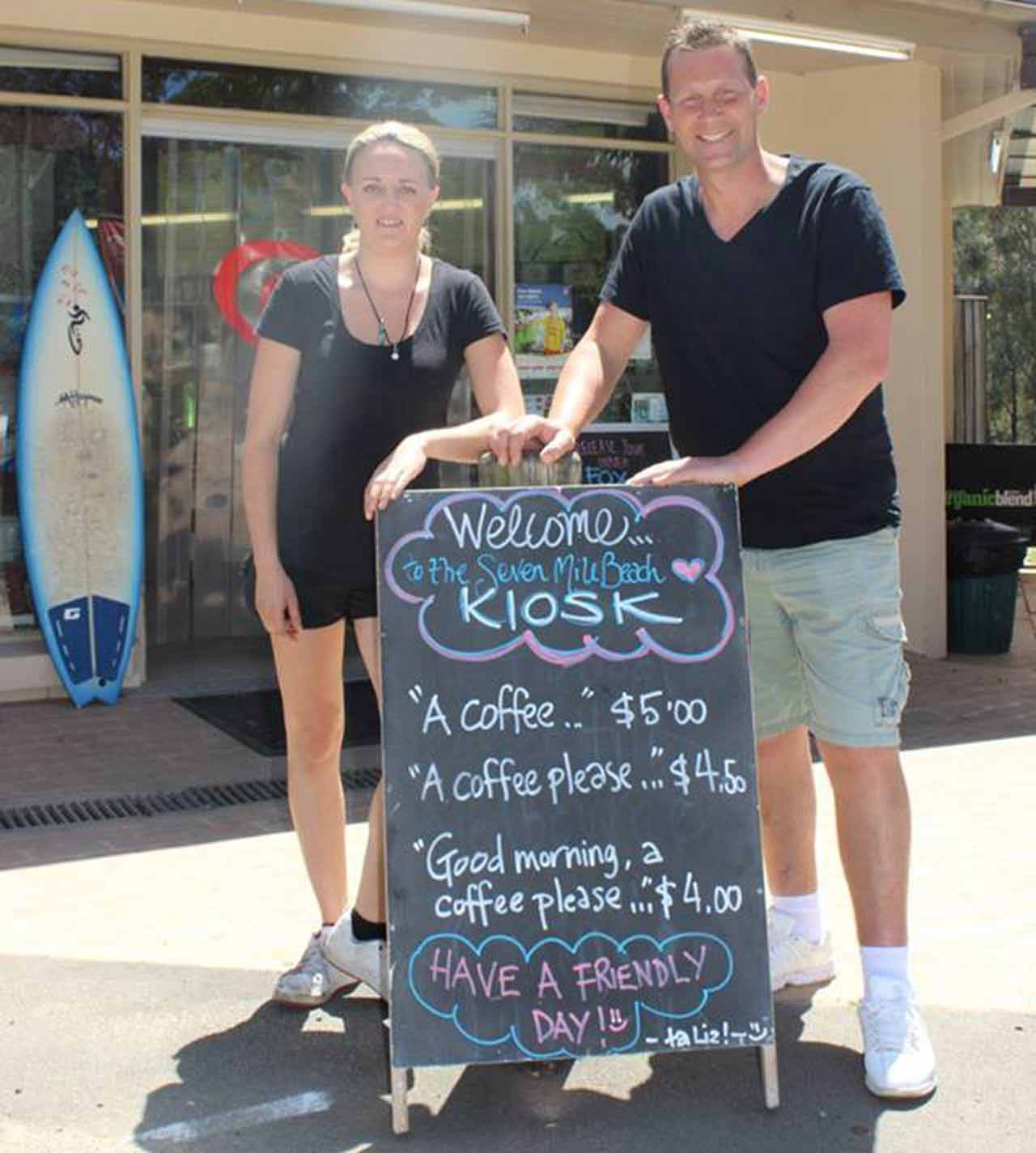 "Common courtesy is ... becoming less and less common, and we're trying to bring it back," said Mr Chilver. "We are in service industry but we're not servants. We deserve as much respect as anyone else."
The cafe owners are not alone in this frustration. In fact, you might remember similar initiatives taking place in Europe last year. Last January, a photo from an cafe in Italy stirred up the initial buzz by offering a €2 discount to those giving proper greetings. The idea then reached France where a cafe on the Riveria knocked that discount up to €5.60 (FYI French coffee is crazy expensive). The story gained notoriety online, on television and in newspapers being shared tens of thousands of times; at one point a French government minister even spoke out in favour of the concept.
While it's a lovely idea, it's also an easy way to get already grumpy customers further offside. It's not hard to see why most venues don't properly enforce the policy — I'd hate to be the person behind the till asking some rude dude to fork out more cash for his weak decaf soy latte because he didn't smile at me enough. That's just asking for trouble.
We think the real solution is something bigger. At some point in everyone's life, they should be forced to work in the hospitality industry. Clearing plates, getting covered in warm frothy milk on a hot day, and having to slap that 'I'm actually dead inside' smile on your face all day will give you a lifelong appreciation of your wait staff.
Failing that, you could just skip the years of grief and torment and just find it within yourself to be a decent human being to the guy making your coffee.
Via Daily Mail.
Published on October 29, 2014 by Meg Watson