The Ten Best Chinese Eats in Auckland
Brush up on your Mandarin formalities, dust off those chop sticks and get ready for an explosion of Mainland flavours.
Once upon a time having Chinese meant one thing and one thing only. Takeaways. Polystyrene boxes of combination fried rice, sweet and sour pork and cashew chicken. Cheap, nasty and choca-block full of MSG. Mmm.. yummy.
Fortunately times have changed and these days eating Chinese in Auckland can mean plenty of things. The classic takeaways are still available but so are contemporary Chinese restaurants, authentic noodle houses, bustling back alley joints, yum cha and lots more.
To help you navigate your way around the plethora of choices we've compiled ten of the best places to get a delicious Chinese meal. This was no easy task. After dodging past dodgy food safety ratings, getting through near-death by chilli, and the constant risk of literally turning into a dumpling as a result of the sheer intake of Chinese cuisine, we can now safely say we've unlocked the absolute gems of Chinese cuisine in Auckland.
So brush up on your Mandarin formalities, dust off those chop sticks and get ready for an explosion of Mainland flavours.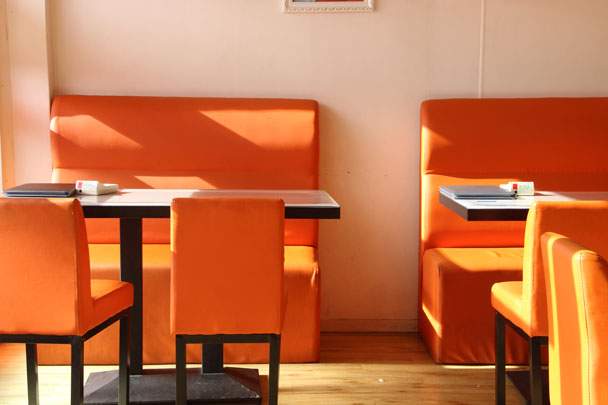 1. Xi'an Food Bar
11 Anzac Ave, Auckland CBD & 242a Dominion Road, Balmoral
Xi'an Food Bar is a special little place and you might just have to believe us until you've tried their food. By no means is it fancy... 'sparce' and maybe even 'dingy' are words that came to mind when we first wandered in for lunch, but prepare to be wow-ed. This Food Bar has quite a following and not just with the steady flow of Chinese that come in for lunch and dinner.
We recommend the Chinese hamburger with cumin lamb ($4.50) and the hand pulled noodles with braised pork, chilli oil and fresh coriander ($9). The Chinese Hamburger was quite the discovery - soft toasted bread filled with soft chunks of lamb heavily spiced with cumin and chilli oil. But it was the hand pulled noodles with braised pork that were the business. There are few places you can get food this good and a portion this generous for less than a tenner. The pork is mild and beautifully braised and the hand-made noodles known as biangbiang (belt noodles due to their thickness) are true to their name - thick and authentic.
Fancy no. Tasty as hell, yes. The small venue makes it ideal lunch time spot for two.

2. Mandarin Dumpling and Bar (Now Closed)
5 Fort Lane, Auckland CBD
Tucked in next to Roxy on Fort Lane is the new Chinese eatery Mandarin Dumpling and Bar, which offers modern Chinese cuisine in an equally contemporary space, an old cellar reinvented into a seductive and mysterious dinning  room.
The chef's at this swanky joint offer Chinese fare with the flavours of provincial Sichuan, Yunnan, Hunan and Xinjiang regions, all with a Kiwi twist. The result; deliciously light and elegant dishes which are bursting with flavour and look as good as they taste. Be sure to try the dumplings - the spinach, cabbage and vermicelli and the squid ink with crab, prawns, lemongrass and chili are exquisite. As is their  stand-out dish of crispy fried tofu squares paired with an almost  caramel like fragrant fish sauce and garnished with purple Daikon.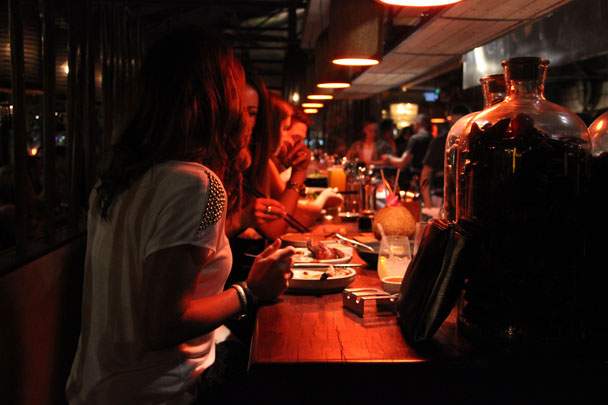 146 Ponsonby Rd, Ponsonby
Say a warm ni-hao to Ponsonby's most exotic new Chinese arrival. Trendy and modern, the Blue Breeze is a winning option if you're up for a fancy feed.
Located in Ponsonby Central and created by the masterminds behind MooChowChow this is one restaurant that could really change your perception of Chinese cuisine. After opening earlier this year it became an overnight success due to its vibrant pacific-influenced Chinese food, their tropical Island inspired space and a cool little cocktail bar called The Rum Jungle.
Head Chef Che Barrington's newest restaurant mixes Kiwi innovation and Chinese cuisine, and only uses ingredients true to the Mainland, unlike some other Chinese eateries. It's certainly different to most Chinese you'll get in Auckland, and that ain't a bad thing.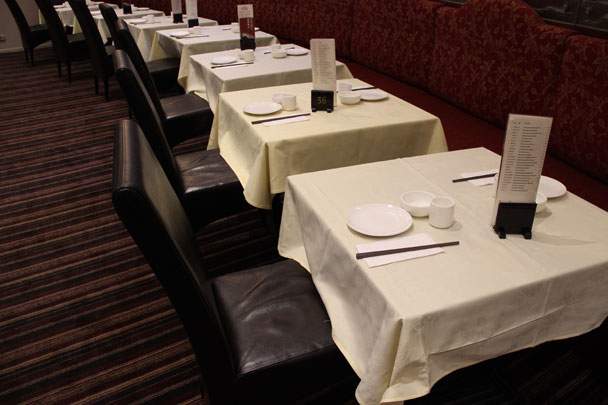 Corner Pakenham St & Customs Street West, Viaduct Harbour
The Grand Harbour Restaurant is what we like to refer to as the Don of Chinese restaurants in Auckland. It's big, established, fancy and a bit pricey but hey, it's the Don. This is old school Chinese fine dining friends.
Established in 2000 the Grand Harbour made it their mission to serve the best authentic Hong Kong style dishes in Auckland. It's a tried and true spot for yum cha with over 80 varieties of steamed, deep fried, savoury and spicy dim sum on the menu. Other specialities include the seafood (pages and pages of the menu are dedicated to it) and Peking duck.
This is a spacious venue that will seat up to 300, so intimate isn't exactly a word that sums it up. However if you've got a group who is looking for a real Hong Kong experience, the Grand Harbour is hard to look past.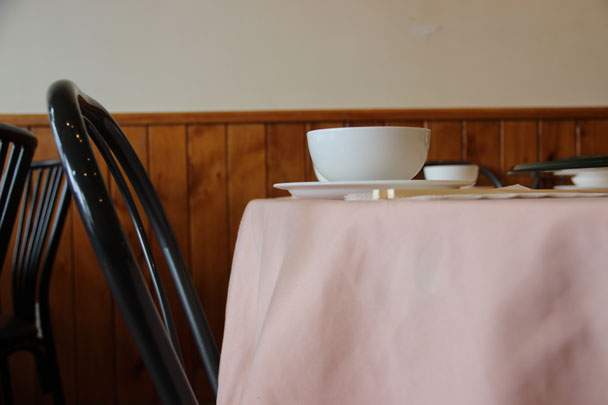 5. Canton Cafe
477 New North Road, Kingsland
We challenge you to find a better BYO venue in Central Auckland than Canton. This is one to take you back to the BYO venues of university days. Large groups accepted - tick, high ratio of wine bottles to heads - tick.
There are two main selling points for Canton. The first is that it is run by kind Chinese people who really are understanding when it comes to the general malarchy that comes hand in hand with a Kiwi BYO. Secondly, the food here is actually very good. For a restaurant that's made it's name as a cheap and cheerful BYO venue you'd forgive them for not having the best fare, but that certainly isn't a problem here.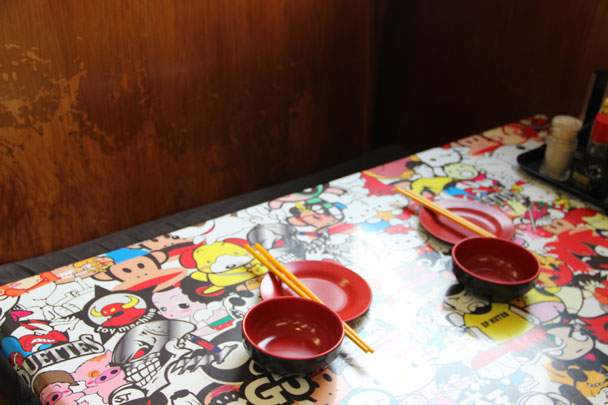 6. Shaolin Kung Fu
636 Dominion Rd, Balmoral
A restaurant with the words Kung Fu in it's name has got to pack a bit of punch, right?
Their speciality is Northern Chinese -  specifically food from the Henan region which draws a lot of influence  from its Muslim population. Think lamb, cumin, chili, garlic and even their own version of a pita bread. We selected the lamb skewers ($9)  which were juicy salty and perfectly seasoned with cumin. The Kung Fu noodle soups are also worth trying and feature wide hand pulled noodles. We recommend sticking with lamb as your choice of meat here though, it's the thing the Kung Fu kids dominate at.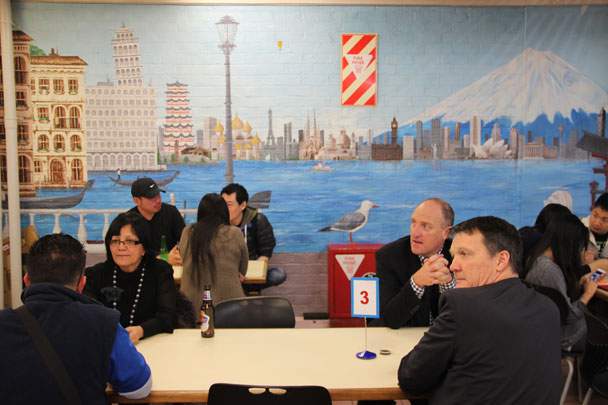 7. Food Alley
9 Albert Street, Auckland Centre
Welcome to Food Alley, not the best name and not exactly the prettiest picture either but nevertheless one of the longest standing food courts in Auckland's centre and the home of some mighty fine Chinese lunch options in the CBD.
Take yourself away from the stress of a working day with a trip to the Alley where you can find a range of different steam buns at a dollar or two a piece from Go Believe. We can confirm the BBQ steamed buns ($2) really are fluffy, bready clouds of goodness filled with sweet and salty BBQ pork. Make lunch a two course meal and sample the delights of Clay Pot Rose Rice and Noodle. Oodles of options for what goes into your clay pot (we had BBQ pork with cashew and vegetable $10) and a hearty feed if ever you've seen one.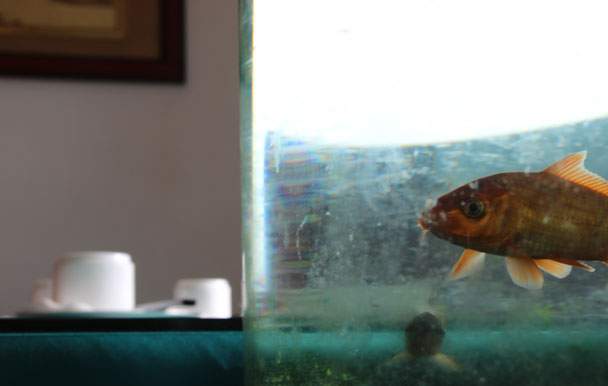 8. San Bao
708 Dominion Road, Balmoral
We got the feeling that if you're new to San Bao ordering is a little like a game of roulette. You might strike gold, or you could end up with something a little bizarre ('Dance Egg Tofu' anyone?). There is one sure fire safe bet on the menu - the pancakes. These were more like crispy little roti than a pancake, but whatever you call them they were extremely moreish. Add to that some of the cornerstones of Szechuan cuisine like the chicken or pork and you've got yourself a jolly good meal.
Its not just the food at San Bao that's commendable, they had the not-intrusive-yet-attentive service thing down pat.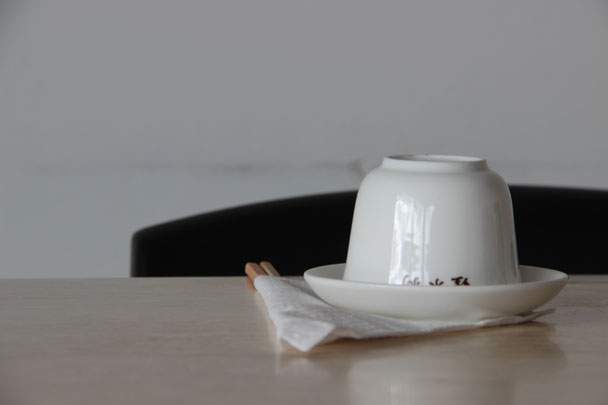 9. Top Cafe
7/30 Upper Queen Street, Auckland CBD
Expect nothing by way of fancy interiors with Top Cafe - this really is a bare bones joint. But if you want a very affordable hit of dumplings then I suggest you pop up to Top.
The dumplings here are divine and both the pork and fennel and pork and coriander are full of flavour and crazily priced at $10 for 20 dumplings. Madness. You're order might take a little longer than your average Chinese lunch joint (the little old lady who takes your order also makes your meal), but rest assured your food will always be freshly cooked, delicious and pipping hot.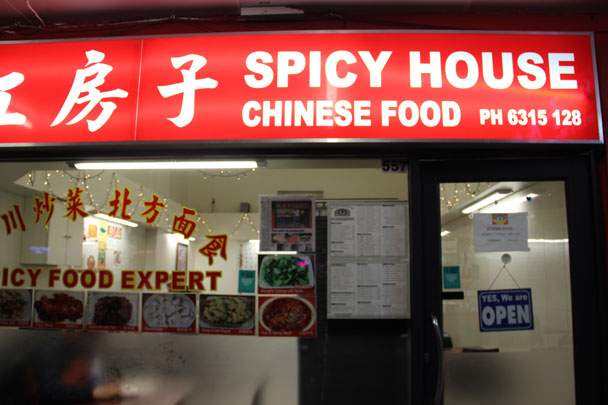 10. Spicy House
Dominion Road, Mt Albert
Spicy House really is a special find. Regular patrons know the Spice House as the hit-maker of Szechuan sizzlers and they return for the great combination of service, low prices and that unmistakable spicy flavour. So expect to start shedding clothes as mouth temperatures rise.
A word of advice: Stay away from their dried chilies. We've tested them for you, no need to put your mouth on the line for curiosities sake. Everything else on the menu is tasty as hell.

View all Auckland Restaurants.