ARTS & ENTERTAINMENT
Some Amazing Person Graphed the Quality of Every TV Episode on IMDB
Settle those pub arguments once and for all.
There are some things that remain universal truths in the realm of television: Early episodes of The Simpsons are much better than the later, 'The Contest' and 'The Soup Nazi' are hands down the greatest things to happen on Seinfeld, and Breaking Bad is the best thing that's been on TV in recent years. Though these claims usually land you in nerdy arguments over a pint of beer, they can now be statistically proven due to the help of one glorious person with too much time on their hands.
Graph TV is an easy-to-use website made by Kevin Wu, data analyst extraordinaire, that charts the rating of every episode of every TV series rated on IMDb. Let's just take a second to compute that information. You can type in the name of any show and find out which is the best and worst episode, how the series tracked as it went on, and when it officially should have called it quits. The future is here, and it's incredibly nerdy.
Wu claims he thought of the concept while watching the final episodes of Breaking Bad. "I thought the last half of season five was just amazing, and wondered if people thought the same," he said. After a quick look at the chart, it's easy to tell the majority of people agreed with him. Yeah, science!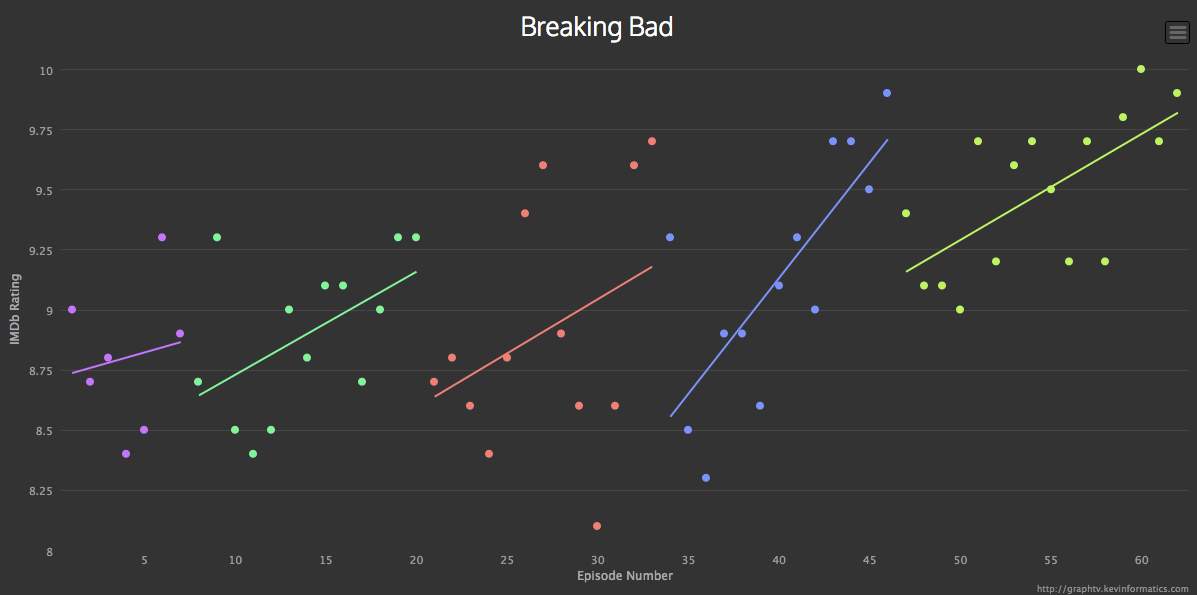 Obviously, the ratings system is still incredibly subjective. It's just a collection of opinions after all. But if democracy has taught us anything it's that there's strength in numbers, and when nearly 2000 people vote to say that racist episode of How I've Met Your Mother was the worst thing to happen in the entire show, I'm inclined to believe them.
The numbers get more convincing when you move to bigger shows like The Simpsons. Showing a gradual but steady decline in viewer ratings over the show's long run, your argument at the pub can finally be put to rest. The highest rating episodes are all old classics from seasons 4-8. The lowest rating, however, is not the horrible compilation shows they tacked together for the offseason, but the cameo of Lady Gaga in season 23. Ouch, that's gotta hurt.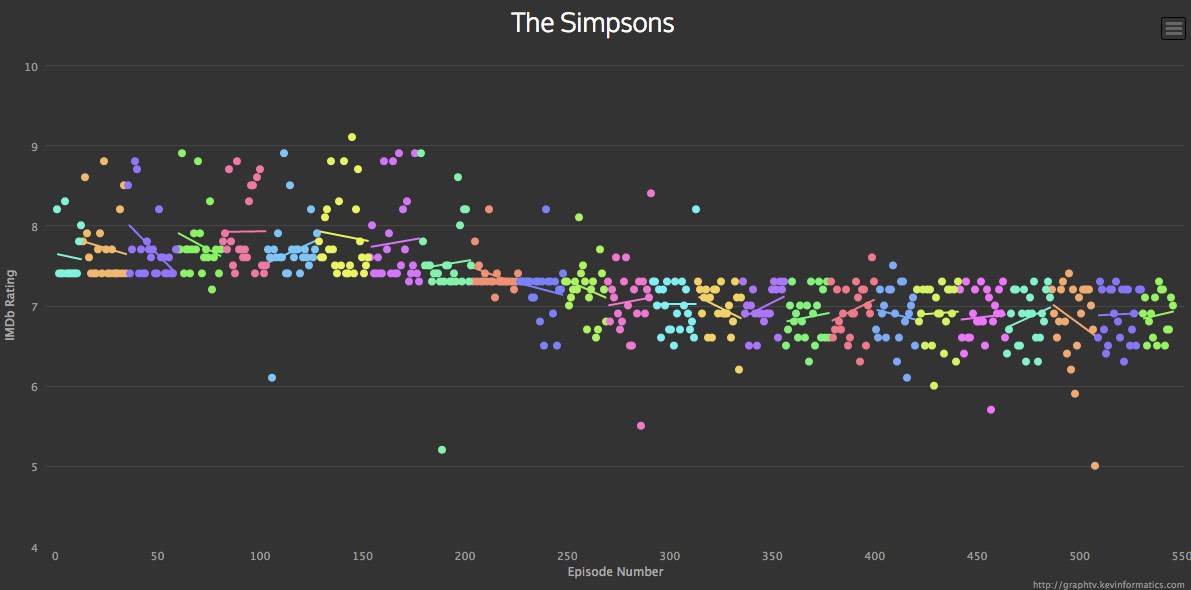 Via Wired.
Published on April 03, 2014 by Meg Watson