Coming from various bands and backgrounds, Midnight Gallery is technically a supergroup. But you would never know it given their down to earth, kiwi attitude. Edgar and Tyla came from band Eddie Numbers and Adam from Tahuna Breaks to form a smooth mash-up of influences.
With impressive musical CV's and an album set to drop July 18 (pre-order here), we had to get these lads in for a chat.

Okay, when you three first sat down to talk about this project, what other musicians were inspiring you to create this kind of sound?
Edgar: Tyla Pere and Adam Fuhr were the two artist that inspired me most on this project.
Tyla: I suppose we just wanted to get together and have a play around and see what came out, we didn't have a specific sound we wanted.
Looking at your lyrics, would be fair to say a lot of your time is spent thinking about women? Explain the inspiration you get from a woman (not too vividly haha).
Edgar: I guess they make up a big part of my life I grew up with my mum and my sisters. Some of my best friends are females shout out Simone so when I rap about females I try to do it with respect.  But on the album I also rap about other things like Housing Prices.
Tyla: Haha yeah.! We love woman!
Do you three kick it outside studio and rehearsal time? What else do you guys get up to and where can groupies ambush you on the weekend?
Edgar : Yea bro Adams my flat mate and Tyla comes around and beats us at Fifa most weeks. The other day we went down to the park and I beat Adam and Tyla two on one at force back. I learnt how to spiral bomb at MAGS.
Tyla: Those two live together. Haha yeah Eddie beat us at forceback. Otherwise you can find us out and about know doubt.
How's the scene like for your kind of music? Has it been easy to find bands to do gigs with?
Edgar: I think the music scene in Auckland is really healthy there are so many talented groups, bands individuals there is no shortage of acts we could play with. I think the main thing the scene is missing is some good mid size live music venues wish we had a Dux Live or a Leigh Saw Mill in Auckland.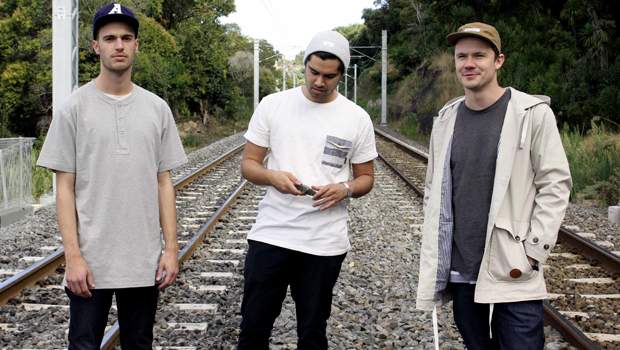 Do you think there's room for more R&B in Auckland's local music scene?
Edgar: I don't think we are a Straight up R&B act but if we judge it on how many R&B throwbacks get played at parties and in clubs fuck yeah there's room if its good R&B.
Tyla: Yeah, I've been trying to get Eddie to sing a little more rnb. Haha nah, we probably fall a bit more in the hip-hop genre. I can't really rap so they have to find something for me to do.
Live, you have yourself and Tyla on vocals. What sort of equipment is Adam using during a set? Is there any motivation for either of you two to take over some of what Adam is doing?
Tyla: Adam hogs all the instruments and raps and backs me up on vocals, Adam is pretty busy haha. We always tell him we want some more toys to play with but he doesn't trust us yet.
Edgar: Yea Adam does a bit of Vocal work too he's on decks and jumps between that and keys think he's gonna introduce the saxophone soon. Tyla's is keen to get on some sample pads. I'm not sure wish I was better on the Bass.
What current music are each of you guys enjoying at the moment?
Edgar: J Cole, Hawk House, I like the new Roots album and I've been listening to Nas – Lost Tapes album all week.
Tyla: Mums iPod.
What Festivals would you guys most want to play?
Tyla: Any festival would be cool. I love the festival season.
Edgar: We are lucky enough to have some pretty cool local festivals. Home Grown, Big Day Out, R&V, R&A , BW Campgrounds, Rapture, Splore, Laneways, Northern Bass , Rippon and I've probably missed a few but there all dope for different reasons. I can't wait to check out Soulfest this year, hope that becomes regular.
You guys are signed to Warner now, I know you and Tyla were previously independent. How have you two found the switch? What kind of benefits have been real game changers for you guys?
Edgar: Warner have a awesome team of people and it's been rad having their support.
Tyla: Warner have been great.
What are the plans for the group this year and further into the future?
Tyla: We have been all about the album the past few months, so we are pretty excited about putting that out, we are putting on a art exhibition for our album release, we are colabing with a different artist for each song. The artist have been fantastic, we have been pretty spoilt with help.

Published on June 30, 2014 by Barret Helander