DESIGN & STYLE
Balance Bookshelf Literally Weighs Up Your Literary Knowledge
Storage innovation stacks up your unread books against your just-read books; magic ensues.
Be honest: have you actually read any of those books mouldering on your shelf? Are you even half the erudite, Dickens-toting literatus you claim to be? Are you in truth a filthy commoner? Or is it a simple matter of not being able to access your tomes, because they are stacked so poorly?
If so, Chris Cush of Brooklyn-based Cush Design Studio has the answer for you: the wall-mounted Balance Bookshelf, a shelf system that literally weighs the books you've read against those you're yet to read. Cue book face-off, as you compete against yourself in the ultimate quest for knowledge.
The two shelves in Cush's design take five to ten average-sized books, so you can swap them out to the already-read side as you finish them, and balance the read side with all the novels and biographies you're excited to get into. It's a visually pleasing and practical innovation that could just save your intellectual reputation, as well as encourage you to keep expanding your literary repertoire.
Methinks having a public display of your reading life would also encourage you to plan ahead, look out for new books and generally include reading more in your daily life. Books are, after all, such a miraculous thing. They put the collective experience of human culture at our fingertips. On my unread shelf would be: Gravity's Rainbow, Fear and Loathing in Las Vegas, and A Confederacy of Dunces. On the just-read shelf: Play the Harmonica for Fun and Profit.
Combining the clean, simple elements of pine wood platters, black twine and black steel pipe fittings (the red version is also very fetching and contemporary), Cush's design is something to prettify and add interest to your lacklustre apartment walls.
Etsy has all the deets for how you can score this baby for your digs, and be sure to check out his other minimalist interior design offerings. Soon you'll be inspired to host a literati party, and inevitably, your fancypants guests will catch sight of this wonder of storage, and have all their elaborate linguistic skills reduced to but a single lexeme: Ermahgerd.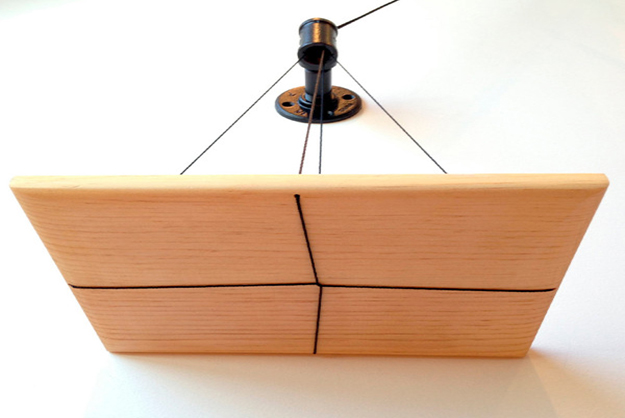 Published on November 14, 2013 by Shirin Borthwick