DESIGN & STYLE
Nepal's 'Hidden Kingdom' Now Has One of the World's Most Beautiful Radio Stations
With prayer flags on the antenna, gneiss stone walls and an FM frequency.
Words like 'hidden kingdom' and 'radio broadcast' don't often find themselves hanging out too often. But one of Nepal's most remote spots is now on air, broadcasting from one of the world's most stunningly designed stations to date.
Nestled in one of Nepal's most remote regions lies the 'hidden kingdom' of Mustang. Accessed on horseback via the old Salt Route of the Kali Gandaki River valley, Mustang sits on the border of Tibet and was one of the last parts of the country to encounter Westerners. Dubbed the best example of traditional Tibetan life in the world, Mustang's surrounding  Himalayan mountain range and isolation from major metropolises has kept things pretty traditional, centered around the kingdom's Tibetan Buddhist monasteries. The old king's palace hasn't been used in years and is falling into disrepair. But this tiny Tibetan kingdom, who hasn't changed much since the 15th century, is about to leap into the 21st century with an unexpected new development: a radio station.
Being cheap as chips to set up, broadcast and listen to, radio is a super democratic medium. Isolated regions can stay on top of things, access crop and weather details and get news bulletins much quicker than the ol' hand delivery. But if you're 8,400 feet above sea level and surrounded by the Himalayas, radio frequencies might give your town a miss. You'll also be at a bit of an environmental and sociopolitical disadvantage without radio so, according to Gizmodo, nonprofits like the Center For Rural Technology are helping to establish radio stations all through the region, with 144 existing to date in Tibet and Nepal.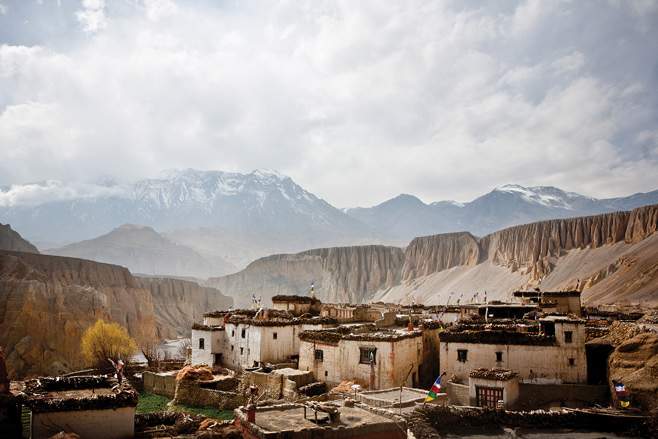 Now, the Mustang town of Jomson has landed its very first radio station, a stunning, gneiss-walled establishment that looks straight from Grand Designs. Although radio is celebrated as a cheap medium to set up, South Korean communications heavyweight MBC fronted up a whopping $930,000 to build the station. Why would a South Korean bigwig blink an eyelid at a tiny Tibetan community? MBC stated that "the radio station has been established to enhance the awareness of Nepalis in the rural area and assist them to live a quality life". Then the company claimed the station would be the world's most beautiful broadcasting center. Well, they kind of nailed it.
Architect Kim In-cheurl and his firm Archium took on the project, working with extremely temperamental weather, steep hillsides and Mustang's isolated location. The resulting station is an elegant, modern space that seamlessly corresponds with Jomson's existing architecture. Gneiss stone walls, sunken courtyards and sleek wooden pegs seats. The studio and event spaces live downstairs, protected by stone walls from Mustang's extreme weather. The antenna, the heart of the station, has been adorned with prayer flags.
So what will Mustang be crankin' up? Broadcasts, which will be sent to about 2,000 people in 98.9 MHz frequency, will cover news, weather, health, culture and the odd trekking tip for the Annapurna circuit. We'll just have to wait to see if it makes it online, so we can brag to our friends about our love for sweet hidden kingdom radio.
Via Gizmodo and Karobar Daily.
Images by Taylor Weidman/The Vanishing Cultures Project and Jun Myung-jin/ArchDaily.
Published on April 18, 2014 by Shannon Connellan