DESIGN & STYLE
Seven Incredible Structures Made From Recycled Paper
Some have taken their dedication to reusing and recycling to an entirely new level.
We should all be well aware of the vast benefits that recycling brings to us individually, to our communities, and, of course, to the environment, and many of us make an effort to contribute as much as we can to this vital movement. Yet, some more than others have taken this dedication to reusing and recycling to an entirely new level.
Artists and architects around the world have, over recent years, come up with ingenious creations made completely from recycled paper and cardboard. Buildings constructed using recycled paper are not only incredibly environmentally friendly but also cheap, lightweight, and easy to assemble. The structures can also be particularly distinguishable and aesthetically pleasing thanks to the creative methods needed to make use of the renewable materials.
Here are seven of the most eco-friendly and remarkable structures made entirely from recycled paper.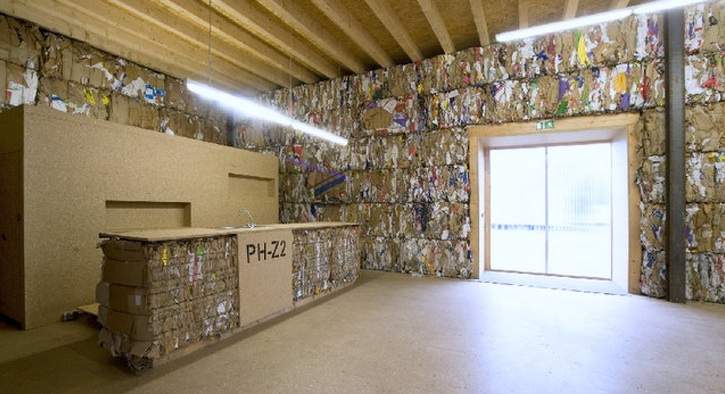 After passing by a recycling station and being inspired by the unexpected durability and functionality of recycled paper, Ben and Daniel Dratz of Berlin constructed this unique 2045 square foot workspace made from 550 bales of compressed recycled paper. The duo funded the project through a $200,000 grant from Essen's Zollverein School of Management and Design to build this pioneering 'paper house' on the grounds of a former mining complex and a UNESCO World Heritage Site. The duo stacked and designed the building so that it could withstand several days of rain and then dry in the sun. Not only is this a wondrous architectural feat but it is also a mysterious construction with countless scraps of information and hidden secrets embedded deep within its walls.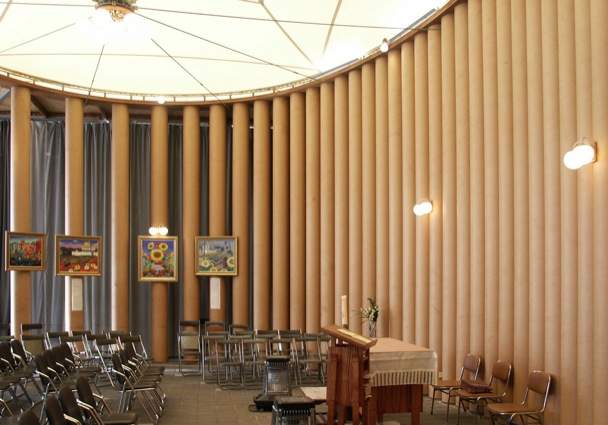 One of the most famous paper structures from one of the world's most famous paper architects, the Takatori Catholic Church is not only an unfathomable achievement in architectural design, but it is also an incredibly important construction, which helped rebuild the spirit and unity of the Takatori community following the devastating Great Hanshin Earthquake in 1995. Paper tubes were used as the structural elements of the rescue base and church — hence its nickname, 'Paper Dome' — and in 2005 these were then transferred to Taiwan to help the victims from the 921 Earthquake before being reused as a place of worship.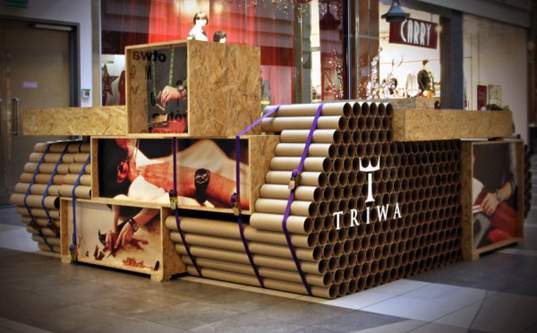 Nine hundred cardboard tubes were required to pull off this distinctive store for the up-market Swedish watch brand TRIWA. Aside from wanting to gain an alternative edge over their competitors, the company wanted low-cost, renewable materials that could quickly and easily be erected and which would increase their global brand awareness. The store is located in Poznan Plaza Shopping Mall in Poznan, Poland and consists of cabinets made from chunky chipboard panels, placed upon stacks of cardboard tubes made from OSB wood panels.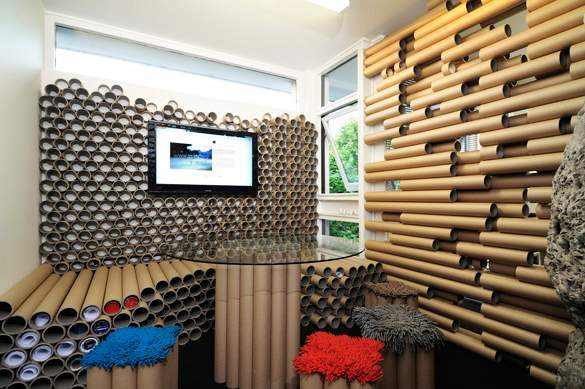 Zouk Architects decided to adopt some eco-friendly methods for the construction of their very own open-plan office. Rather than simply discarding the unwanted moving waste when relocating their office, they decided to take full advantage of the cheap and highly structural materials to create an avant-garde office with a modern and renewable twist.

In 2007, artist Sumer Erek made a call-out to the people of London to collate the newspapers lying inside their homes and scattered on the streets and add them to his creation, made entirely of 120,000 rolled newspapers. The transformative art- and think-piece is aimed to alter the perceptions of how Londonites, and everyone the world over, view rubbish and the mess we all contribute to. In an attempt to address the growing issue of free papers littering the streets of England, Erek wanted to reinforce the idea of 'reduce, reuse, recycle' and make the public realise that everyone is part of the problem, as well as the solution. Erek's expressive project was revealed in March 2008 and has since toured around England and various parts of Europe.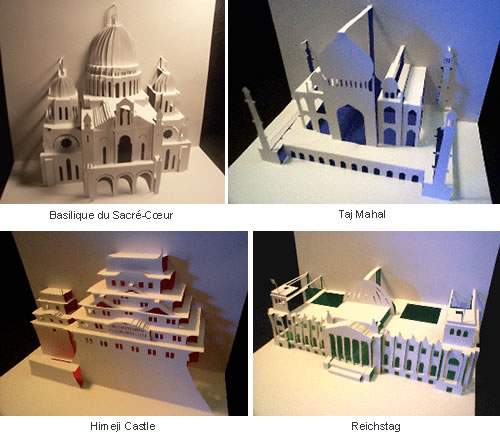 On a slightly smaller scale, Masahiro Chatani's origamic architecture demonstrates the ways reused paper can be (re)used to create amazingly detailed and accurate depictions of famous buildings from around the world. Chatani invented the art of cutting paper simply using a knife to produce complex and beautiful paper structures in 1981 and since then many other artists have taken up the trend and added their own flair to it.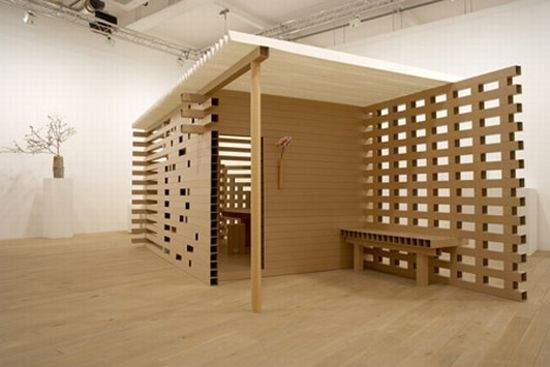 This tea house made entirely from recycled paper is another awe-inspiring creation from the hands of Japanese architect Shigeru Ban, yet with a slightly more commercial edge. Ban wants to send out a message to the world, as many of these architects do, to stress the importance of reusing and recycling in order to save our planet from the heavy burdens we place upon it through the never-ending mounds of waste we continually create. Following true Japanese tradition, this 5-metre-long construction is complete with a table and four chairs as well as a waiting area with a bench — the perfect environmentally friendly location to sit back and enjoy a rejuvenating green tea.

Published on January 14, 2013 by Greta Mayr