DESIGN & STYLE
The Ten Best Swings Ever
Things have come a long way since your ma or pa tied a threadbare rope to a used tyre.
Things have come a long way since your ma or pa tied a threadbare rope to a used tyre, slung it over a branch and hoped for the best. These days, swings are manifesting as art, cutting-edge design concepts and even political statements.
Not that any of this takes away from their primary purpose: fun. Jumping on a swing, kicking back in the air and letting the world go by can be a tiny reminder that we don't have to be all serious all of the time. In the words of George Bernard Shaw, "We don't stop playing because we grow old; we grow old because we stop playing."
Whether you're a stuntman who doesn't even acknowledge a swing unless it's at least 20 metres above the ground, a socialite who wouldn't mind hosting a swinging dinner party, or a more peaceful type who's keen on some quiet time and a good view, you're bound to find a swing here that'll bring out the little kid in you.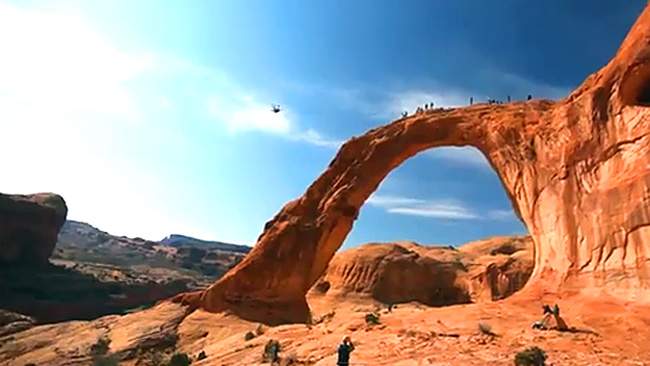 The World's Largest Rope Swing
Just watching this in action will get your stomach churning. Thrill seeker (and maniac?) Devin Graham made the world's largest rope swing famous last year when his YouTube clip went viral, receiving over 20 million hits. Harnessed to a 45-metre long rope, he freefalls for over 35 metres before swinging back and forth in an enormous arc, coming dangerously close to the rock face. The swing is located at Corona Arch in the desert country of Moab, Utah.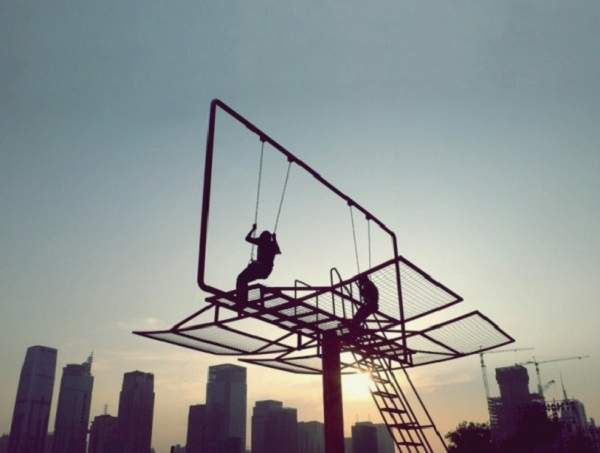 Double Happiness
French-Portugese architect Didier Fiuza Faustino transformed this billboard into a swing set for two. He describes his "nomad piece of urban furniture" as a response to "the society of materialism where individual desires seem to be prevailing over all". It was erected in 2009 for the Shenzhen-Hong Kong Bi-City Biennial of Urbanism and Architecture.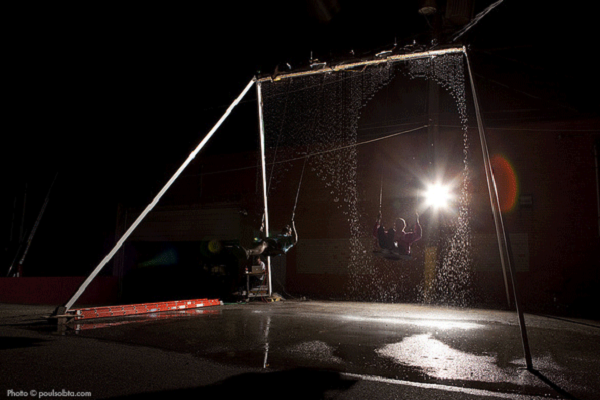 Waterfall Swing
Dash 7 Design presented this marvel at the 2011 World Maker Faire, New York City, and it also features in a Honda Civic ad. Swingers get their thrills by narrowly escaping a cascading wall of water each time they pass under the steel beam. Two hundred and seventy-three independently functioning solenoid valves control the liquid movement. What's more, the swing has the capacity to print water letters of up to 270 pixels in width.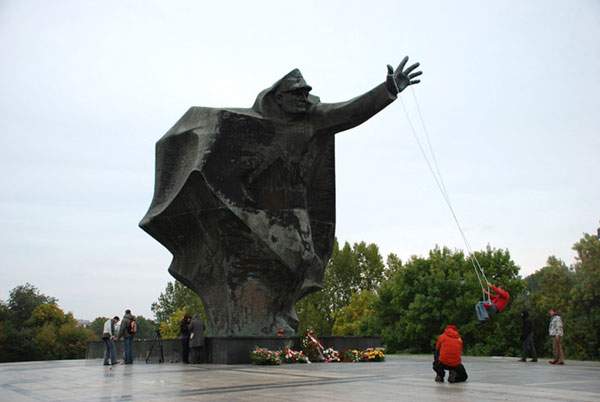 Memorial Swing
Polish artist Kamila Szejnoch came up with this concept for a 2008 public space project in Warsaw titled Carousel Slide Swing. The swing is slung over the hand of a statue that represents a memorial to the soldiers of Berling's Army, who fought under the auspices of the Soviet Union's Red Army in the Second World War. According to Szejnoch, the swing is all about opening up a dialogue between the present and the past.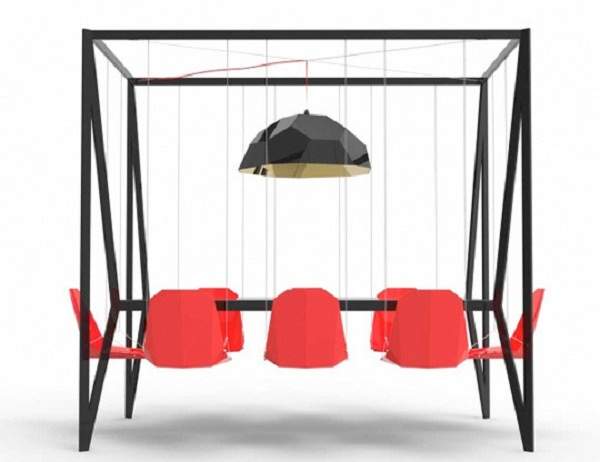 Swinging Dining Table
For $11,000, you can have the whole dinner party swinging. This one is the brainchild of Christopher Duffy of Duffy London design studio. Each of the eight chairs moves independently, and a lampshade is suspended above the centre of the table. It is definitely a good way to guarantee conversation, plus it makes life much easier for whoever's doing the vacuuming.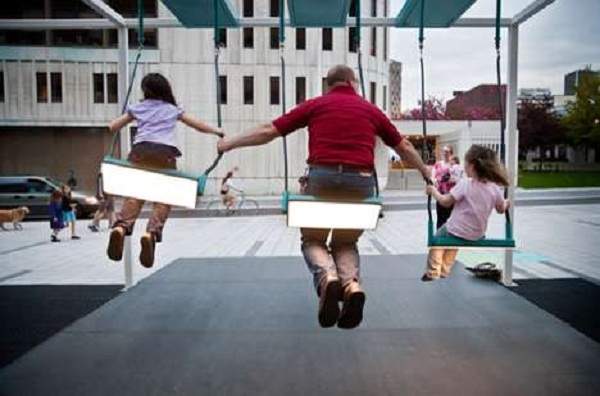 Musical Swings
Designers Mouna Andraos and Melissa Mongiat of Daily Tous Les Jours design studio came up with this for Montreal's Quartier Des Spectacles. The piece consists of 21 different swings, each of which 'plays' a different note once it starts to move. Only by working together can the swingers create a coherent song. The project seeks to highlight the importance of cooperation and the joy of collective experience.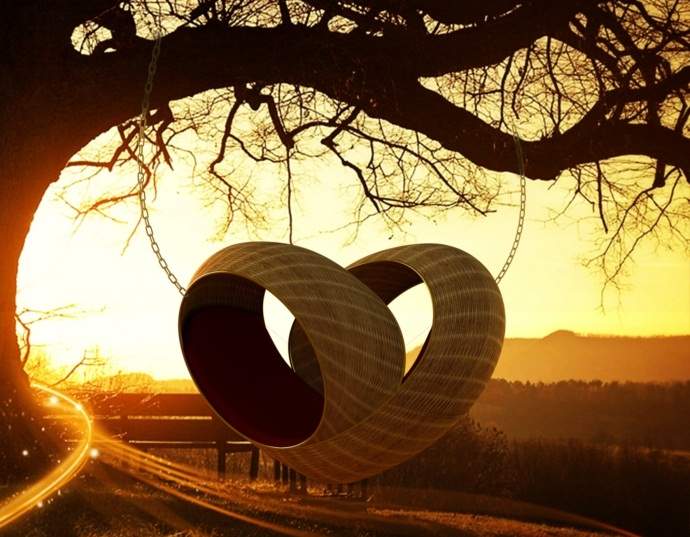 'Mua' Swing
This one is so cute that it was kind of difficult to leave it off the list. Designer Victor Aleman describes the 'mua' swing as "furniture where love happens". It's made of steel wrapped in wicker, and the interior features cosy red cushions.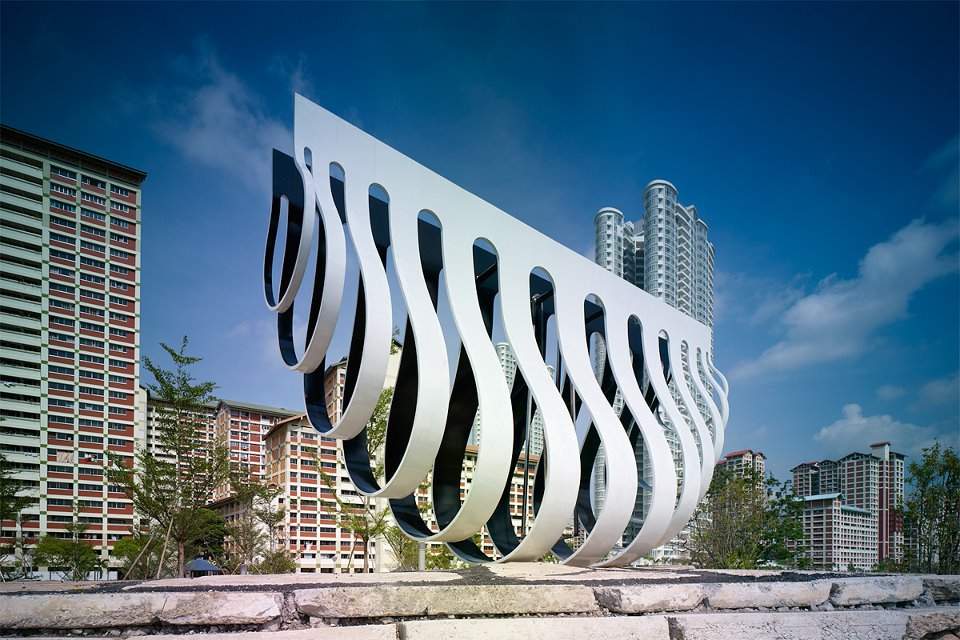 An Enclosure for a Swing
Winner of the 4th CDL Sculpture Award (2009), this is located in Bishan Park, Singapore. It aims to make visible the usually private space that surrounds an individual when he/she is swinging in isolation. The wavy shapes of the steel appear to contract and expand as the swing moves back and forth.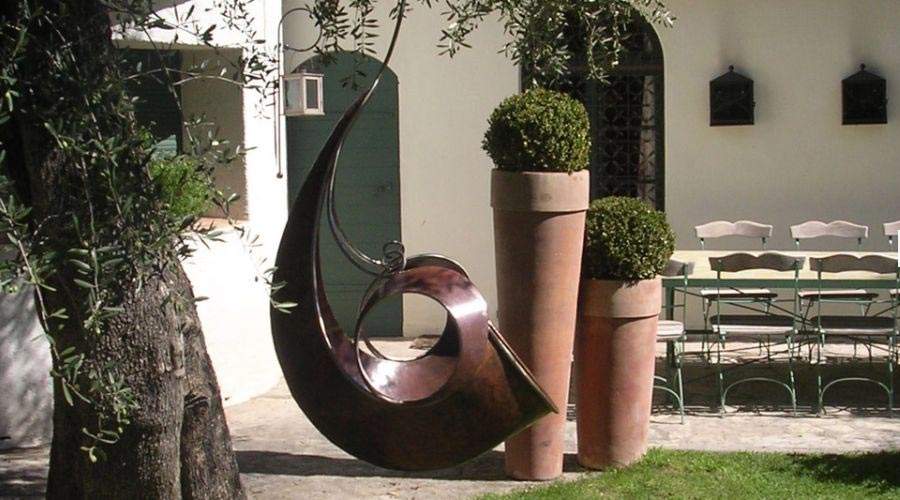 Swinging Sculptures
Swinging inside your own sculpture is definitely taking the experience to a new level. Myburgh creates swings in organic shapes — leaves, lilies, bubbles and pumpkins, to name a few — that blend in easily with gardens.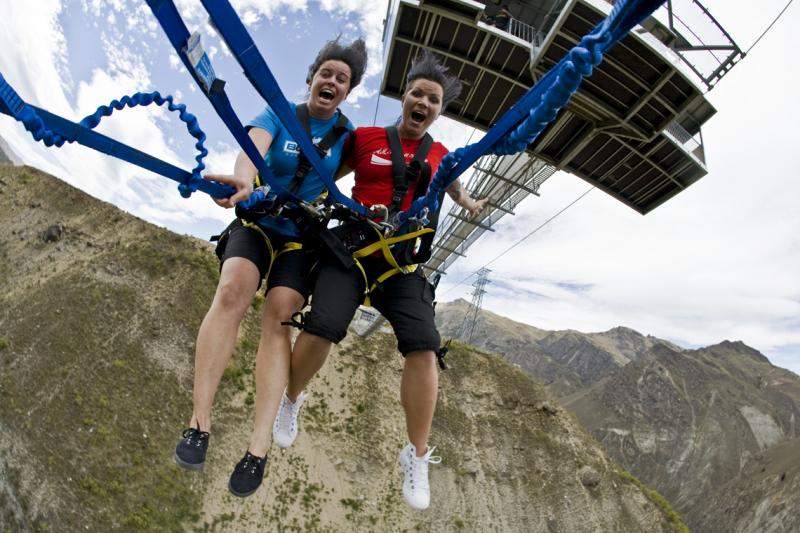 The World's Biggest Swing
Operated by A J Hackett Bungy, New Zealand's Nevis Swing is, indeed, the most momentous swing you'll find anywhere on Earth. Participants are propelled 160 kilometres above a yawning canyon mouth at a speed of 120 kilometres per hour. You can opt for the standard forward-facing ride or choose to take this one on upside-down or backwards.

Published on April 09, 2013 by Jasmine Crittenden