ARTS & ENTERTAINMENT
World's Smallest Postal Services
Things are always better in miniature. Including the postal service.
World's Smallest Postal Services
Things are always better in miniature. Including the postal service.
Things are always better in miniature. Baby animals, bonsai trees and miniature adults (read: children) never fail to excite squeals of adoration and appreciation in normal human beings. So why don't we turn the shrink ray on other everyday items?
Good question. Lea Redmond, 'Postmaster' of the World's Smallest Postal Service (WSPS) has therefore created a range of ridiculously tiny letters, packages and custom stationery.
Submit a message on her website and your words will be transcribed into a little letter and sent directly to the recipient of your choice. You can also send packages containing buttons, little compasses or paper flowers, or order your own tiny custom stationery.
Think of all the uses!
You need to send a birthday card to your friend who lives on the island of Lilliput, but you know the average Hallmark missive will squish her tiny frame flat? Send her a tiny letter just the right size for her little lady paws!
You want to break up with your boyfriend, but hate confrontation? Send him a tiny break-up letter that cannot be read by the naked eye! By the time he gets a magnifying glass and the heartbreaking disappointment sinks in, you'll be in Barbados lounging on the beach with his best friend!
You need to send your own obituary to The Herald, because you've actually perished from a cute overdose?
Signed, sealed, delivered.
*If you order a package, you also get a tiny mailbox, as featured below.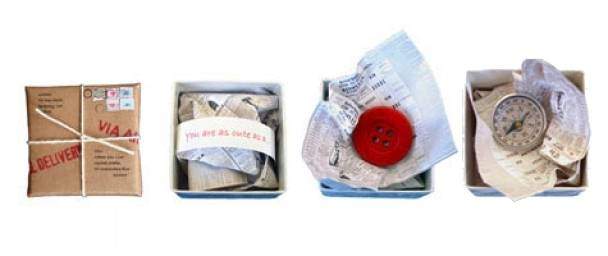 Published on November 25, 2010 by Lucy Rose Fokkema