DESIGN & STYLE
New Zealand Fashion Week 2012 Trend Report
So the whirlwind of New Zealand Fashion Week is over for another year. Here are some of the key looks you'll need for the next big chill.
So the whirlwind of New Zealand Fashion Week is over for another year and from the hours spent sitting, watching, waiting and writing there are a few notable observations to share from the week. Trending was the lack of after parties, a fair call really as I don't know how anyone has the energy for those things after a jam packed day of shows. Secondly, the twiterverse subject of #Overheardatnzfw, with attendees contributing random statements they fortunately or as the case may be, unfortunately over heard someone say at NZFW (worth checking out, it promises a few laughs).
There was also the not-so-fun trend of, 'if you don't pack snacks, chances are you wont be eating' but more importantly, the emerging trends for winter 2013 fashion. While each designer fronted up with their own unique theme, many of the shows incorporated a selection of trends which popped up more than thrice and if 'three's a trend', here are some of the key looks you'll need for the next big chill.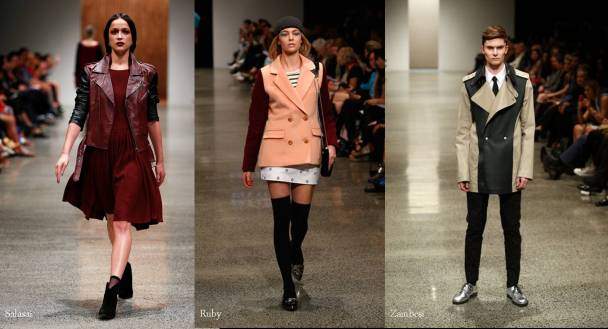 Contrast Sleeves
Simple yet effective, winter jackets are getting a spruce up with mismatching sleeves, spotted on a range of outerwear from leather jackets to blazers to coats. Already showing longevity, the trend has been recently witnessed in the latest spring showings at New York Fashion Week so we recommend nabbing a light weight version for the subsequent sunny season.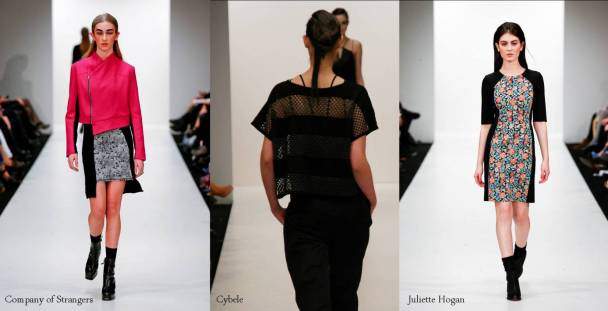 Paneling
Finally a figure friendly trend! From its infamous appearance on Kate Winslet's Stella McCartney dress last September, designers have cashed in on the lovable look, winning customer points for its figure halving attributes. Juliette Hogan teamed side panelling with floral while Company of Strangers embraced it as added details on skirts and dresses.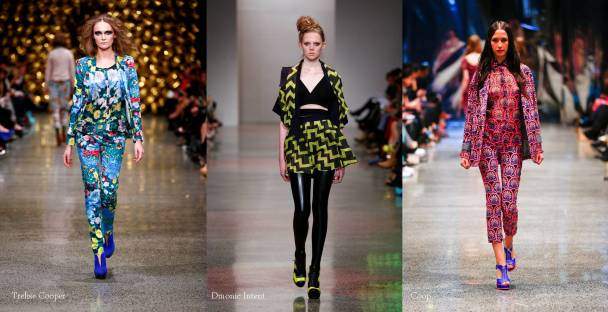 Matching Separates
If mixing prints was never your thing, try the less challenging alternative and match them. Already making waves on the fashion scene, matching separates, AKA head to toe prints or colour is a guaranteed go for another season. Whether you choose pattern, florals or block colour, match the top with the bottom for an effortless, bold and chic statement.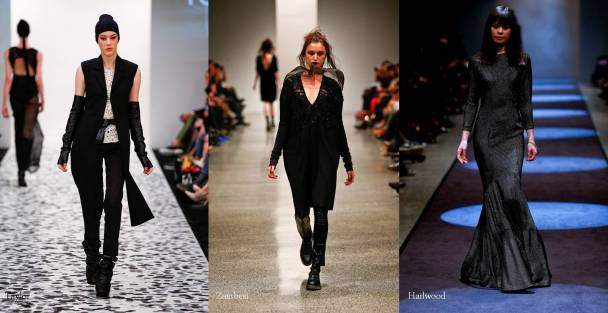 Nouveau Gothic
Despite a reasonable dose of colour, typical expectations for a generous serving of black were delivered in a cool array of garments this year, avoiding all connotations that 'black is boring'. Tough leather and fishnet mesh were just two of the standout fabrics punctuating refined silhouettes as well as a mixture of textures and details such as prints, paneling and cut-outs.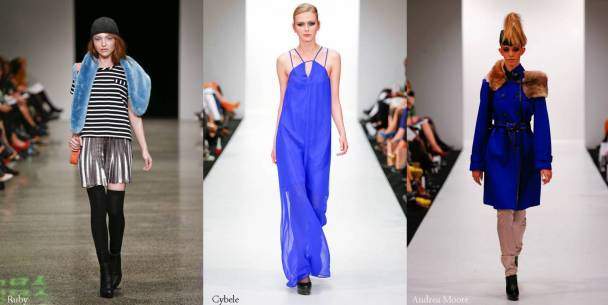 Fifty Shades of Blue
From pale duck egg to striking cobalt, blue is the seasons must have colour. The trend has been fully embraced by designers such as Andrea Moore and Cybele who have included an electric version of the hue in a selection of knits and dresses and for a fun and youthful look, Ruby have explored a pastel adaption in a faux fur scarf and jacket.
(Images by Michael Ng)
Published on September 19, 2012 by Christina Roys