DESIGN & STYLE
Summer Style Guide for Men
Because swim shorts 24-7 are not socially acceptable unless you live on the beach.
Summer Style Guide for Men
Because swim shorts 24-7 are not socially acceptable unless you live on the beach.
---
in partnership with

But with warmer days and nights, we don't blame you for wanting to keep things cool and casual. This summer, there are plenty of modern styles that can be easily added to any wardrobe.
We've also got a style guide for women. Here it is over here.

Classic
For the style-conscious man who knows what he likes: this season, be on the lookout for well-tailored and timeless pieces. Tailored shorts, short-sleeved shirts and anything in beige, white or tan are your signature summer go-to's. But classic doesn't have to mean boring, so don't be afraid to roll up your (pant) cuffs and get a little creative.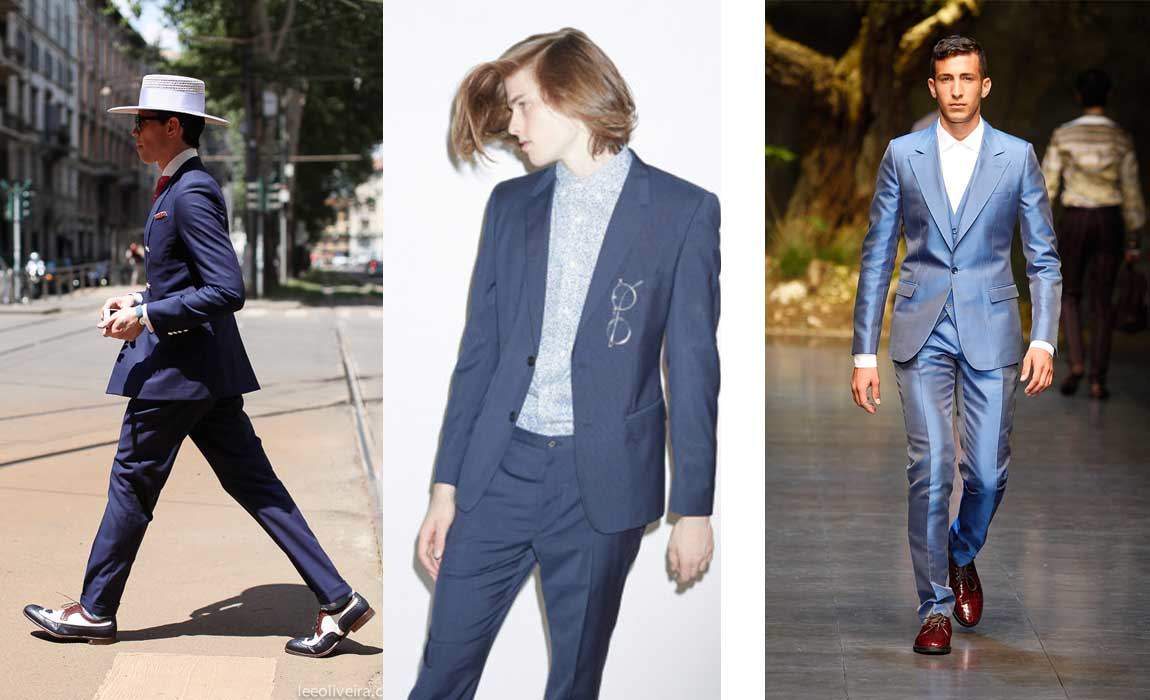 Blue Suits
Have to wear a suit for work? You don't have to stick to your banal black and greys. Nobody wants to be caught sweltering in the sun on their lunch break. Instead, opt for lighter-coloured suites in tans and blues. The spring and summer has seen all fifty shades of cool, from nautical navies to pale pigeons. Wear a crisp white or striped collared shirt underneath, throw on a fedora and voila: instant update.
Images:
Milan street style by Lee Oliveira
Look from Shipley & Halmos' SS 14 collection shot by Yannis Vlamos for GoRunway.com
Suit from Dolce & Gabbana's SS 14 men's collection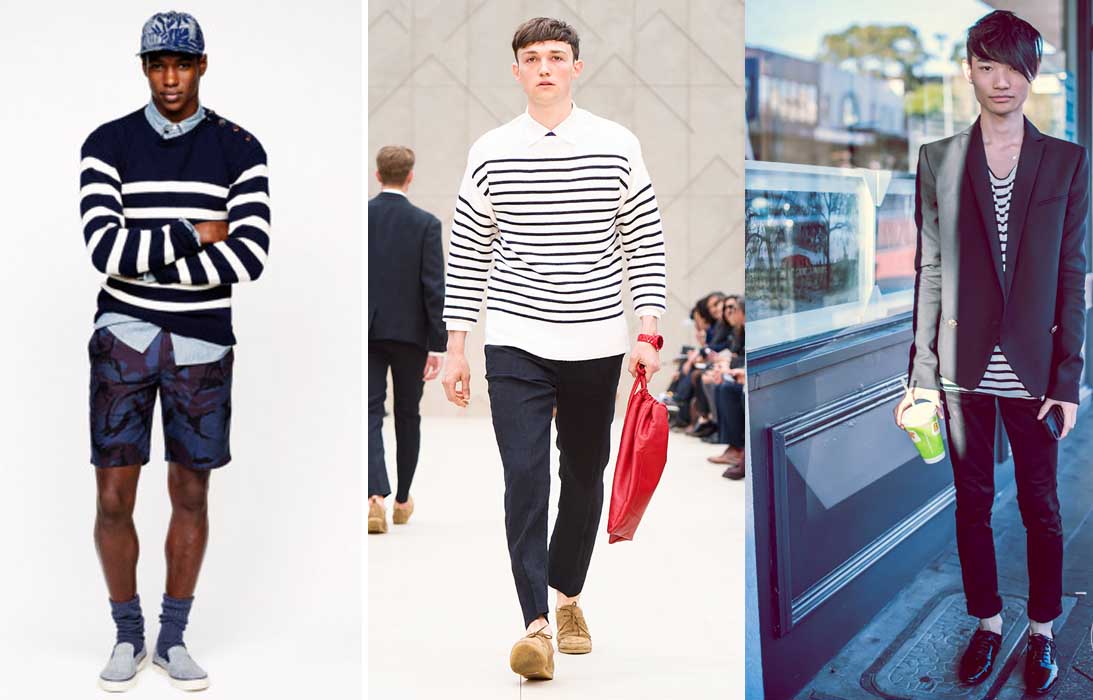 Nautical Stripes
Ah, sailor stripes, a pattern that faithfully returns every season. When worn outside of the summer months, you look like a Frenchman. But once the season begins those black/navy and white stripes become the universal flag of leisure time. Whether you own a sailboat, yacht or (k)not, these laidback lines give the appearance that you know your way around a dock. Pair a tee with some Nantucket Red chinos and deck shoes, and you're ready to go. Or, if you're not exactly on holiday, throw one of those equally stylish blue blazers over for a smarter look. Striped shorts are also popping up this season, but please, limit the lines to one piece. You're going for the seaman look, not inmate.
Images:
Jumper from J.Crew shot by Yannis Vlamos
Jumper from Burberry Prorsum's SS 14 men's collection
Sydney Streetsyle shot by Carolina Falk for Style Creeper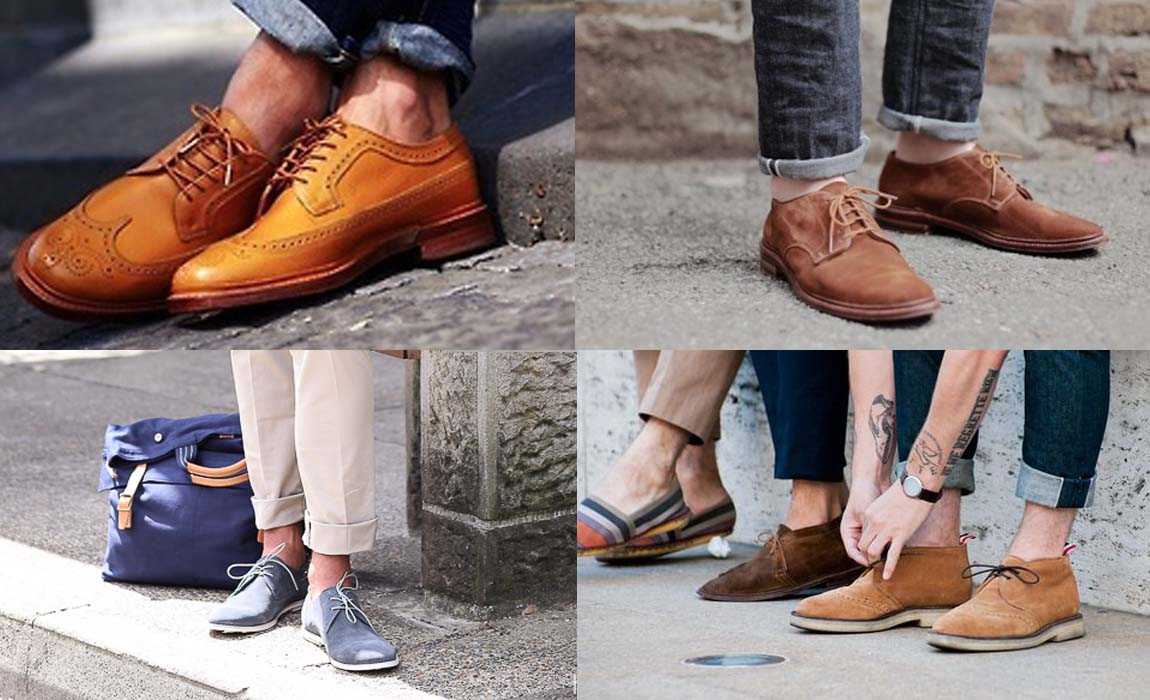 Cuffed Hem and No Socks
Ok, this look might seem a little trendy, but if you think about it, those Italians have been doing it for years. Envision the mod Roman gentleman, propped up against a wall in a perfectly tailored suit, smoking his cigarette. Yep, his cuffs are rolled. Socks? No way. It's summer, too hot for that. The look is a no-brainer to pull off, and it's definitely not limited to suits or any type of shoe. Keep it casual by rolling up anything you like, from khakis to jeans. (Extra bonus points if you're wearing a striped tee and navy sport coat.)
Images from Pinterest.

Trendy
When it comes to staying with-it, the trendy guy knows what's up. He's probably been rolling his pants and going sockless for years. Mixing prints and and implementing bright colours are standard. There is, however, a sexy simplicity in going monochromatic. Whichever look you prefer, you're not afraid to mix things up.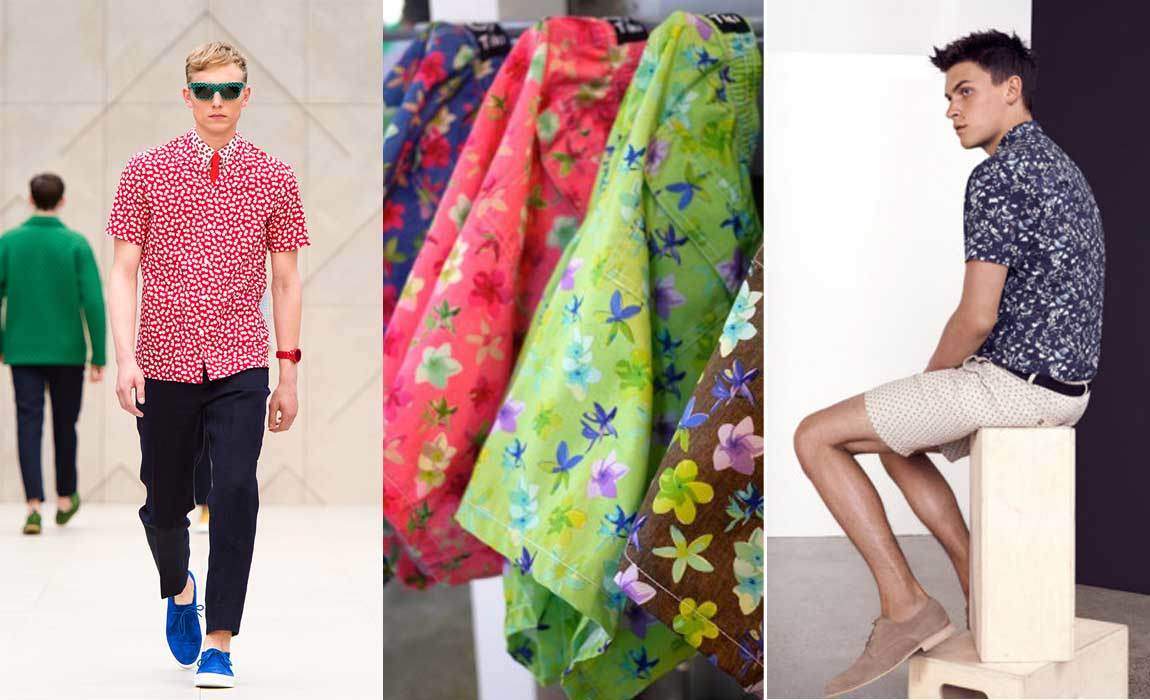 Florals
Once restricted to Mediterranean and Polynesian holidays, the floral print is taking spring and summerwear to the next level. Blooms are sprouting up everywhere on shirts, suit detailing, hats, jackets, shoes and, for those brave enough, pants. Think of this as the new 'real men wear pink'. Mixing other small prints such as polka dots or stripes with florals is being popularised by those who are extra adventurous. But if that's literally too bold for you, pair your piece of choice with something basic like a chambray button-up or chino shorts. We swear, you'll feel like every day is Friday.
Images:
Shirt from Burberry Prorsum's SS 14 men's collection
Shorts by D'Marge
Look from Marcs' SS14 mens collection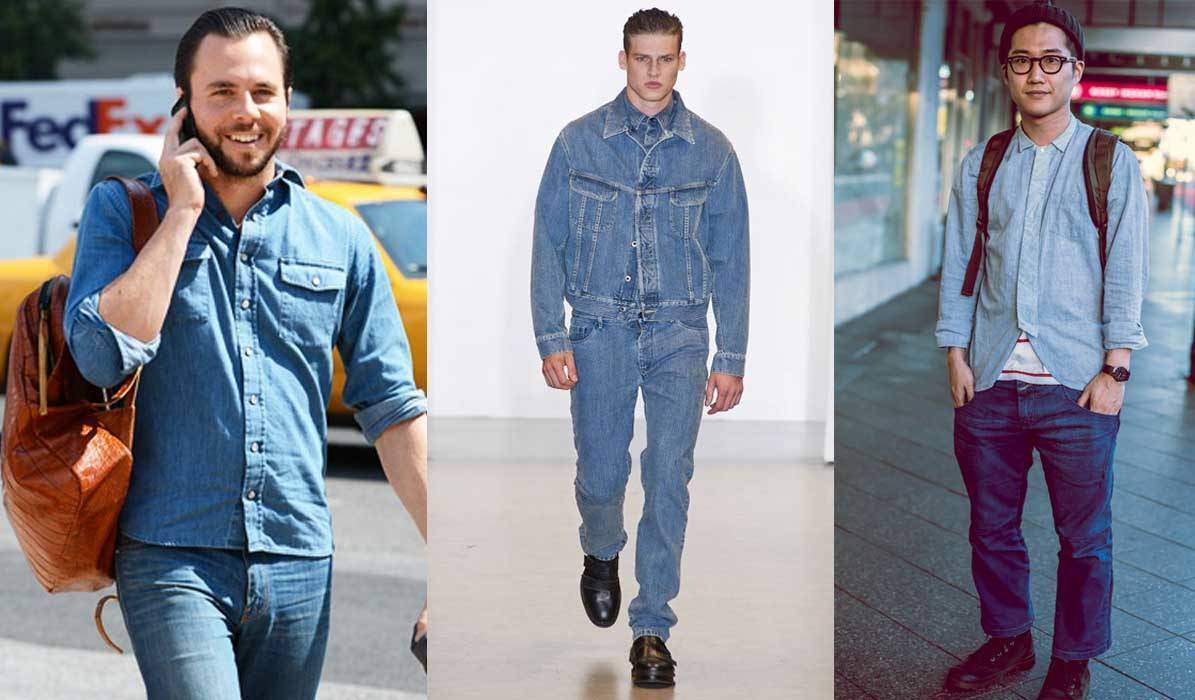 Denim on Denim (aka the Canadian Tuxedo)
This has been a look sported by our North American friends for a while. Traditionally worn with flannels and work boots, the quintessential lumberjack vibe is a favourite of hipsters. Pair this tux with the three Bs (Beanie, Beard and cheap Beer), and you're pretty for the party. But the Canadian tuxedo is a little too cosy for an Aussie summer. More realistically, you'd ditch the jacket and wear a chambray over jeans or jorts. Beer is still an appreciated accessory.
Images:
Street style snap by Romeo Style
Denim look from Calvin Klein's SS 13 collection at men's Fashion Week in New York
Sydney street style snap by Carolina Falk for Style Creeper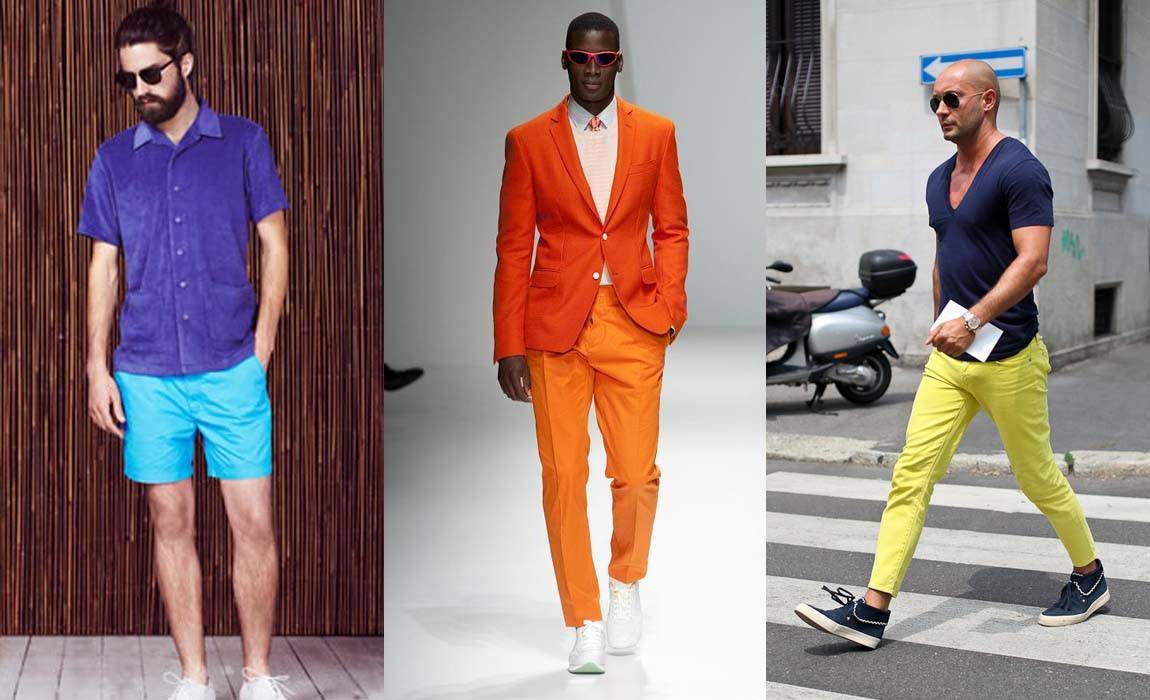 Neon
There is nothing new about neon. Everyone has a bright thing or two, but it's probably limited to sports wear. Nike and other companies have been incorporating electric colours into their shoes and clothes for ages. Now, neon has spread outside the gym for men. Making its way onto chinos, shoes, windbreakers and even suits, neon is a huge trend for men this season. We're not expecting the execs of the CBDs to start running around in hot pink suits; rather, the gym junkies, beach bums and trendily bold will enjoy this craze. It's most sensible to limit your exposure to a pair of shorts, tee shirt or light windbreaker. You don't want to go about blinding anyone.
Images:
Shorts from Ben Sherman
Suit from Salvatore Ferragamo's SS 13/14 collection
Milan Vukmirovic at Men's Fashion Week 2013 in Milan shot by Lee Oliveira

Maverick
The true maverick isn't afraid of to go out on a limb. You probably already own a neon suit and are about to buy ones in floral and camo prints after seeing the spring/summer runway photos. You're also not afraid to steal ideas from the girls. Hey, they adopt men's looks all the time (hello, blue suits), so why shouldn't you? Hot items such as studded slipper/loafers and clutches are being revamped on such a masculine level, you'd think they'd been yours all along. The true maverick knows how to own even the craziest trends.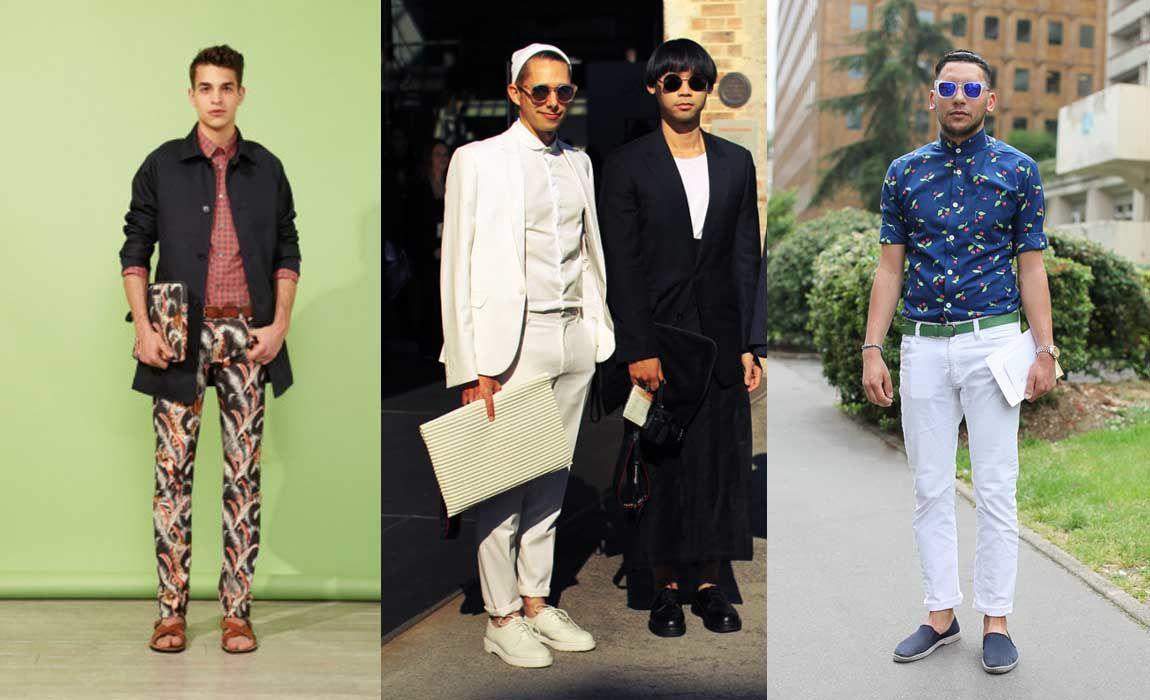 The Man Clutch
Although a man carrying a bag has been a stigmatic subject in the past, I think we can all agree that the times are a-changin'. In an age where men have increasingly more things to lug around — tech devices, work papers, gym essentials, etc — a guy needs a place to stash his stuff. If you think satchels and messenger bags are overdone, then consider this your new and lighter briefcase. But fear not, for the male clutch is nothing like its female counterpart. Depending on the size, they look more like document holders, tablet covers or big leather/suede pouches than the feminine envelope-styles. Tucked under your arm as you dash about town, an oversized pouch will make you look like man on a mission.
Images:
Look from Paul Joe's SS 14 collection shot by Yannis Vlamos for GoRunway.com
MBFWA street style by Style Creeper
Parisian street style shot by Lee Oliveira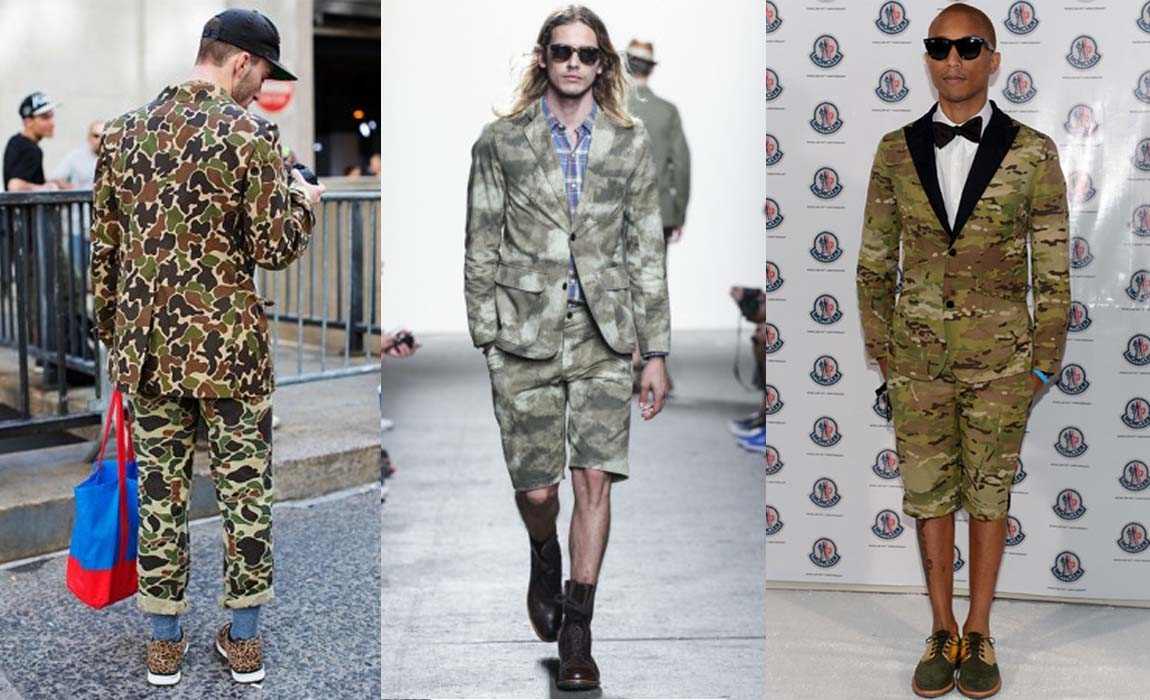 Camouflage Suits
Camouflage print was one of the biggest trends for men this past European summer. Popping up on clothes, shoes and accessories (clutch included), the print is best limited to one item per outfit. However, with the monochrome/print sensation taking off for both women and men this season, it's only natural that camo pieces have grown together to create the ultimate organic ensemble. And this G.I. Joe-inspired look is a very real thing. Directly interpreted from the New York runways by the likes of American designer Mark McNairy (who is infamous for his crazy combos), the camo combination has been seen on carpets both concrete and red. Lucky for you, it's been modified for warmer weather with shorts options. So if you're feeling like a real rebel, feel free to try out this oxymoron of army-inspired fashion.
Images:
Camo street style by The Sartorialist
Look from Mark McNairy's SS 14 collection shot by Yannis Vlamos
Singer Pharrell Williams in a Moncler Bleu Camo Tux at the 60th Art Basel Miami Party by Getty Images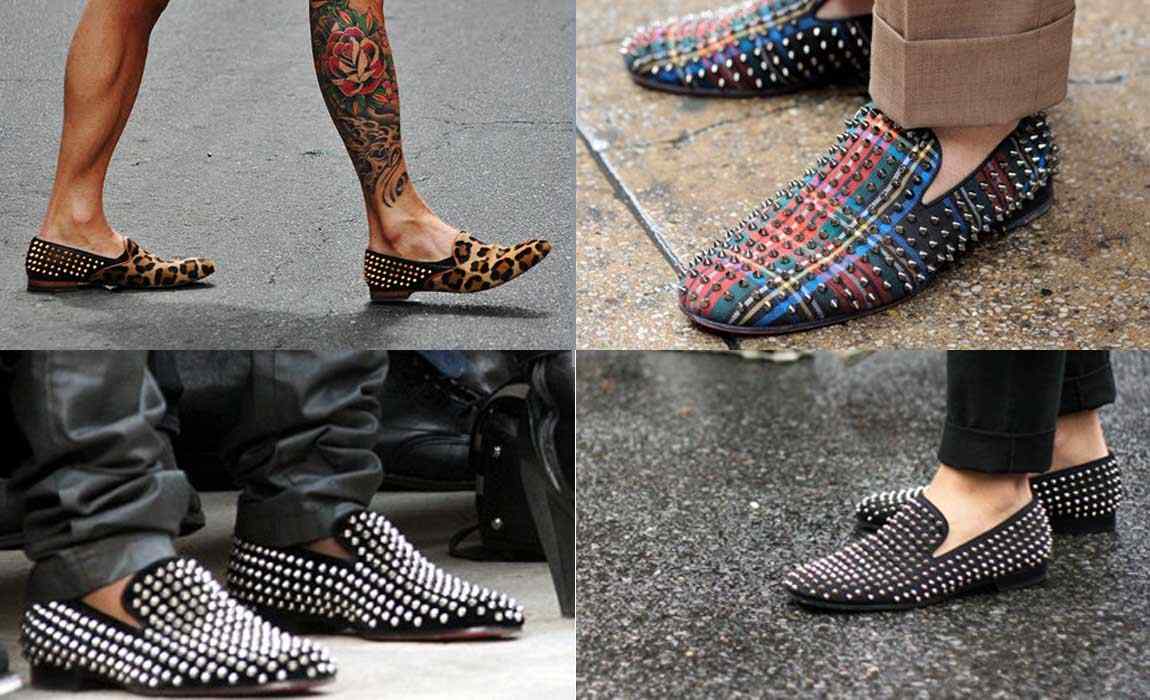 Studded Loafers
Leave it to the rappers and basketball players to take a female trend and make it rock star-worthy. Stars like Kanye West, Pharrell Williams and Dwyane Wade have been seen sporting spiked slippers at fashion shows and NBA finals. Somehow the trend has made it all the way down here, with sightings of the studded loafers at this year's MBFWA and on the streets of Melbourne. It's a bold look, since these kicks quite literally have an edge to them. They take any outfit, from a tux to a tee and jeans, to the next level.
Images from Pinterest

Published on February 18, 2015 by Madeline Milani