Summer Style Guide for Women
Some of the season's best looks for every taste.
---
in partnership with

Summer is fast approaching, and you know what that means: warmer weather, fewer layers. Although it seems like thongs and shorts become the uniform of the season for many, the style-conscious woman saves those for the beach.
This may be the most exciting time of year for fashion, with all the bright colours, light fabrics and fun shapes. And it looks like it's going to be a good season for all of those things. Here at Concrete Playground, we've rounded up some of the best current looks for every taste.
We've also got a style guide for men. Here it is over here. Top image by Oroton.

CLASSIC
Offering a mix of both ladylike and masculine looks, this season offers the traditional dresser something different. Minimalism has been a huge theme this season, but not necessarily when it comes to length. Think classic styles, clean shapes and funky prints.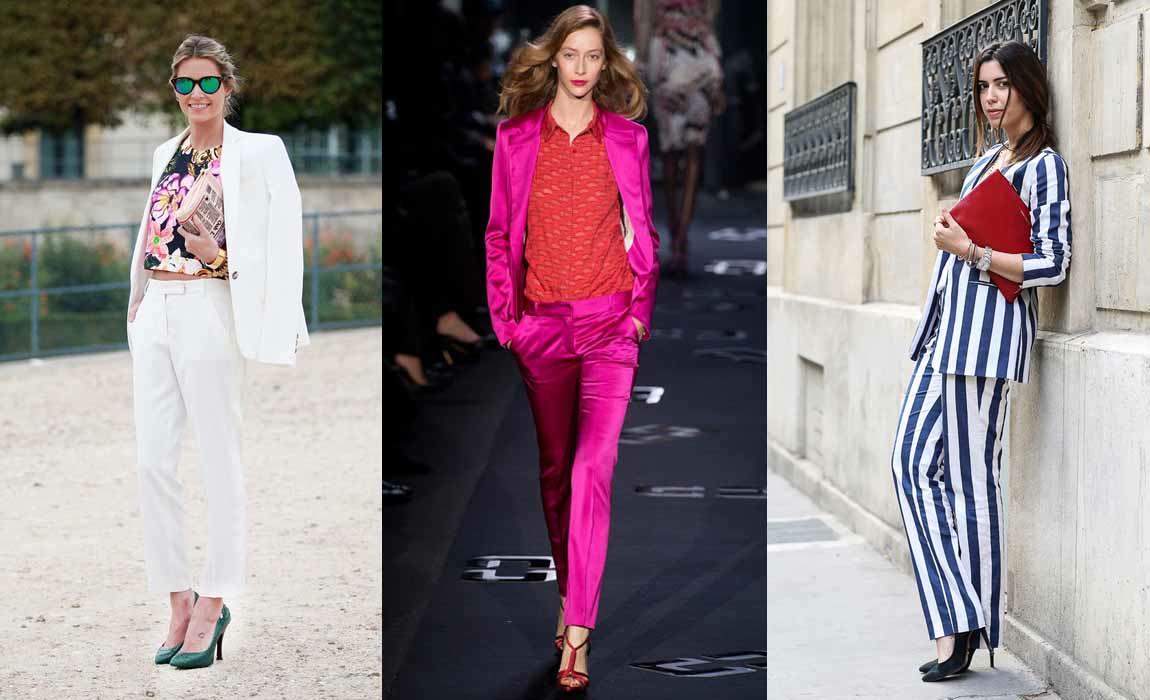 Matchy-matchy Suits
Popping up in fun prints and wearable colours such as navy, pink and white, summer suits are finding their ways to more places than the office.  If you're not feeling the pants, these colourful combos can be found in skirt and short options for a warmer weather alternative. Mix them up with a fun printed blouse, roll up the sleeves and throw on a fedora for an instant cool-girl touch.
Images:
Street Style from PFW '13 by Victoria Adamson
Suit from Dianne Von Furstenberg's AW 13/14 collection. Catwalking
Street Style Stripes at Paris Fashion Week by Lee Oliveira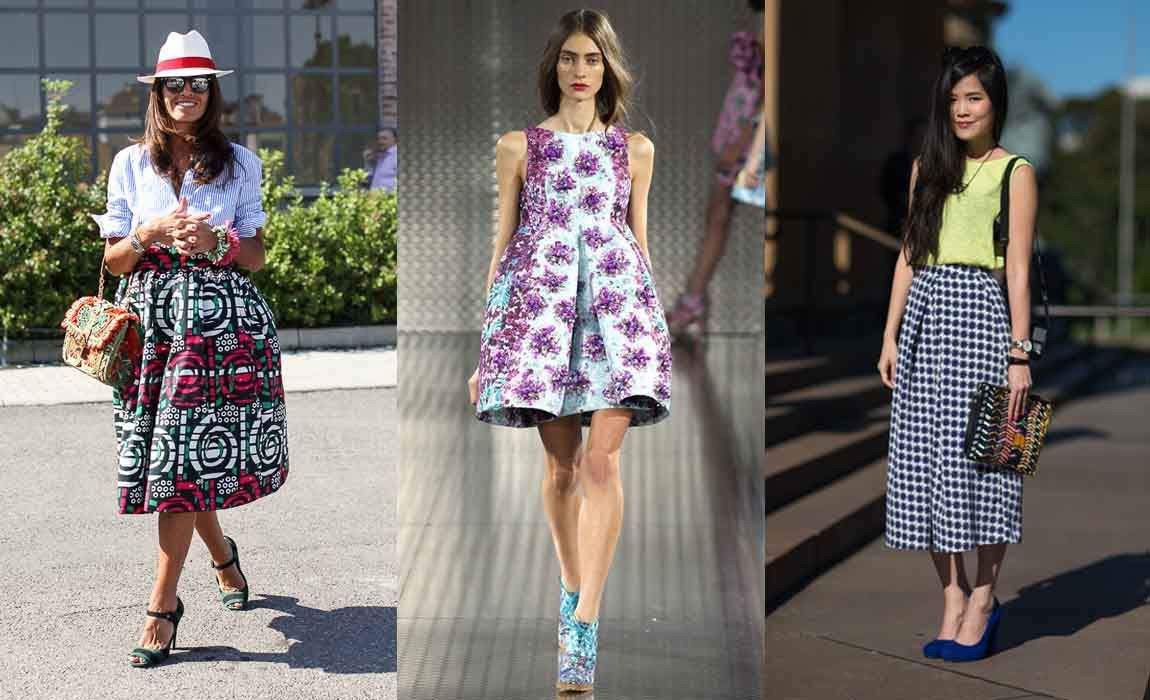 Full Skirts
If the weather has you feeling extra cheery, try out fuller, mid-length skirts and dresses in flirty florals, girly ginghams and preppy pinstripes. Throw on some stilettos and cat-eye sunnies if you feel like channelling a little Hollywood glamour.
Images:
Stylist and fashion editor Viviana Volpicella in an Equipment blouse and Stella Jean skirt at Men's Fashion Week in Milan by Lee Oliveira
Marine Deleeuw modelling mary Katrantzou's Spring 2014 RTW by Marcus Tondo
Street Style at MBFWA '13 by Diego Zuko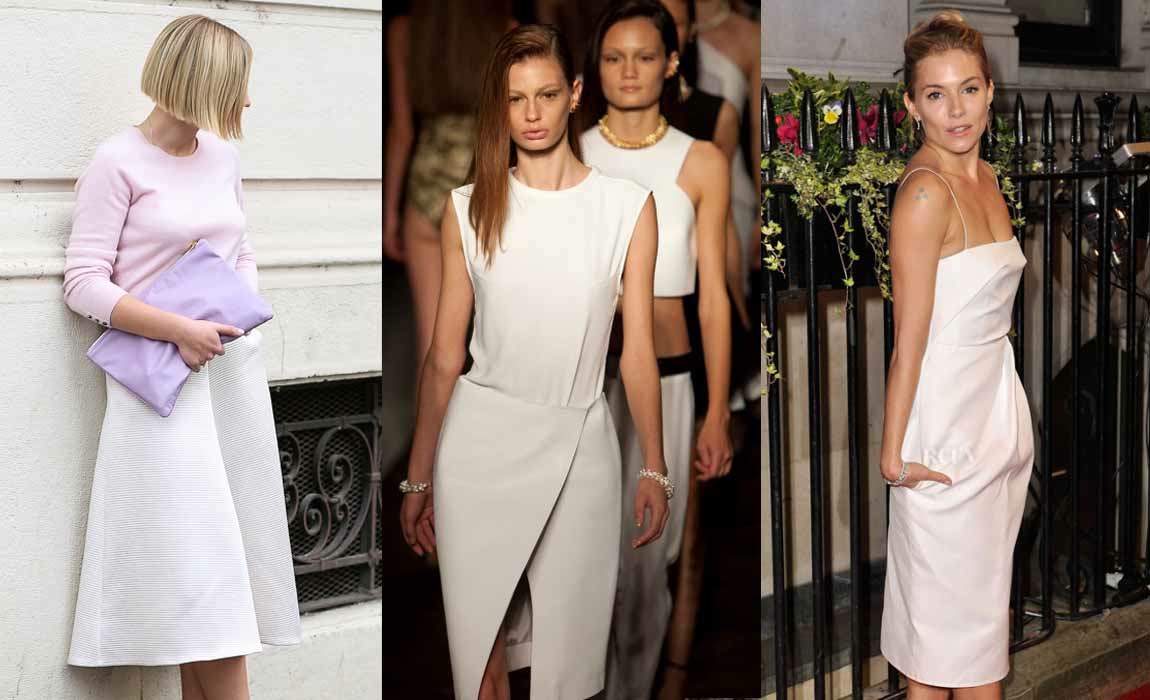 Sleek Chic
While last season was all about colour blocking, this is the time to clear your slate. Simple, well-tailored pieces in white, black or pastel are anything but boring. Go for the monochromatic edge by pairing similar coloured accessories and shoes with your clothes.
Images:
Street Style at Milan Fashion Week 2013 by Lee Oliveira
Look from Camilla and Marc's SS 13/14 collection by Breakfast With Audrey
Sienna Miller in Carven at the BFI Gala Dinner by RCFA

TRENDY
For those who like to keep things current, there are some playful new looks that have gracefully transitioned from the catwalk to the sidewalk.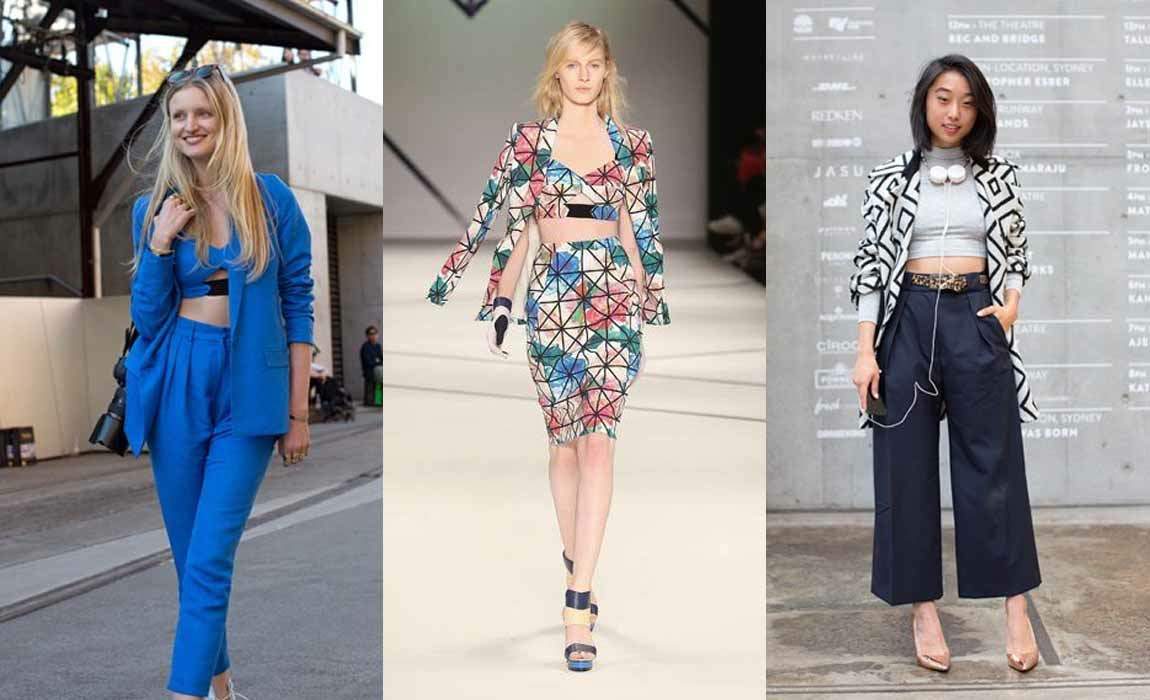 Crop Tops
The ultimate staple this season, these fun little numbers have matured beyond denim shorts. Try a crop top with a draped suit jacket and a high waisted, mid-length skirt for a vampy look. Or, keep it casual with slouchy trousers and flat sandals. The possibilities really are endless.
Images:
Street Style from MBFWA '13 in Sydney by Petra Rudd
A new suit from Ginger & Smart's SS 13/14 collection. Getty Images and Mark Metcalfe
Blogger Margaret Zhang of Shine by Three at MBFWA '13 in Sydney Petra Rudd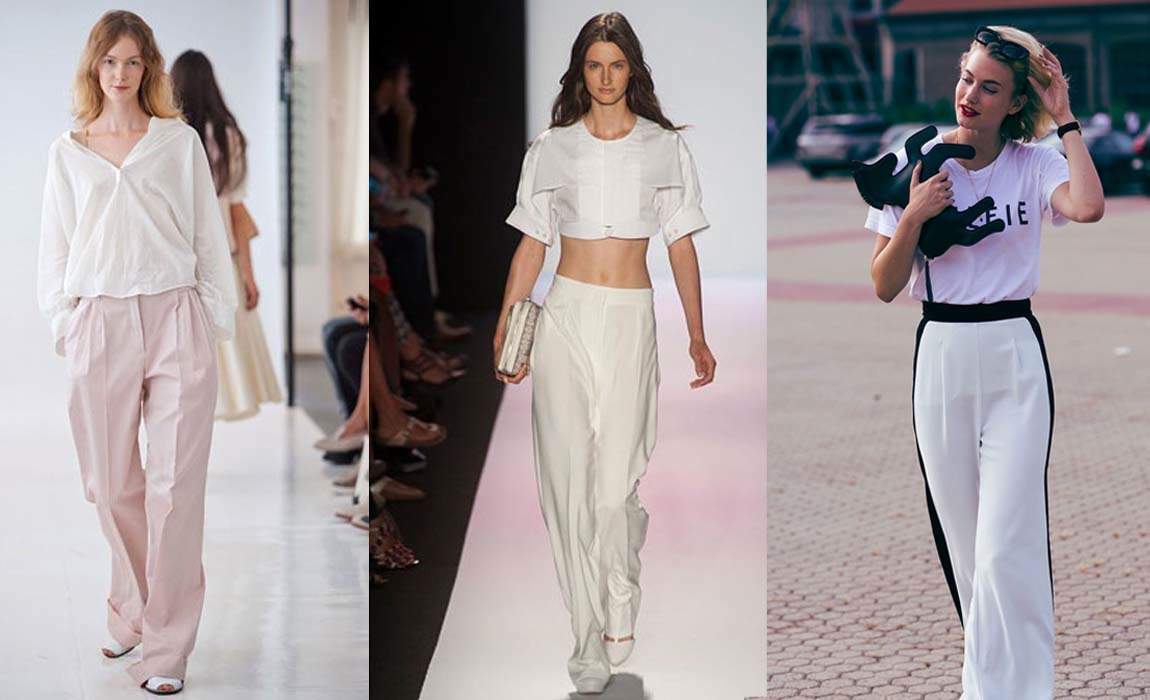 Slouchy Trousers
The popular harem-style pants have gotten a more flattering update this season. Designers have done away with the drop-crotch yet maintained the delightful flow. In tailored shapes and sleek fabrics, these comfy pants have made their way from the beach to the streets. By the end of this season you'll have forgotten what skinny jeans are.
Images:
Organic by John Patrick Spring 2014 RTW collection by Imaxtree and Alessandro Luciani
BCBG Max Azria SS 13/14 RTW by Vogue UK
Blogger Zanita Morgan of Zanita in Cue Clothing pants. Photo by Rebecca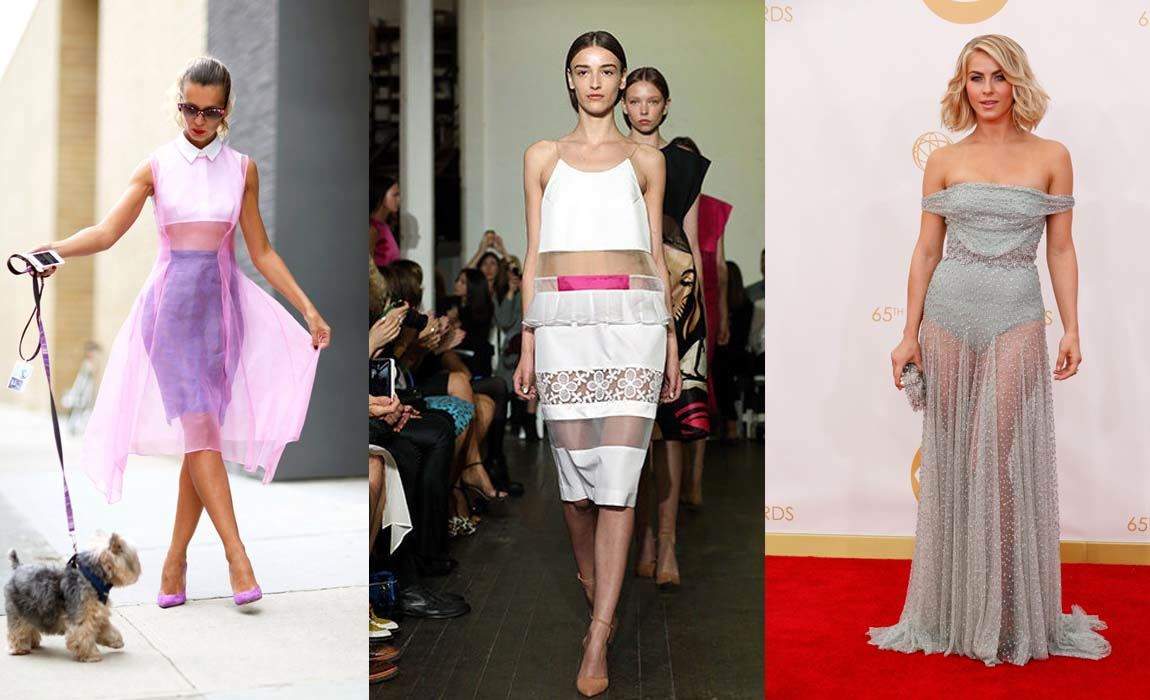 See-through Sheers
Transparency was a huge theme on runways all over this season, especially in Australia.  See-through tops and cut-out frocks from the likes of Karla Spetic to Dior are drawing attention to what is (or isn't) underneath. If you're bold enough to test this trend, you better be wearing your best knickers.
Images:
Street style during New York Fashion Week Spring 2013 by Mr Newton
Sheer panelling from Karla Spetic's SS 13/14 RTW collection by Lucas Dawson for Vogue Australia
Actress/Dancer Julianne Hough in Jenny Packham at the 2013 Emmy Awards by Getty Images

MAVERICK
This season has seen some pretty out-there stuff.  Whether with boudoir-to-boulevard ensembles or striking sunnies, those who are aching to stand out on the streets won't have a problem catching stares.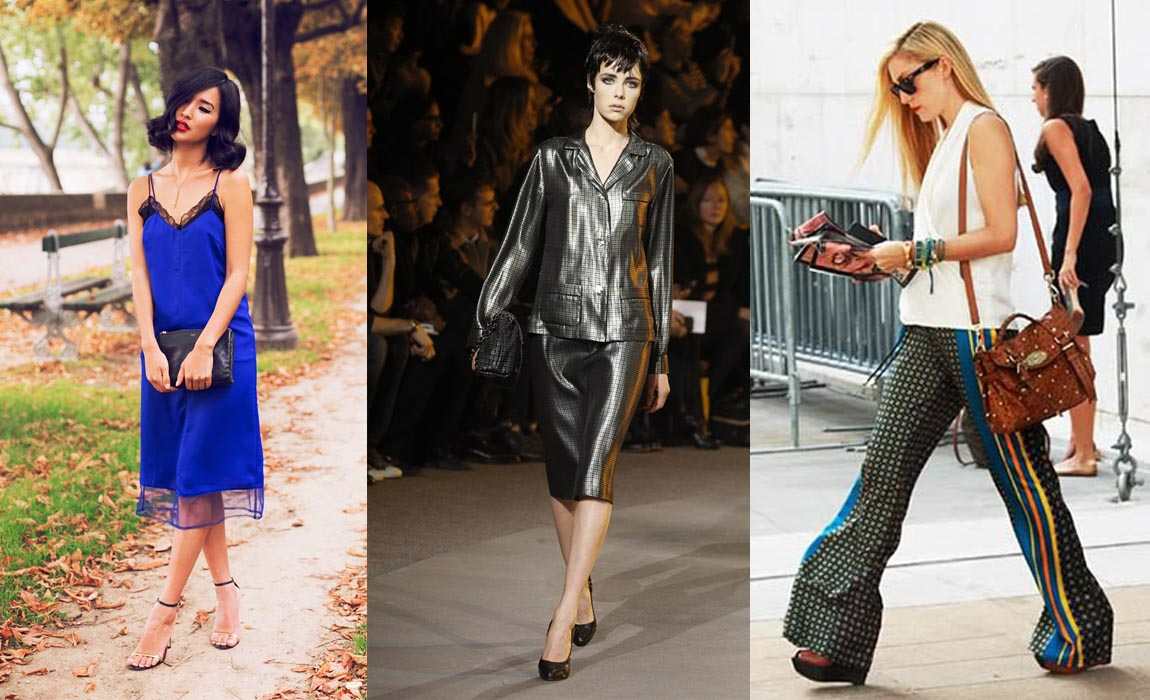 Silky Separates
We've all been guilty of making a Sunday morning coffee run or two in some sort of pyjama article. With designer approval, fashionistas are now strutting the streets in full-on getups. Marc Jacobs and Louis Vuitton have sent pyjama-inspired separates and chemises down the catwalk in sultry silks and satins. If you'd feel ridiculous in a matching polka dot blouse and pant combo, try just the blouse over a more structured skirt or pant.
Images:
Blogger Nicole Warne of Gary Pepper Girl in ASOS by Carin Olsson
Edie Campbell modelling for Marc Jacobs' Fall/Winter 2013 RTW collection
Joanna Hillman, Market Editor at Harper's Bazaar by Beauty Frizz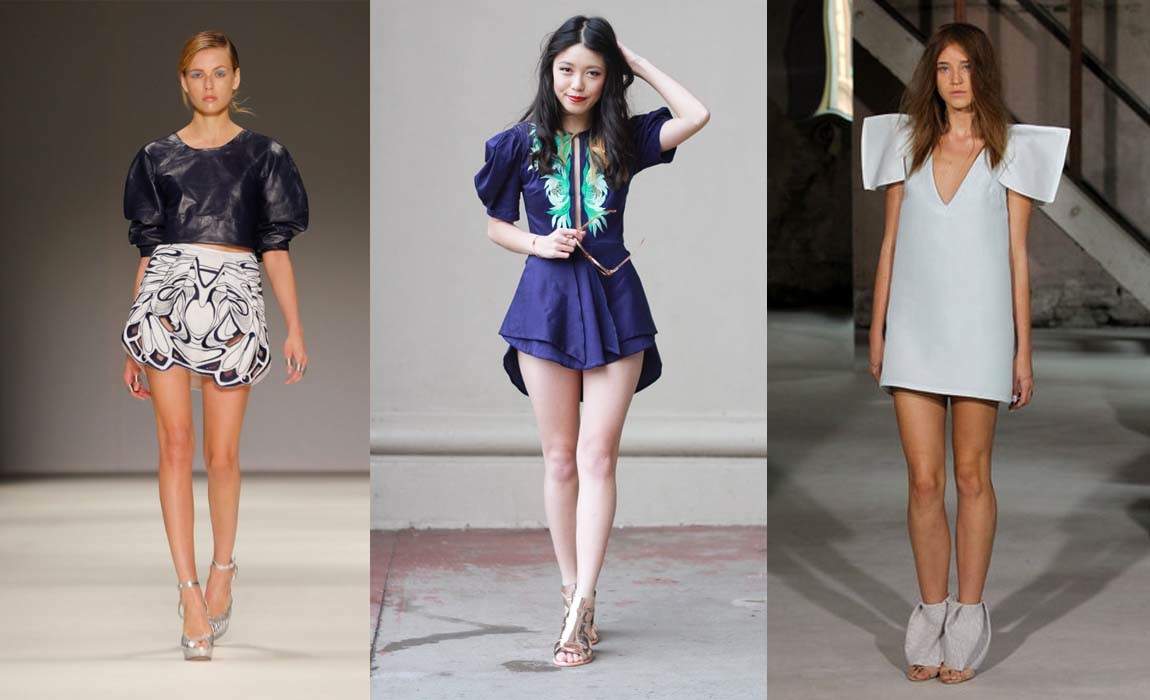 Voluminous Sleeves
Futuristic with a tinge of '80s, the big shoulder look is not for the faint of heart. Last season we saw sharp shapes, but this season's silhouette is much more giving, with a softer, airy look. Pair a blouse with a mini skirt or try a dress for some serious statement making.
Images:
Alice McCall SS 13/14 by Lucas Dawson for Vogue Australia
Connie Cao of K is for Kani. Photo by Rowena
Ellery SS 13/14 at MBFWA 2013 by Getty Images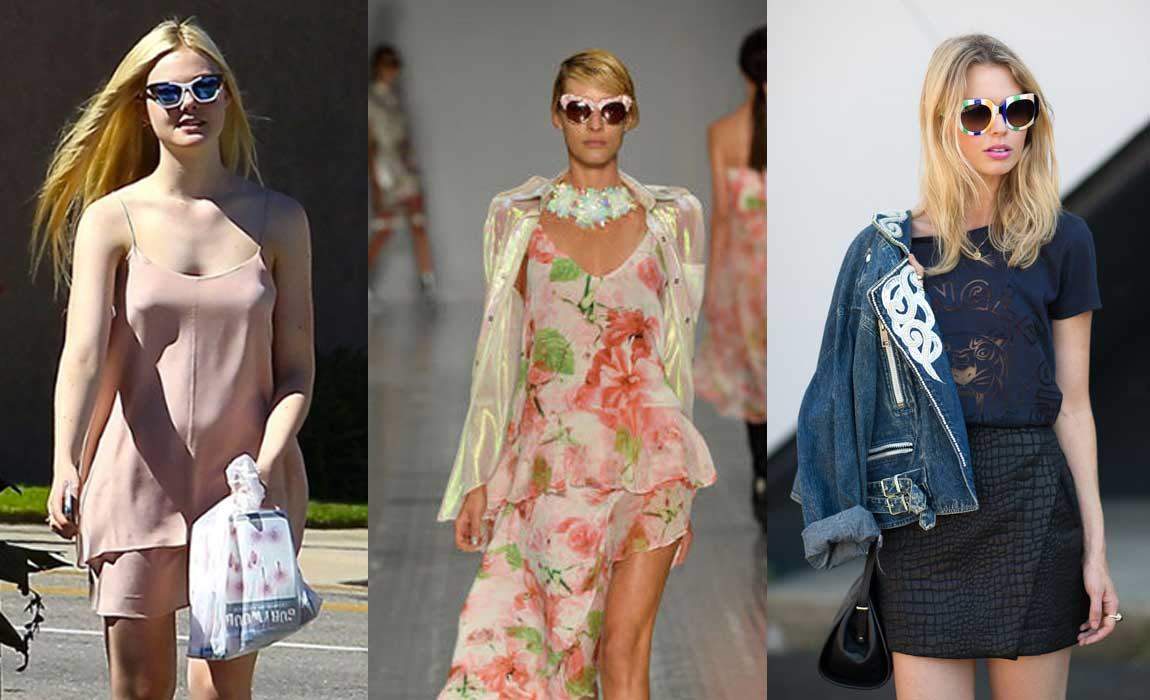 Obnoxious Sunnies
We've seen sunnies in all sorts of sizes and shapes, from round to rectangular. Now, circular and cat-eye frames are getting some serious makeovers in bold patterns, coloured lenses and dimensional flowers.
Images:
Elle Fanning in Karen Walker's 'Siouxsie' shades. By FameFlynet
Look by Shakuchi 's SS 13/14 collection at MBFWA '13. Getty Images
Streetstyle. By Style Creeper

Published on February 18, 2015 by Madeline Milani