DESIGN & STYLE
The Latest and Greatest Fashion Collaborations
Christina Roys rounds up some of the top collaborations going on in and around Fashion.
ADRIAN HAILWOOD FOR REDKEN
New York hair care brand, Redken has aligned with Top New Zealand designer, Adrian Hailwood to produce a limited edition vanity bag. The chic carryall is the perfect travel bag for those who want to house their cosmetics in a stylish, compact case. The understated navy lacquer surface of the bag contrasts beautifully with the delicate floral lining and will certainly be must-have fashion accessory this spring.
Navy is Adrian's favourite colour, and the designer admits the classic hue is carried through every season. Key to the design is a stunning rose print taken from Adrian's spring/summer 2012 collection, which featured dresses and skirts in the same fabric. The inspiration came from his late mother Katherine, who died shortly before the collection was released.
"She loved roses and grew them in her garden.  The print pays homage to her in a subtle but personal way." The luxurious gold zip is embossed with Hailwood's signature horse-head print.  The horse print features heavily in Hailwood's autumn / winter 2013 collection, as showcased recently at New Zealand Fashion Week.
The Hailwood for Redken case is complimentary with the purchase of any Redken shampoo and conditioner and available exclusively through Rodney Wayne salons and Shampoo N Things stores.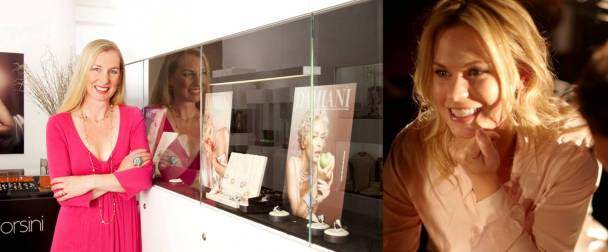 KATHRYN WILSON X ORSINI FINE JEWELLERY
In true Cinderella style, New Zealand's premier footwear designer, Kathryn Wilson has partnered with Sarah Hutchings, Director of Orsini Fine Jewellery, to create a truly breathtaking fashion statement for her upcoming winter 2013 collection launch this October. Guarded by security, will be a Kathryn Wilson heel from the W'13 collection covered in half a million dollars worth of diamonds! The collection launch is also set to feature help from some of the country's foremost creatives, exhibiting over 20 artworks based on her winter 2013 collection, all created by top photographers, illustrators, painters and designers.
Fashion photographers Chris Sisarich, Steven Tilley, Garth Badger, Rob Trathen and Olivia Hemus join Danny Pato from D&M, Vida Flores, fashion stylists Barry Betham, Dan Ahwa, Rachel Morton and artists Kelly Thompson, Stella Castle, Henrietta Harris, Scrap Wall, Adrian Hailwood, Alexi Willemsen and Gary Yong from the Cut Collective in a stellar cast who have all interpreted Kathryn's shoes for their own artwork. Each artwork will be auctioned silently at the event and all proceeds will go to Ronald McDonald House, of which Kathryn is an ambassador.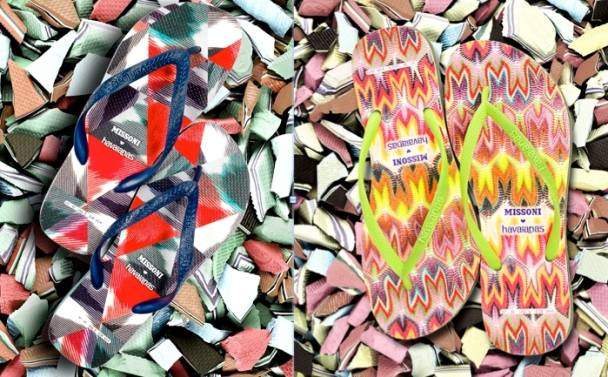 MISSONI x HAVAIANAS
Last years Missoni x Havaianas collaboration proved a huge hit, so much so, they have now released a second edition of the Missoni x Havaianas for summer 2012. This collection, again, will be available in limited quantity and two styles (Slim and Top) with three print types. The Missoni Slim Rachel comes in vibrant Lemon with the Missoni zigzag design, slimmer straps and narrower-cut sole. The Missoni Top Fiammato and Top Patchwork comes in a bold mix of red, white, black, and blue with a unisex appeal.
The collaboration represents love and care for Mother Nature with each Missoni x Havaianas design using residual rubber pieces from the manufacturing process to create a unique, multi-coloured sole, an initiative aligned with the brands' efforts in reducing waste, re-using and recycling of materials. Also showcasing the two brands' earnest relationship with nature is the flip-flop packing in a Missoni knit bag made of recycled materials featuring the signature patterns.
"For Missoni, the relationship with nature has always been a priority. Living and working closely in touch with the natural landscapes have inspired us to capture the seasons and its changing colours into our designs. At the same time, Havaianas is firmly concerned about reducing waste, re-using and recycling of materials. With this collaboration, it's indeed a perfect match of both our passions: fashion and respect for nature," said Angela Missoni, Creative Director of Missoni.
Missoni x Havaianas second edition is now available for pre-order from Smith & Caughey's, in store October 2012.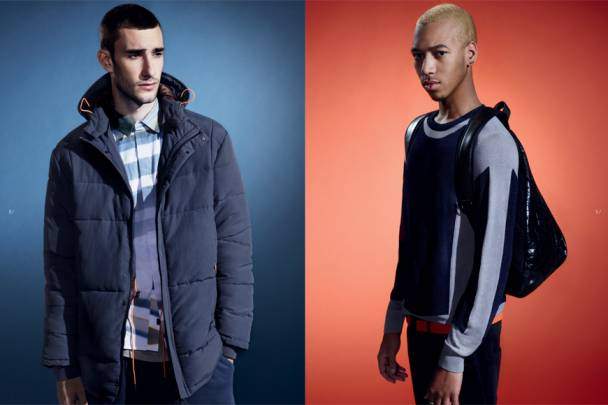 ASOS x PUMA
This September marks a special collaboration just for the boys with the release of the Asos x Puma range. "The idea was to make something sporty, but fashionable at the same time," says head designer of ASOS John Mooney. "It was a very difficult task for us because Puma is a sport brand and we were trying to still keep our ASOS philosophy." However, we the consumer would be none the wiser to these difficulties, with the finished product proving a seamless fusion of fashion and sportswear, demonstrating Puma's technical sport finishes in an aesthetic, rather than performance context.
The inspiration of the collection is based around a creative young guy who seeks comfort in his clothes whilst maintaining his style. As a result the team at ASOS chose six of the most original and interesting talents actively involved in the world of street art to model the lookbook, photographed by esteemed photographer, Jamie Morgan. Traditionally tailored garments like wool suits and button-up shirts are broken down with flashes of bright orange along with signature sport shapes including gilets and puff jackets in mid greys and blues.
The full collection will be available at asos.com from 25th September 2012.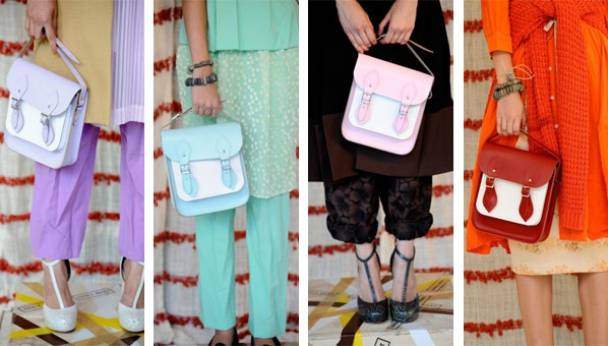 CHRIS BENZ FOR CAMBRIDGE SATCHELS
By now, any fashionista should be familiar with what can only be described as a fashion phenomenon, 'the Cambridge Satchel'. Recently launched at New York Fashion Week was the brands latest collaboration and for the first time, with an American designer: Chris Benz.
The new collection features an array of pastel colours and airy fabrics, setting the perfect backdrop for the Cambridge Satchel's smaller, more compact shape and its new, crisp white pocket, a signature of this collaboration. The Chris Benz collection, which the Cambridge Satchel Company is calling the Virginia Collection, will be offered in nine limited-edition colours, including lilac, lemon, rose, duck egg and brown all inspired by the personal style of Lee Krasner, Elaine de Kooning and Jean Stafford. The front pocket on all of them will be white and each bag comes with a detachable long strap.
"We are so excited to be working with Chris Benz for our first US design collaboration," said Julie Deane, the founder of the Cambridge Satchel Company. "With his signature colours, textures and prints, he is a perfect partner for the Cambridge Satchel Company."

Published on September 25, 2012 by Christina Roys