DESIGN & STYLE
The Sand-Ditching Shake Tote Will Make Your Entire Summer
The mother of all beach bags.
The Sand-Ditching Shake Tote Will Make Your Entire Summer
The mother of all beach bags.
---
in partnership with

It might long be remembered as one of Star Wars' most cringeworthy come-on lines, but to give Anakin Skywalker a break, he did have a point when he told Padme, "I don't like sand. It's coarse and rough and irritating and it gets everywhere." Two New York-based summer surfers by the names of Charlie and Spike know what he's on about. Even if they wouldn't have used such reasoning to get fresh with Natalie Portman. Instead, they've invented a sand-solution, of sorts: the Shake Tote.
It looks, pretty much, to be the mother of all beach bags. And here's why. Not only is it water-repellent, it's also fitted with a mesh bottom, which means that you simply have to give it one almighty shake and the sand falls right through. So, it's actually a bag that doubles as a giant sieve. Welcome to a grit-free summer. No more jiggling each item individually while blowing grains into your neighbour's face (or your own, for that matter). No more having to unpack your bag outside because you've inadvertently carried half the beach home with you.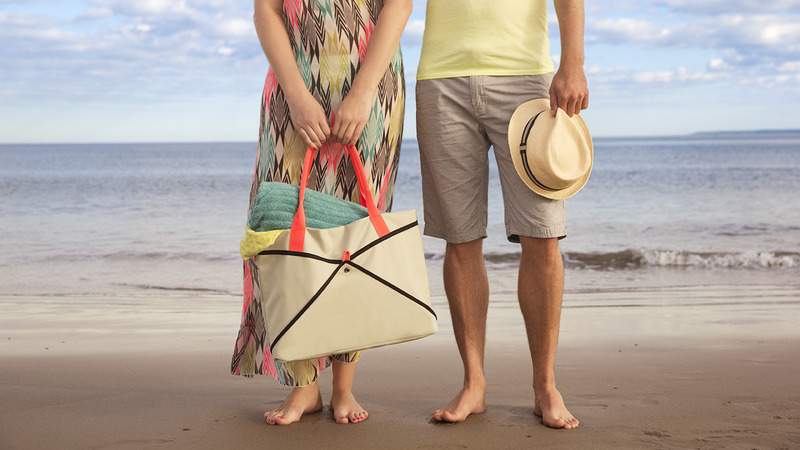 At 42.6 x 14.7 x 15.2 cm, the Shake Tote provides you with loads of room for your swimmers, towel, read-of-the-week and sundry beachy needs. There's also a zippered pocket for stowing your valuables. The neutral, natural-coloured canvas (with dashes of black and neon orange) goes with most get-ups and the plastic shoulder straps are anti-slip.
The Shake Tote came into being thanks to Quirky, a platform dedicated to unusual inventions. Users are able to put forward their own innovative ideas and/or vote on those of others. They can also earn money by supporting successful pitches and helping out with branding and style decisions. The Quirky team gets behind the manufacturing process and provides international distribution online.
Order your very own Shake Tote online for US$39.99 and watch every face on the beach gaze in awe.
Published on February 01, 2015 by Jasmine Crittenden