DESIGN & STYLE
New App Flags Your Embarrassing Posts Before the World Sees Them
Created by a guy who got fired from Jeb Bush's political campaign after a Twitter shaming.
In these cutthroat days of citizen journalism, a single tweet can obliterate a career. Just ask all these people. That which has been posted — and shared 20,000 times — cannot be unposted. And whether you were drunk, feeling sorry for yourself, on some kind of weird ego trip (Anthony Weiner = Carlos Danger?), really bad at conveying irony, genuinely misunderstood or just plain stupid when you penned the fatal line, excuses aren't likely to get you out of hot water. Precedent suggests that neither your employer nor the angry mob is likely to be too easily persuaded.
But if your most ill-thought-through posts are still buried deep in your feed, rather than across the front page of the Daily Mail, there's hope. A new app by the name of Clear can burrow into your social media past, analyse your history and flag posts that seem inflammatory or offensive. Based on a mix of miraculous algorithms and Watson, a supercomputer created by IBM, the app works on Facebook, Twitter and Instagram.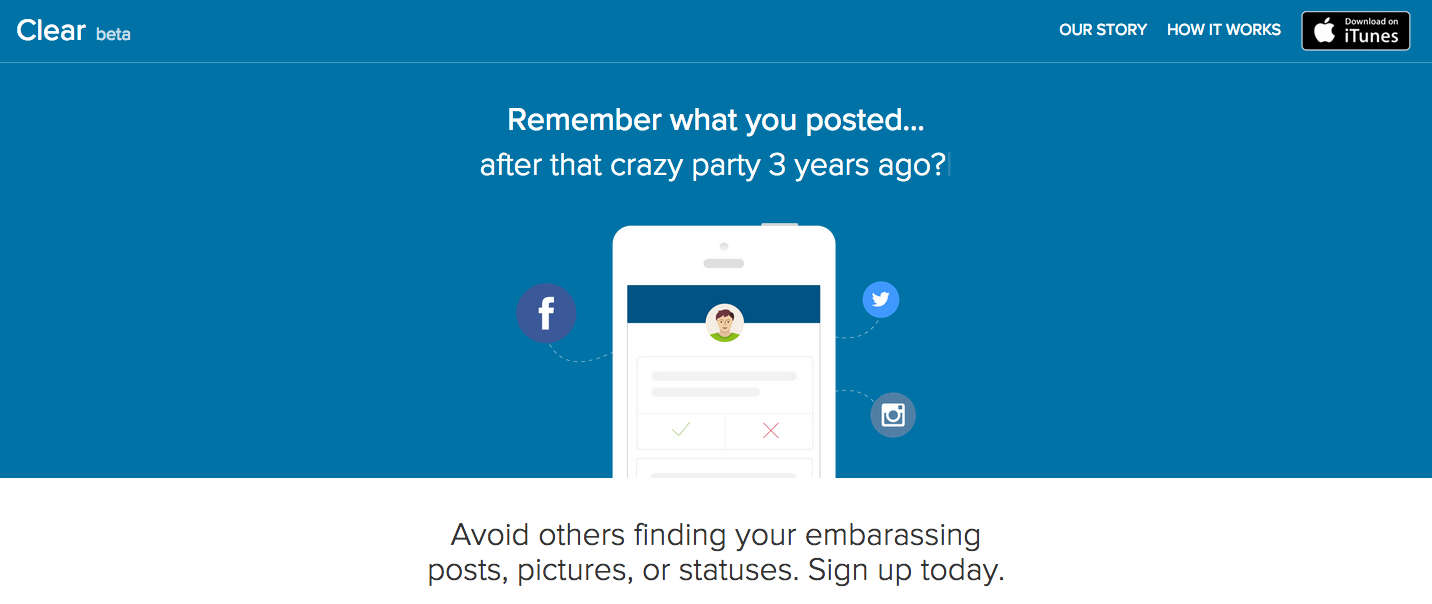 Clear's creator is a man who's name you might have seen in the headlines. Earlier this year, EthanCzahor was working on a campaign for Jeb Bush, former governor of Florida and possible 2015 presidentialcandidate, when a flurry of old tweets appeared out of thecyber-ether. One read, "Most people don't know that Halloween is German for 'night that girls with low self-esteem dress like sluts.'" And another, "When I burp in the gym I feel like it's my way of saying, 'sorry guys, but I'm not gay'."Czahor lost his job within 48 hours of starting, which was a huge blow for a 31-year-old who'd spent his twenties pursuing a career in politics.
From the get-go, Ethan maintained that the tweets were jokes, the meaning of which had become skewed. "I was telling jokes with my friends and they were completely tongue-in-cheek and completely harmless," he told Time. "But years later after I had forgotten about them, they'd been pulled out of context and it looked terrible."
"You exist in a lot of places on the Internet," he said. "And I just feel that you have the right to at least know what's out there, and to take care of it."
Published on April 21, 2015 by Jasmine Crittenden