FOOD & DRINK
Elon Musk Has Sent a Zero Gravity Espresso Machine out to Space
Coffee drinking has become an out of this world experience.
The International Space Station (ISS) will be receiving an out of this world delivery courtesy of South African entrepreneur Elon ("The Man") Musk. Just weeks after announcing he'll be testing his Hyperloop pressurised tube human transport system, he's gone and sent an espresso machine to space with his commercial space business SpaceX.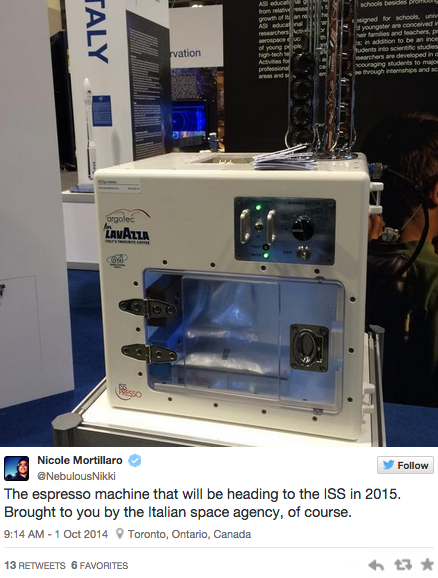 If you have of those visual minds and are imagining boiling water floating around in little hazardous bubbles, don't fret. The Italian-made espresso maker (of course it's Italian) has been adapted to allow it to function in the microgravity environment of the ISS, the machine even fitted with a pressure-resistant steam pipe. To boot, astronauts will have to drink the coffee from a little baggie though a straw to stop it floating about. Very safe then. The espresso maker was sent especially to the ISS for Italian astronaut Samantha Cristoforetti, who apparently cannot get by without coffee. We hear you sister. Cristoforetti even took to Twitter to vent her excitement.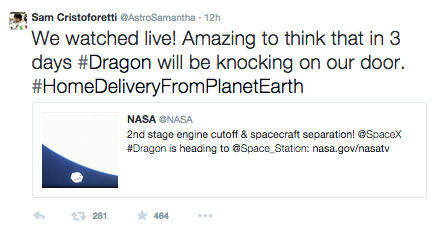 Baptised the ISSpresso (an out of this world pun name), the microgravity-friendly espresso machine is a world, nay solar system first. ISSpresso was a part of a shipment of 4,000 pounds of groceries on board the unmanned SpaceX rocket that launched from Cape Canaveral. A previous coffee maker had been expected to arrive in November but was destroyed when a supply rocket blew up after taking off. After four attempted launches the SpaceX rocket has taken off and has an ISS ETA of Friday.
The cargo trip was the sixth journey that SpaceX has made under a US $1.6 billion deal with NASA to supply the space station with various essentials. The company currently trying to revolutionise the rocket industry by making its equipment as reusable as commercial planes.
Published on April 15, 2015 by Laetitia Laubscher