ARTS & ENTERTAINMENT
Taxi Drivers Protest Uber for Taking Fares
Cabbies have finally had enough of having their grass cut.
Uber has become a worldwide phenomenon, expanding across the globe to more than 70 cities in its brief five-year history. The mobile app and car sharing service, bankrolled by investors including Google and Goldman Sachs, has caused waves with its recent valuation of a hefty US $18.2 billion. With growing business as smartphone ownership continues to spread, those in need of a post-gig ride home are viewing Uber as a more convenient — and often cheaper — alternative to a taxi.
Now, the cabbies have finally had enough. Claiming that the mobile app is affecting their livelihoods, taxi drivers in London, Paris, Madrid, Berlin and Rio de Janeiro protested in the streets. Blockading access to major CBDs and shopping districts across these cities for hours on end, cabbies demanded tougher regulations to be imposed on Uber drivers. Taxi drivers in Europe often pay between $200,000 and $300,000 for their license, while Uber promotes their 'No Sign Up Fee' policy openly on their website. How could a cabbie compete with that?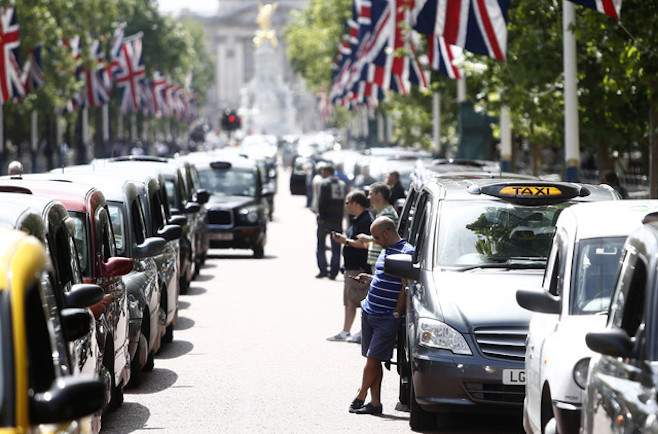 Taxi drivers in London slowed traffic to a crawl near Trafalgar Square, continuing on to Dowling Street where they honked their horns as they passed Parliament and the Prime Minister's address. Home to the iconic black cabs, London saw the most monumental protests, with more than 10,000 taxis participating in the demonstration. Ironically, Uber reported an increase in downloads of the app by 850 percent in the past week. That's 850 percent.
Similarly, cabbies from the other European cities cited severe damage to their income and loose, easily manipulated laws for those working under the Uber umbrella. In Rio de Janeiro, taxi drivers participated in the demonstrations ahead of the World Cup — seemingly apprehensive of the possible impact it will have on what should be their highest payday yet.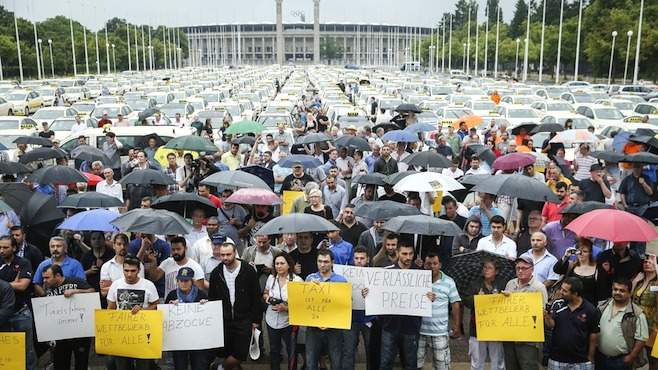 The protests overseas come shortly after contention in Australia over the parameters of ride-sharing cars. The Victorian government was dishing up fines of $1,700 a pop to Uber drivers. The company's response was to pledge that they would cover any and all of these penalties. Last month, the NSW government claimed Uber drivers could face a charge of up to $110,000 for being in breach of state law. It seems Australia has been imposing the regulations taxi drivers overseas so dearly wish to see in their own regions, yet Uber continues to be a viable — and profitable — business for drivers across the country.
Cabbies in Uber-inhabited regions around the globe are feeling the brute force of an evolving world. It seems the tides of change are causing an insurmountable swell for the humble taxi driver, with no sign of an end.
Via Reuters and Fast Company. Images via Mashable and Business Week.
Published on June 12, 2014 by Neada Jane