Teva Has Launched a Rainbow-Striped Flatform to Give You Serious Early 00s Nostalgia
Pair with 100 butterfly clips and over-plucked brows as you kick back to watch an episode of 'Lizzie McGuire'.
Over the last few years we've seen a serious comeback of 90s fashion. Oversized blazers, Doc Martin boots and Rachel Green-inspired mini skirts abound. I'm proud to say I'm donning a claw clip as I write these very words you're reading.
So far, we've seen little of the rogue new millenium style creep into the public consciousness — until now. Hardy day-to-night sandal makers Teva are bringing a nostalgic dose of the early 00s to 2022, with their rainbow-hued 'All Gender Flatforms', part of brand's new Pride collection.
Just even seeing images of the new range recalls the absolute chokehold flatforms had on us all as we navigated the years into teenhood. Worn regularly to school by the queen Lizzie McGuire herself, they had all the comfort of a jandal and all the height of a heel. The girls who were allowed to wear flatforms to the school disco were elite, towering over the rest of us as they danced by shuffling from side to side.
If, like me, they were out of reach at the time because mum thought you'd break your neck, you can now actually use your own hard-earned adult money to buy Teva's rainbow take on the classic, classy footwear.
It's a step out of the box for Teva, usually known for their hardy both-mountain-and-bar-appropiate sandal ranges. In a statement, the company claims the new collection, launched to coincide with Pride Week, was built to "inspire freedom and express individuality".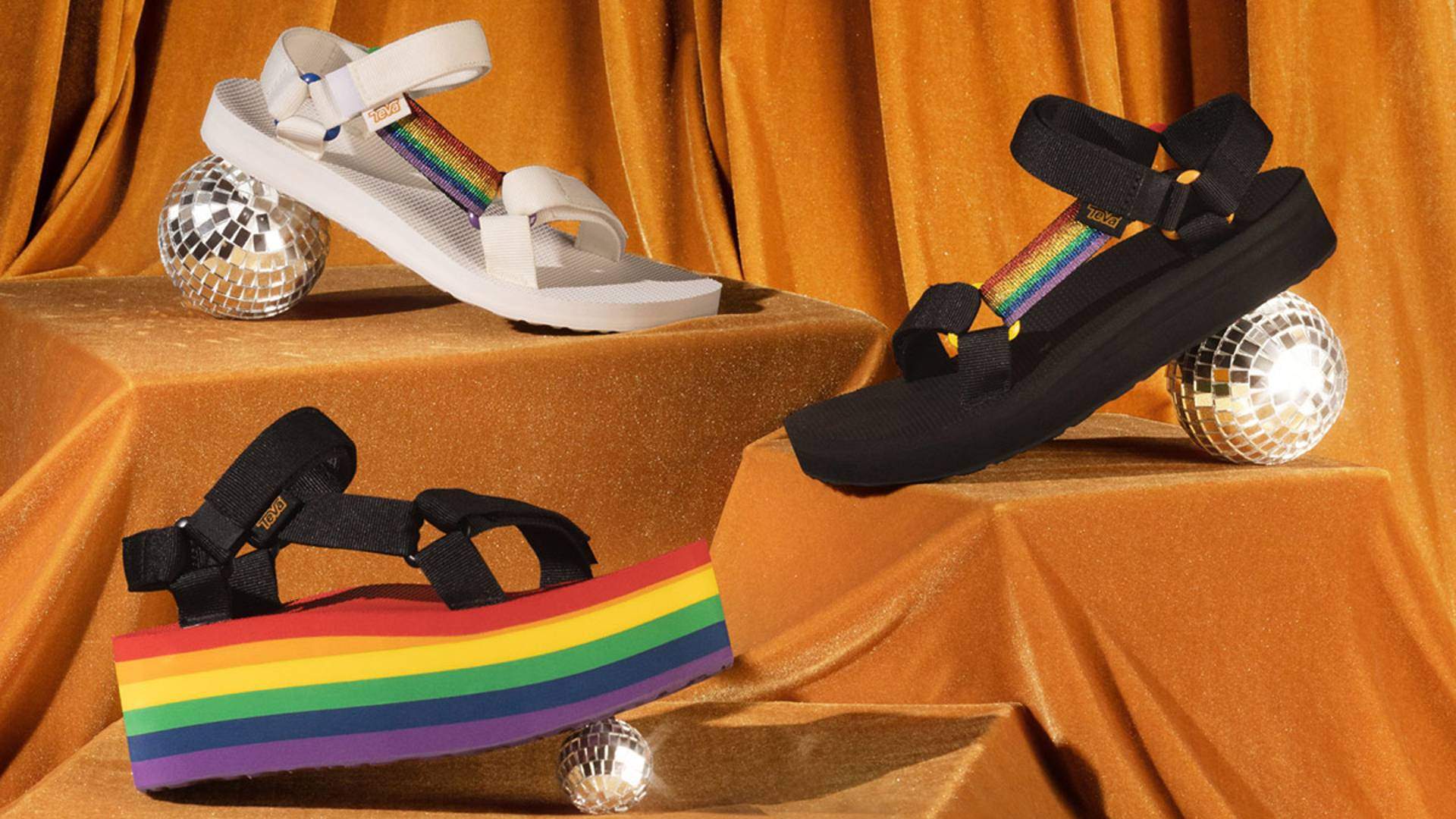 The signature Flatform Universal Pride sandals retail for $119.99 per pair, while the much more discreet (read: less fabulous) Original Universal Pride range retail for $109.99 per pair. While it's great to see the company move to an "all gender" sandal, we would love to see a donation towards Aotearoa-based queer youth charities or similar. According to Teva's US site, a portion of profits from the range sold in the States goes to the Humans Rights Foundation and a spokesperson told Concrete Playground Teva's Australian outpost made a significant donation to Black Rainbow, an organisation supporting the Aboriginal and Torres Strait Islander LGBTIQA+SB community. A local answer to that would be ace to see.
Still, it's a great step in the right direction and a chance for all of us millennials to reclaim an important era of our youth and step into the office on Monday in style. We'd perhaps just recommend leaving those two chunky, face faming layers of hair in the past. They don't do anyone's mug any favours.
Teva's new Pride Collection can be found on the New Zealand site, with prices starting at $109.99 for the Original Universal Pride sandals, and $119.99 for the midform and flatform versions.
Concrete Playground Trips
Book unique getaways and adventures dreamed up by our editors