Auckland's Finger-Lickin' Fried Chicken Festival Is Finally Coming Back This Winter
The one-day event will see fried chicken fans able to get their greasy mitts on wings, chicken-topped waffles, burgers, baos and other delights.
If you consider yourself one of the country's finest fried chook aficionados, your Superbowl approaches. As part of the Elemental AKL Festival, the city's beloved Fried Chicken Festival is making its hotly anticipated return to Auckland.
When we say this is one of the most popular events on the city's calendar, we mean it. Tickets to Auckland's first fried chicken celebration in 2018 sold out in 19 minutes. The event at Parnell's La Cigale French market was so crammed that attendees had to wait over an hour for a sniff of fried poultry. In 2019 it moved to Queens Wharf venue Shed 10 where it welcomed chicken lovers by the hundreds.
Last year, of course, it was scheduled to make its triumphant return to the waterfront on August 21— until the country went into a snap level 4 lockdown on August 17, and fried chicken fans had to resort to making their own pale imitations in their home kitchens.
Now it's finally coming back once more, with a lineup of some of the country's best food trucks ready to sling all the chook punters can get their greasy mitts on.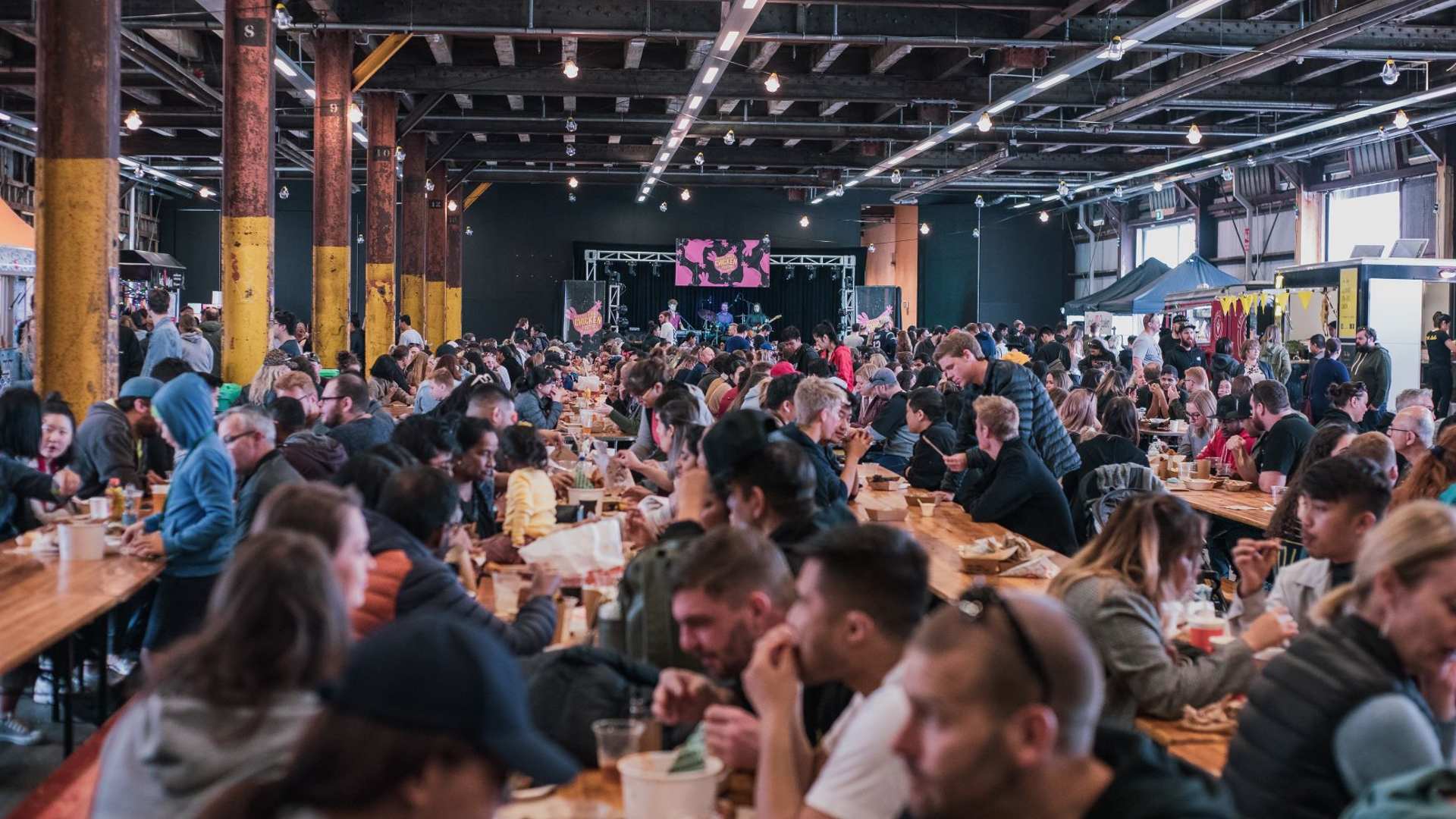 On Saturday, July 30, Auckland's finest food trucks and chicken restaurants will bring their best chicken-inspired menus to the upper and lower decks of Shed 10. Some already specialise in fried chicken — while others will change up their menus to incorporate the theme of the night. A number of different cuisines will be on offer: Gracefully Jerked is bringing their Jamaican-inspired fried chicken; NomNom will be supplying Asian eats; More Pork switching things up and serving New Orleans inspired fried chicken and waffles; while Temaki Truck will be slinging their famous Japanese-inspired Karaage. The best part? No dish will cost over $10.
Live music will be pumping throughout the night, and there will be plenty of bevvy options to wash all that chicken down, with Hunting Lodge wine, Pals and Behemous beers all on offer (including a special festival exclusive hazy pale ale named 'Deep Fried Goodness').
Once again, in an effort to cut down wait times and make crowds more manageable, the festival will be hosted across two sessions — lunch from 12–4pm and dinner from 5–9pm. This year will also be cashless, with festival-esque wristbands that can be pre-loaded before the event.
Auckland's Fried Chicken Festival will take place on Saturday, July 30. Tickets are on sale now, with more information and further vendors yet to be announced.
Published on May 10, 2022 by Sarah Templeton