FOOD & DRINK
Five Tasty Ways To Serve Up Bangerritos
Banger meets burrito meets Concrete Playground meets tequila-inspired innovation.
The BangBus, (Your Boy) Bangs and now... Bangerritos.  All excellent things in life, things to be cherished and enjoyed on occasion - like a fine wine without the class and/or dignity.
Should your life be devoid of Bangerrito knowledge, we'll save you the Google and paraphrase their product blurb: "Bangers meets Burritos.  Everything you love about a burrito but in a delicious free range pork sausage that's stuffed with Mexican inspired ingredients. Probably gluten free."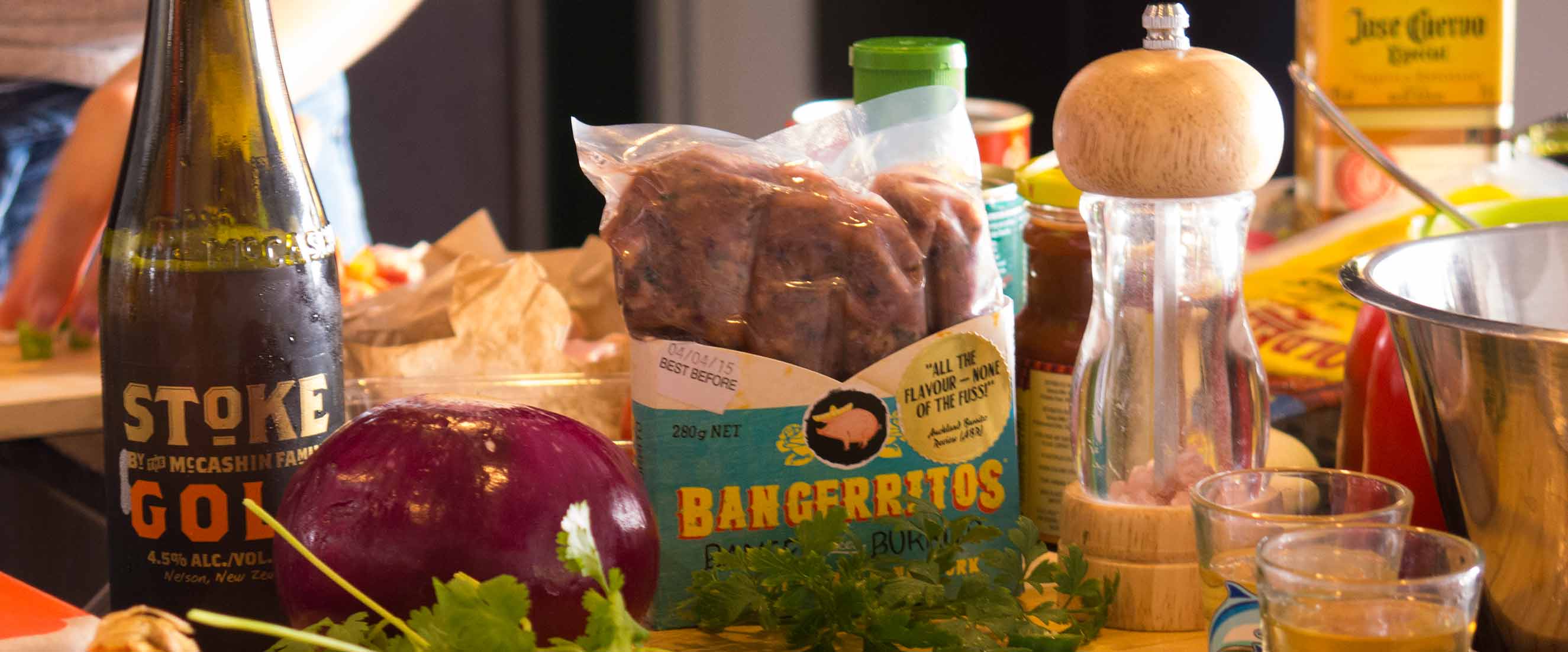 The brainchild of Auckland Burrito Review founder and Concrete Playground Mexican expert Ben Polkinghorne, we think they're pretty ace. Basically, if you haven't been riding the trend wave of cool, or don't; shop at Nosh or Farro Fresh, attend music festivals, subscribe to 'My Food Bag' or have friends who scour the internet for weird fusion foods to eat... then you're a lucky sausage, because it's time to learn about a Mexican taste sensation sweeping Auckland - and the best ways you've clearly never heard of eating them.  If you DO know, consider yourself a step ahead, but be ready for an education, because we drank a bottle of tequila, got buck wild in the kitchen one evening and smashed out the five tasty Bangerrito recipes for your reading pleasure.
Click here for our interview with Ben Polkinghorne plus for details on how to win a Bangerrito prize pack.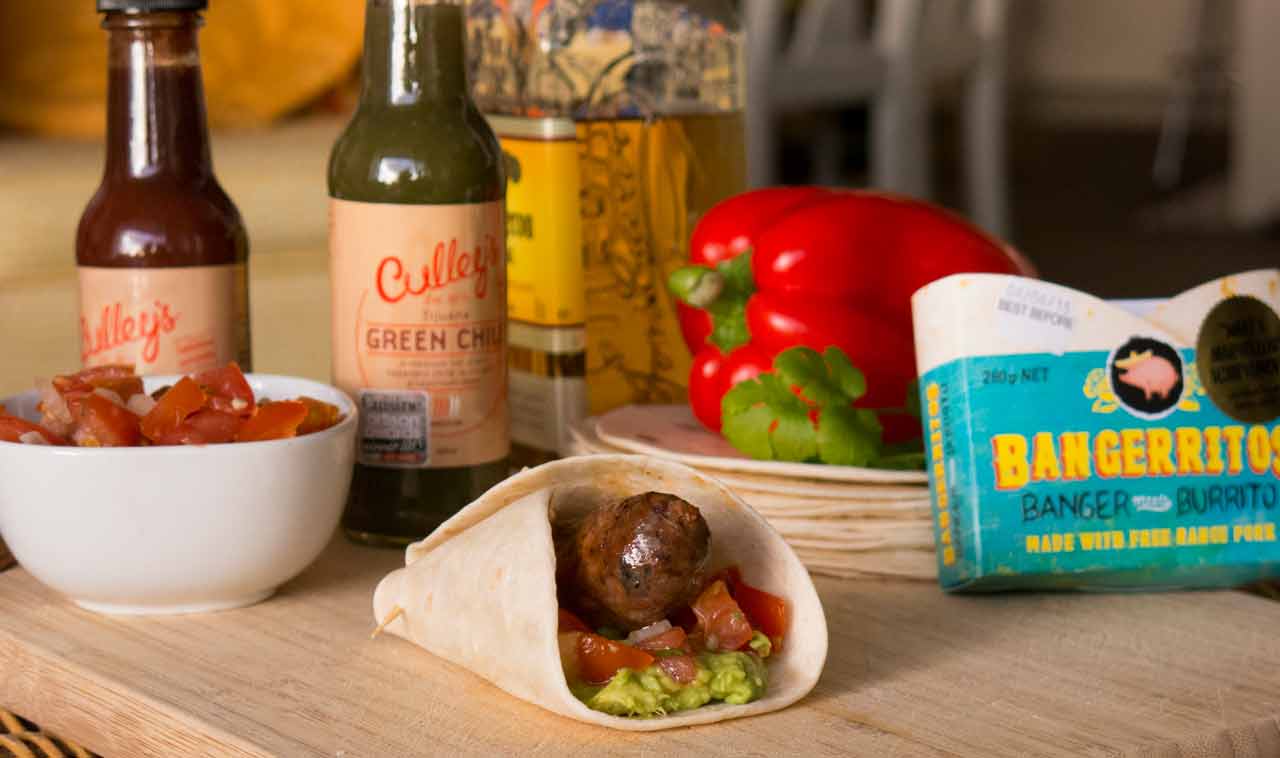 1. The Classic
So maybe you have tried this, good for you, it's still the best so we'll roll with it. KISS works for Lil Jon, and it can work for you - keep it simple, stupid. Guacamole (homemade obviously), hot sauce and salsa all rolled up into one delight. When your sausage is jam-packed with beans, spice and everything nice do you really need more?  Unlikely, and the Bangerrito Classic available at a store near you will only reinforce our point.
Ben reckons, "this is where it started for us. When we're telling someone about Bangerritos for the first time, this is how we insist they should be served. For some, it serves as a tasty meal. For others it serves as inspiration."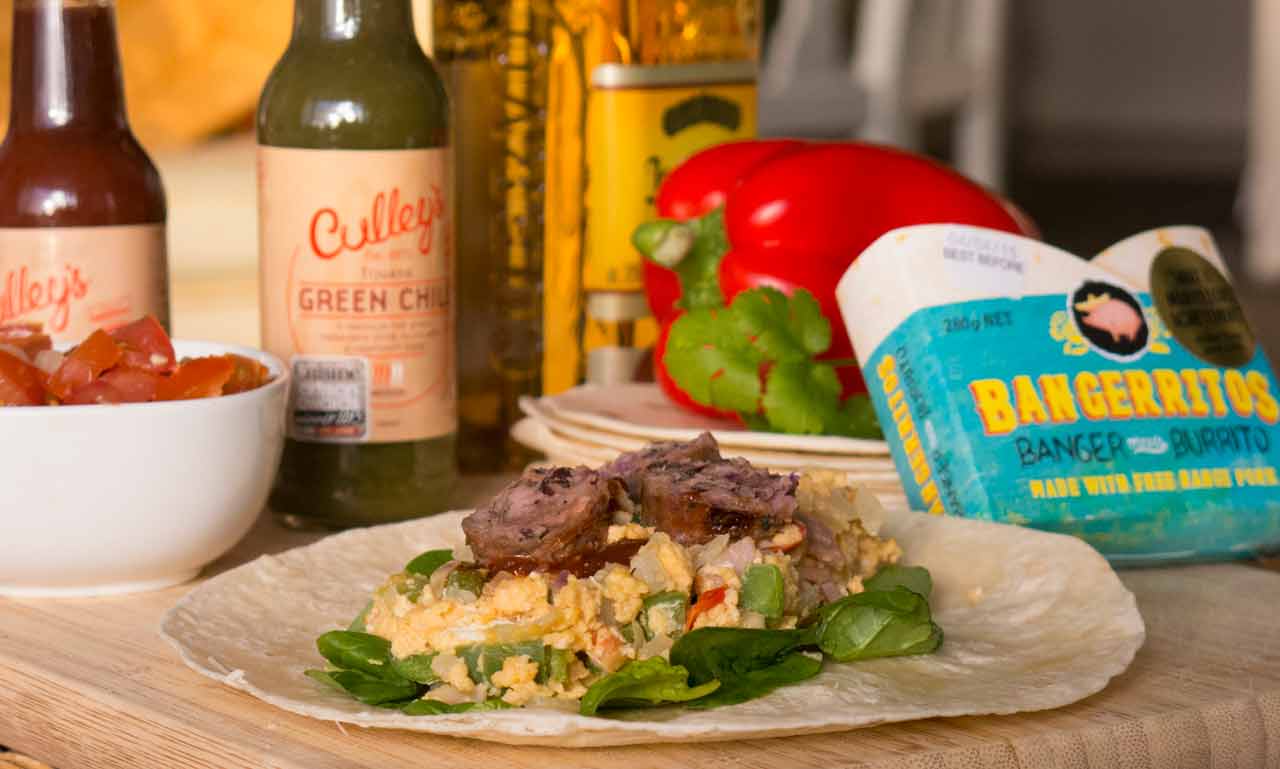 2. La Breakfast Burrito
Only a rank amateur would limit themselves to two meals a day (plus snacks) when it comes to either burritos or Bangerritos.  Breakfast is the most important meal of the day, and the convenience of this oinky-delights means you could make it  a staple of your diet.  We whipped up a breakfast Mexican omelette (capsicum, tomatoes, onion), diced Bangerritos, lashed with chipotle and a nestled in a bed of greenery - boom. Tackle the day with confidence, because you'll handle anything the universe throws your way.
Ben tells us, "you know when you're hungover and only a Big Breakfast will do? And you know when you go take the perfect bite and it's difficult to get a tiny bit of bacon, a tiny bit off egg, a tiny bit of hash brown, a tiny bit of mushroom and a tiny bit of etc? Well the thing about a burrito is there's none of that. It's just you and the burrito, so every meal is perfect. Well picture that but with breakfast. And Bangerritos."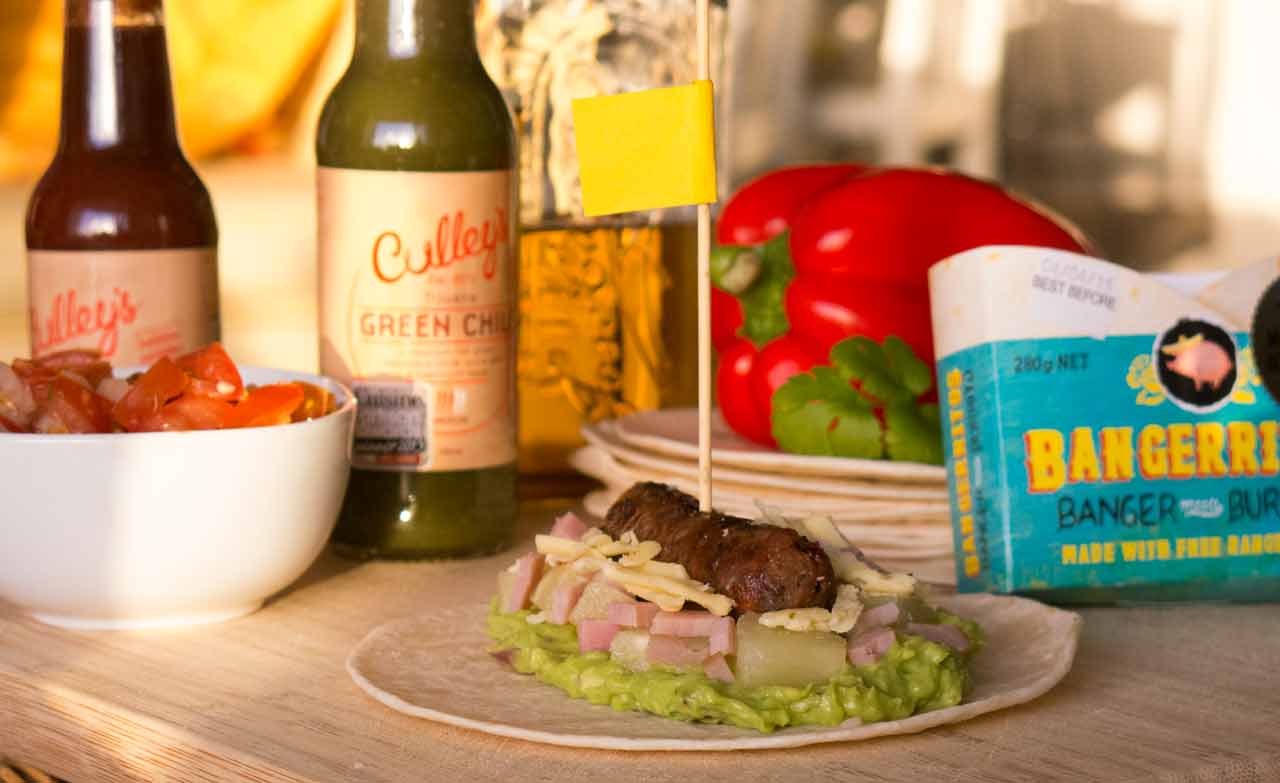 3. The Hawaiian Bangerrito
At this point the tequila is half gone, and the innovation levels are creeping up - what we need is a Hawaiian Bangerrito, with pineapple, ham, cheese and one of those little cocktail umbrellas.  We were pretty much sorted for everything bar the umbrella, and Ben, failing to really understand what we were trying to achieve, produced a lovely flag.  This piece of tropical creativity hit the mark though, particularly when parking itself in a sea of fresh guacamole.
Ben et al, "OK this so one was new to me. Pineapple: you either love it or hate it. If you love it, think how well pineapple goes on pizzas and in burgers. If you hate it, keep reading and see what we did with nachos."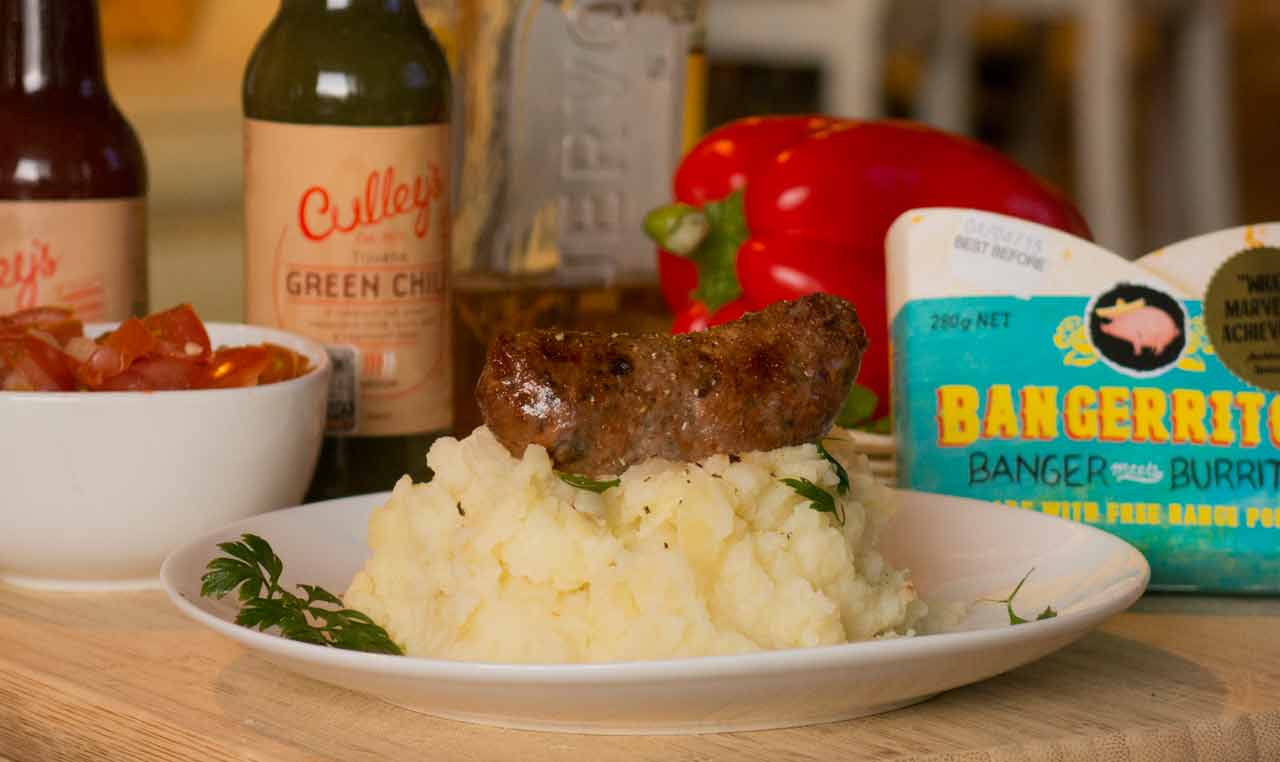 4. Bangerrito & Mash
They say the sun never sets on the British Empire, and we're proud to reinforce that fact.  Turning the tables on colonialism and imperialism we've brought Bangerritos on a veritable Amazing Race of travel, reinventing this English classic with the addition of some Italian (gasp!) parsley and mashed potatoes.  Simple, easy, timeless.  Coma hasta, gringo!
Ben's thoughts on the matter, "if you've come through life without trying bangers and mash, you're a fool. If you go through the rest of your life without trying Bangerritos and Mash, then guess what?"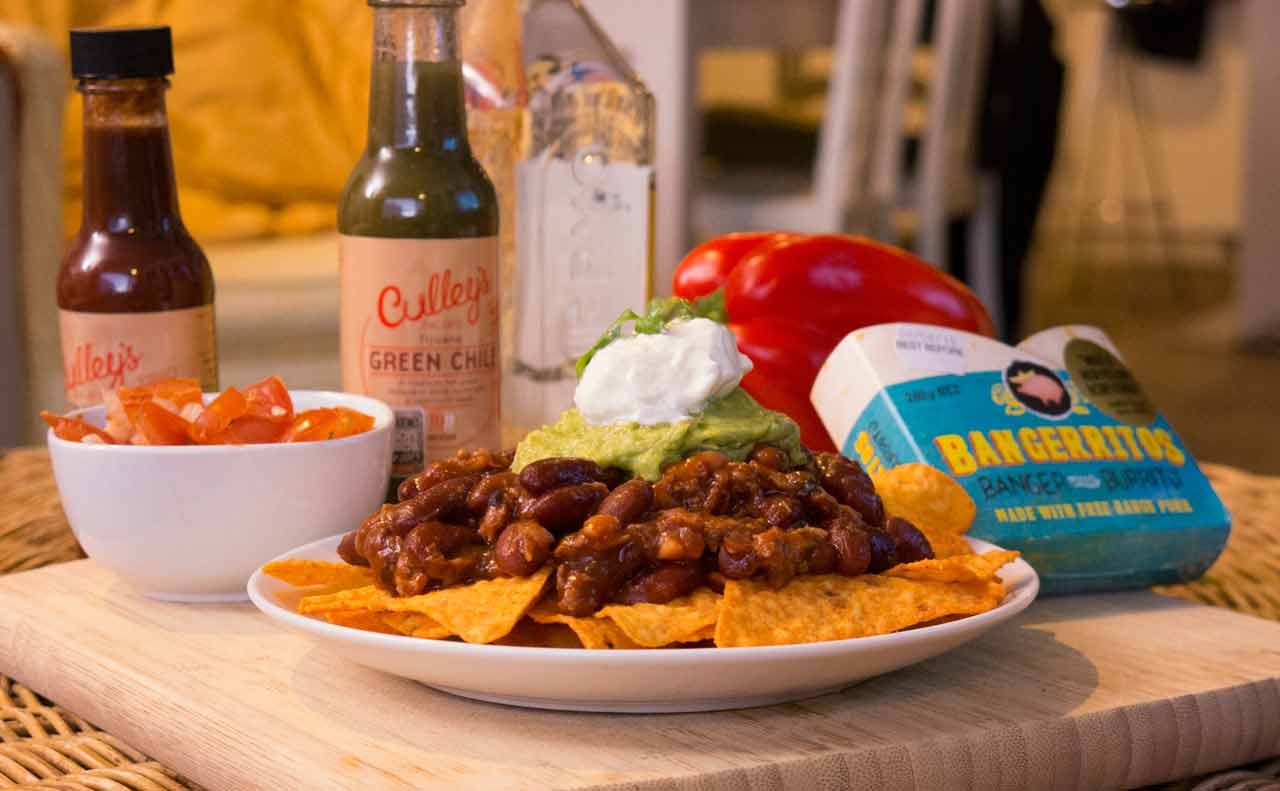 5. Nacho el Bangerrito
While the mashed potatoes were a nice stop-gap, by the end of the night it was time for a carb fix - and hell the cricket was fully underway so we needed real sustenance.  Being crammed full of goodness and lacking any waste-of-space fillers, the Bangerrito can become relatively unstable when accosted with a knife or other cutting implement - which actually makes it perfect to cut up, remix and redefine.  With the liberal application of salsa bean mix, guacamole, sour cream and hot sauce - on their god-given home of Doritto Salsa-flavoured corn chips - they're truly heavenly, and to be honest, our favourite combo of the night.
Ben tells it straight, "Nothing I could say would sell more than the picture."

Published on April 09, 2015 by Will Seal