FOOD & DRINK
Six Australian-Driven Bars and Restaurants to Visit in Hong Kong
Who knew you'd find a Western Australian iron ore mine-themed cocktail bar in HK?
Six Australian-Driven Bars and Restaurants to Visit in Hong Kong
Who knew you'd find a Western Australian iron ore mine-themed cocktail bar in HK?
While it seems the large majority of Australian expats have decided to put down roots in London or New York, Hong Kong has one heck of an Australian population — especially in the culinary scene. From Melbourne-style coffee bars and roasteries to underground contemporary Chinese fusion restaurants and Western Australian iron ore mine-themed cocktail bars (really), Honkers is brimming with little pieces from home for Australian travellers.
Embracing the traditional cooking styles of HK with a little contemporary twist, these Aussie expat hubs aren't just for travellers, seeing locals queue up as much as visitors every day and night of the week. If you're planning a visit to Hong Kong, pop by and see how Aussies are representing.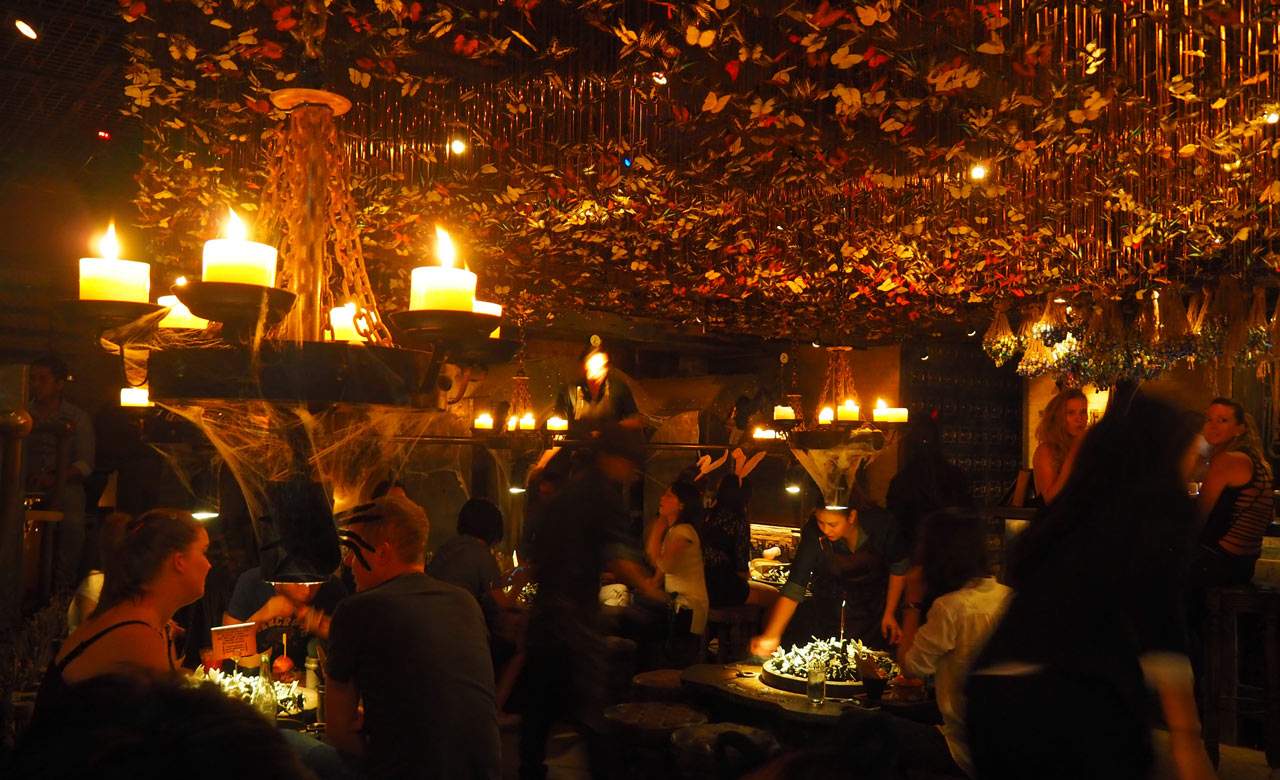 THE IRON FAIRIES
One of the most talked about cocktail bars in Hong Kong is themed around nothing less niche than a Western Australian iron ore mine. Think Flintstones-like private cave nooks, gritty mining tools lining the back bar, live jazz, and a casual 10,000 dead butterflies suspended from the ceiling. Prolific Australian designer Ashley Sutton simply ran with what he knows — he really is a former miner from Western Australia. Sutton makes his own gin, Iron Balls, which features in a few of the highly decadent cocktails (a craft beer or wine-focused bar this ain't). Try the 'Underground Martini'.
Pull up a leather Chesterfield armchair around what looks like a macabre bonfire of bodies but is actually a pile of iron fairies (hence the bar's name). Each fairy has its own name and personality — word is that each is named for Sutton's ex-girlfriends. Don't steal them like a jerk, instead you can buy a fairy and have it packaged up with magic dust and wishes. But what's this tunnel, and where does it lead...
LG, 1 Hollywood Road, Central.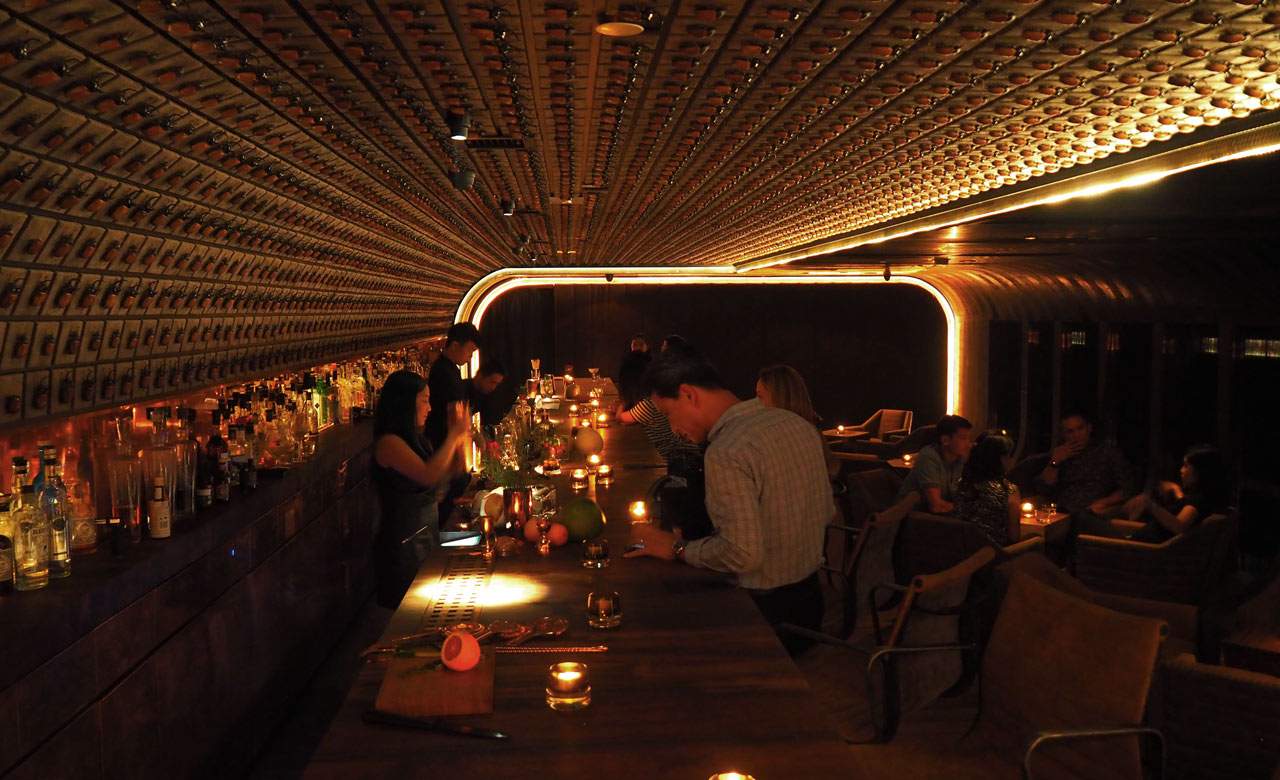 J.BOROSKI
Followed the tunnel? You've emerged into one of the city's newest, most unique and most visually jaw-dropping cocktail bars. Also designed by Ashley Sutton and run by owner/mixologist Joseph Boroski, this bar is a syndication of its sister bar in Bangkok and apparently operates on an invitation-only basis. Horned beetles tile every inch of a curved tunnel ceiling, while framed giant spiders line hidden alcoves made for intimate conversations. There's no cocktail menu at J.Boroski, only particularly intuitive bartenders who'll quiz you on your preferences before producing your perfect elixir.
"Have we shown you the sex room?" asks the manager. We can't tell you about the sex room, but we can tell you it exists and involves 1950s porn. You'll just have to find it for yourself. Your only clue? Follow the spiders.
Secret location. To request an invitation call +852 2603 6020 or email hk@jboroski.com.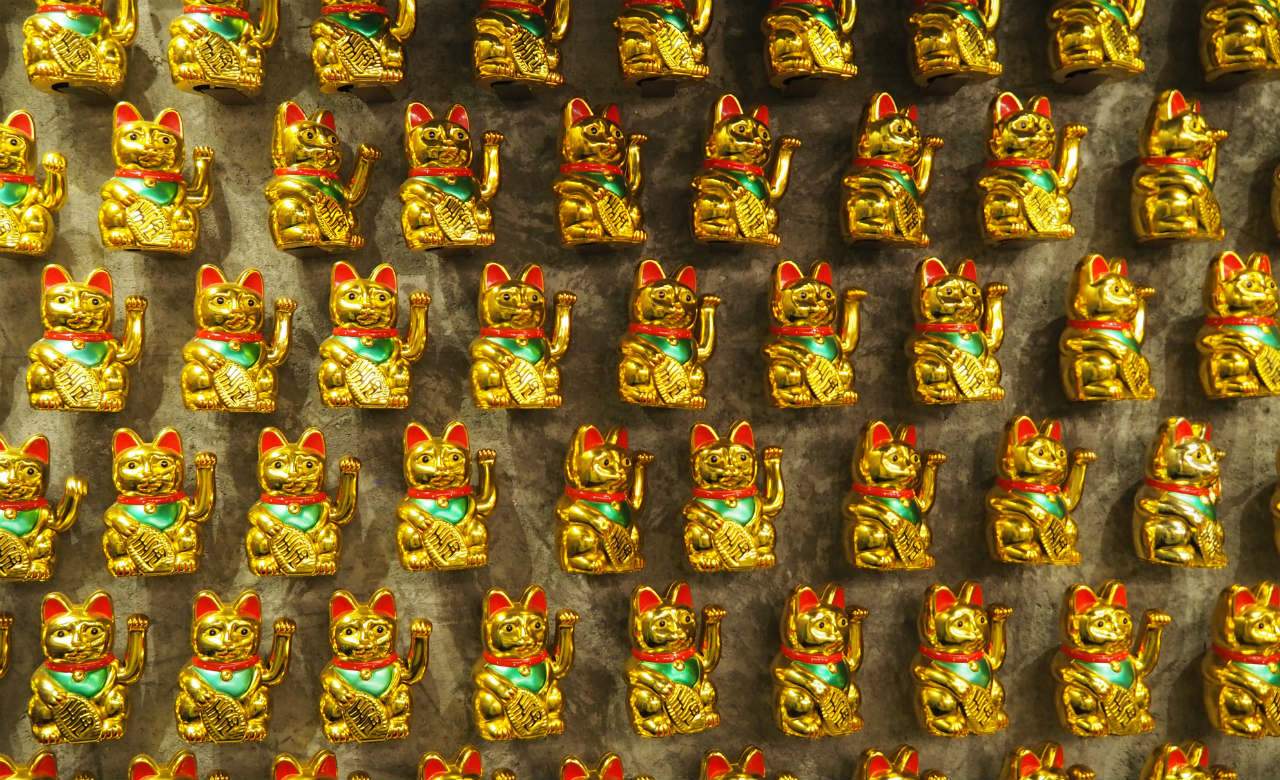 HO LEE FOOK
Taiwan-born chef Jowett Yu has created one heck of a Hong King must-visit with his modern Chinese, Elgin Street restaurant in Central, Ho Lee Fook (say it out loud, you got it). The name literally translates to "good fortune for your mouth" and is inspired by old school Hong Kong cha chaan tengs (tea restaurants) and late night Chinatown haunts in 1960s New York. Yu's known in Australia for his Tetsuya's training and for co-opening Sydney restaurants Mr Wong and Ms.G's with Eric Koh and Dan Hong.
You won't have trouble missing this highly publicised spot — just look for one of the most Instagrammed walls in the city, a clinquant assembly of waving cats. Just try and keep tipsy passersby away from this selfie trap. Downstairs, in his dimly lit, Chinese street art-adorned basement, Yu weaves contemporary Chinese magic through street food staples like French toast (Yu hides peanut butter in his version, and casually serves it with condensed milk ), prawn toast done okonomiyaki-style, and roast wagyu short ribs with jalapeño purée. But it's the roast goose that has foodies aflutter at HLF — order that bad boy 48 hours in advance.
1 Elgin St, Central, Hong Kong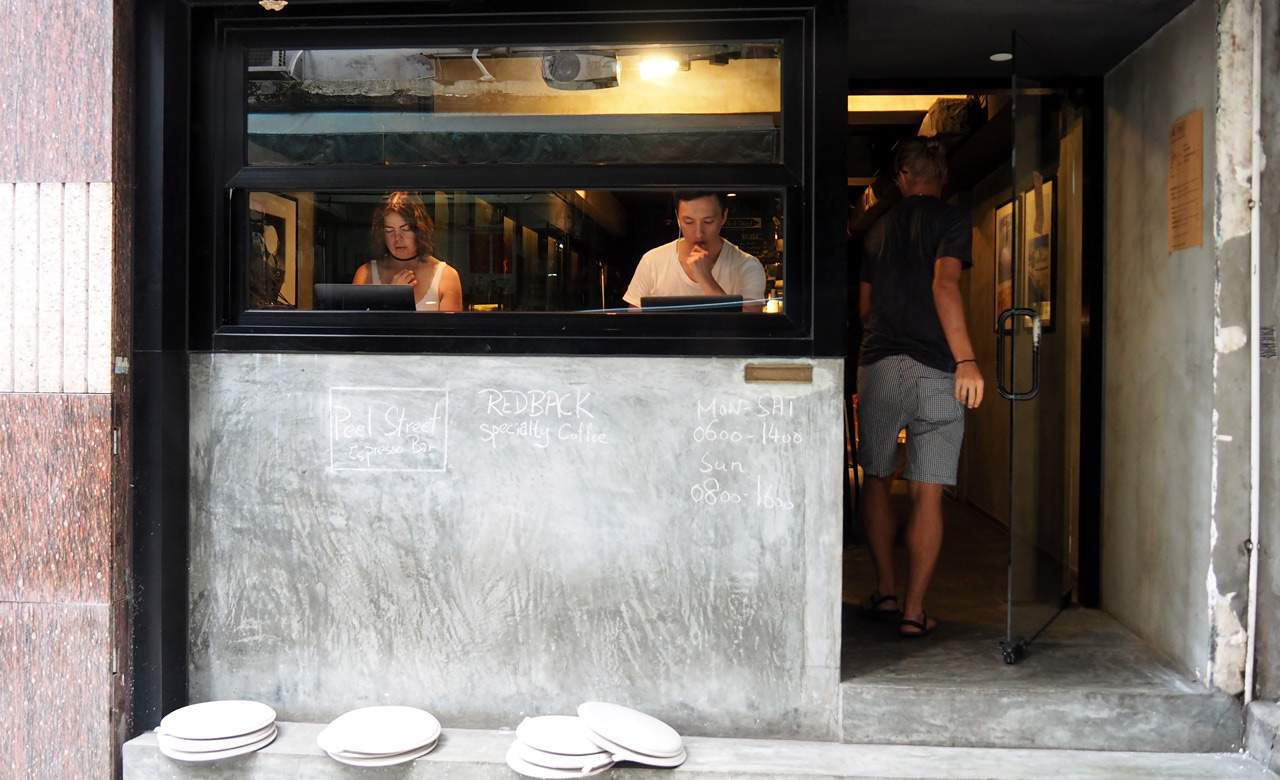 PEEL STREET ESPRESSO
If you're looking for a little piece of Australian cafe life in Hong Kong, head for Central and seek out Peel Street Espresso, the brainchild of Scottie Callaghan from local wholesale roasting company Redback Specialty Coffee (co-owned by Keith Regan and Craig Jackson). Opened in February 2016, this modernist, cement corridor space looks straight out of Melbourne or Sydney, and plays host to locals and visitors to the city alike, with the Ho Lee Fook team regular coffee fiends. Perch up at the window bar with a black, white or filter coffee ($3.30 each), a freshly baked and schmeared bagel ($5-11) or the quintessentially Australian avo toast ($14) before a big day of exploring. If you pop back after closing time, the coffee beans are whisked away and the space transforms into a wine bar.
38 Peel Street, Central, Hong Kong, www.redbackcoffee.com.hk
MAISON LIBANAISE
Fancy a spot of Lebanese in the middle of Hong Kong? Head for SoHo's Maison Libanaise, a three-storey, canteen-style restaurant inspired by 1960s Beirut, the 'Paris of the Middle East' with its French-inspired architecture and contemporary food scene. On the ground floor you'll find takeaway nosh from Le Comptoir, on the first floor lives Le Salon, a seated, sharing-focused restaurant doing Lebanese mezze, and on the rooftop you can sip on a wine or two at La Buvette, overlooking SoHo's streets. Head chef James Harrison hails from Melbourne and trained under Greg Malouf at MoMo. He's dishing up honey-glazed haloumi, eggplant fattoush and hearth baked pita bread daily.
10 Shelley Street, SoHo
OPHELIA
Yeah, yeah this one's another Ashley Sutton, but look at it. An epic peacock-themed cocktail bar inspired by 19th century opium dens and located in the nightlife-happy area of Wan Chai, Ophelia polarises bar fans in the city (like any venue boasting a penchant for blatant voyeurism, decorated female performers and onstage debauchery). Chef Angus Harrison, who's previously worked with Martin Boetz and Luke Mangan, does tapas here, perfectly paired with the bar's Asian herb-heavy cocktail menu.
Shop 39A-41A,1/F, The Avenue, Lee Tung Avenue, Wan Chai.
OTHER AUSTRALIAN-HELMED RECOMMENDATIONS
Belon
Carbone
Le Garcon Saigon
Images: Shannon Connellan unless otherwise specified.
Concrete Playground travelled as a guest of the Hong Kong Tourism Board.
Published on November 27, 2016 by Shannon Connellan