Here's Where to Get Your Mitts on The Great NZ Toastie Takeover Finalists in Auckland and Wellington
Over 180 eateries around the country entered creative combos of bread and cheese — now 13 finalists remain for you to wrap your laughing gear around.
Every year the country goes a little crazy for the classic combination of bread and cheese — usually accompanied by some other delicious accoutrements. The Great New Zealand Toastie Takeover, run by McClure's pickles, attracts a heap of weird, wacky and always delicious contributions each year from cafes and restaurants nationwide. This year over 180 eateries participated in the competition, a number that's now been narrowed down to 13 finalists.
The competition's criteria is simple: an eatery's entrant has to be toasted between two slices of bread and – like all respectable toasties – able to be eaten by hand. The toasted sandwiches also needed to contain cheese (or a vegan substitute) and McClure's pickles, with all the other ingredients left entirely to the entrants' imaginations. Sangas are then judged on presentation, effectiveness of preparation technique, eatability, taste, provenance, and innovation. This year has seen delicious additions include pork, brisket, lamb shoulder, and salmon, while some have attempted to elevate the toastie experience with dipping sauces and soups on the side.
While South Island cafes have taken out the top spots in the last couple of years, this year sees cafes in both the Auckland and Wellington regions fighting hard for the prize. If you're keen to get your laughing gear around one of the finalists, here's where you can find them.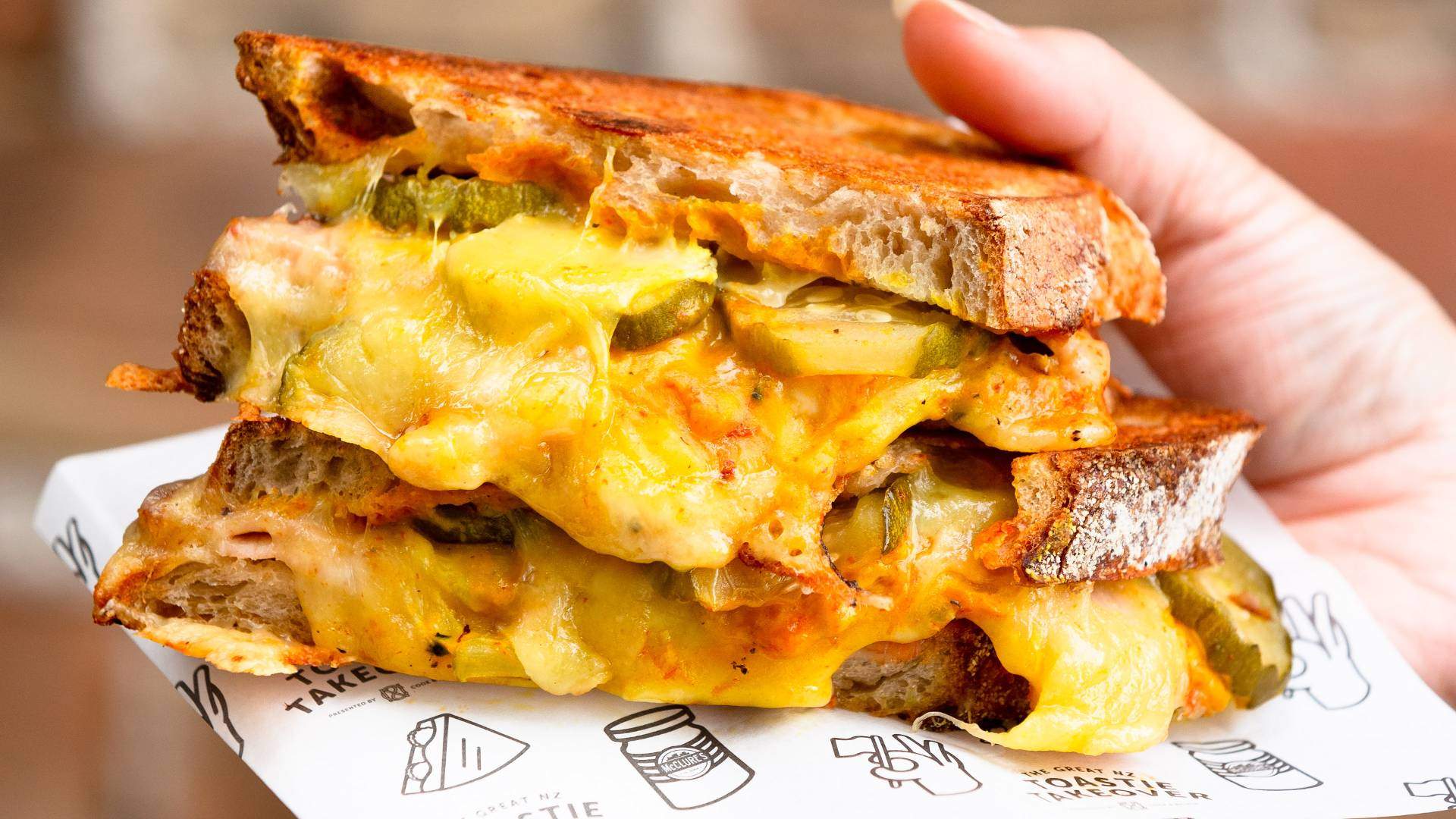 AUCKLAND
'The Pepper Pig', Archie Café
Hot pork, double cheese blend, McClure's sweet and spicy pickles, mustard and sriracha on toasted sourdough.
'Low 'n Slow', Wynyard Pavilion
Low and slow smoked wagyu brisket, Massimo's mozzarella, McClure's sweet and spicy pickles, truffle aioli and Old Yella habanero mustard.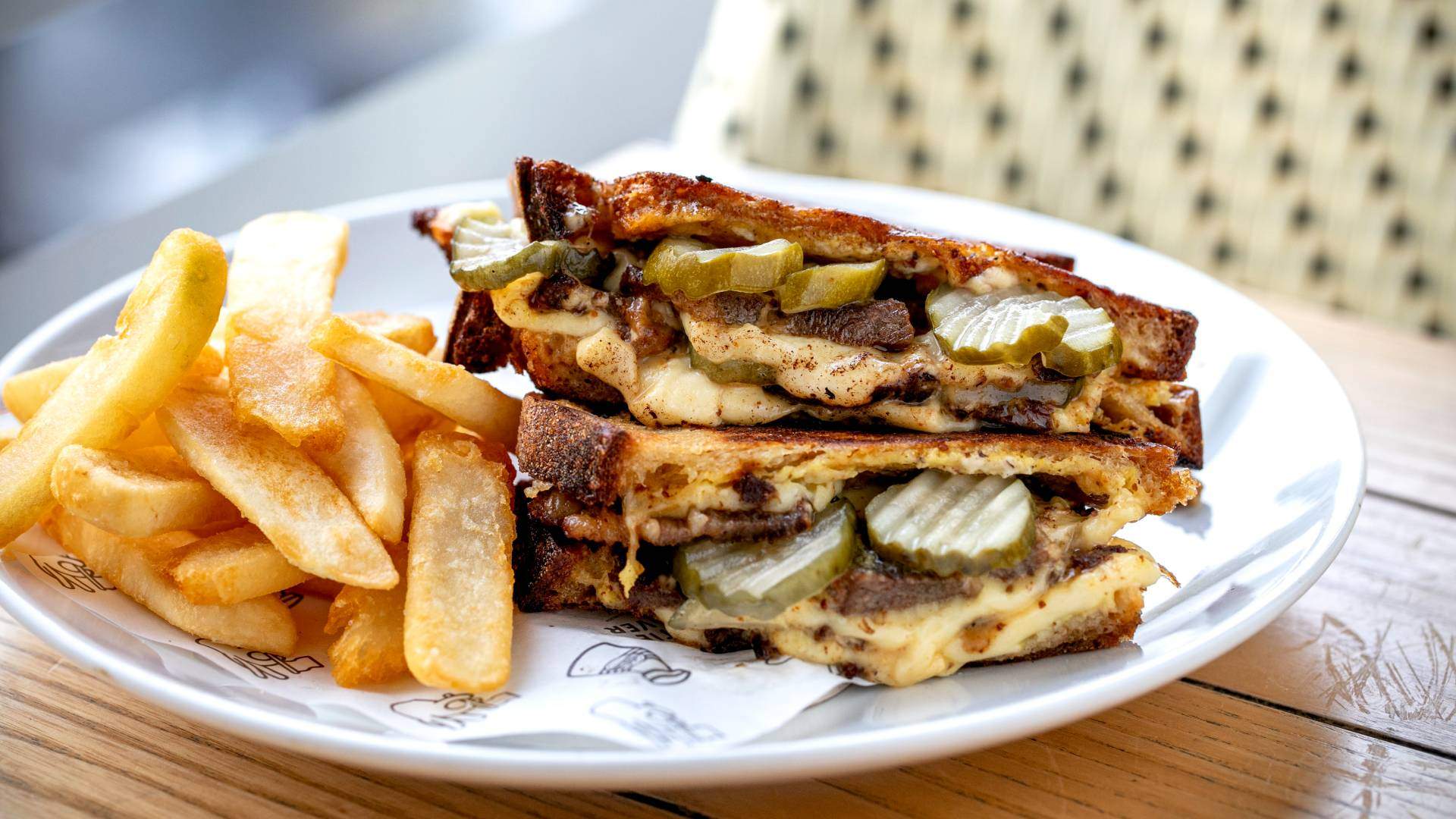 If you're headed on a winter road trip, check out:
'The Smoky Pork & Pickle', The Public Office, Ngatea
Cider braised pork, smoky wood sauce, melted gouda and McClure's sweet and spicy pickles, topped with crispy fried pickles.
'Get Smoked, Pickled + Toasted', Okere Falls Store, Rotorua
House smoked, beer brined brisket, McClure's sweet and spicy pickles, hop salted mozzarella, smoked cheddar, watercress and horseradish on Bread Asylum X Lumberjack Brewing spent grain sourdough with pickle brine sour cream and a beer gravy dipping bowl.
'Owen's Missus, Who Takes No SCHMACK', Toastie, Ohakune
Corned beef, pickled carrots, Pepper & Me 'Schmack Sauce,' McClure's bread and butter pickles and four cheeses.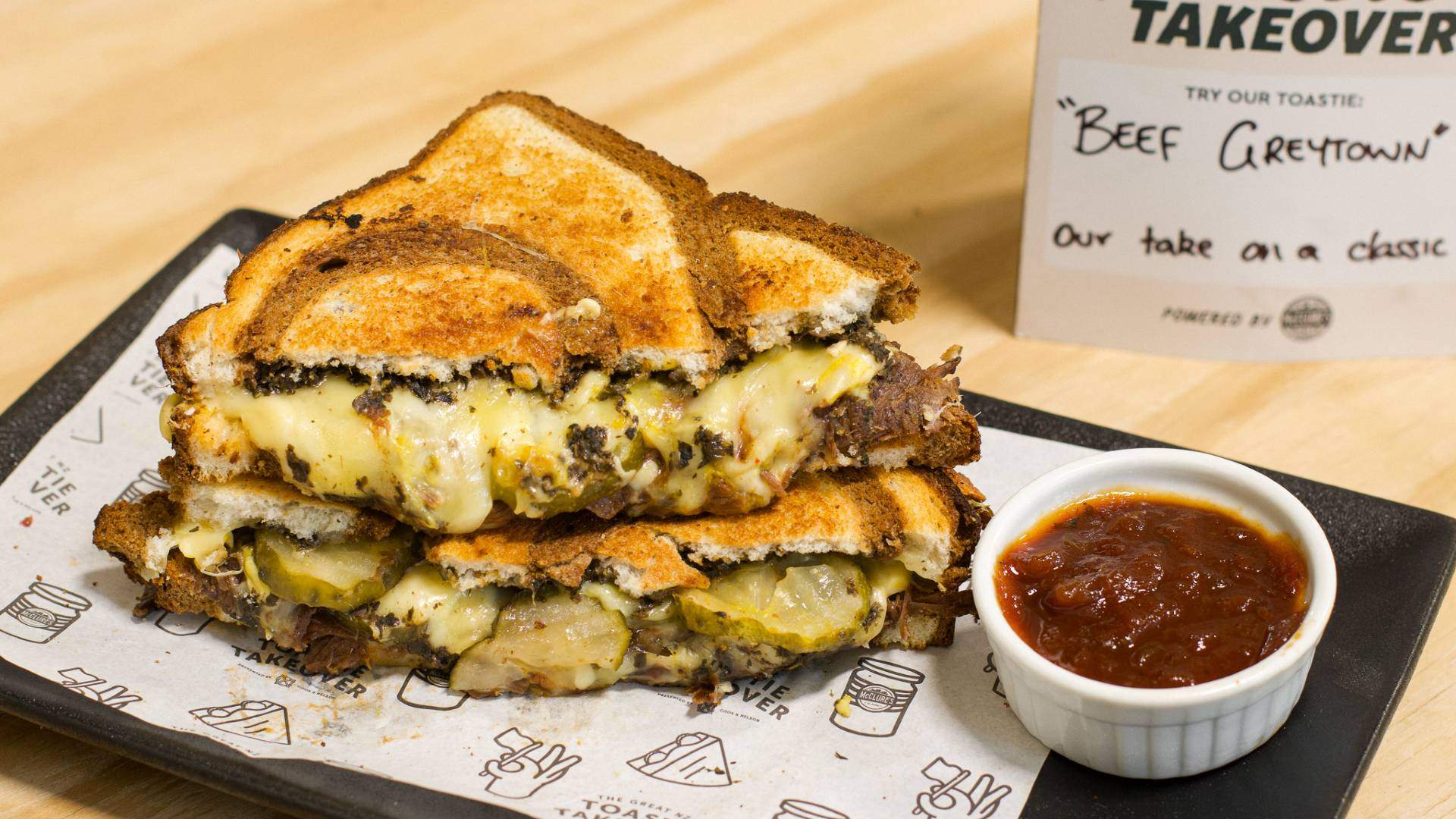 WELLINGTON REGION
'Pork & Rye', Brew Union (Palmerston North)
Pickled pork, jalapeno, date and smoked gouda cheese sauce, American mustard mayo and McClure's sweet and spicy pickles on rye bread.
'Beef Greytown (Our take on a classic)', The Offering (Greytown)
Four cheese blend with Parkvale mushrooms, onion and baby spinach, thyme and parsley to form a spread, French mustard, pulled hot smoked rump beef with a chipotle BBQ Sauce, McClure's bread and butter pickles, white cheese sauce, all nestled between toasted marble rye bread.
Several spots in both cities also got special commendations from the judges, including Burgernaut, Cazador, Churley's, Rampant Coffee and Union Post in Auckland, and Artisan at Bolton Hotel, Cable Top Eatery, Café Polo and Fidel's in Wellington.
Try one, try them all — we're not here to judge. Just get make sure you get in before the winner is announced on Wednesday, July 27.
All the Great NZ Toastie Takeover finalists will be available on menus until July 27, when the winner is announced. For a full list of finalists, head to the official website.