IKEA Has Just Released Its Meatball Recipe So You Can Fry 'Em Up at Home
Home is where the meatballs are.
If Swedish furniture giant IKEA's New Zealand expansion plans work out, feasting on meatballs will be a tradition we all know too well. You'll drop in with the intention of picking up some new water glasses, spend two hours wandering the labyrinth and filling a basket with tea light candles (you can never have too many), bath rugs (so soft!) and plants (you'll keep this one alive, promise), then sit down for a delicious plate of rolled meat and mash.
During COVID-19, IKEA has had to temporarily shut its in-store restaurants across the ditch, in line with the government's closure of non-essential indoor venues. But, so you can get your fix at home, it has just released the recipe to its blessed meatballs.
The flatpack experts also have a podcast that reads through the IKEA catalogue, so you can really relive your time strolling through its endless corridors.
But, we'll skip the smalltalk and get straight to what you're all looking for: the recipe.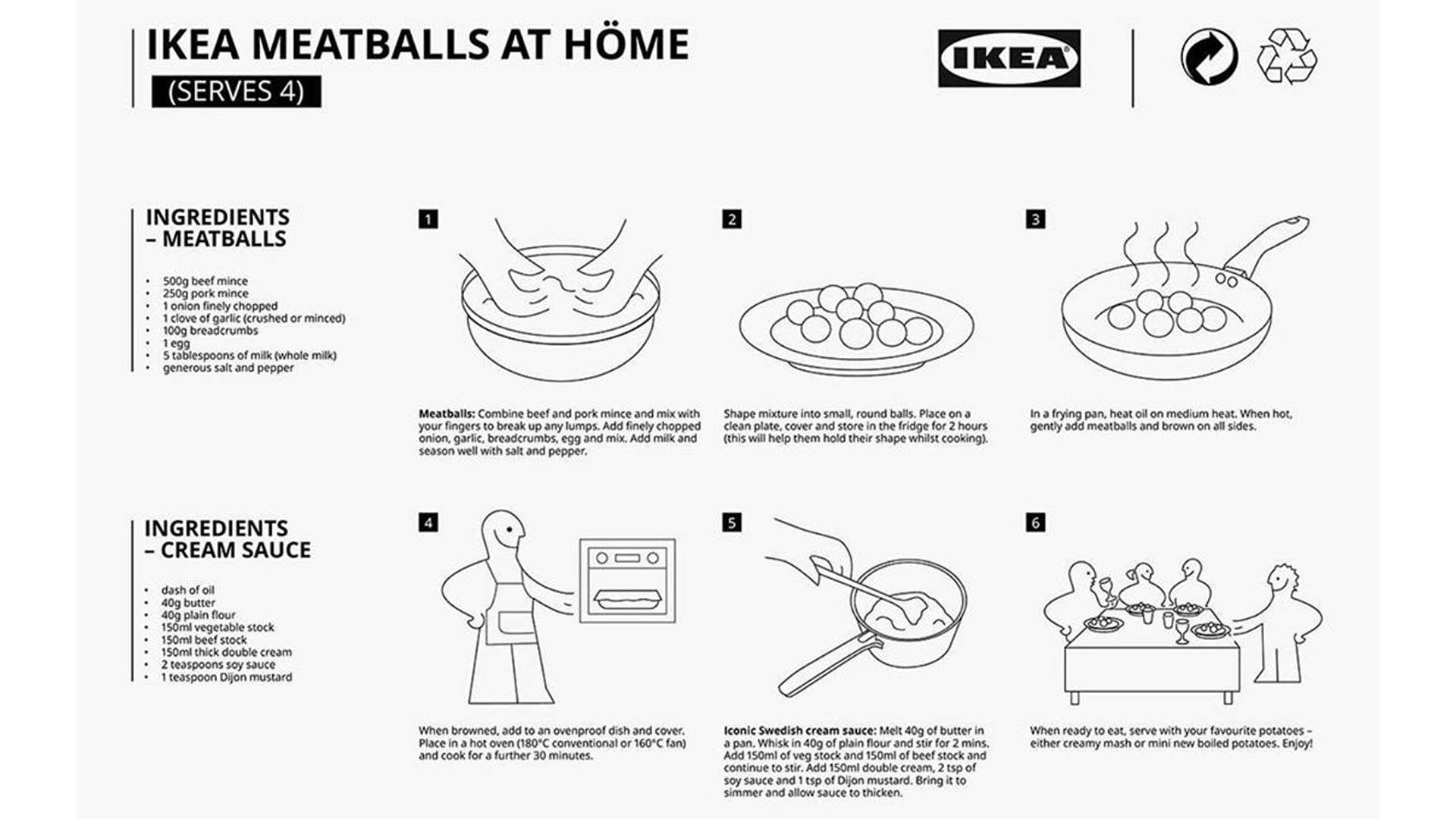 IKEA'S MEATBALLS
Serves four
500 grams beef mince
250 grams pork mince
1 onion, finely chopped
1 clove garlic (crushed or minced)
100 grams breadcrumbs
1 egg
5 tablespoons of milk
Salt and pepper to taste
For the cream sauce
Dash of oil
40 grams butter
40 grams plain flour
150 millilitres vegetable stock
150 millilitres beef stock
150 millilitres thick double cream
2 teaspoons soy sauce
1 teaspoon dijon mustard
To make the meatballs
Combine beef and pork mince and mix with your fingers to break up any lumps. Add finely chopped onion, garlic, breadcrumbs and egg and mix. Add milk and season well with salt and pepper.
Shape mixture into small, round balls. Place on a clean plate, cover and store in the fridge for two hours (this will help them hold their shape while cooking).
In a frying pan, heat oil on medium heat. When hot, gently add your meatballs and brown on all sides.
Add to an overproof dish and cover with aluminium. Place in a hot oven (180°C conventional or 160°C fan) and cook for a further 30 minutes.
To make the cream sauce
Melt butter in a frying pan.
Whisk in flour, stirring continuously for two minutes. Stir in vegetable and beef stock. Stir in double cream, soy sauce and dijon mustard.
Bring to a simmer and allow sauce to thicken.
Serve with your favourite potatoes — either creamy mash or mini new boiled potatoes.
Concrete Playground Trips
Book unique getaways and adventures dreamed up by our editors