FOOD & DRINK
Six Auckland Bars with Games and Activities for When You Want to Do More Than Just Sit Around and Drink
Tap your way through a mini golf bar, sip a shiraz over 'Scrabble' or try your hand at champagne-fuelled pétanque.
Going for a bev is one of life's simple pleasures, and the best bit is that you don't need much more that some good mates and a great atmosphere. But sometimes you want to take it to the next level — do something other than just sit around and drink. Aucklanders are crying out for venues to offer more than just a cosy corner and great craft on-tap. So, from shuffleboard to arcade games and pétanque, this is where you can combine your quaffing with some quality activities.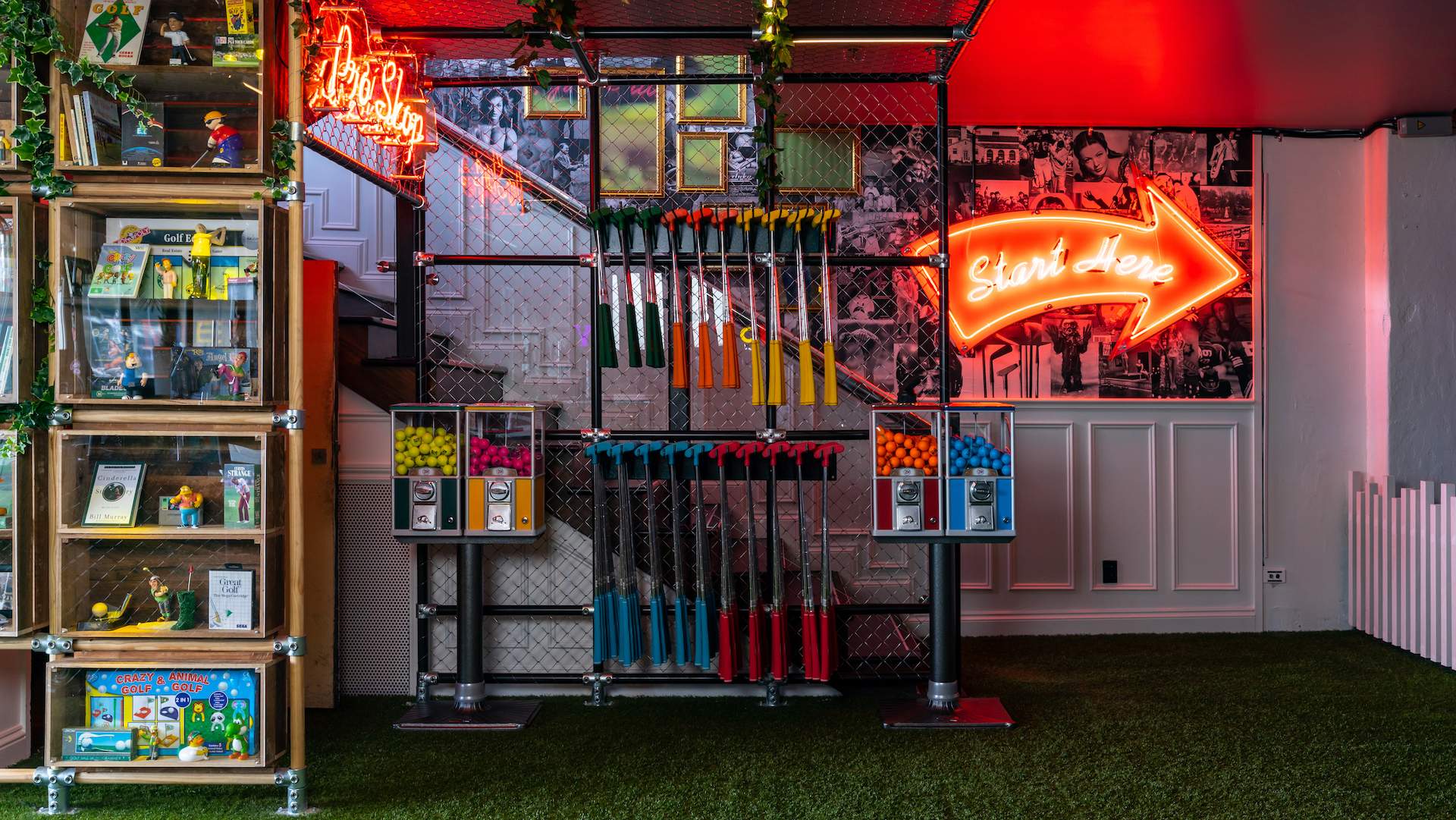 HOLEY MOLEY MINI GOLF BAR, VIADUCT HARBOUR
Mini golf bar Holey Moley has been bringing friendly, booze-fuelled competition to Auckland Viaduct since 2018. Created by parent company, Funlab, Holey Moley brings together a mini-golf course and the humming atmosphere of a bar, turning traditional putt-putt into a sensory labyrinth for kidults. The first-of-its-kind Auckland venue sprawls across two storeys and boasts 27 themed holes. Visitors can tap, tap, tap their way through rooms themed around The Simpsons, E.T., The Flintstones and The Hobbit, complete trick shots across miniature buses as part of an Evel Knievel-themed hole and navigate around obstacles in nana's living room. The vibrant space also boasts karaoke rooms and a bar on the top level where you'll find an appropriate pun-laden cocktail list.


SWEAT SHOP BREW KITCHEN, FREEMANS BAY
As well as playing host to hot sauce festivals and bacon celebrations, Freemans Bay's Sweat Shop Brew Kitchen is a destination where you can sip on craft beer and try your hand at shuffleboard. The venue is home to the city's only floor-based shuffleboard on its covered outdoor deck. The game is described as a mash between bowling and curling, only without the shoes. The aim is to slide circular 'biscuits' using a two-pronged 'tang' across the giant triangle playing field — the first team to reach 75 points wins. The shuffleboard lanes have room for up to eight people on each so it's perfect for competitive get-togethers. You'll just need $20 for the equipment deposit and some extra loose change for a bevvie or two.


REGATTA BAR & EATERY, TAKAPUNA
Located on Takapuna's foreshore, Regatta Bar & Eatery is the perfect spot to unwind with views across the white sand and Rangitoto. It also happens to be somewhere you can enjoy champagne-fuelled fun on a dedicated pétanque pitch. Regatta's pitch is available for group bookings of 4–12 people. For $35 per person you'll get two hours of play, one house beer or wine and a platter to share. Bump that up to $99 per person and your boule-chucking session comes with bottomless Mumm Grand Cordon.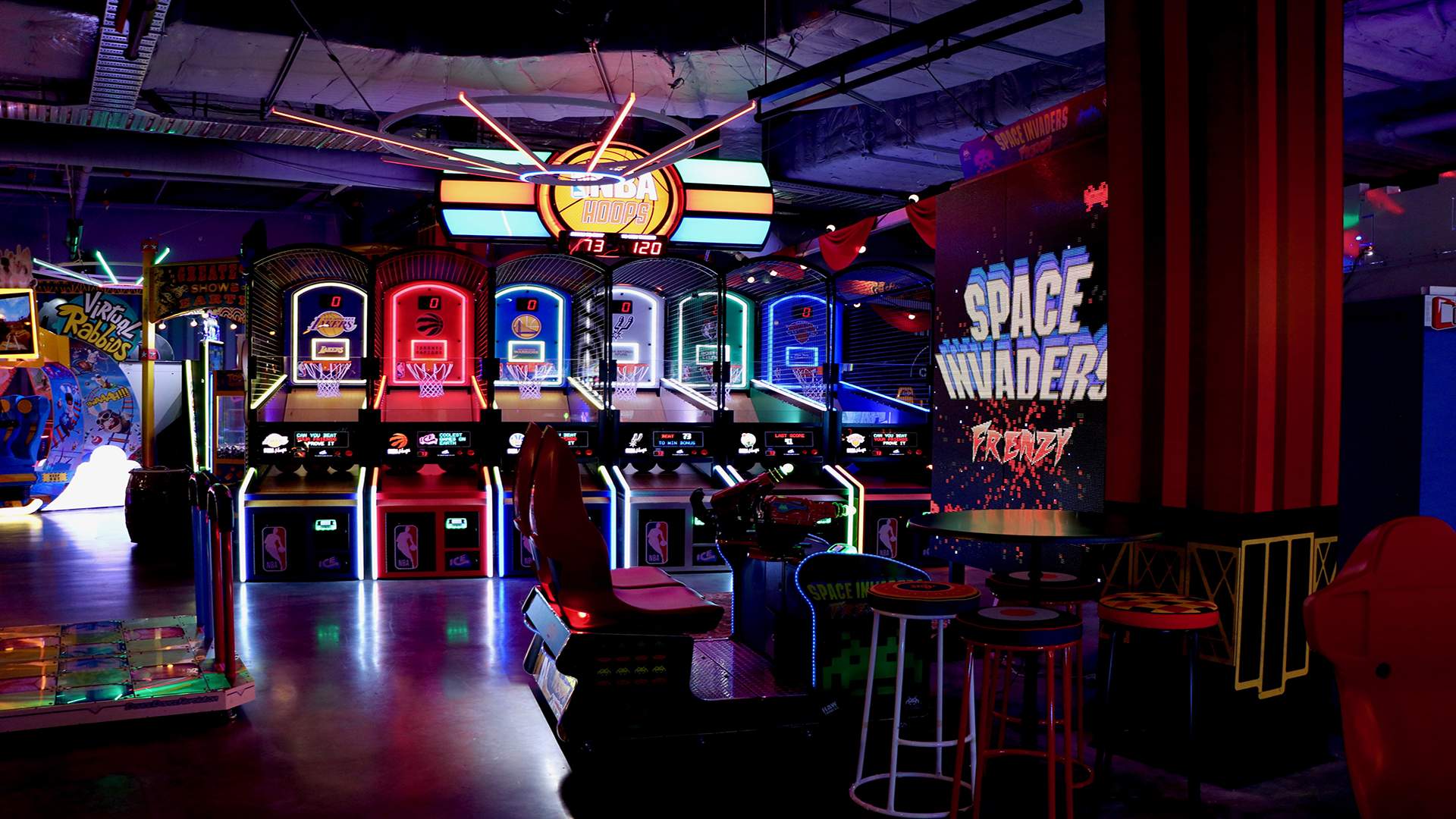 ARCHIE BROTHERS CIRQUE ELECTRIQ, NEWMARKET
Prepare for serious sensory overload as you cruise around extravagant circus-themed arcade bar, Archie Brothers Cirque Electriq. Here, you'll find over 65 arcade machines, including everything from dodgem cars to virtual reality experiences, six bowling lanes and Jurassic Park shoot-out games. Try your luck nabbing a prize on one of the many claw machines, or venture behind a mysterious curtain to zap zombies and blow your mind on the Thrill Rider motion ride. All that gaming is sure to prove thirsty work, but Archie's bar offerings holds its own, with a slew of carnival-themed and candy-laden beverages available until midnight every day of the week. The sprawling space from the Funlab crew can be found inside Westfield Newmarket.


DICE & FORK, VICTORIA PARK
When it landed in 2018 Dice & Fork was Auckland's first dedicated boardgame bar. The venue based in Victoria Park Market boasts over 250 games, with classics including Battleship, Connect Four, Cluedo and Uno, through to newer and more complex games like Ticket to Ride and Settlers of Catan. The collection is continuously growing thanks to suggestions from the community. You don't need to pay to enter; simply order food and/or drinks from the menu and the games are free to play. If you hang around longer than two hours there's an expected average spend of $25 per person.


THE VODKA ROOM, PONSONBY
The Vodka Room's two luxury karaoke rooms are not quiet in any sense of the word. Tucked away on the second floor of the Ponsonby bar, the rooms come equipped with leather couches and those ingenious "Press for Vodka" buttons. They are available to hire by the hour, seven days a week. All you have to do is choose from the extensive playlist of songs spanning classic hits to current chart toppers. And if you need sustenance, orders from the food and drink menus can be made at the press of a button.
Published on May 05, 2021 by Stephen Heard