kingi
This new all-day eatery is the latest opening from the team behind Orphans Kitchen and Daily Bread.
Ten-floor brick-clad hotel, The Hotel Britomart, opened on the corner of Gore and Galway Streets last October, bringing an eco-friendly approach to 99 guest rooms and five suites in central Auckland precinct. Inside, Cheshire Architects have created "cocoon-like" rooms featuring timber-lined walls, bronze-and-paper table lamps and built-in sofas.
But The Hotel Britomart isn't just a beautiful new place to stay. With the opening comes new restaurant Kingi — an all-day sustainable seafood restaurant from Tom Hishon and Josh Helm, the team behind Orphans Kitchen and Daily Bread.
Sitting on the ground floor right next door to the hotel, the restaurant can be accessed by Customs Street or Gore Street through the refurbished laneway of the heritage Masonic House, which many may recognise as the former entry of 1885 and Britomart Country Club.
An open fire sits to one side of the al fresco space, while inside a stunning chandelier designed by Dajiang Tai and Lumenworks shimmers over the dining room like clusters of schooling fish — linking back to the restaurant's shorthand name for kingfish and its seafood-heavy menu.
The seafood concept has always been on the cards for co-owner Tom Hishon. "I've always had a love for the ocean and wanted to see it be protected and managed in a way that in the future we can still continue to eat like this in 20 years time."
To complement that vision Kingi is "putting a stake in the ground," by only dealing with independent fishermen/women who harvest their catch ethically or through regenerative farming. Diners can browse the list of long-liners and bi-valve farmers on the back of the menu.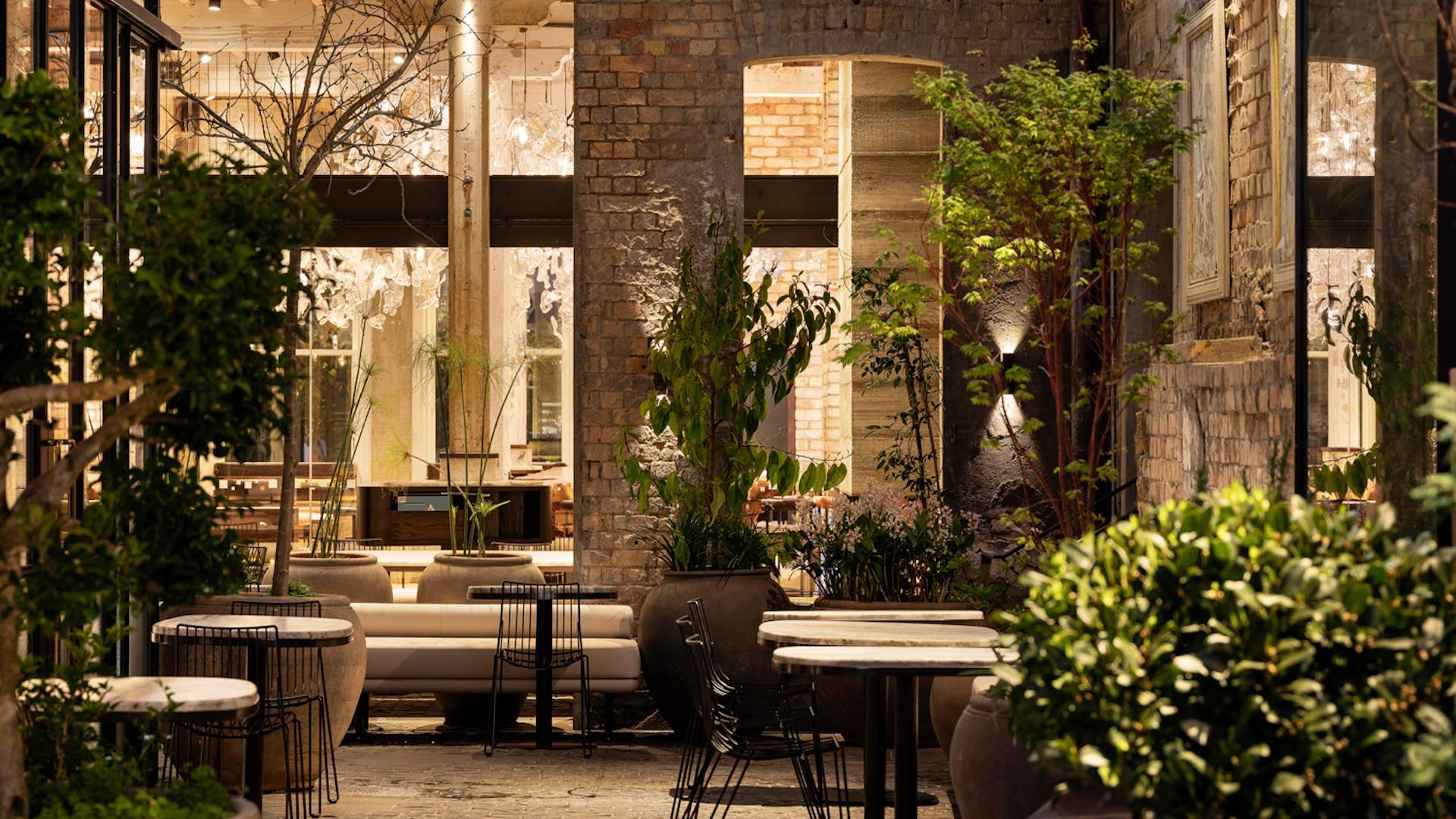 The restaurant is open seven days for coffee and brunch in the morning and fuller plates from midday through until late evening. A pint-sized Daily Bread satellite store can also be found in the corner offering pastries and its popular range of breads.
Diners might recognise the Southland cheese roll from Orphans Kitchen on the breakfast menu. Also available between 7–10.45am: oat hotcakes, hemp heart granola, and mushroom bolognese with buffalo curd on sourdough.
Across lunch and dinner the menu is heavily based around the raw bar and antipasti sections, allowing diners to graze rather than commit to a three-course meal. Diamond shell clams, oysters and kina come by way of Cloudy Bay, Waiheke and Chatham Islands, while the antipasti menu dishes up small plates of green-lipped mussels, hot-smoked kahawai and paper-thin octopus carparccio in olive oil.
There's a plate of wild game charcuterie from Balmoral's Cazador, too, and vegetables like wood-roasted oysters mushrooms, heirloom tomatoes and asparagus with hemp butter. The a la carte menu is there for some serious eating, offering buttermilk blue cod wings, pan-roasted snapper, and a crayfish roll topped with carrot kimchi and hot sauce.
Kingi also offers guests at The Hotel Britomart select items as a room service menu. Instead of presenting items under a silver cloche, the service takes a leaf out of food delivery services and packages up the in-room meals in compostable paper bags.
Concrete Playground Trips
Book unique getaways and adventures dreamed up by our editors