A Whirlwind Guide to Tokyo
Whether you want to fill your Japanese days with eating, exploring or shopping, this guide to Tokyo will get you started.
in partnership with

Tokyo is a city of extremes. It has the physicality of a big city, which it is, yet the people are personable and warm. The toilets sing, the streets are immaculate and everything from dentist's surgeries to street signs is adorned with a cartoon character.
This bite-sized whirlwind guide to Tokyo is here to give you a snapshot of what you should add to your trip list. Whether you're going to experience the breathtaking blooms of the cherry blossom season, to shop till you drop or to consume your weight in ramen, half the fun of exploring a new city is discovering your own favourite locations. Armed with a guide to Tokyo, you'll be set up to scratch the surface and carve out your own perfect-sized Tokyo trip.
First, some general tips: walk everywhere (sneakers a must), explore a new district each day and do not commit to using a toilet unless you're 100% confident you know how to flush it. Trust us.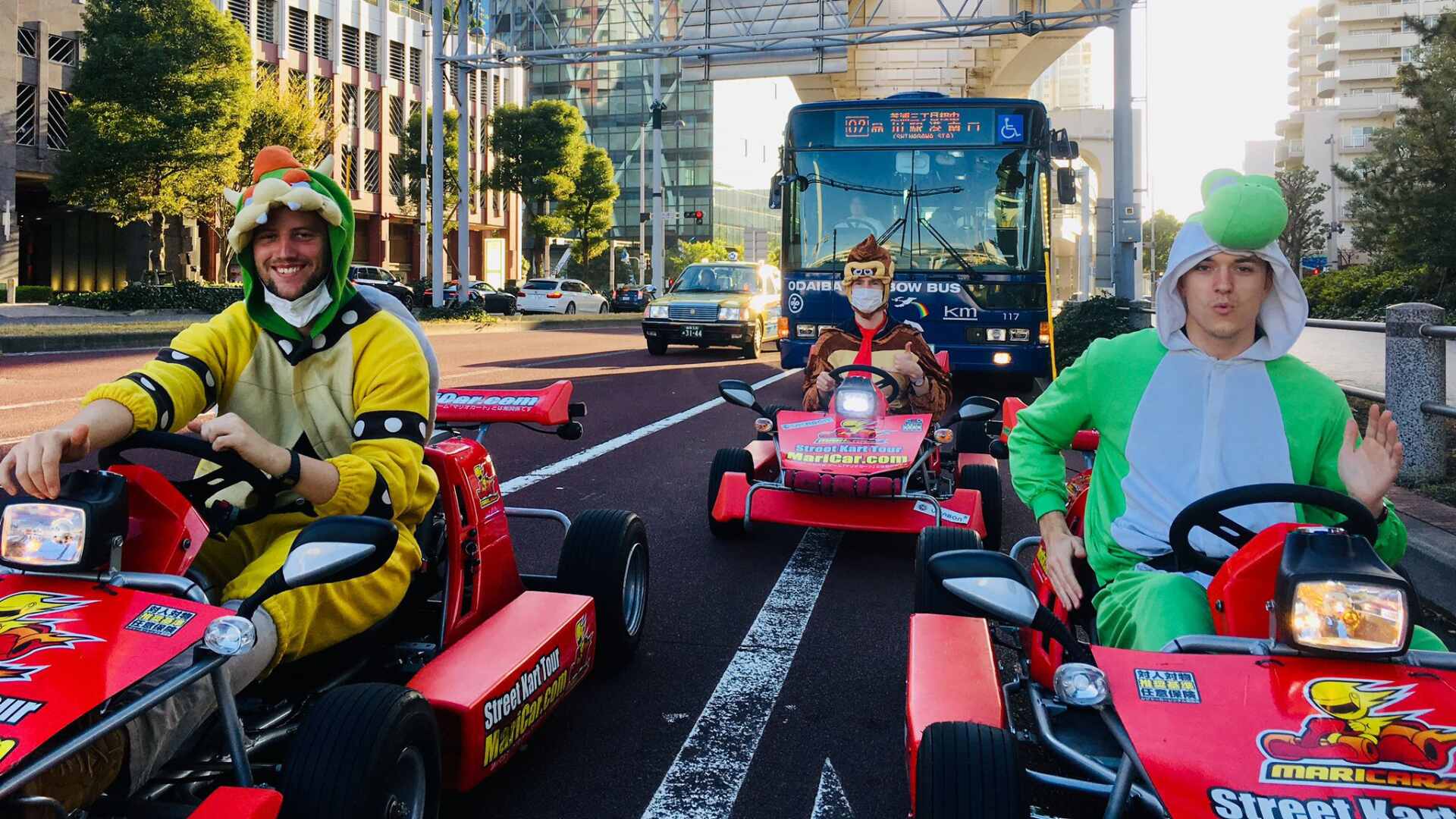 ACTIVITIES
Street Go-Karting
What better way to explore this vibrant city – especially for Mario Kart lovers – than on a street go-karting experience? Discover downtown Tokyo including Asakusa, Ueno, the sky tower and more. Just don't forget your driver's licence. Top points on Nintendo won't count for squat when you're on the ground in the city.
District: Akihabara
Mori Tower
Take in panoramic views of Tokyo from the Roppongi Hills Observation Deck in Mori Tower. This place is also home to contemporary art gallery Mori Art Museum — located on floors 52 and 53 — where exhibitions are varied and world-class. Head up high and take in both the art and spectacular views.
District: Roppongi
Cherry Blossoms
You cannot think of Japan without the cherry blossoms — they are truly iconic and an absolute must-see if you're there. If you are lucky enough to be in Tokyo during cherry blossom season, there's everything from petal-filled festivals to optimal viewing spots in the city. So, no matter what you feel like doing in sakura season, you will be spoiled for choice.
District: all over
Shibuya Crossing
There are countless things to see and do in Tokyo, but one of the greatest pleasures can be those brief moments when you are doing nothing but sitting and watching the crowds of fantastically dressed locals walk by. If you're after some truly spectacular people watching, head to the renowned Shibuya Crossing, and wonder at the flashing neon lights as throngs of people come and go. Want a bird's eye view? Head to Shibuya Sky and take in the city from the Sky Edge, the rooftop deck with glass railings. theLet the lights absorb you as you become one with the energy of Tokyo.
District: Shibuya
EATING
Food Courts
Apart from the toilet flushing thing, the other best practical Tokyo tip we can share is to explore the food courts below all major department stores. Descending into the midst of what is the most plentiful display of every food item ever created is akin to what it probably felt like for Augustus Gloop at Wonka's Factory. You can buy a salad and it can come with a mini ice pack to keep it cool. Pure genius. Hit up Tokyu Foodstore if you're near Shibuya Station, but you will find one of these food courts in the basement of any department store.
District: all over
Fish Markets
Lovers of Japanese cuisine should not pass up the chance to visit one of the largest food markets of its kind and explore Tokyo's food culture and culinary history at the Tsukiji Fish Market and Toyosu fish market. Toyosu is the new inner market located in central Tokyo. Weave your way through the stalls, hear stories from the stall holders, and taste the authentic and fresh sushi.
District: Tsukiji, Toyosu
Izakaya Ism
Izakayas have a casual bar-like atmosphere and also serve food. There are thousands of them in Tokyo. With a distinctly local vibe and with the addition of English menus, the food here is brilliant, the atmosphere energetic and the sake flowing.
District: Shimokitazawa
SHOPPING
T-Site
Tucked away in dreamy Daikanyama is T-Site, the architecturally stunning Tsutaya bookstore that demands hours of attention. A beautiful place to spend the afternoon pouring over the never-ending shelves of books that cover every conceivable topic, this huge double-storey space houses an incomparable selection of both English and Japanese titles. There's also a cute cafe on the second floor where you can rest your weary eyes.
District: Daikanyama
Dover Street Market
Joined at the hip with the Uniqlo store in snazzy Ginza, Dover Street Market is an absolute must. Renowned for being the Comme des Garçon's mothership, IRL it's kind of like six super beautiful boutiques stacked on top of each other stocking many trendy designer labels (like Jacquemus, Ann Demeulemeester, Rick Owens and the entire Comme des Garçons range).
District: Ginza
Loft
You cannot make it to the end of your trip without purchasing a sparkly sticker, glitzy notepad or wacky highlighter. Brighten up your office supplies at the stationary floor of Loft, where all your wildest kawaii organisation dreams become realities. Countless pens, stickers and colourful folders await you here.
Multiple locations
1LDK
Be the most well-tailored version of yourself at 1LDK, an amazing clothing and lifestyle store with locations in trendy Aoyama and Nakameguro. Stocking brands like Maison Margiela, Bless, COSMIC WONDER Light Source and Orphic, it's a real haven for high-quality everyday wear in a minimalist, timber-fitted space.
District: Nakameguro, Aoyama
Parco
If you've come to Tokyo to indulge in some retail therapy, a great one-stop shop is Parco. The one-stop shop features all the classics, like Frapbois, Issey Miyake and Comme des Garçons, as well as a range of pop-ups and event stalls that can change overnight. Grab an onsite iced coffee to give you the energy boost you need to continue your Tokyo adventure.
District: Shibuya
Once you've booked your trip to Tokyo, Klook will ensure the rest of your trip is easy, affordable and full of all the highlights. To start planning, head to the website.
Concrete Playground Trips
Book unique getaways and adventures dreamed up by our editors