TRAVEL & LEISURE
A 500-Square-Metre Mirror and Hedge Maze Has Just Opened Inside Singapore's Changi Airport
It's part of a giant new greenery-filled amusement park with seven different attractions.
A 500-Square-Metre Mirror and Hedge Maze Has Just Opened Inside Singapore's Changi Airport
It's part of a giant new greenery-filled amusement park with seven different attractions.
Next time you're jetting abroad, you might want to add a visit to Singapore's Changi Airport to your trip. After hosting a short-term Harry Potter-themed world over the Christmas period and opening the world's largest indoor waterfall in April, the airport has now added a massive new Canopy Park into the mix. It features a mirror and hedge maze, suspended sky nets and a slide-filled sculptural playground, to name a just few of its attractions.
Located on the top level of the airport, the indoor park spans over 14,000 square metres and houses over 1400 trees. It's home to seven different attractions, including the aforementioned  maze, which comes in at a whopping 500 square metres (we suggest you don't enter here — and get lost — just before your flight). Travellers can also catch views of it from above on one of several elevated platforms.
Other sky-high features include a 23-metre-high bridge with a glass floor offering views of the Shiseido forest valley and Rain Vortex waterfall below. You'll also be able to bounce or walk along a 250-metre span of sky nets, which are suspended five storeys in the air. Or spend your time wandering through a slide-filled sculptural playground, a petal garden, a topiary walk filled with animal-shaped shrubs and a fog-covered, cloud-like play area to boot.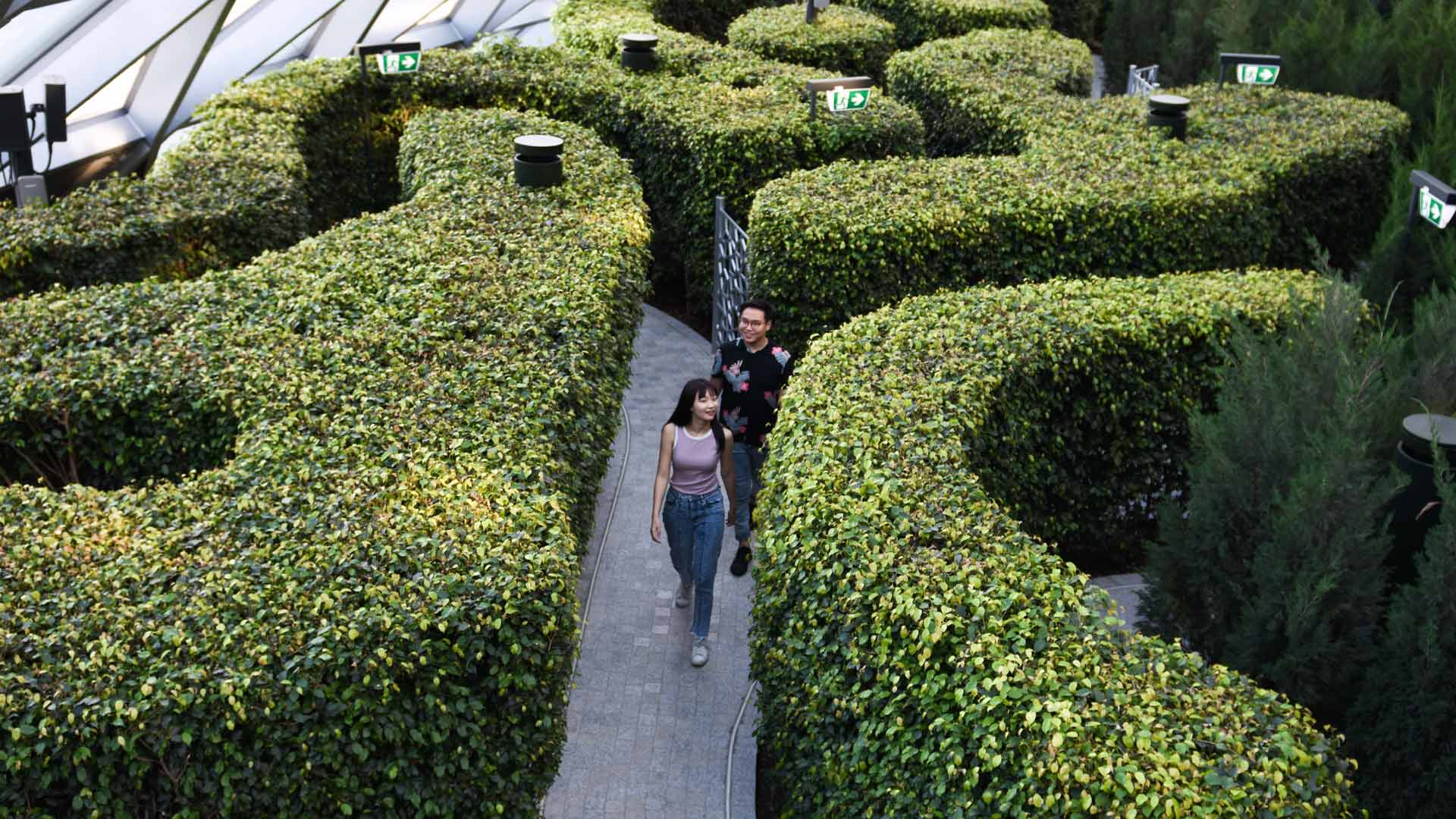 A virtual reality lounge, dubbed Changi Experience Studio, has also just opened on level four. The 90-minute experience includes interactive games, projection storytelling, immersive shows and gallery exhibitions. An onsite IMAX theatre, the YOTELAIR Hotel and over 280 retailers and eateries (including Nike, Marks & Spencer, Muji, Zara and Uniqlo stores) can now be found within the airport as well.
It's all part of the 137,000-square-metre Jewel Changi entertainment and retail complex, designed by famed architect Moshe Safdie. The ten-storey building, set under a glass-and-steel dome, is jam-packed with shops, dining options, greenery and activities — and is connected to the all-important airport, of course.
Forget just killing time on a layover, searching for a phone charger or suffering in uncomfortable chairs while you're waiting for your flight home. Here, you might have to remind yourself that you're actually at an airport.
For further details, visit the Jewel Changi Airport website. Entrance to the Canopy Park is set at the $5 SGD (around $5.30 AUD, $5.60 NZD), with selected attractions costing between $8—22.
Published on June 12, 2019 by Sarah Ward