Eleven Natural Hot Springs in New Zealand to Visit This Winter
Find everything from full-blown commercial operations with poolside bar services and hydroslides, to free spots to soak surrounded by cascading waterfalls.
New Zealand is (quite literally) a hot spot of geothermal activity, though it isn't all boiling mud and spurting geysers. Both the mainland islands and smaller offshore islets are dotted with natural hot springs and hot pools, where you can soak away your worries and take a break from the hustle of city life.
The mineral-filled pools are credited for boosting circulation, reducing stress and relieving aches and pains. Below you'll find everything from full-blown commercial operations with poolside bar services and hydroslides, to free spots to soak surrounded by cascading waterfalls and native bush.


ON THE NORTH ISLAND
THE LOST SPRING, WHITIANGA
Complete with a day spa, restaurant and geothermal hot springs, The Lost Spring in Whitianga is your one-stop shop for a day of relaxation and pampering. The geothermal water of The Lost Spring is said to bubble from 667 metres below through a small crack in the bedrock. Legend has it that founder Alan Hopping rediscovered the water source in 1989. The once bare patch of land on the edge of the Coromandel Peninsula now features a swim-in crystal cave and mineral pools between lush native bush ranging from 32 to 41 degrees. With children under 14 banned and a poolside bar service available, it serves as the perfect destination for adults to unwind.

KEROSENE CREEK, ROTORUA
Just over 30 minutes from New Zealand's geothermal wonderland, Rotorua, sits this spectacular natural hot spring where you can bathe right beside a waterfall. Kerosene Creek is heated from a geothermal spring and balanced out by the cool flowing waters of the namesake creek. The water ranges between 30 to 35 degrees and has been billed as an effective way to relieve pesky aches and pains. The popular tourist attraction is free to the public — just find a spot in one of the little manmade hot pools and enjoy the serenity.

OTUMUHEKE STREAM, TAUPŌ
The Taupō region is a historical bathing and meeting spot for Māori. The steaming geothermal water of the Otumuheke Stream is certainly the most popular with bathers. Here, visitors can soak beside a waterfall or relax in natural rock pools without worrying about an entry fee. The free attraction was given a significant makeover in 2018, including new changing rooms, lounging platforms and a coffee kiosk. The bathing area is also adjacent to the start of the Huka Trail.

 

View this post on Instagram

 
WAIRAKEI TERRACES, TAUPŌ
Located a short 10-minute drive from Taupō's lakefront, Wairakei Terraces and Thermal Health Spa are steeped in rich Māori history. With waters said to be enriched with healing and therapeutic properties, Wairakei Terraces is a must-visit when you are next in the region. If you're interested in upskilling your local knowledge, take up the offer of a self-guided tour along the terrace walkway, where you can learn about the ancient Māori settlers, as well as witness a man-made geyser fed by superheated waters that come from a depth of over 1.5km.

 

View this post on Instagram

 
MANGATUTU HOT SPRING, HAWKES BAY
Not your usual thermal hot pool, the Mangatutu Hot Springs are part of a Department of Conservation run campsite. These plunge pools are located in the hills of Hawkes Bay, about an hour and a half from Napier. Mangatutu is a popular camping, picnic and fishing spot, and is a starting point for tramping, hunting or day walks up the Mohaka River and into the Kaweka Forest Park. If you're keen to explore further, slide on your walking shoes and venture further into the bush past Te Puia Hut to find the more isolated Mangatainoka Hot Springs. This walk is around three hours each way, so be sure to tell someone where you're headed, and pack plenty of water and snacks.

 

View this post on Instagram

 
OTUMUHEKE STREAM, TAUPŌ
Otumuheke Stream is your go-to free hot spring adventure while in the Waikato region. A quick 25-minute walk from Taupō's city centre, this is a good spot to head to after a lakefront stroll. Here you can soak under a waterfall or sit back and relax while overlooking the waters of the great Waikato River. This point of interest has recently been refurbished, now with new bathrooms, changing facilities and even a coffee kiosk, for all your refreshment needs. The perfect spot for a pic and a picnic.

ON THE SOUTH ISLAND
WELCOME FLAT HOT SPRINGS, FOX GLACIER
This southern alpine region isn't just known for its ancient glacier. During the construction of Copland Track workers stumbled across the natural hot pools at Welcome Flat. The route has since become a popular tourist attraction, with trekkers making the seven-hour journey to bathe in the balmy waters. You'll need intermediate-level hiking experience and at least two days for the experience, which navigates rivers and stunning alpine forest. Accommodation can be arranged in the Welcome Flat DOC Hut.


HANMER SPRINGS THERMAL POOLS AND SPA, CANTERBURY
If you're looking to dip your toes in Canterbury, Hanmer Springs should be your first port of call. Located 90 minutes from Christchurch, the resort features 22 mineral-filled thermal pools, including five connected by a series of waterfalls and another which has beach access. It's not all about marinating in sulphurous pools at Hanmer; thrill-seekers also have the opportunity to launch themselves down the country's largest aquatic ride.

 

View this post on Instagram

 
MARUIA HOT SPRINGS, LEWIS PASS
Maruia Hot Springs is nestled among the snow-capped Southern Alps in the picturesque Lewis Pass National Reserve. This gem boasts natural hot springs, steam rooms, saunas and a day spa with a focus on wellness. Relax in natural geothermal mineral pools, nourish yourself with organic food and revive your mind, body and soul by partaking in one of their daily wellness classes. If a couple of hours won't cut it, book a spot at one of the campsites, luxury rooms or new glamping pods and explore some of the many surrounding hiking trails to really feel disconnected from the urban scene.

HOT TUBS OMARAMA, OMARAMA
Situated in the heart of the South Island, between Queenstown and Lake Tekapo, you'll find the picturesque Hot Tubs Omarama. Gather your friends or that special someone and absorb the incredible views across Mackenzie country, day or night. The layout of the wood-fire-heated hot tubs has been designed so you can immerse yourself in the pure mountain water while feeling like there's no one else within a 50km radius. They're temperature-controlled, so can be enjoyed year-round, in snow or blazing sunshine. Hot Tubs Omarama offers ten private spas, and some can accommodate up to eight people per tub. A 90-minute session starts from just $37 per person, with discounted rates for children and kids under five years old.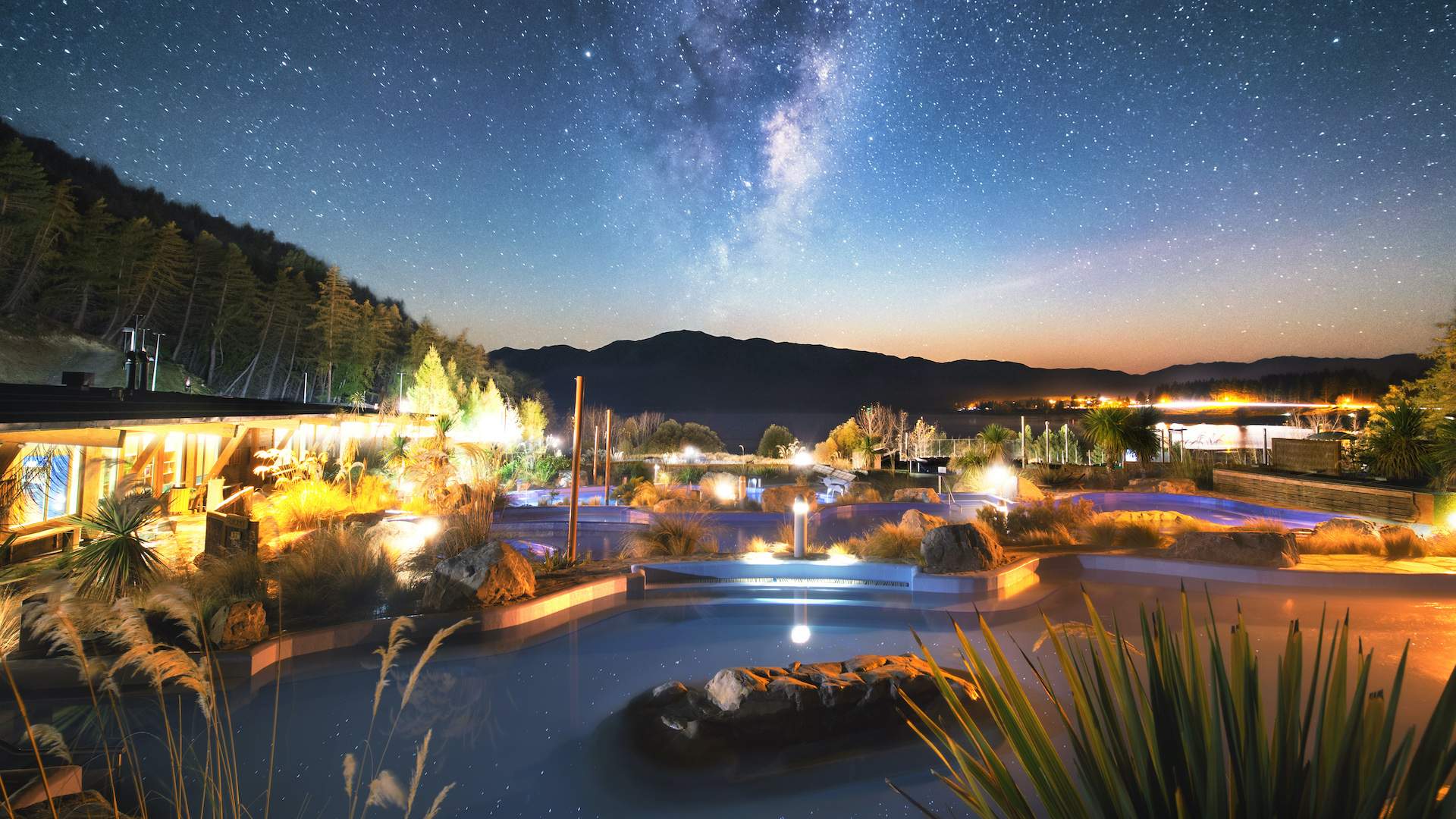 TEKAPO HOT SPRINGS, LAKE TEKAPO
No South Island roadie is complete without a pitstop at the iconic Lake Tekapo. After you've taken that mandatory snap at the Church of the Good Shepherd, head down to Tekapo Springs. Beginning with New Zealand's first ice rink in the 1930s, hot pools eventually made their way to this general spot in early 2008. Today there are plunge pools, hot and cold pools, a day spa with four treatment rooms and an Aqua Play area for the younger ones. Not to mention the essential, fully licensed cafe and bar. Aoraki is one of only eight International Dark Sky Reserves in the world, so schedule your visit post-sunset and enjoy a magical stargazing experience like no other.