TRAVEL & LEISURE
Google Maps' New Augmented Reality Feature Will Literally Point You in the Right Direction
Now rolling out on iOS and Android phones, the beta feature deploys arrows and directions over street view images.
Now that we all carry digital maps in our pockets, finding our way around is as simple as whipping out our smartphones, typing in a location and following the stated directions. And, with Google Maps featuring extensive real-life images of the globe's roads and spaces in its Street View mode, it couldn't be easier to double-check that the place in front of you is your intended destination.
If the above describes your usual process when you're trying to navigate your way to somewhere new, then you'll also be keen on Google Maps' new Live View feature. Using augmented reality, it combines the service's directions with Street View, superimposing arrows, street names and directions over the actual view that's in front of you —  rather than a map or photographic representation of it — literally pointing users in the right direction.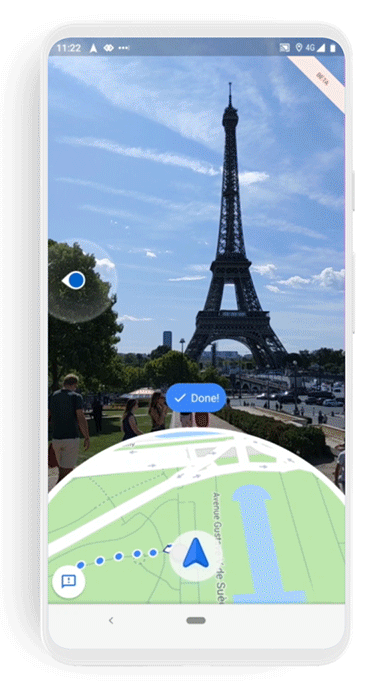 Whether you've been distracted while walking around New York and ended up in the wrong place, or found Tokyo's busier districts a bit of a labyrinth, this'll help. The same applies if you're notorious for paying more attention to the sights and sounds around you instead of looking at where you're going, which, when travelling, is an experience we can all relate to.
After testing Live View with its local guides and via Pixel phones over the past few months, Google is now expanding the feature — which is currently still in beta testing — to Android and iOS devices. To use it, your phone will need to support ARCore (the company's platform for building augmented reality experiences) and ARKit (Apple's equivalent). Then, after typing in a location into Google Maps, you'll just need to tap the directions button, select walking directions and look for the Live View option.
The rollout comes part of the tech giant's broader suite of updates in the travel space. Users can now also use Google Maps to track hotel and flight bookings, find restaurants tailored to their tastes and use their Location History timeline to make notes on each place they visit.
Google Maps' Live View is now available on Android and iOS devices. For more information, visit Google Maps.
Published on August 17, 2019 by Sarah Ward