The Essential Spring Long Weekender's Guide to Hobart
For New Zealanders in search of epic adventures, incredible scenery, delicious gastronomy and damn good wine, you don't have to travel far.
We've just spent the last couple of years holidaying within our own shores, so we're all in desperate need of getaways involving passports and time differences.
But if you can only afford a few days away from work or family, don't fret — you don't have to venture far for a holiday stuffed with incredible gastronomy, amazing wine and the perfect mix of adventure and luxury.
Tasmania has become an off-season hotspot for Australians and New Zealanders alike, especially now that direct flights have finally restarted between Auckland and Hobart. If you've previously overlooked Hobart, the state's capital city, for its slightly better-known siblings Melbourne, Sydney Brisbane and Canberra think again. Like Aotearoa, Tasmania is an island that's easy to underestimate until you get there.
Concrete Playground New Zealand was generously hosted in Hobart by the Tasmania Tasmania team this winter and we've put together a guide on the best things to eat play and stay
DRINK
Yes, we're kicking things off with a bang. Normally we would combine our 'eat' and 'drink' categories, but when the wine (and gin, vodka and whisky) is this good, it holds its own. To cram in all the varietals I could get my mitts on during this trip, I started drinking at about 10am each day — for research purposes, of course. While I don't recommend this for all holidaymakers, it was certainly an effective means to an end.
Hobart and its surrounding areas are truly a wine lover's delight and for good reason: the climate and soil lend themselves beautifully to winemaking. Much like New Zealand's own Central Otago region, it was once claimed by smug mainlanders to be too cold for that very purpose but the sheer litres amounts of the good stuff pumped out annually put that notion to bed.
Much of the soil under the area's sloping vineyards has been formed from ancient sandstones and mudstones and also from more recent river sediments and igneous rocks of volcanic origin. That means slightly snappier varietals than its bold-redded cousins in the Barossa and Yarra valleys, and drops like chardonnays and pinot noirs abound.
Do yourself a favour and get out of the city to check out some of the wineries in the surrounding areas. Brothers Matthew and Jonathan Hughes own the ultra-chic Mewstone Winery in the fancifully named Flowerpot region. Here they create incredible single-site and lo-fi wines on their patch of land, a former cherry orchard with incredible views out to the D'Entrecasteaux Channel.
Jonathan (Johnny) studied winemaking back here in Aotearoa and so will look after any Kiwis headed their way, and their gorgeous dogs might pop in to say hello — or perhaps bring you a sheep carcass as a gift, if the brothers' very funny stories of previous tourist visits are anything to go by. Whatever you do, grab a bottle of the Pet Nat to bring home. I took my precious trans-Tasman cargo to a recent dinner party where it practically received a standing ovation.
I was also lucky enough to check out some of the lesser-known wineries thanks to Josh Phillips from Eat the Wild. A novel concept, Josh takes you in his van around some of his favourite spots sans traditional cellar doors, allowing attendees to taste test the wine, meet the characters behind the vines and eat delicious fare cooked in the commercial kitchen built into the back of Phillips' van.
It was on this tour I got to try a contender for the best pinot noir I've ever drunk in my life — the 2019 vintage from Small Islands. One precious bottle of it now sits in my cupboard here in Tāmaki Makaurau. Don't worry, I spent several minutes bullying Small Island's winemaker and founder James Broinowski into shipping to New Zealand. I continue that bullying through a series of anonymous troll Instagram accounts. Cross your fingers for success.
If you're more of the spirits persuasion, don't miss a venture out to Grandvewe, a boutique family-owned sheep farm and distillery in Birchs Bay, where they specialise in everything from vodka to gin and sheep's milk cheese. These all go hand-in-hand as we found out, thanks to the lactic acid from the sheep's milk products used in the spirits. I wish I could inform you of more of the technicalities of this process, but it was here that we cracked into a 10am pre-breakfast gin tasting, meaning the details are hazy. Just go, and trust.
PLAY
If you're lucky enough to be doing Tasmania on a hell of a budget, there's no better way than to see it from the sky. The team at Tasmanian Air Tours took us on a winery tour with a difference — instead of a bus, we were choppered between locations. This bespoke experience I'll never forget as descending towards a winery in a helicopter is the closest many of us will ever get to being a celebrity.
I have to admit, as we were strapped in and senior pilot Greg was performing a series of pre-flight checks, I wondered whether I should admit my crippling fear of heights. Luckily it only caused me to hyperventilate for about 10 minutes before I was able to appreciate the stunning views over the city, the River Derwent and the Coal River Valley wine region — while hiding my shaking hands under my lap. Greg put me at ease — when I asked how long he'd been flying helicopters, he confidently told me over 20 years (more than 5000 hours off the ground). Of course, everyone has to do their first flight at some stage, but it's truly better for everyone that it wasn't with me.
For something a little more grounded, come back to earth and explore the wonders of kunanyi / Mt Wellington with the Wild Wellness Fire and Ice Walk with the team from Walk on kunanyi. This was a walk with a difference: over six hours you'll spend time meditating, connecting to nature and even dipping into one of the icy rock pools with water straight off the mountain. Our guide Andy led us through the bush explaining the fascinating native fauna (New Zealanders, keep an eye out for some recognisable ponga) before Piet, a fabulously smiley trainee of Wim Hof himself, took us through a pre-icy plunge meditation.
Our whole group had been in something of a panic leading up to the moment, but the result was incredible: we spent just over two minutes in water that topped out at six degrees celsius. After our meditation, it wasn't even severely painful. I only screamed obscenities at Andy once when he joked about a minute-and-a-half in that he hadn't started timing yet. (He had, to be fair.)
The elation of this ice water therapy I think came from equal parts endorphins and relief that this thing we'd fretted about for days was over. Since then, I've been experimenting with cold water blasts at the end of my showers. Okay, it's probably not quite as intrepid in a polished concrete tiled bathroom, but still feels like something to be proud of. This is an absolute must-do and a great way to counter all of the incredible eating during your holiday.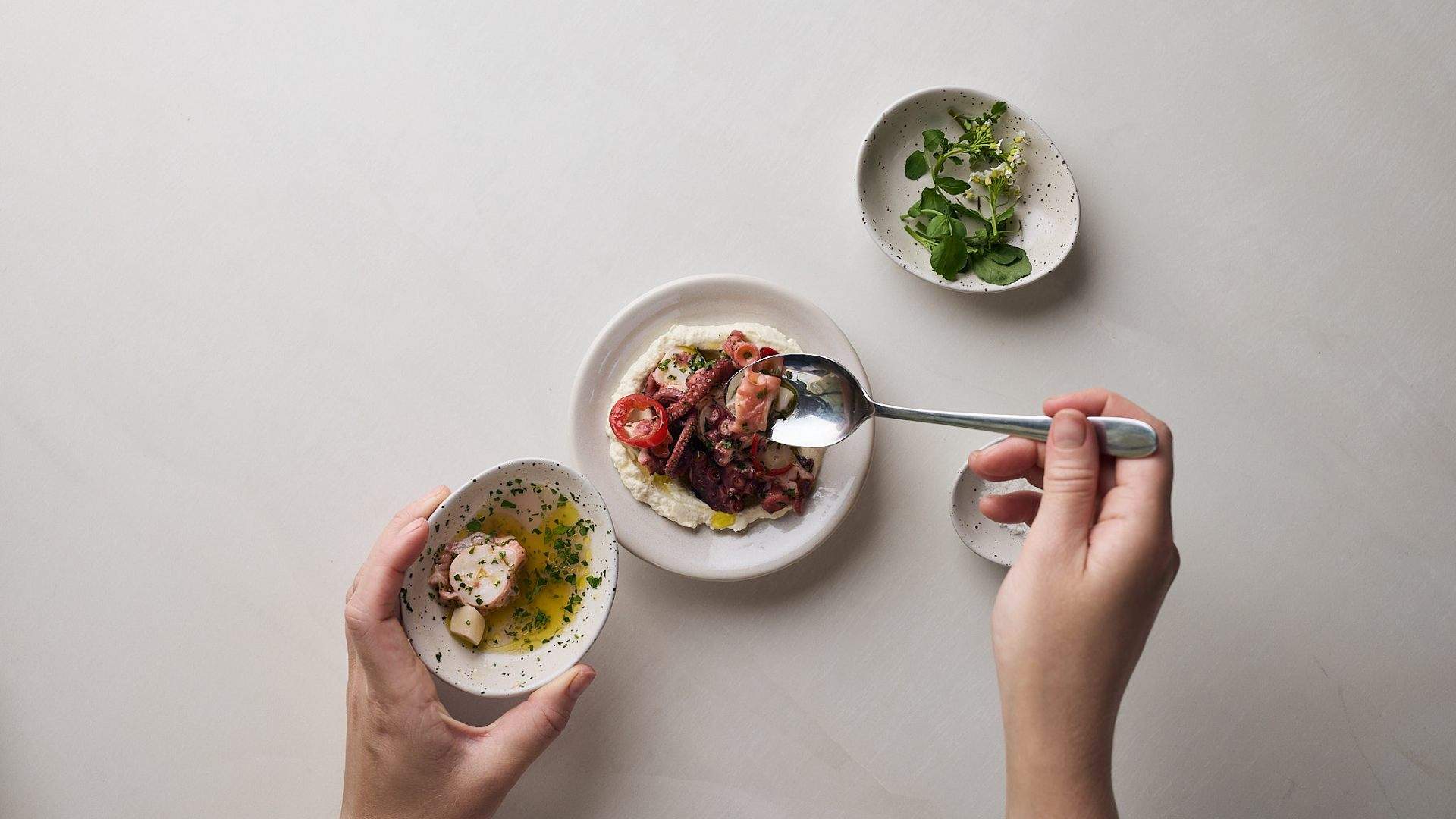 EAT
Ah, the natural segway and probably why most of you are reading this. You may have heard that Hobart is a gastronomical paradise, and after a wonderful three days there, I can confirm that's correct. There are so many places to dine in Hobart that whether you're there for 48 hours or a week, you'll probably want to be operating on about five meals a day just to make sure you can fit them all in. By the end of the trip, I was about 75 percent oyster — yes, that's a not-so-humble brag.
One thing I really loved about most spots in Tasmania is even the more elite dining locations are set up for dining alone. On my first night there I trotted my way down to Aloft, a restaurant at Brooke Street Pier where the team parked me up at the bar, sufficiently warmed me with a hot winter cocktail and provided me with a menu of seasonal delights. It was here I sampled my first taste of wallaby — this time in tartare form. The dining experience is probably further elevated with views over the water during the daytime.
If you're dining with a group of friends or family, hit up the equal parts child-and adult-friendly Peppina, the signature restaurant from Chef Massimo Mele on the ground floor of the Tasman hotel (more on this below). Here you'll find fabulous pasta, pizza, and one of the best tiramisus I've had in a long time — all enjoyed within the stunning light-and-tree-filed interior that somehow manages to capture al fresco vibes while, you know, not forcing you outside in below-freezing temperatures.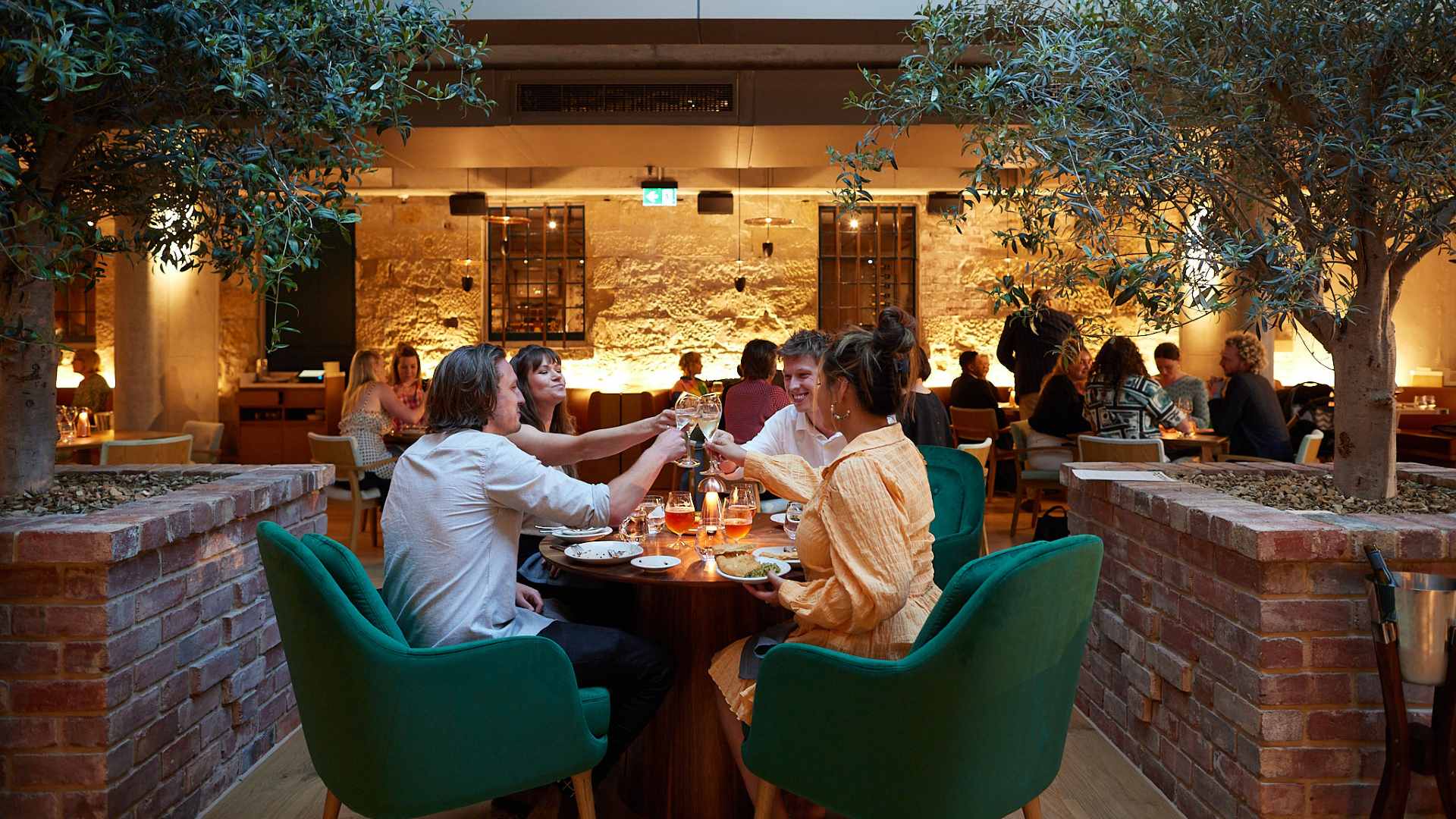 Lastly, a highlight of our time was Agrarian Kitchen Eatery & Store. If you have a rental car during your time in Hobart, put this eatery on your list. The second iteration of the famous cooking school sits on the site of a former mental asylum that will soon house the revamped school, garden and restaurant. Owner Rodney Dunn took us through a garden that truly has to be seen to be believed, where we found swiss chard in exotic colours as well as rhubarb and corn almost as tall as my head — and that's all in winter. As expected, the kitchen team subsequently can do things with vegetables some of us can only dream of.
On your way to the bathroom, you'll spot a fridge of cheese curing and various pickles fermenting. If, like me, you're a little 'wined out' at this stage, don't sleep on the non-alcoholic options — especially the pine-needle soda and beetroot juice.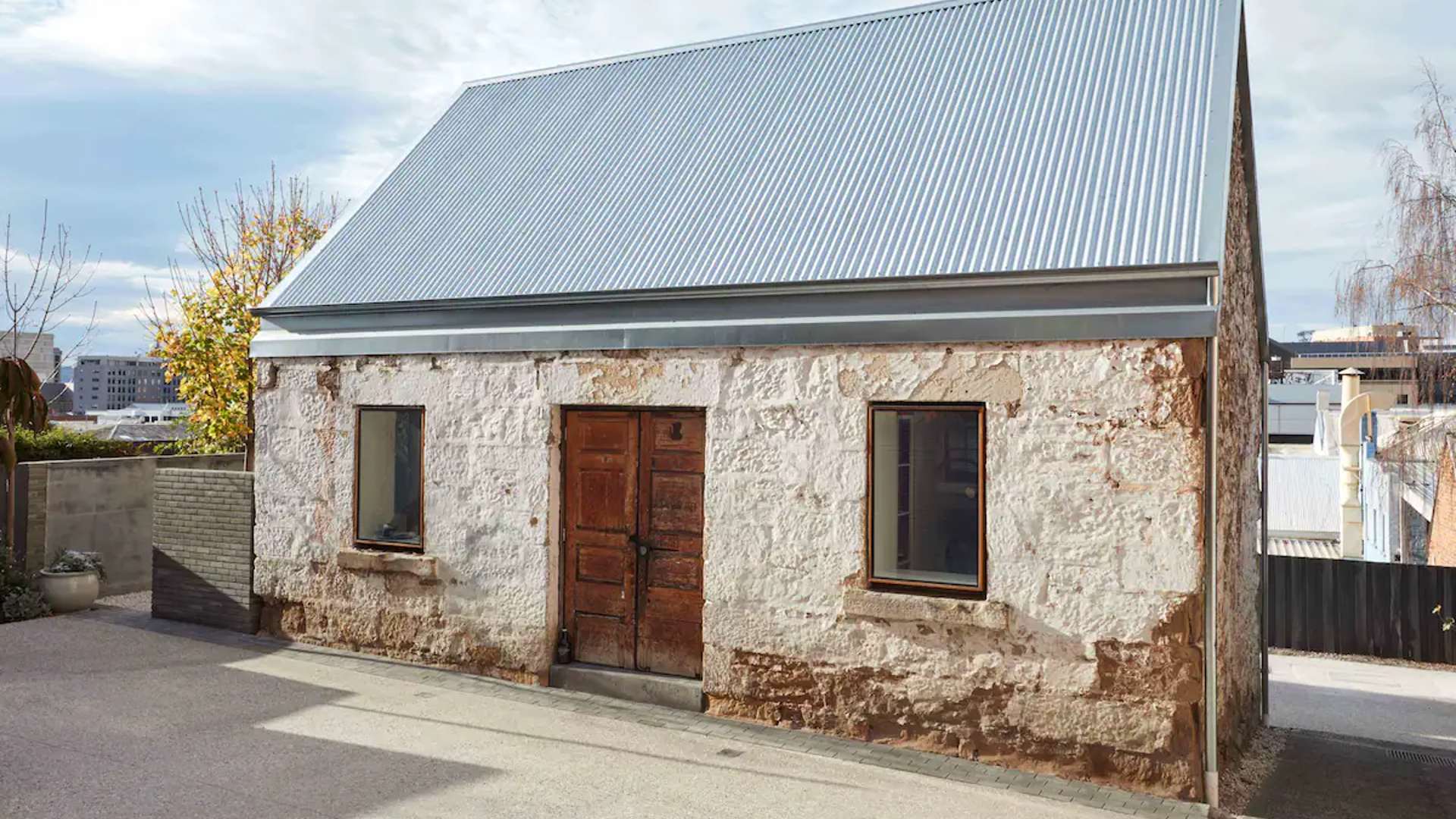 STAY
If you're travelling solo or you're in a pair, look no further for cosy inner-city accommodation than The Barn TAS, a multi-award-winning barn conversion you can find on Airbnb.
This late 1820s sandstone barn has been renovated by a pair of architects to a stunning modern standard — while still keeping several of the original features. You'll feel like an absolute champion after building your own fire in the vintage fireplace and just 200m down the street you'll find some of the best coffee in town (so say those in the know) at Pigeon Hole cafe.
For a more luxe experience, you can't go past The Tasman, Hobart's newest luxury hotel. The opening of this architecturally stunning spot was delayed for a few years for obvious COVID reasons, but now it's open and offering a staggering 152 rooms and suites across three buildings. You might stay in the original 1840s hospital heritage building, a 1940s Art Deco building or in the modern Pavilion. The mix of eras works seamlessly to create a luxe and modern marvel with a nod to the era's rich (read: convict) history.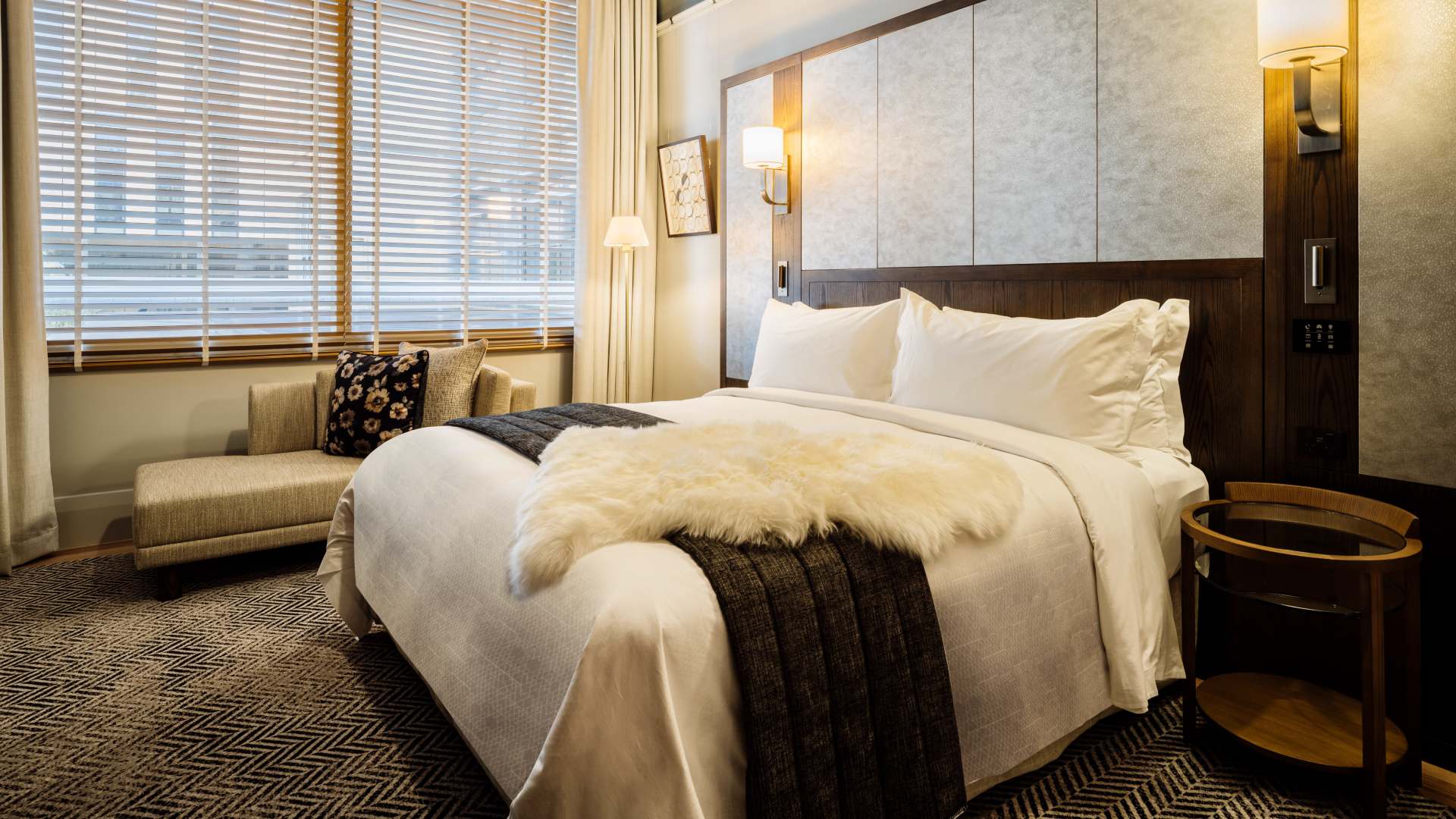 I was lucky enough to be placed in the heritage wing of the hotel and was blown away by the elegant touches, including a sandstone feature wall and plush textural details on the bed. Just don't read too much about the building's hospital history if you're easily spooked by ghost stories — after discovering there was once a morgue near the area now occupied by luxe cocktail bar Mary Mary, myself and my trip companions did need to walk each other to our rooms after dinner.
If you can get past that, you'll have an extremely comfortable stay and may even be lucky enough to have a fireplace or full bath in your room. And no you don't need to be a guest to experience the restaurant or cocktail bar — just be sure to book in advance.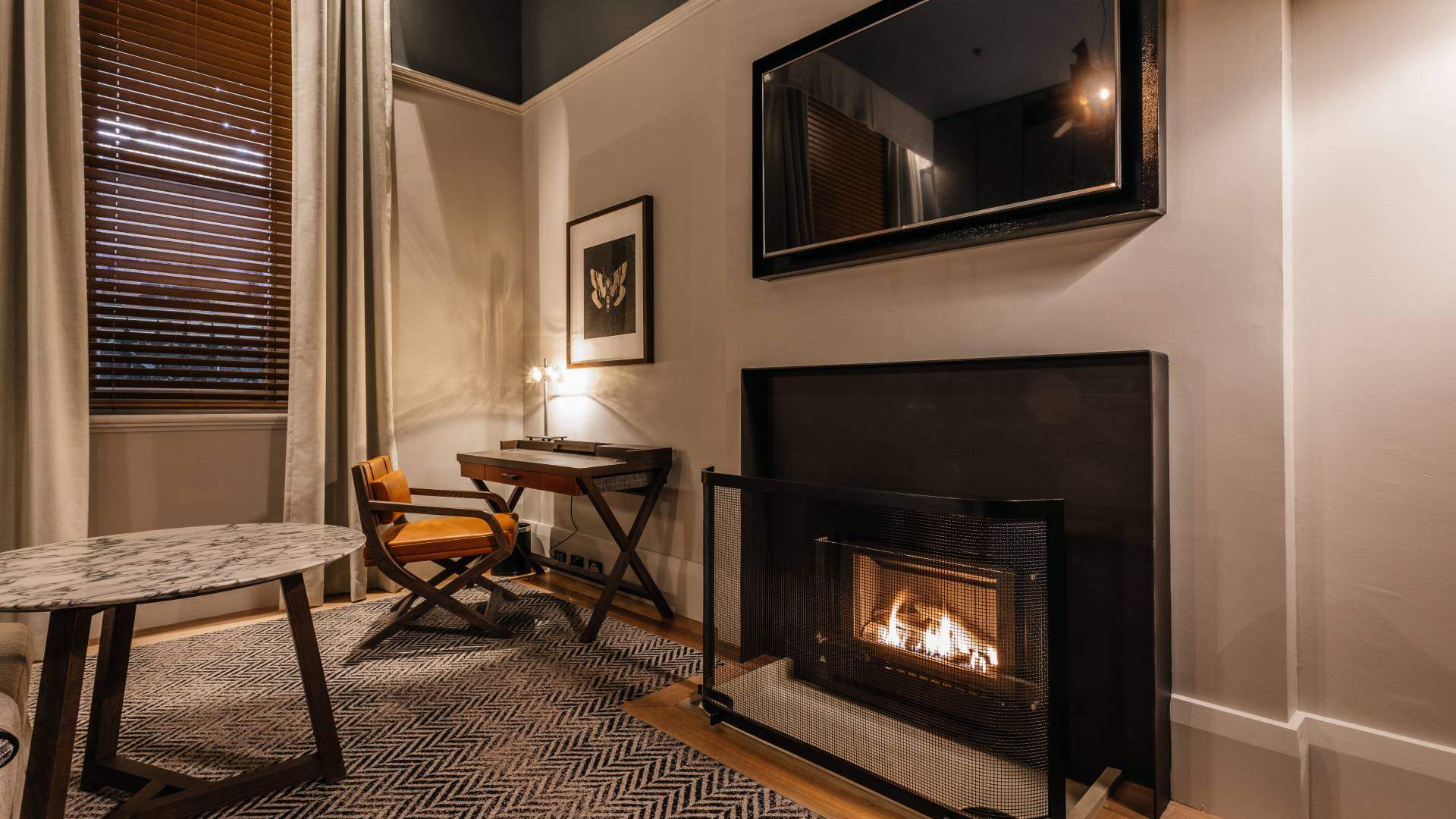 LET'S DO THIS, HOW DO I GET THERE?
Air New Zealand offers non-stop Auckland to Hobart flights with connections available from Air New Zealand serviced domestic airports. Qantas also offers daily flights from Auckland to Hobart, via connections in either Sydney or Melbourne.
The writer travelled courtesy of Tourism Tasmania.
Introducing Concrete Playground Trips
Book unique getaways and adventures dreamed up by our editors