TRAVEL & LEISURE
This Wanaka Tourism Company Is Offering Pay-What-You-Can Adventures
Tackle the world's highest waterfall cable climb.
When the clock strikes midnight on Wednesday, 13 May, domestic travel opens up for Kiwis around the country. The move to Alert Level 2 is a small but positive step for the once booming Queenstown Lakes tourism industry, which has been decimated by the COVID-19 pandemic.
In response to the Level 2 announcement, Wanaka adventure tourism company Wildwire is offering pay-what-you-can adventures to domestic tourists. Wildwire operates via ferrata routes and structures through the region's hilly terrain, including the world's highest waterfall cable climb.
The suitably titled 'Lord of the Rungs' climb sees thrill-seekers cross a three-wire bridge, go behind a 60-metre waterfall and climb 450 metres to an airy overhang. The five-hour journey finishes with a stunning helicopter ride.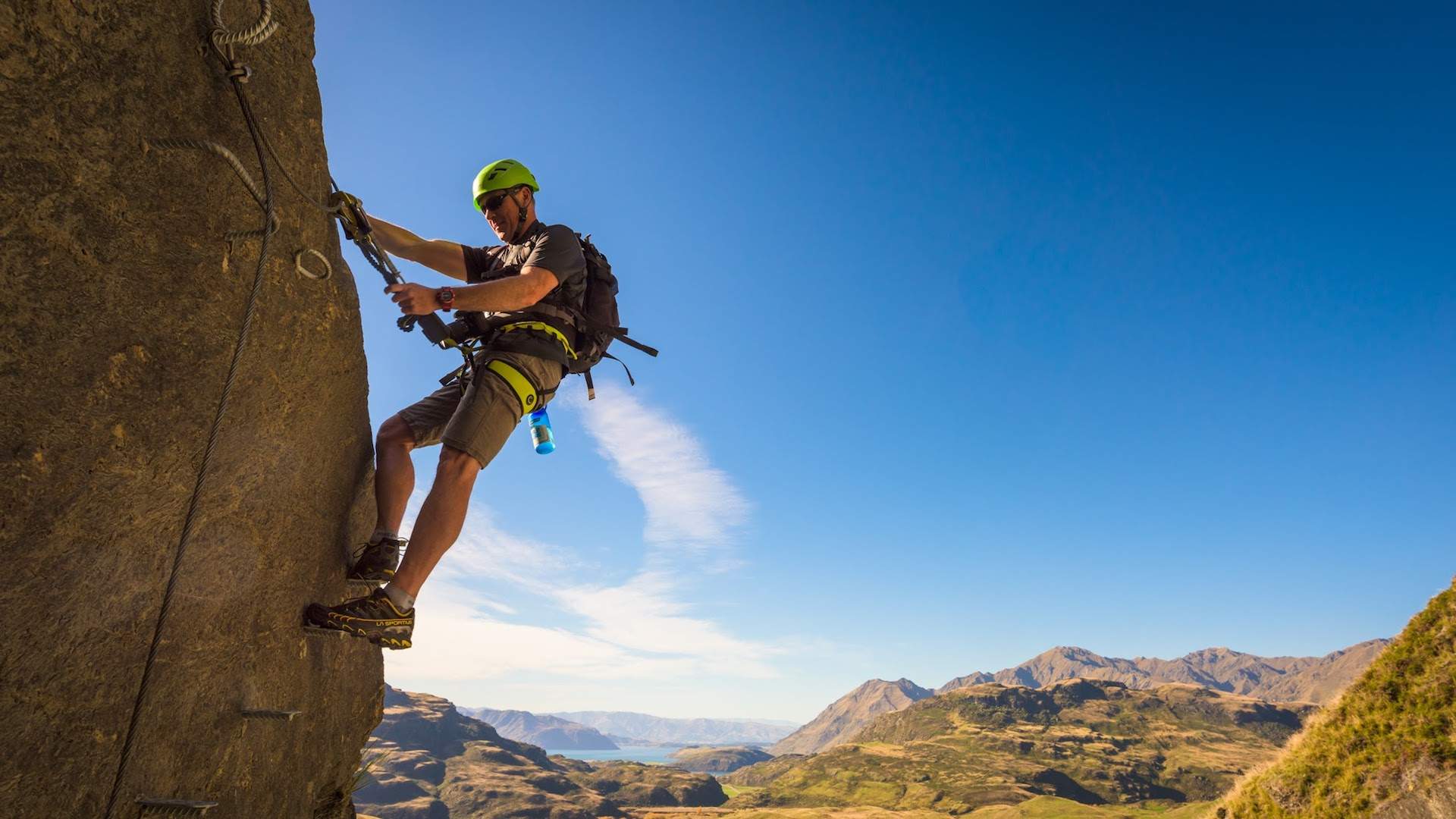 Additional adventures cross suspension bridges and traverse into the heart of the waterfall, where climbers uncover hidden pools. They range from one to three hours and are suitable for active beginners. Further, participants are provided with all climbing and safety equipment, an experienced guide, transport to and from Wanaka, plus snacks and lunch.
The 'Koha Climb' campaign was originally offered to the local community. Wildwire Managing Director Mark Morrison says that after such an overwhelming response, the company wanted to extend the offer to others throughout the country.
"We plan to keep the pricing low and be extremely grateful for the business that we can generate from our supporters in both our community and country wide. Then when international visitors finally arrive again, we will, hopefully, have 4.5 million advocates who will help share the love for this region"
Wildwire's climbs are typically priced between $199 and $599. The company is asking for a minimum of $75 per person to cover expenses. Morrison adds that while the koha campaign won't see the company turn a profit, it will provide enough to pay guides and will have a positive knock-on affect on the rest of the community.
The New Zealand Government advises that the risk of COVID-19 community transmission still remains. For that reason, domestic travellers are advised to keep track of where they have been and who they have seen.
Wildwire's pay-what-you-can deal is now available. For more information and to register your interest, visit wildwire.co.nz. 

Read more about COVID-19 Alert Level 2 here and head to the New Zealand Government's Ministry of Health website for the latest COVID-19 advice.
Published on May 12, 2020 by Stephen Heard