Beneath its glory and grandeur, Paris offers adventures a-plenty at ground level. For every 16th-century art gallery crowded with tourist snappers, there's a neglected street art masterpiece on a corner somewhere; for every ritzy hotel foregrounded with limousines, there's a quirky hideaway concealed behind a secret door; for every Michelin-starred restaurant, there's a laneway shopfront peddling regional produce. Thanks to the city's spiralling, snail-like arrangement, a diverse array of neighbourhoods is easily accessible from the centre. With only a week to dig up the picks of the Paris underground, I asked a few of the locals to show me around.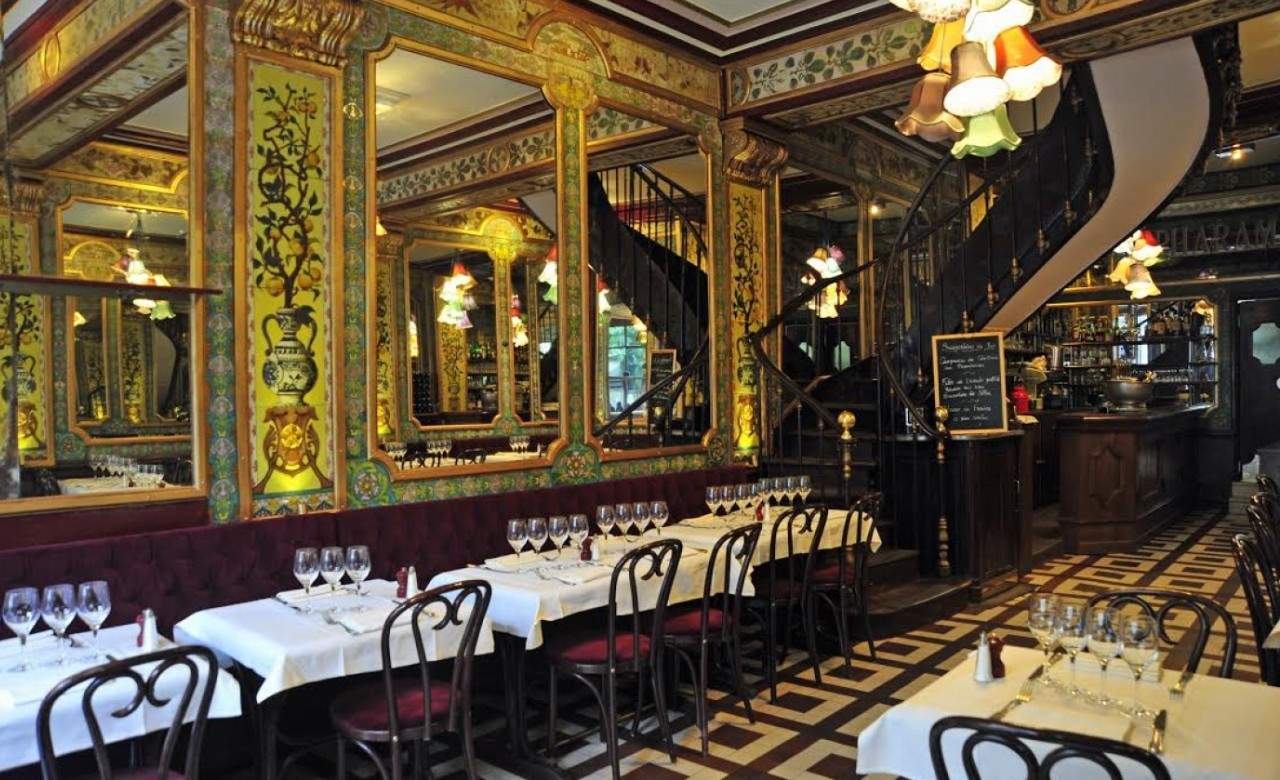 DRINKING
Unlike Australian wines, which are labelled according to grape variety, French ones are classified based on region. If you've been to neither Burgundy nor Bordeaux, ordering can be confusing and, occasionally, intimidating. One express way to get your head around this is at a tasting session. I found Alexis, a Parisian-born wine expert, through Localers, a company that organises left-of-field activities led by locals, from like-a-local crash courses, to macaroon classes, to games of petanque. His father started teaching him the difference between a decent drop and a dud when he was in his early teens.
I met Alexis at Le Pharamond (24, Rue de la Grande Truanderie), one-time preferred eatery of Ernest Hemingway and F. Scott Fitzgerald. Tucked away in a side street amid the cocktail bars of the first arrondissement, it's a direct link to the Belle Epoque, with its gilded mirrors, glazed tiles, high ceilings and hardcore traditional cuisine: offal, pigeon, escargot and tripe served up at boiling point. While these delicacies are available to anyone with a dinner reservation, Le Pharamond's shadowy, candle-lit wine cellar, dug out in the Middle Ages, is accessible only in the company of a guide – via secret hatch behind the bar and a series of steep staircases and ladders. This was where our class began.
Filling our glasses with champagne, Alexis started explaining the rules of French wine, "Under no circumstances can champagne be referred to as champagne, unless it comes from Champagne." Then, whipping out a map, he pointed out which varieties grew where. Ask for a Burgundy red, and you'll be drinking a pinot noir; request a Chablis and you can expect a chardonnay. If you're in Bordeaux, don't even think about requesting a bottle from Burgundy, or anywhere else for that matter. Keeping things local is a pretty new trend in Australia, but the French have been fiercely defending their regionalism for centuries.
After that we were ushered to a private dining room on the Pharamond's third floor, with a view to the street below. We sampled five more wines, representing a north to south journey through France, and matched with several premium cheeses and cured meats. "When you cut cheese in France," Alexis explained, "you must do it from the centre outwards, so that everyone ends up with an equal share of the rind." Armed with my new working knowledge of French wine and cheese etiquette, I was ready to brave Paris's culinary specialties. If not the tripe.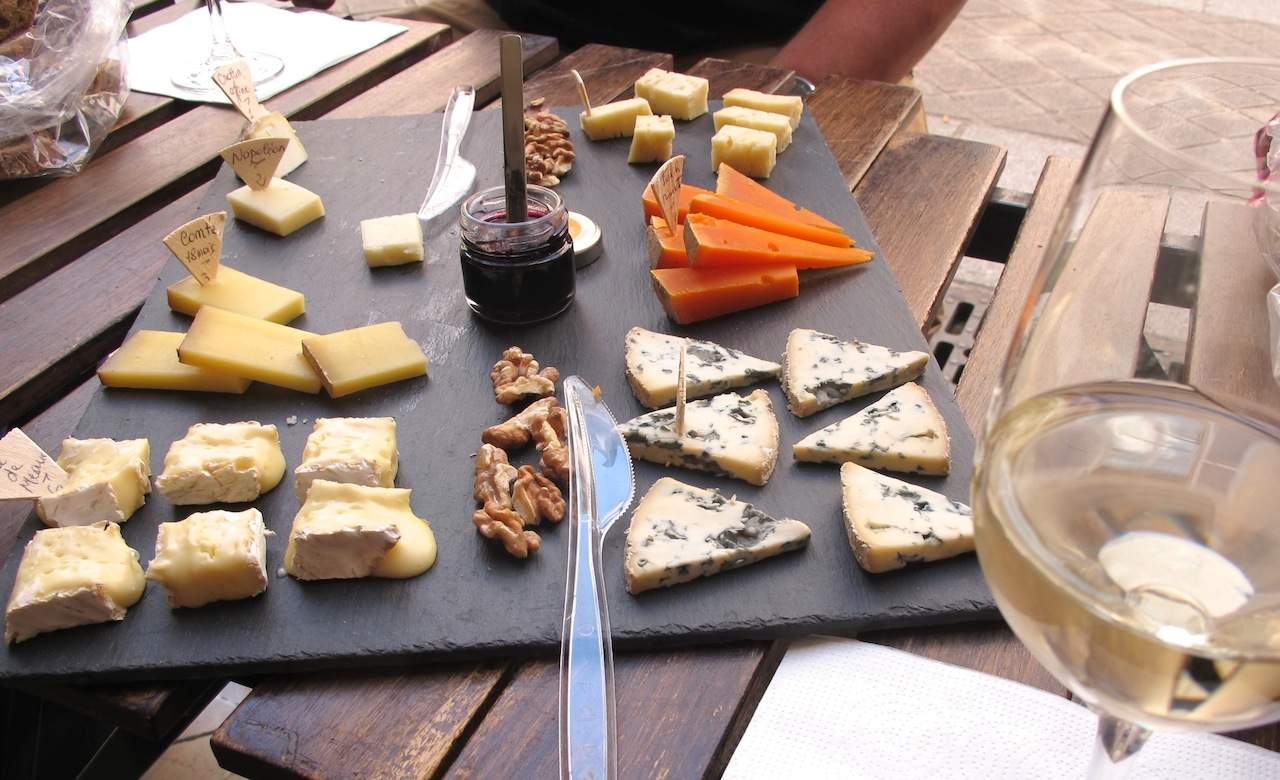 EATING
It's not difficult to find the city's renowned high-end restaurants, but scoping out the mid-range gems is tougher. The sheer volume of visitors has pushed up prices, especially on the major thoroughfares. So I enlisted the help of Lisa, a Canadian who's been living in Paris for two years. She runs her own small tour business, Flavors of Paris, which promises to take travellers "off the eaten path".
We gathered at Les Deux Magots (6, Place Saint-Germain-des-Prés), where the likes of Simone de Beauvoir, Jean-Paul Sartre, Albert Camus and Ernest Hemingway penned masterpieces in between coffees and cocktails. These days, Lisa told us, the Saint Germain area is quite "shi shi", but, despite the trendy stores, it's still bustling with students and writers. On a circuitous journey down cobbled alleyways and through courtyards, we visited independent boutiques where we sampled olives, olive oils, pastries, breads, cheeses, charcuterie, chocolates, jams, spreads and wines. On my own, I'd have had little chance of finding them.
At chocolate concept store Un Dimanche à Paris (4, Cours du Commerce Saint-André) we indulged in the must-try creations of Pierre Cluizel, whose lifelong dedication to chocolate began when he was six; at Ma Collection Marchande de Saveurs (33, Rue Mazarine), we sampled a curated collection of local gourmet products; at the Marché Saint-Germain (14, Rue Lobineau), we bought direct from farmers; and at Bacchus et Ariane (4, Rue Lobineau), we tasted wine sourced from propriétaires récoltants (winemakers who grow their own grapes).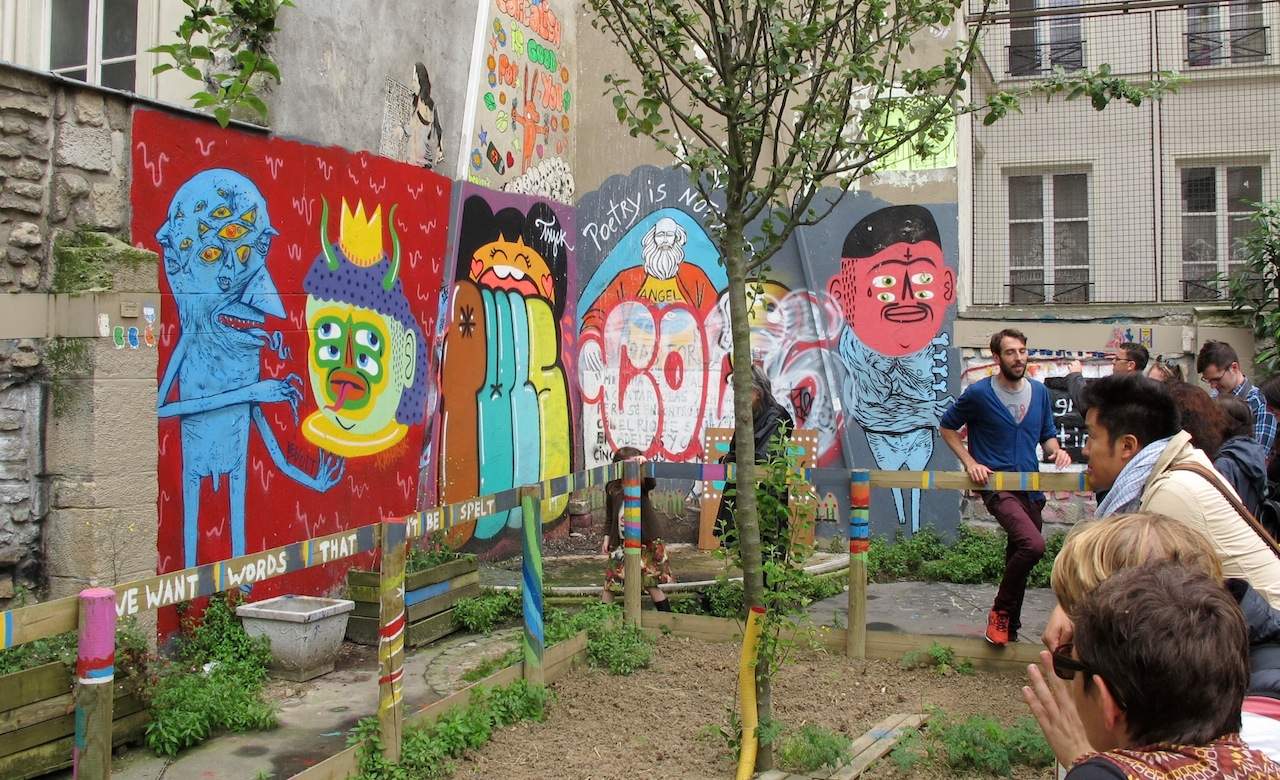 ARTING
Despite the crowds, the Louvre is always a magnificent experience. But if you prefer your art with some personal space, Paris's smaller galleries are worth a visit. Head to the Marais district, which is like Sydney's Paddington in its emphasis on independent design, but more intense. For new, challenging work, check out La Maison Rouge (10, Boulevard de la Bastille) a converted factory that's been exhibiting since 2004. Or for an element of surprise, step through the heavy, green doors of the Passage de Retz (9 Rue Charlot), whose maze of rooms started life in the 17th century as a hotel and now hosts temporary shows.
Alternatively, take to the streets. Numerous corners, archways and parks act as canvases for street art, accessible 24 hours a day. Having spied various space invaders and OBEY references, I decided to get some context via a walking tour with Underground Paris. Beginning at the'70s-inspired Café Place Verte (105, Rue Oberkampf), the journey took us on a three-hour long saunter through the Oberkampf and Belleville, where low rents and warehouse spaces have been drawing Paris's art community since the '80s.
We learned what inspired Space Invader's obsession, found out more about 'photograffeur' and TED-prize winner JR and discovered works by numerous lesser-known local artists. Using individual stories as a springboard, our guide carved out a broader history of street art, from graffiti tagging to multi-million dollar successes. We ended up in Parc de Belleville (47, Rue des Couronnes), one of the few places in Paris where you can picnic with panoramic city views minus the crowds.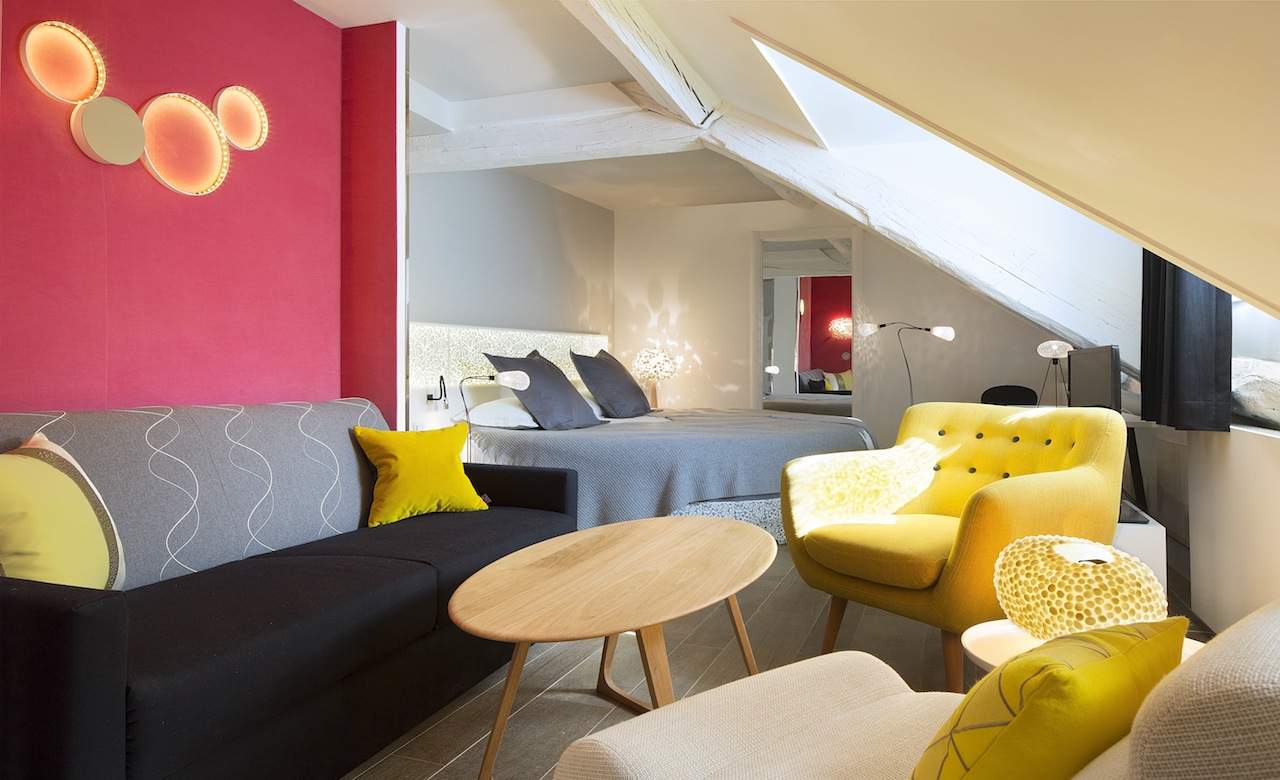 SLEEPING (ON THE RIGHT BANK)
Wandering around the Madeleine district, on Paris's Right Bank, felt like walking through the set of a Baz Luhrmann film. Everything was grander, more beautiful and more decadent than real-life, from the golden Gucci dog collars, to the glittering macaroon sculptures, to the gilded statues atop the Palais Garnier. It's also a really visitor-friendly location, with the Champs Elysées within walking distance.
The Hotel Chavanel (22 Rue Tronchet) is hidden behind an unobtrusive sliding door, just a few hundred metres from the spectacular Corinthian columns of the Madeleine Church. Sophie Charlet took over as hotelier in 2013, intent on turning the hotel into a bit of an artwork. Each of the 27 rooms has been designed individually, but they're linked by an aesthetic that combines traditional haute couture with bold, fun, contemporary concepts. It looks like what might have emerged out of a Christian Dior and Pierre Paulin collaboration.
I stayed in the junior suite, on the sixth floor. It was furnished like the guest room of some cutting-edge interior designer: an enormous oval bed draped with cashmere, mushroom and tulip stools, a recliner shaped like a cloud, lamps made of silkworm cocoons from Thailand and lace-curtained windows affording district views. I wasn't surprised to learn that Sophie had overseen the placement of every single object and that she's big on ethical supply chains and supporting independent artists. The lobby's street-facing window is dedicated to exhibiting locally-made creations, from jewellery to sculptures, while breakfast comes in the form of a 100 per cent organic buffet.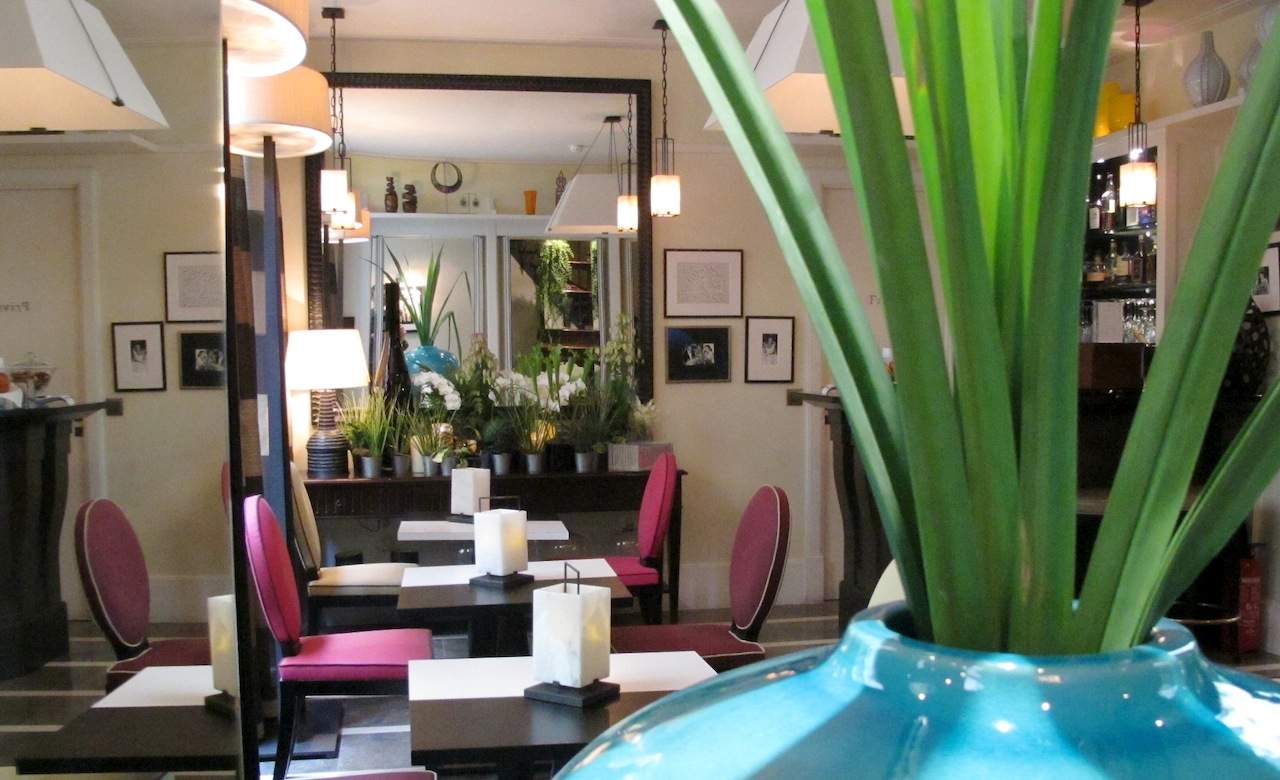 SLEEPING (ON THE LEFT BANK)
Not far from where my Flavors of Paris tour started, and just around the corner from the Luxembourg Gardens, the Villa Madame (44, Rue Madame) inhabits a quiet street. On first impressions, it feels more like a welcoming private mansion owned by an arts philanthropist than a hotel. Sculptures and drawings dot the lobby-bar-restaurant, leading through to a secluded, leafy courtyard. Monthly live shows feature local artists, from musicians to storytellers to magicians.
Owners Giles Delfau and Thérèse Tafanel employed specialist boutique hotel designer Michael Jounnat to create the Villa's artsy yet luxurious feel. His passion is restoring 'identity' and 'soul' to places, rather than following trends; some of his other projects include St Petersburg's Grand Hotel Europe, Rio de Janeiro's Copacabana Palace and Oran's Royal Hotel. The atmosphere established from the outset extends seamlessly into the rooms. I stayed in a suite, made up of a courtyard-facing ground-floor room, a loft-style lounge room and an oversized bathroom. It was a classically Parisian experience - and a warm, cosy hideaway at the end of the day.

Jasmine travelled as a guest of Localers, Flavors of Paris, Underground Paris, Hotel Chavanel and Villa Madame.
Published on July 28, 2015 by Jasmine Crittenden