TRAVEL & LEISURE
What It's Like Cruising On the Fourth Biggest Ship in the World
It's not all a sea of grey.
It was a thumping house remix of Kings of Leon's steamy coitus anthem 'Sex on Fire' that greeted me onboard Royal Caribbean's Ovation of the Seas — an interesting song choice considering the demographic usually associated with hotels of the deep blue is somewhere upwards of 60. This was just the first of many surprises encountered on a two-day voyage from Adelaide to Hobart.
Ovation of the Seas is the newest addition to Royal Caribbean's fleet, and the largest ship to ever drop anchor down under. Vegemite was appropriately added to the menu. To give you an idea of its size, the 'fourth biggest passenger ship in the world' is 348 metres long, weighs 167,800 tonnes and has capacity for up to 4905 guests and 1500 crew. Auckland's SkyCity Grand has room for 1750 by comparison. Given its extremely large berth, Ovation will be anchored in the Hauraki Gulf for its forthcoming New Zealand visit and passengers will be tendered to shore at Wynyard Wharf.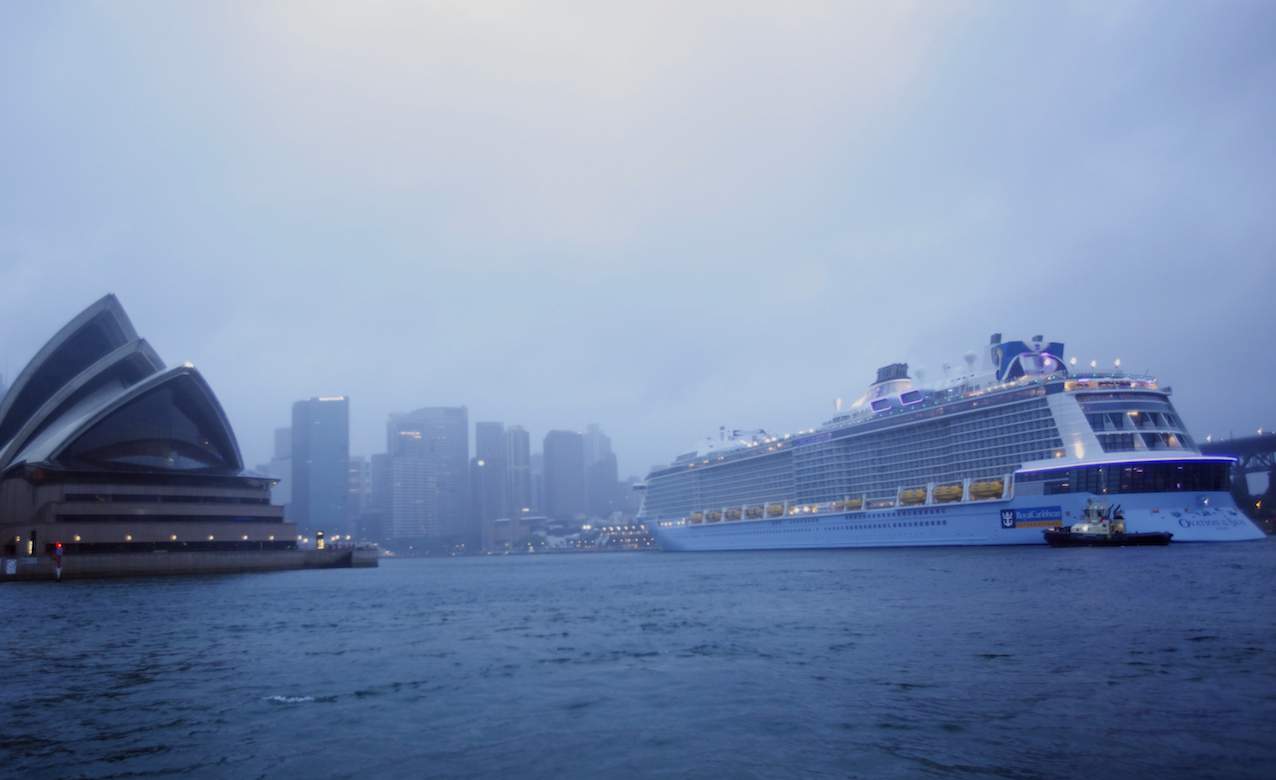 Upon first inspection, the lower decks resemble what could best be described as a marriage between shopping mall and the extravagant resorts of Las Vegas; the lights are overwhelmingly bright and passengers are drinking from florescent plastic vessels. Assisting with that daylight consumption is one of Royal Caribbean's newest technological advances and main attractions: a pair of robotic bartenders. Guests can indulge at the 'Bionic Bar' by entering their drink order into one of many iPads. Two lanky robots then flail about with classic hydraulic robo-noises crafting each cocktail from scratch — shaking, stirring, muddling and pouring. The drink-making contraption is an ideal situation for those wanting to avoid small talk with pesky bar staff and a definitive sign that the cruising world is trying to attract a younger crowd. The rock-climbing wall is another. The surfing simulator is something else.
While you'll still find staple activities like ballroom dancing, napkin folding, back pain seminars and several opportunities for glamour photo shoots, some new and more exciting additions found onboard include that aforementioned wave attraction, a skydiving simulator and a stadium-sized sports centre that transforms daily from rollerskating rink to bumper car arena and flying trapeze circuit.
Located at the stern of the ship, the 'RIPCORD by iFly' enables guests to float in mid-air courtesy of an oversized fan that can throw-out gales of 250 kilometres per hour. Donning a jumpsuit, goggles, helmet and earplugs, you're thrust into the transparent wind tunnel and airborne at sea. At one-minute per flying session — and after witnessing an impressive acrobatic demonstration by one of the crew — you're immediately hanging out for another ride. It's heart pumping fun at sea and a really strong breath of fresh air from the oft-affiliated stagnant cruise offerings.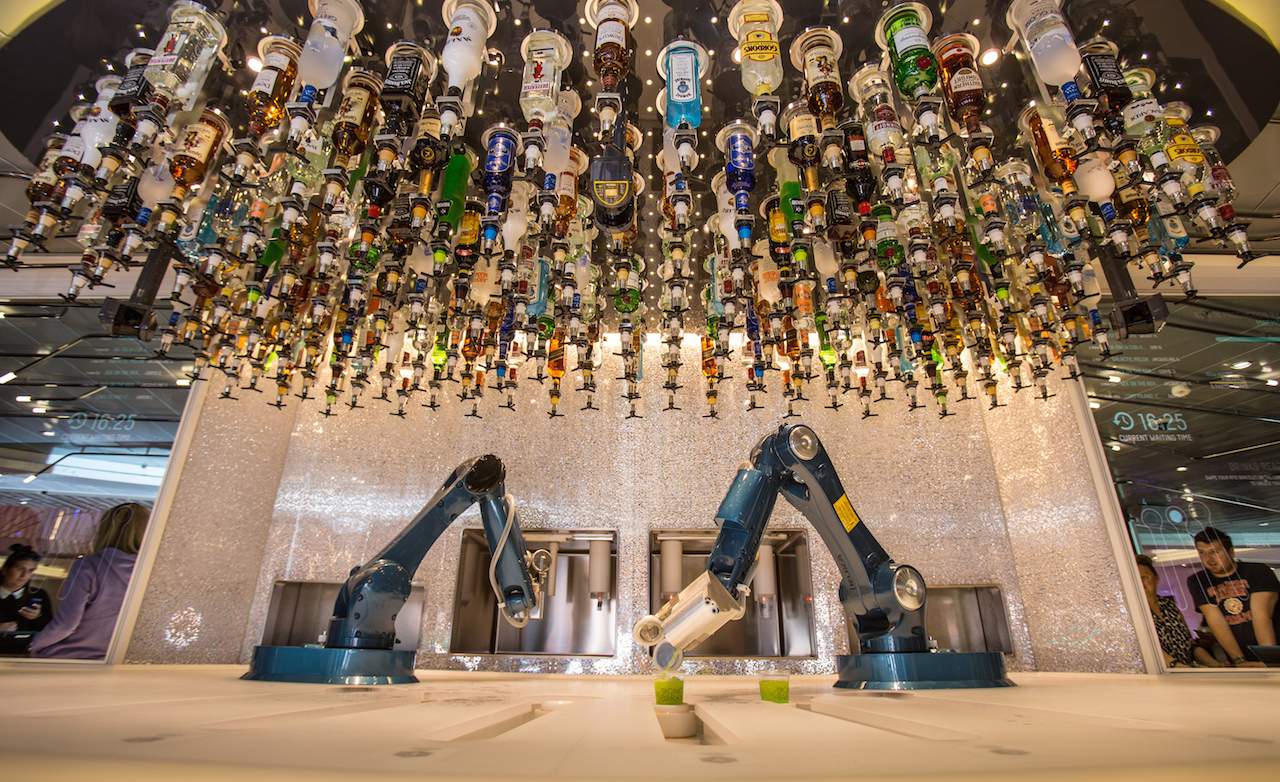 To fill the void between adrenaline rushes, there are 18 restaurants onboard. At any one time, 3474 guests could seat themselves across a classic buffet, sandwich café, late-night pizza joint, hotdog vendor or eight specialised restaurants that offer everything from Chinese hotpot to classic pub grub, made-to-order sushi and molecular dining.
Celebrity chef Jamie Oliver even has his own culinary footprint onboard, in the form of Jamie's Italian — the only establishment hand-making pasta everyday and with a stringent code to only use organic and seasonal ingredients. Which seems fair enough once Royal Caribbean Executive Chef David Reihana reveals that the food delivery for a seven-day cruise tallies up to: 6803kg of potatoes, 5100kg of beef, 4286kg of flour, 3300kgs of chicken, 3750 dozen eggs and so on.
One particular buffet restaurant — a smorgasbord to rule them all — insists diners wash their hands before even entering the dining room. The strict protocol is of course because of the infamous 'cruise ship illness', norovirus, a virus that is contracted from infected food and easily spread due to the close quarters of passengers. Luckily you won't find any of that here— Purell dispensers are literally everywhere and the ship comes with its own bubblegum-pop hand-washing theme song - "wash your hands and make your mother proud and maybe you can join the popular crowd."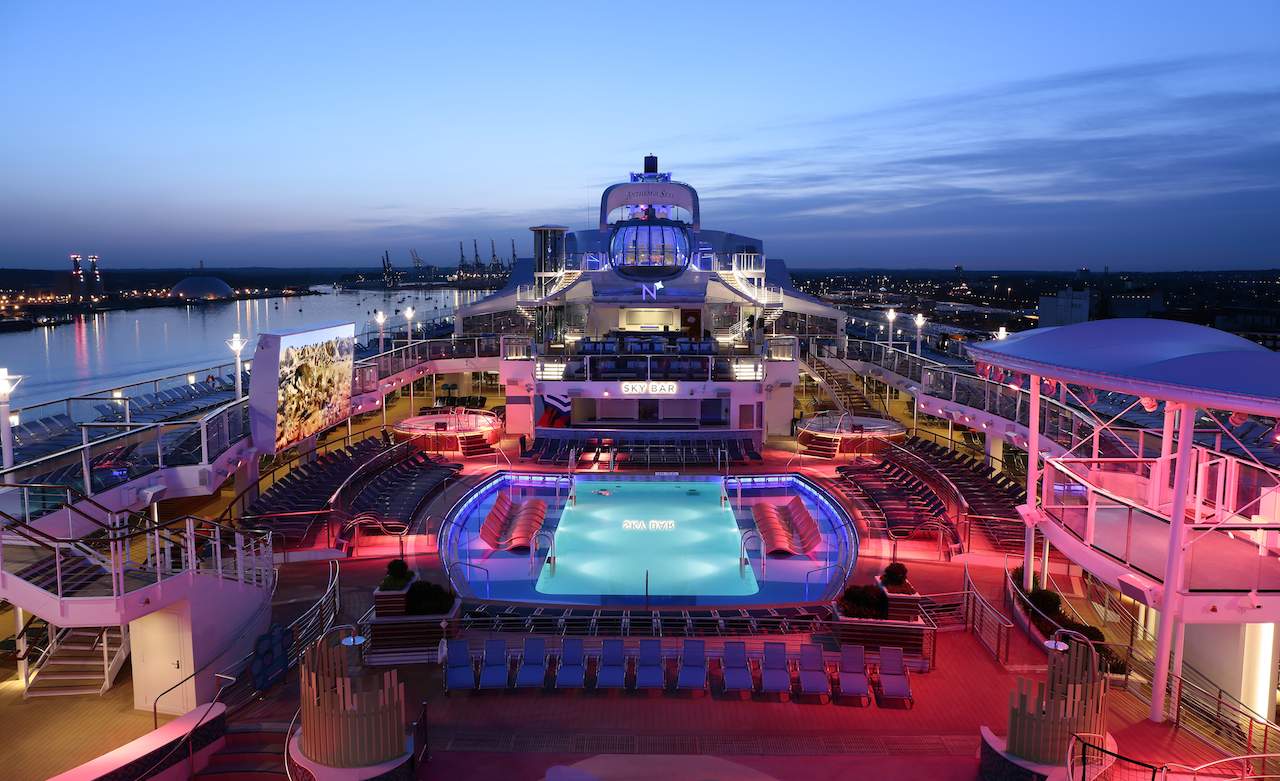 Come nightfall, the ship is its own quick-spreading virus of activity and entertainment and the guests' attire smoothly transitions from beachwear to cocktail dresses and slacks with boat shoes. Shows work on a rotating schedule between ports, across the ship's venues. On this two-day voyage the nightly pick included stand-up comedians, open-air films on the pool deck, Pixels — a cabaret-style performance which is paired with floor-to-ceiling hi-tech animations and the occasional dubstep drop, and "dance rave" Ovation Rocks. The particularly strange Broadway-esque attraction involved crew members lip syncing, conga-lining and, at one point, stripping to crowd-pleasing anthems; all while audience members were worked into a frenzy by the guitar-toting Cruise Director.
There really is something for everyone aboard Ovation. Which is certainly the lock, stock and barrel of cruising — it simply takes all of the ideal holiday elements and throws them into one handy location. You can eat as much as you want, sleep as much as you want and drink as many robo-cocktails as you want.
Ovation of the Seas arrives in New Zealand on December 22, 2016. For more information, visit: www.ovationoftheseas.com.au
Published on December 22, 2016 by Stephen Heard