FOOD & DRINK
Five Dining Trends That Are Big in Japan
Japan has 32 Michelin-starred restaurants. These aren't them.
This article is sponsored by our partner, Toshiba.
Acclaimed around the world for its delicate complexity, Japanese cuisine has an attention to detail that is exquisite. No wonder it's seen as an art form to many. Consequently, the dining scene is equally as impressive, in every sense of the word. Yes, they have 32 Michelin-starred restaurants in the country, but it's not all fancy, elegant and expensive. Think complete opposite to fine dining. Think of cafes where you can pat owls, restaurants where you throw your rod out of the boat and fish for your dinner, and cafes where French maids serve you chicken katsu and write 'love' on it.
These places will literally change your notion of what is possible in the culinary showground. For a seriously Japanese experience that's a little closer to home, check out Toshiba's Pop-Up Zushi Roller-Coaster, a totally free and fantastic dining set-up on for a limited time only.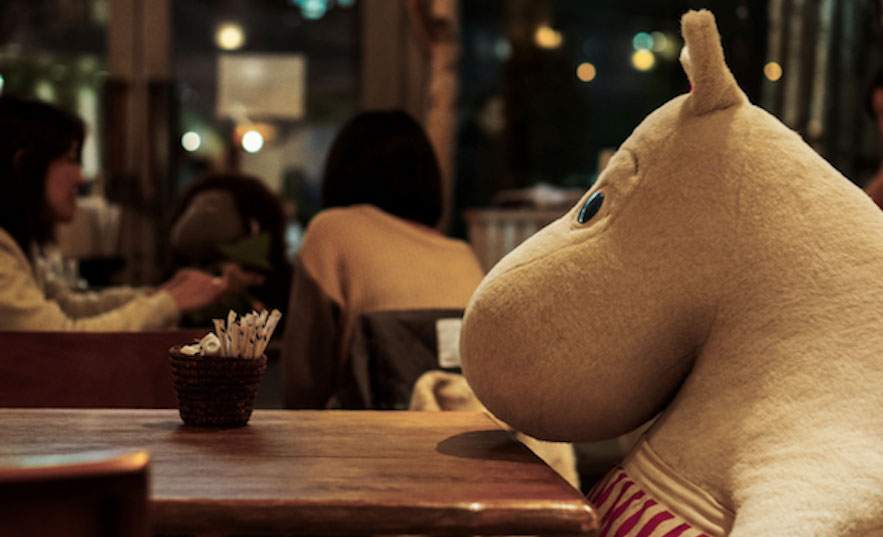 Dine with a furry friend
Created by a Finnish artist back in 1945, the Moomins are a fairytale family of white, roundish hippopotamus-like creatures that live in Moominvalley. We all know that Japan has paved the way for these kinds of things, with Hello Kitty cafes left, right and centre, so it's only natural that a Moomin cafe exists in Tokyo. And Moomin fans will hit the roof. From the cutlery right through to your food, everything is in the shape of Moomin, and if you're a solo patron, you can even dine with a giant stuffed Moominpapa as your companion. It's Moomin madness. Don't be surprised if you end up talking like Thingumy and Bob. "Hmmmm….this yushi is really summy", etc.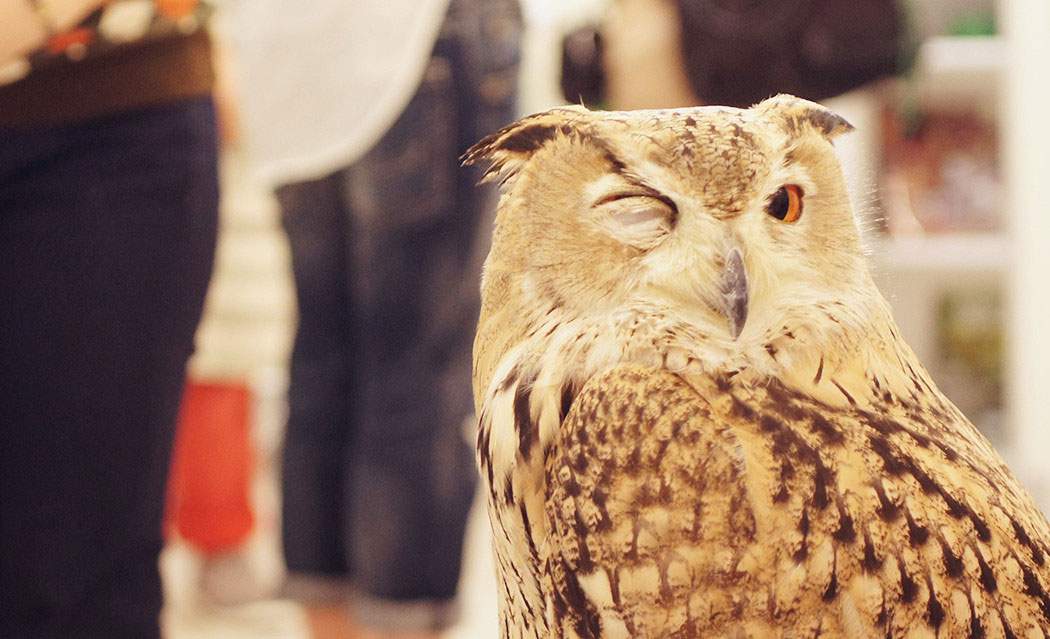 Dine with a feathered friend
Cat cafes are so 2013. The quirky hangout craze in Japan now is places where you can drink your coffee with some friends — of the feathered sort. Owl cafes have become quite the hoot (excuse the pun) since Fukuro no Mise in Tokyo gained popularity in 2012. And we're talking real owls here. Here you can eat your owl-inspired food while patting a barn owl. Understandably, this is not normal interaction for owls and humans, so there are strict guidelines to follow once you're inside, such as washing of hands, not talking too loudly and having a staff member present should you want to hold one. The queues can get lengthy due to number restrictions, so make sure you don't get too excited once you're in; it could send them into a flutter.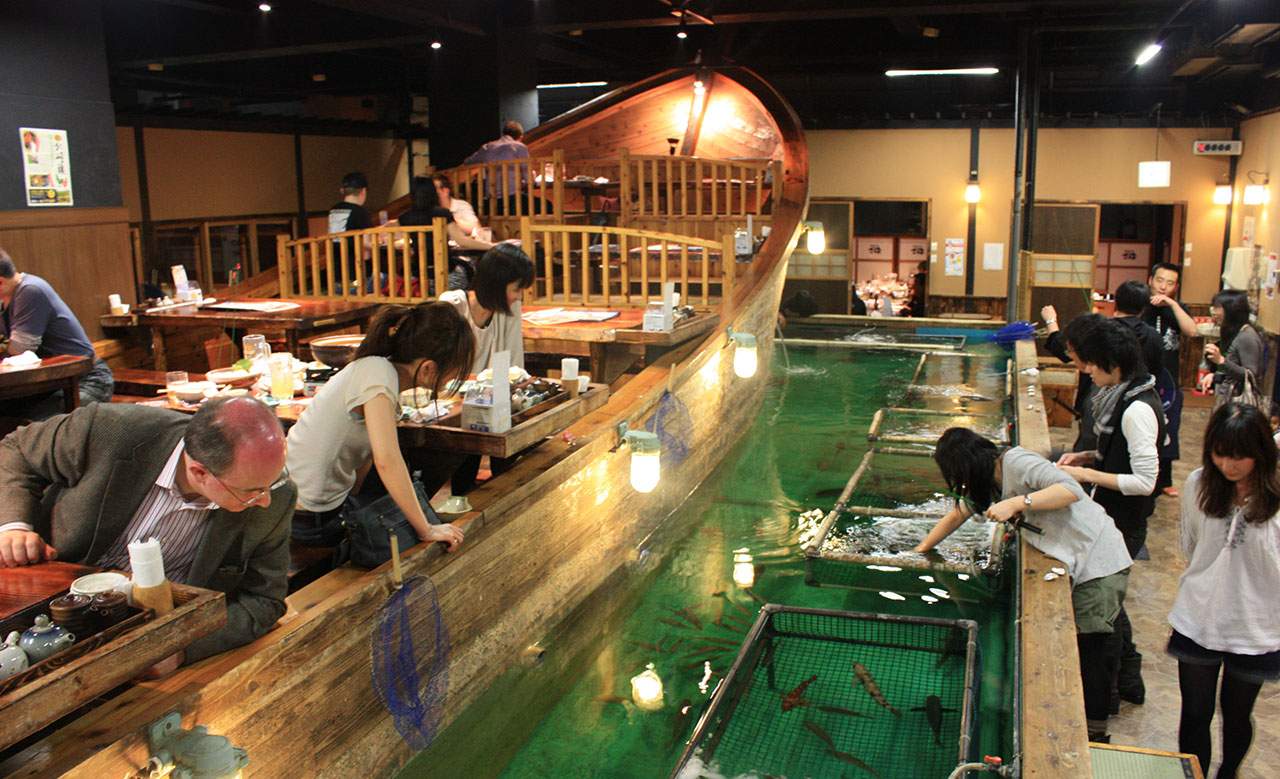 Fish for your Food
Like the idea of fishing for tea, but not hanging out in a dinghy for hours in the hopes of catching a feed? Zauo restaurants in Tokyo are taking fresh seafood to the next level. Ushered to a seat in the boat-shaped area, you can then request a fishing rod and some bait and commence fishing for your dinner from the moat beneath, swarming with various kinds of fish. The rule is that once you've caught it, you've bought it. So be careful should you be the adept trawler — you better hope that ¥16,000 ($170) lobster you snagged is tasty. There is fun in this though; the whole restaurant cheers you on if you've had success. Furthermore, the chef can prepare it however you like.
Alternatively, if your patience is wearing thin and you feel like a floundering angler, simply order direct from the menu and beat the others to it.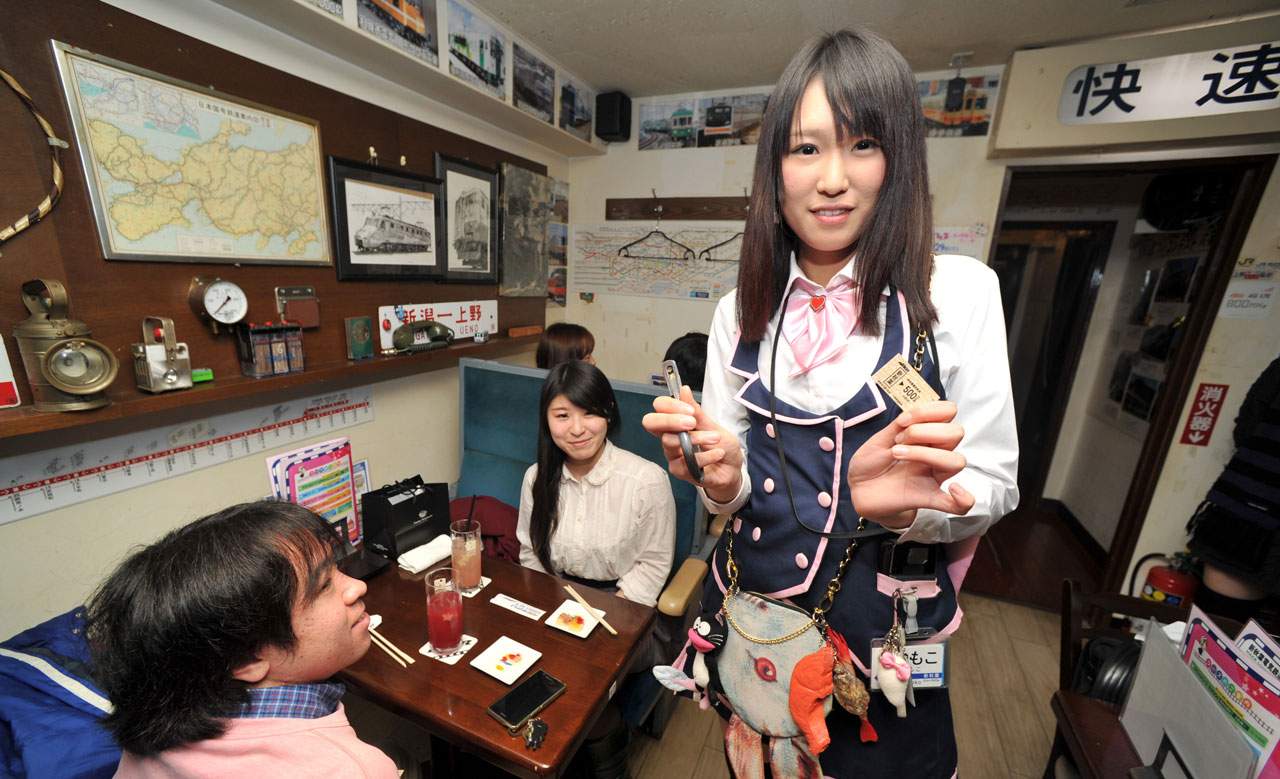 Dine on a cute, fake train
Railway enthusiasts, unite! Little TGV is one of Tokyo's distinctively themed cafes, with train-themed decor and booth seating similar to that of a railway carriage. A model railway chugs around the eatery, and as well as train-shaped food, the menu is inspired from railroads and trains all over the country. A cross between an izakaya and a maid-cafe, this place runs along the same lines, with waitresses dressed in train conductor uniforms. This, however, doesn't mean it's solely male clientele; Little TGV is popular with both local and foreign patrons wishing to soak up some of the cutesy/randomness of Japanese culture.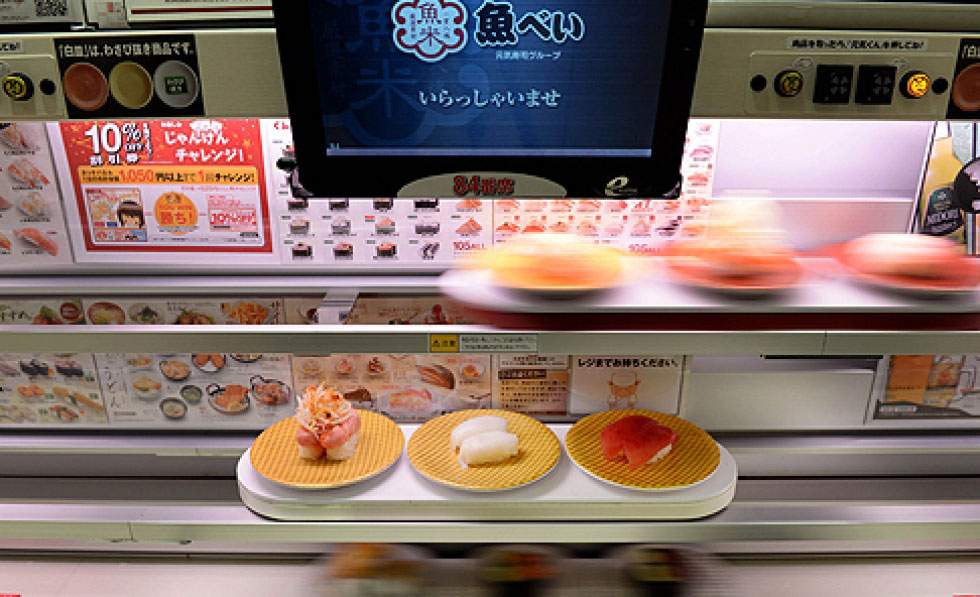 High-speed sushi
No longer do you have to wait five minutes till that California roll glides past you again. The high-tech sushi train at Uobei is all about delivering dishes via a high-speed chute. Customers place their order from the computer touch screen from their bench and within 60 seconds the high-speed rail sends the sushi careening down the chute, stopping right in front of you. After you've taken the plates (maximum three on one rail at a time), a simple press of a button sends the dishes flying back to the kitchen. Not quite sure how your green tea could fare at this speed, but that is what we call fast food.

Published on October 21, 2014 by Aimee Sics