Interview /// Concrete Playground meets Lilo the Waikato
A beautiful story of the battle of depression and one man's mission to Lilo the Waikato.
Waiting in Jimi Hunt's office for an interview is a little disconcerting. Maybe it's because his office desk looks like it was, in a former life, a polar bear or one of Jamiroquai's hats. Maybe it's the true-to-size spacesuit, poised motionless and vacant, staring at me.  While waiting for Hunt's entrance, which no doubt will be theatrical, I'm studying a decadent, pink-frosted homemade cake that seems to have been force-fed every candy bar available in the New World check-out line. I silently prepare myself for an interview that I assume will be consistent of non-sequiturs and nonsensical colloquy while taking in this kaleidoscopic dreamscape of various colours and textures, and I'm starting to think it wouldn't be that bizarre if Jimi was actually inside the spacesuit.
Hunt finally enters the room and, to my surprise, has a demeanour completely offset to what I imagine. He is calm, relaxed, lucid. We sit and review some of the projects he has completed at his branding and design agency, The Creative Difference, and he offers me a piece of the maimed confectionary on his desk. I accept out of curiosity, despite better judgment, only to discover the cake tastes exactly as it looks and I need three glasses of water to get it down.  Jimi laughs, I laugh, and he says, "Water saved my life, you know".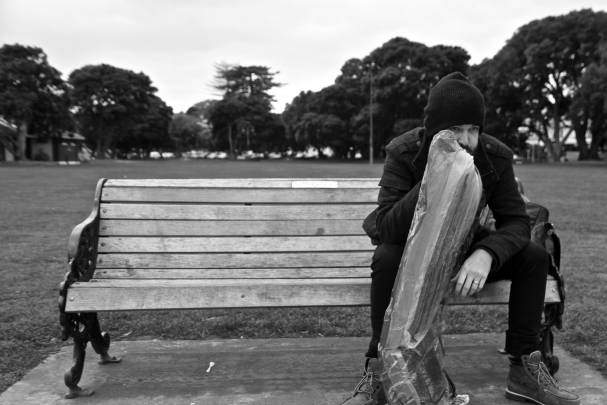 For two long years Hunt battled depression.  It came on quietly and gradually and was misconstrued for stress, as the disease often is. At the onset, friends found Jimi irritable and difficult to work with and, as his illness progressed, Jimi became increasingly withdrawn and emotionally inaccessible. "I would be arguing with my wife and midway through I would think to myself, 'What are we fighting about?' I would just blank," Jimi explains. "I would forget, but she wouldn't."
As Jimi's marriage and personal relationships began to visibly deteriorate, he started to consider professional medical help. He met with doctors and psychologists that wanted to explore his childhood and excavate the undeniable injustices he'd certainly repressed, and soon, he became disillusioned and frustrated by the continuous loop of psychobabble and follow-up appointments. It wasn't until he was recommended to Dr. John C. McEwan by his father that it became apparent the incongruity in Hunt's personal and professional life was not at all stress-related, but due to a chemical imbalance.
"The doctor told me that I had not enough Serotonin and too much Cortisol. And that was basically from a bad diet and not taking care of myself, so I got sick," Jimi explains "Protein in the morning and 2-3 litres of water a day pretty much fixed that."
Dr. McEwan recommended the incorporation of exercise and goal setting into a daily routine and, as Jimi has a penchant for the abnormal, he took the advice and ran with it. "I'm not the kind of person that wants to run marathons, it's boring to me. But I did want something to train for."  And boring his idea was not.  The man, who can be accredited with creating New Zealand's longest Slip 'n' Slide, the Waiheke Summer Olympics, and the New Zealand Urban Golf Championships, decided he would paddle a pink, blow-up Lilo pool mattress from Taupo to Port Waikato, all 425km of the Waikato River.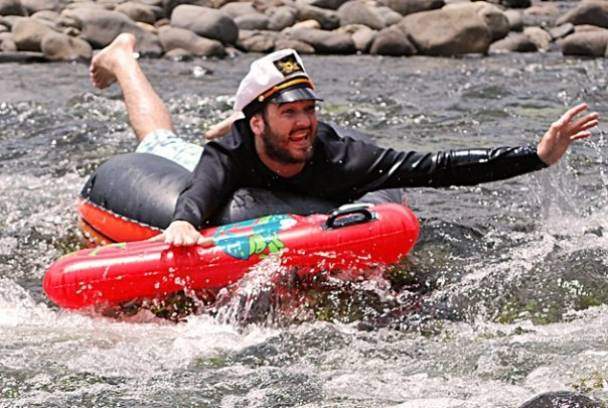 When Jimi first made the announcement of his plans to paddle the length of the river, he was surprised by the amount of friends and associates that offered up help.  Soon, he had a documentary crew following him to film the journey.  Then, he had a PR team on board and soon after a website and an event name: Lilo the Waikato. All of a sudden a personal challenge became something bigger.
"Lilo the Waikato is all about me asking for help, and because I asked for help I can now embark on my journey. It's the same with depression . . . people are afraid of the stigma, but everyone I told looked at me with love and compassion and moved mountains to help me," says Hunt, "Once I saw the correlation, I realized that I wasn't just doing this for myself anymore, but I was doing it to raise awareness. You are not alone. You can get better."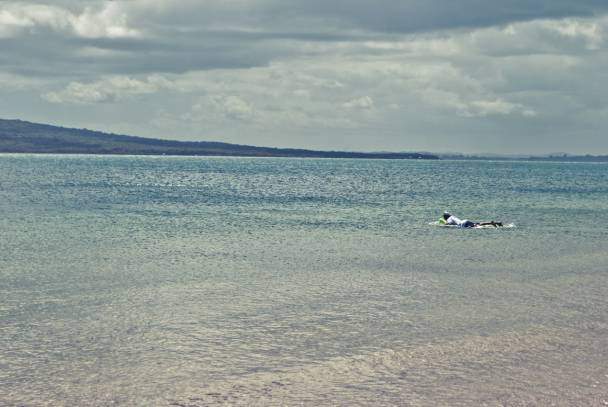 While "Lilo the Waikato" has a serious message, the maritime adventure to be nothing short of entertaining. In addition to a tandem skydive to the top of the river, Jimi plans to be the first person in the world to land a trout from a lilo and rally as many people as possible to join the 10km "Float Day" from the Hamilton Gardens to the Fairfield Bridge. Along the journey, Jimi will be asking for assistance in the way of food and shelter. If you are serendipitous enough to receive a knock on the door from a tired, amphibious looking man, with a well-groomed moustache, take heed: Jimi does not like pumpkin or corn.
Jimi needs help spreading the word.  You can check out Lilo the Waikato on Facebook and help support the cause through simply liking the page and inviting your friends.
Published on December 21, 2011 by Erin Mattingly