A Road Tripper's Guide to Central West NSW from Bathurst to Parkes
One trip, three stops and many local produce feasts are in order at beautifully repurposed historic buildings.
in partnership with

Bursting with baby lambs and blossoms in spring, draped in dreamy colours in autumn and perfect for pinot noir before crackling fires in winter, Central West NSW gives you reasons to visit in all seasons. Once you've conquered the Blue Mountains' misty, winding roads, you'll find yourself surrounded by rolling paddocks, lush vineyards and friendly country folk. Here's your guide to road tripping, from Bathurst's award-winning restaurants and art-influencing landscapes to Parkes' space tech and Elvis obsession, then onto truffle hunts and fine, fine wines in Orange.
From pristine beaches and bountiful wine regions to alpine hideaways and bustling country towns, Australia has a wealth of places to explore at any time of year. We've partnered with Tourism Australia to help you plan your road trips, weekend detours and summer getaways so that when you're ready to hit the road you can Holiday Here This Year.
While regional holidays within NSW are now allowed, some of the places mentioned below may still be closed due to COVID-19 restrictions. Please check websites before making any plans.
STOP ONE: BATHURST
Meet Australia's oldest inland town, Bathurst. It was here that the country's gold diggers first struck lucky. Before getting your pan out, stop for lunch at The Hub Espresso Bar and Eatery. Whether you're outside in the leafy courtyard, or inside, surrounded by art, you'll be feasting on generous, seasonal dishes and coffee from local roaster Fish River.
Just 100 metres away is the Bathurst Regional Art Gallery, where temporary exhibitions respond to local landscapes, including Hill End, home to a legendary artist's residency. Spend the rest of your afternoon wandering around Bathurst's wide streets and quirky shops, including Annie's, a decades-old ice cream parlour where the must-try scoop is Sofala Gold (honeycomb and caramel) — or the bright green lime if you dare — and Legall Patisserie for traditional French pastries.
Crank up Hozier — you're heading to church for dinner. Well, it's not church, exactly, but a former church schoolhouse. Known as Church Bar, this candlelit hideaway serves woodfired pizzas. Try the Russel, with sautéed mushrooms, grilled asparagus, a poached egg and parmesan cheese, drizzled with white truffle oil. Stay alert for ghosts on the way out — ten members of the notorious Ribbon Gang were publicly hanged in the laneway in the 1830s. If that spooks you out too much, instead head to American-style diner Dogwood, BX for burgers, smoked rib croquettes and fried chicken or gastropub The George Hotel. For an after-dinner tipple, stop in at cosy small bar Webb & Co.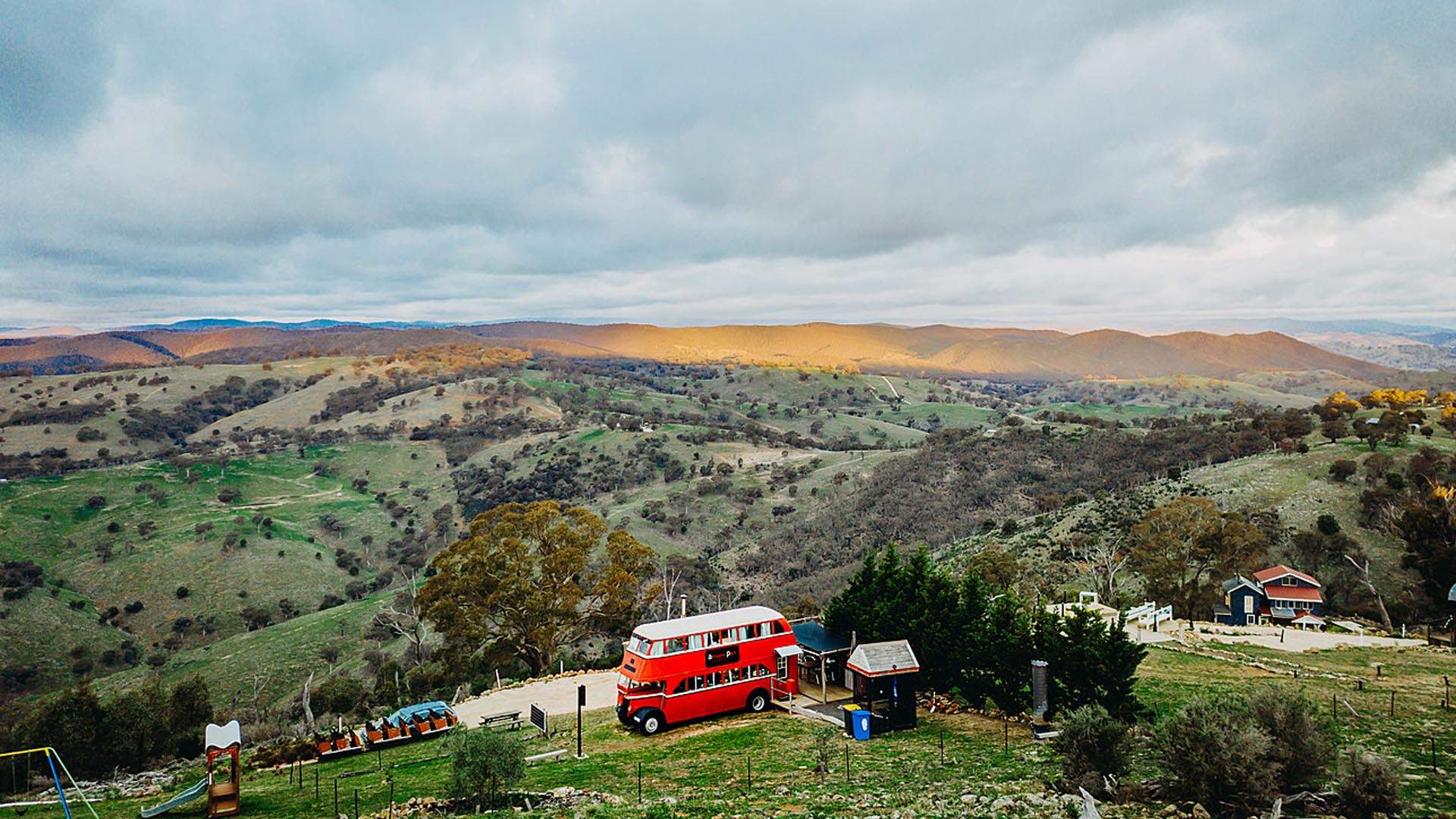 When it's time for bed, you've got a few quirky options. Situated right in the town centre is The Ivy Lodge, a stunningly restored heritage cottage that sleeps four people. If you're up for a bit of an adventure, opt for an off-grid stay in Artisans Park, which is a 40-minute drive north of the town centre. Here, you'll have your choice between a restored WWII army communication tower and a pimped-out 1949 London double-decker bus. Both offer indoor fireplaces and outdoor fire pits, epic views across the region and access to private bush tracks.
STOP TWO: PARKES
Two hours' journey west from Bathurst lands you in the 12,000-strong town of Parkes, another gold rush settlement and home to the annual Elvis Festival. Before you ask, yes, the place is named after Federation's daddy, Henry Parkes, and, yes, you're going to the CSIRO Parkes Radio Telescope, as seen in Rob Sitch's 2000 flick, The Dish. Drive 20 kilometres north through farmlands to see the 64-metre telescope that helped broadcast man's first moonwalk and has since found more than half of the known 2000 pulsars (spinning neutron stars). There's an onsite cafe, with glass walls, so you can keep looking for signs of alien life while you're eating.
Back in Parkes, get your bearings at Memorial Hill Lookout before poring over the Indigenous artwork at Wiradjuri Amphitheatre. Next up, you're heading into the 50s — and beyond — at the Henry Parkes Centre. This museum specialises in four things: Elvis, Henry Parkes, old cars and old machines.
At dinnertime, IKON will have you sorted. Take a seat next to the rockstar feature wall, order a bottle of Heifer Station pinot grigio from Orange and start with one of the tasting plates. The mains are all about dressed up quality meats — think grilled kangaroo fillet or char sui lamb rump.
And, for a slick, four-star stay, check into connecting Hotel Gracelands. This 20-roomer is splashed in earthy tones, making it a cool retreat on hot days.
STOP THREE: ORANGE
It's time to start making tracks back to Sydney. Return the way you came or make a loop, taking in Forbes and the Mount Nangar Lookout, before getting to Orange. Over the past 20 or so years, this 40,000-person town has transformed into a major destination for foodies and winos.
Before getting started, earn your right to gorge with a hike on Mount Canobolas (hot tip: if you've no interest in moving, then you can drive to the summit). Some locals will tell you this is the highest point between the Great Dividing Range and Africa, but, sadly, there's a couple of peaks getting in the way of that tall tale. There's no denying, however, the awe-inspiring, 360-degree panoramas.
Along the Lake Canobolas Road towards Orange is Borrodell Estate. This expansive property boasts one of Australia's highest vineyards — specialising in cool-climate varieties — and an orchard growing apples, cherries, plums and more. It's also known for harvesting truffles, which are put to good use at the onsite restaurant, Sister's Rock. Other wineries worth a visit include the family-run Printhie Estate — lauded for its award-winning Swift sparkling range — and Philip Shaw.
Before the drowsy, post-feast afterglow wears off, check into De Russie Suites for a kip or a bath. Walking into the light, airy foyer dotted with sculptures and oversized planters, you'll feel like you've arrived at a Tuscan villa. Or, if you'd like to keep to the off-grid theme of your road trip, opt to sleep in one of the luxury glamping cabins overlooking Nashdale Lane vineyard.
You're advised to reserve for dinner at The Union Bank, a heritage-listed building that formerly functioned as a stable for police horses and as an art school. There are impeccably composed grazing plates for sharing alongside a wine list that heroes local wineries.
Come morning, head to Racine Bakery for top-notch almond croissants, sandwiches and cakes, or swing by The Agrestic Grocer for, well, anything that takes your fancy. This welcoming hub serves as a grocer specialising in local produce, including pedal-your-own rolled oats, as well as a cafe, bar, workshop space and live music venue. It's a collaboration between four people who share an extraordinarily well-developed sense of all things delicious, healthy and creative. On the way out, grab some supplies for the trip home. Hanging around? Get more tips from our Weekender's Guide To Orange.
Whether you're planning to travel for a couple of nights or a couple of weeks, Holiday Here This Year and you'll be supporting Australian businesses while you explore the best of our country's diverse landscapes and attractions.
Top image: Destination NSW
FYI, this story includes some affiliate links. These don't influence any of our recommendations or content, but they may make us a small commission. For more info, see Concrete Playground's editorial policy.
Introducing Concrete Playground Trips
Book unique getaways and adventures dreamed up by our editors