Five Spots Where You Can Stargaze from Your Very Own Hot Tub This Winter
Soak under a canopy of stars.
in partnership with

Winter brings so many toasty delights — think crackling fires, mulled wine and cosy coats — but is there anything as blissful as soaking in your very own hot tub underneath a canopy of millions and millions of stars? We doubt it. People love a good ol' fashioned stargaze while the winter nights are clear and crisp — and regional Victoria has plenty of top-notch spots to do it from. But why not do it from the warmth of a tub in your own private retreat while surrounded by the best sights and sounds of nature?
Luckily, you don't have to travel far to turn this vision into a reality, either. Across Victoria, a number of hotels, cabins and glamping tents have installed outdoor baths, so you can soak your stresses away while staring at the great cosmos above. To make it easy, we've scoured the state to find five of the most enticing. Just don't forget to pack a good book and bubbles (of both the soapy and boozy kind).
From pristine beaches and bountiful wine regions to alpine hideaways and bustling country towns, Australia has a wealth of places to explore at any time of year. We've partnered with Tourism Australia to help you plan your road trips, weekend detours and summer getaways so that when you're ready to hit the road you can Holiday Here This Year.
While regional holidays within Victoria will be allowed from May 31, some of the places mentioned below may still be closed due to COVID-19 restrictions. Please check websites before making any plans.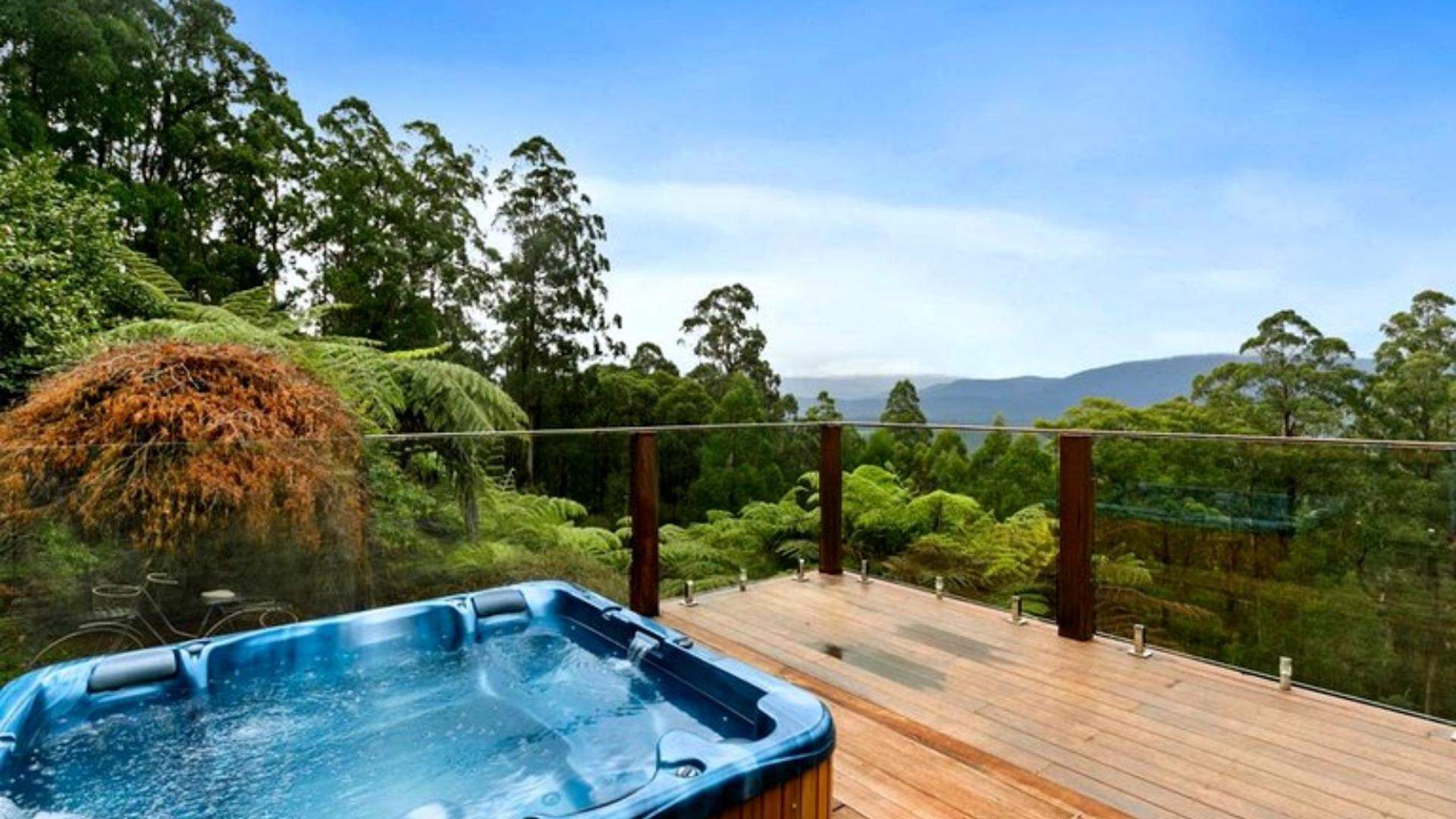 This spacious jacuzzi, tucked away in the wilderness of the Yarra Valley, is just an hour's drive northeast of Melbourne. At this retro log cabin, you'll be relaxing in total privacy surrounded by ten acres of forest. How's that for serenity? Inside, you'll discover every winter comfort you've been dreaming of, too, from a roaring fireplace to a clawfoot bath (for when you need a break from stargazing). There are three bedrooms, each with huge windows that let in plenty of sunshine. The master bedroom, with its vaulted ceiling and king bed, is particularly spectacular. Spend all your time cosying up inside or get out and about to explore the Yarra Valley's many wineries and restaurants — think TarraWarra Estate and Innocent Bystander — plus, rainforest-ringed waterfalls.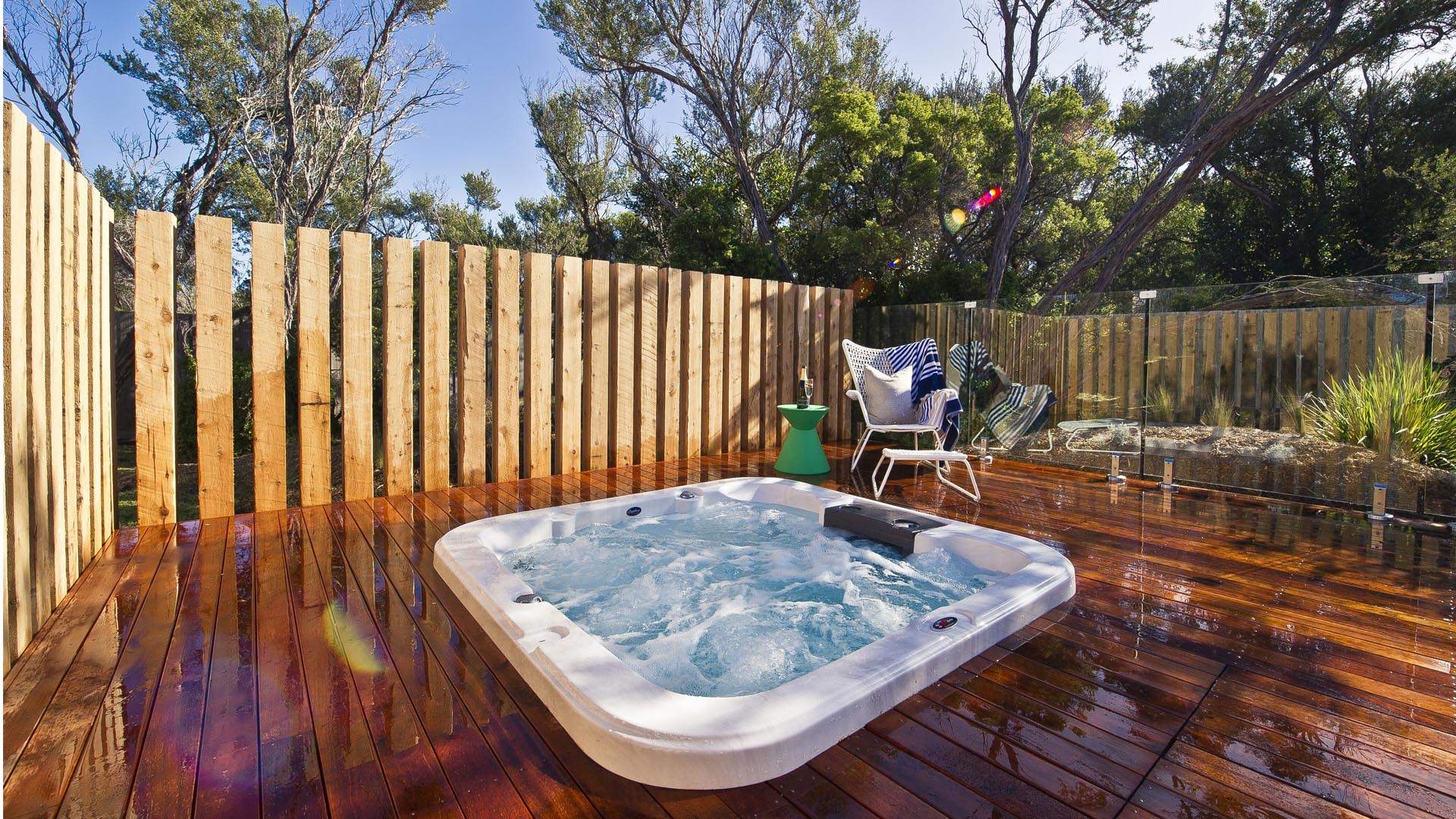 Heading to the beach might not be your first choice in chilly weather, but think again — invigorating walks along the sand, rugged cliffs against blue seas and, best of all, no crowds. Yep, now we're talking. Plus, at the Azure Beach Retreat in the Mornington Peninsula, you can get in the water regardless of the air temperature with this outdoor spa. In between dips, you can wander around the southern tip of the peninsula that overlooks Port Phillip Bay, check out nearby seaside village of Portsea — and have lunch at Portsea Hotel — or bunker down with a book in this three-bedroom holiday home.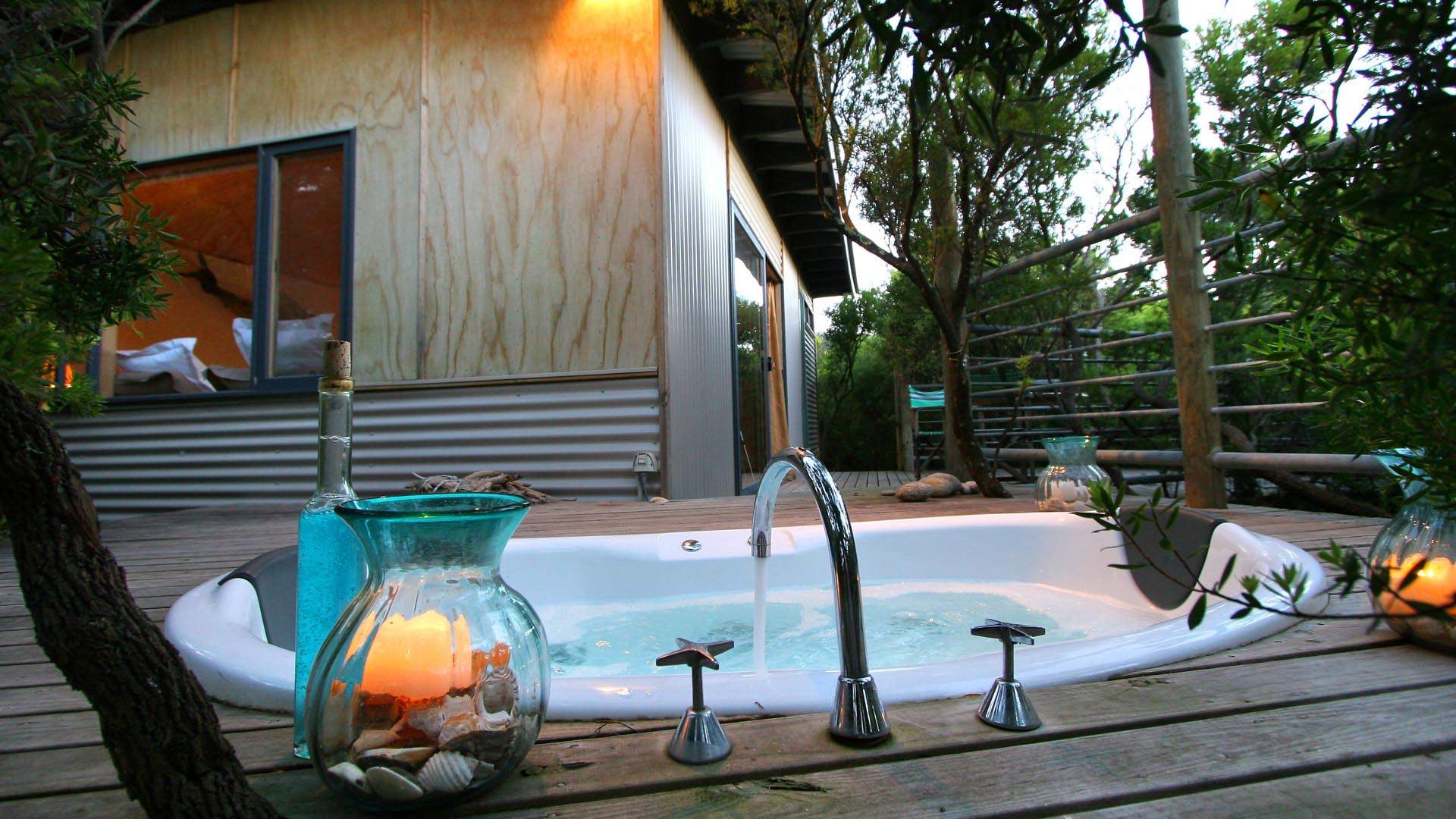 BIG BLUE BACKYARD, MORNINGTON PENINSULA
You'll also find Big Blue Backyard on the Mornington Peninsula. But, here, you'll be nearer to the wild Bass Strait. This luxurious, secluded hideaway is surrounded by bush, yet just a five-minute walk from the beach, so you may even spot a few whales. On an elevated timber deck, you'll find a hot tub encircled by candles and trees, making for some romantic stargazing. And, to make your sleepover even more decadent, get the optional 'nourish' upgrades, which include grazing platters, brekkie boxes, massages and priority passes to nearby Peninsula Hot Springs.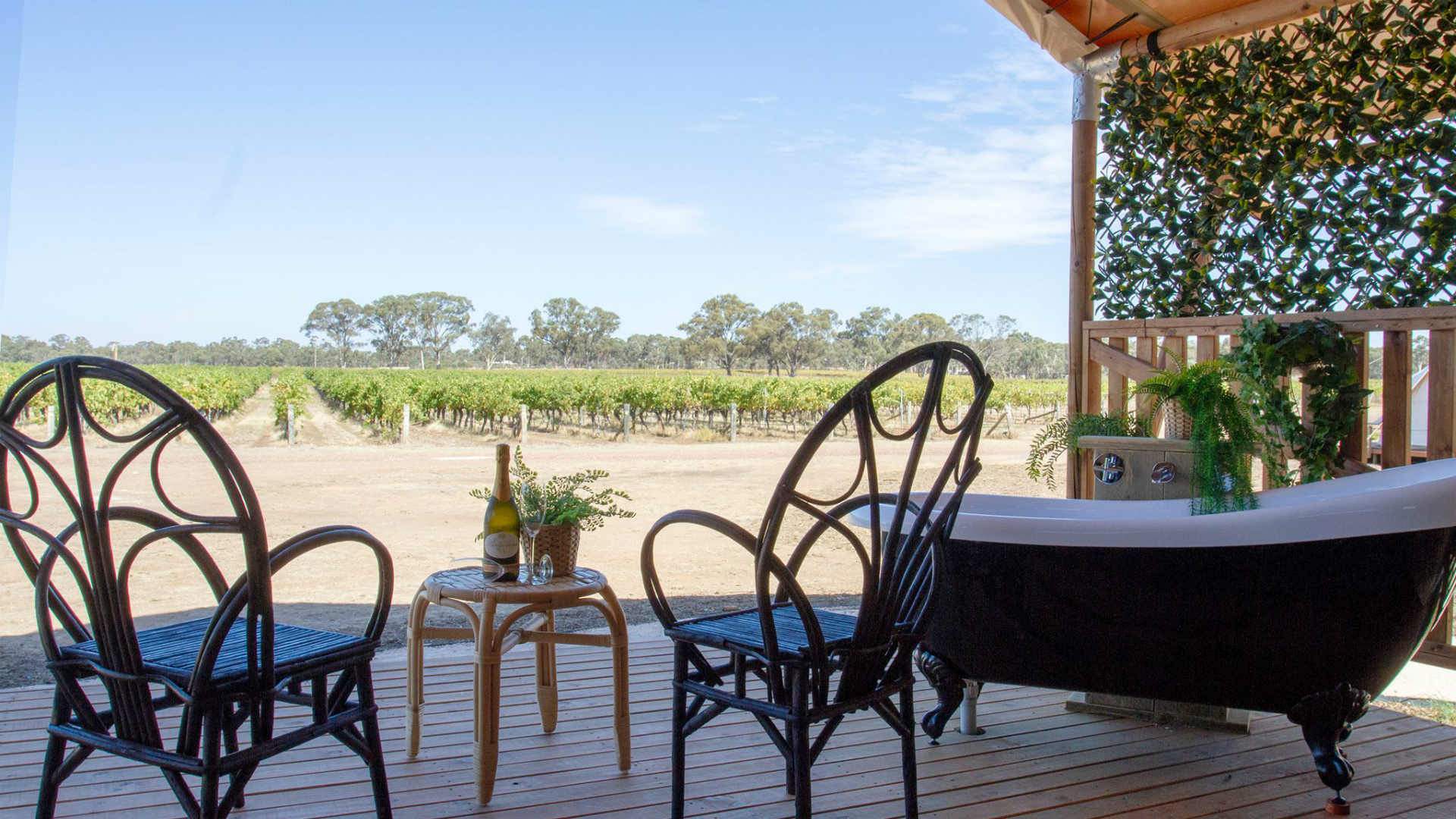 This clawfoot bath doesn't just come with stars — it also comes with a cellar door, restaurant and acres of rolling vineyards. You'll find it just outside the Safari Tent at Balgownie Estate Retreat, a 15-minute drive northwest of Bendigo. This tent is camping at its most luxe. It comes with a four-poster queen bed, patio, kitchenette and, most importantly for your post-soak needs, indoor heating. You can self-cater with the help of wine from the cellar door or visit the estate's restaurant for a bite of French bistro-inspired fare. And, if you can drag yourself away from this cosy tent for a little while, head into town to check out Bendigo Gallery, followed by a bar hop down Chancery Lane.

EMPEROR SAFARI, PHILLIP ISLAND
Keen to get completely off the grid without going too far? Book a super-romantic stay on Phillip Island, just 90 minutes from Melbourne. Sheltered Glamping Co offers the sweet spot between decadence and sustainability with its six eco-friendly glamping tents. They all come with spacious beds, handcrafted furniture, cosy blankets, comfy seating and Bluetooth speakers and run on renewable energy and activated utility systems. The largest and most luxe of the collection is the Emperor Safari, which features a four-poster queen bed, wood fireplace, gas stovetop, private shower and barbecue — and, most importantly, an outdoor tub. You'll probably want to spend day and night soaking. But, if you do decide to head inside, there's a cute reading nook to get cosy in, or you could venture out to explore the rest of the island.

Whether you're planning to travel for a couple of nights or a couple of weeks, Holiday Here This Year and you'll be supporting Australian businesses while you explore the best of our country's diverse landscapes and attractions.