Nine Essential Bars and Eateries to Hit in the Bendigo Region
Plan a weekend escape around sipping craft brews, exploring bustling restaurant hubs and tucking into local produce.
in partnership with

There's only one thing better than jumping in the car and travelling to a place you've never been before, and that's knowing that, upon arrival, you've got days of discovering epic food and drinks ahead of you. And if there's one area in Victoria that offers a plethora of hot restaurants, cafes, bars and pubs to get around, it's the Bendigo region, which includes Heathcote, Castlemaine, Maldon, Maryborough, Talbot, Inglewood and Wedderburn. This collection of towns feature some of the most gorgeous spots to have a meal or two (or three) and, good news, the region's less than two hours from Melbourne's CBD.
So, if you can muster up the energy to leave the couch and head off on a weekend getaway this winter, make it the Bendigo region — we've got you sorted for all the best bars, pubs and eateries to hit up while you're there.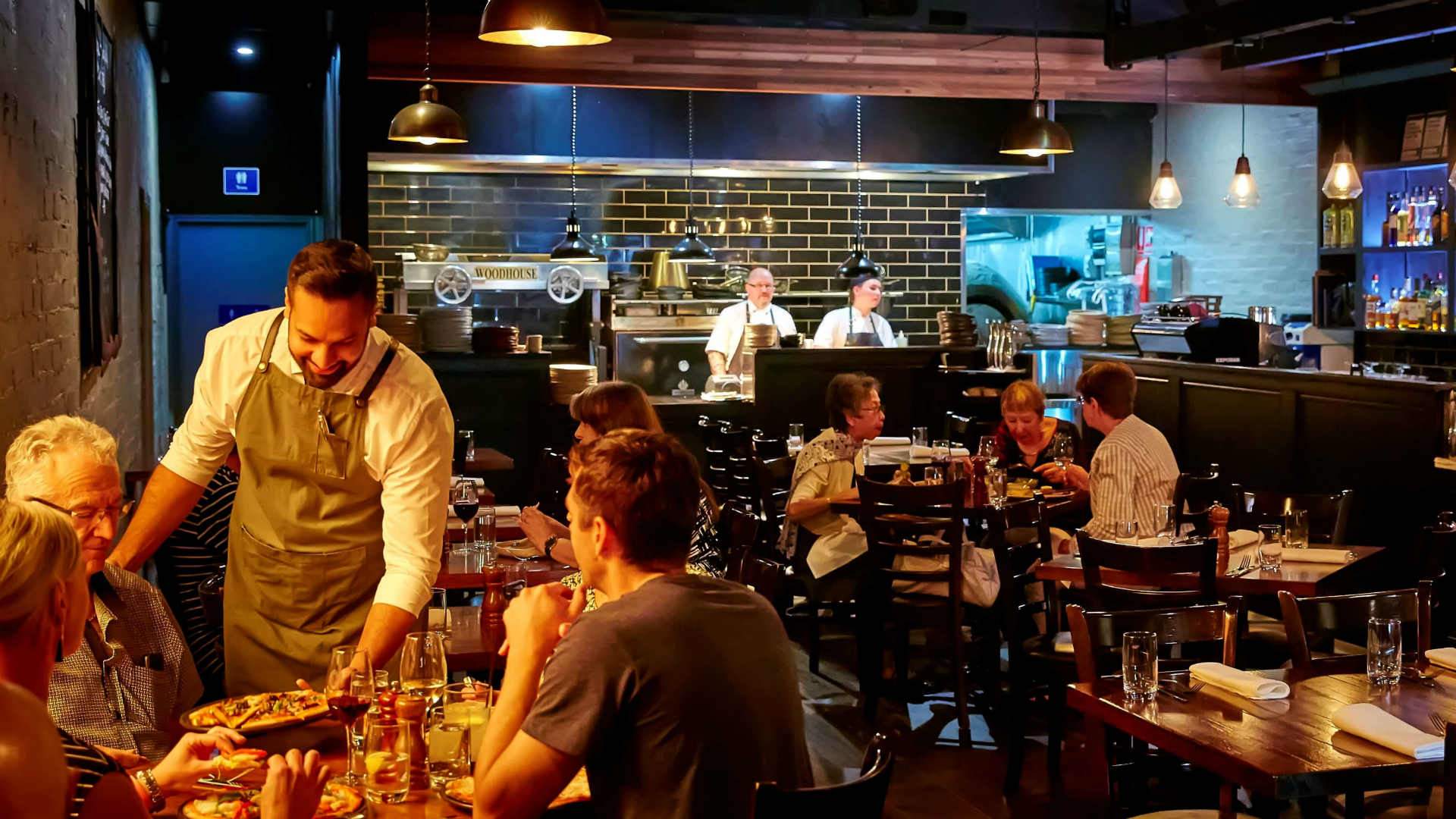 TUCK INTO SMOKY MEATS AT THE WOODHOUSE
The Woodhouse is, as you may have guessed from the name, all about wood, smoke and fire — so, expect plenty of grilled and roasted meats and seafood, wood-fired pizza and more. This beloved Bendigo eatery boasts several different types of grills, which burn through around 40 tonnes of local red gum per year and bestow distinctive flavours and heavenly caramelisation on everything they come into contact with. Priding itself on its veritably strong connection to the local land, The Woodhouse spotlights some of the area's most revered producers, farms and vineyards. Step into the warm brick dining room, brimming with happy locals and the aroma of woody smoke, and you'll feel right at home.
HAVE DINNER INSIDE A HISTORIC THEATRE
Located in one of Australia's oldest theatres, the Theatre Royal, Lola is an easygoing eatery with simple furnishings and decor, low lighting and food that feels like you're eating a perfect homemade meal at a mate's place. All of the pizza and pasta options are sublime — boasting fresh and innovative combinations while maintaining a rustic aesthetic. After dinner, explore more of what the Theatre Royal has to offer — after a much-celebrated reopening in 2016, the historic building is now a live music venue and cinema and also houses an espresso and wine bar.
ENJOY AN ARTFUL FEAST AT MASONS OF BENDIGO
Artfully housed in the historical Mason glass factory, this buzzing restaurant places focus on colour, distinctive plating and small-scale local produce. The modern interior by Russell & George, featuring white brick walls, black chairs and bright timber, brings an airy, casual vibe to the upscale meal you'll be eating. Yep, Masons is one of the most relaxed fine dining experiences one can find. Try one of the Roaming menus ($69.50 per person for dinner or a very affordable $36.50 for lunch), which allows chefs Nick and Sonia Anthony to give you a true tasting tour of Victoria's luscious produce, intricately woven together to create edible art on the share-style plates.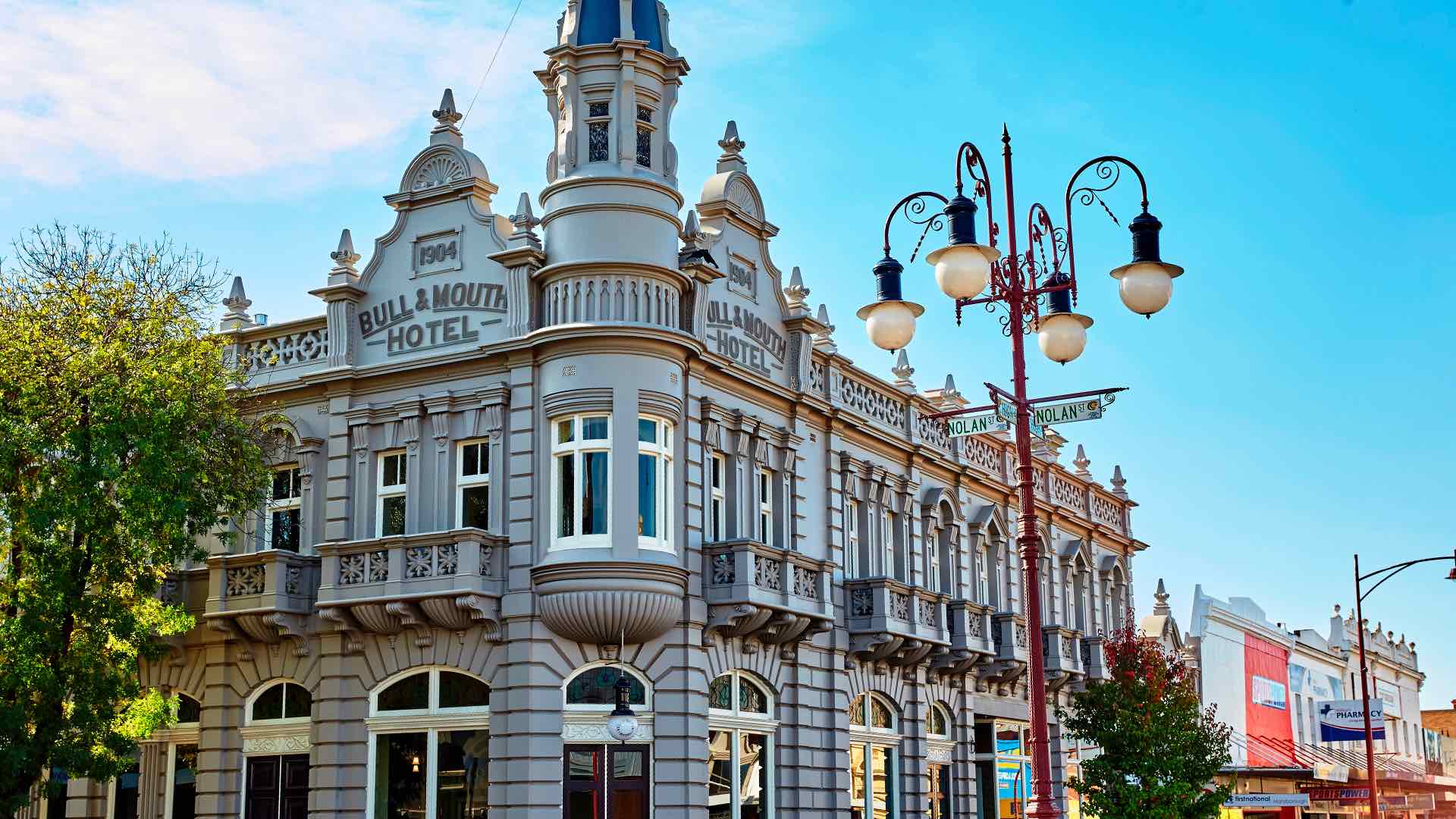 ENJOY A HEARTY PUB FEED IN THIS STUNNING HERITAGE BUILDING
The Bull and Mouth Hotel was closed for a decade until locals Mick and Jo Reid finally reopened it following extensive renovations by a developer. The reopening in 2017 brought a bright, spacious boutique hotel, cafe and restaurant to the area. The hotel, which originally opened around 1904, is historically significant to Maryborough. Its resplendent Edwardian architecture — uncommon for the time in country Victoria — has acted as a historical local meeting place and landmark for years. Today, the pub and eatery is still well worth a visit for its grandeur, its history and its impressive contemporary take on beloved pub food classics.
SIP WINE THEN SLEEP UNDER THE STARS AT BALGOWNIE ESTATE
Balgownie Estate, famed for its cabernet sauvignon and shiraz, is a remarkable one-stop shop if you're looking for a special getaway. This lush, longstanding winery not only offers a gorgeous classic cellar door experience, but it also has a wine museum and a restaurant with an unmistakably French-inspired menu — think twice-baked cauliflower and goats cheese soufflé to start, followed by crispy skin duck breast with ratatouille and house-made petit fours to finish. There's stunning accommodation on offer, too. The winery has permanent glamping tents with top-notch amenities, so you can feel like you're in a luxe hotel room while lounging on the deck drinking vino under the stars and soaking in the beautiful vineyard views.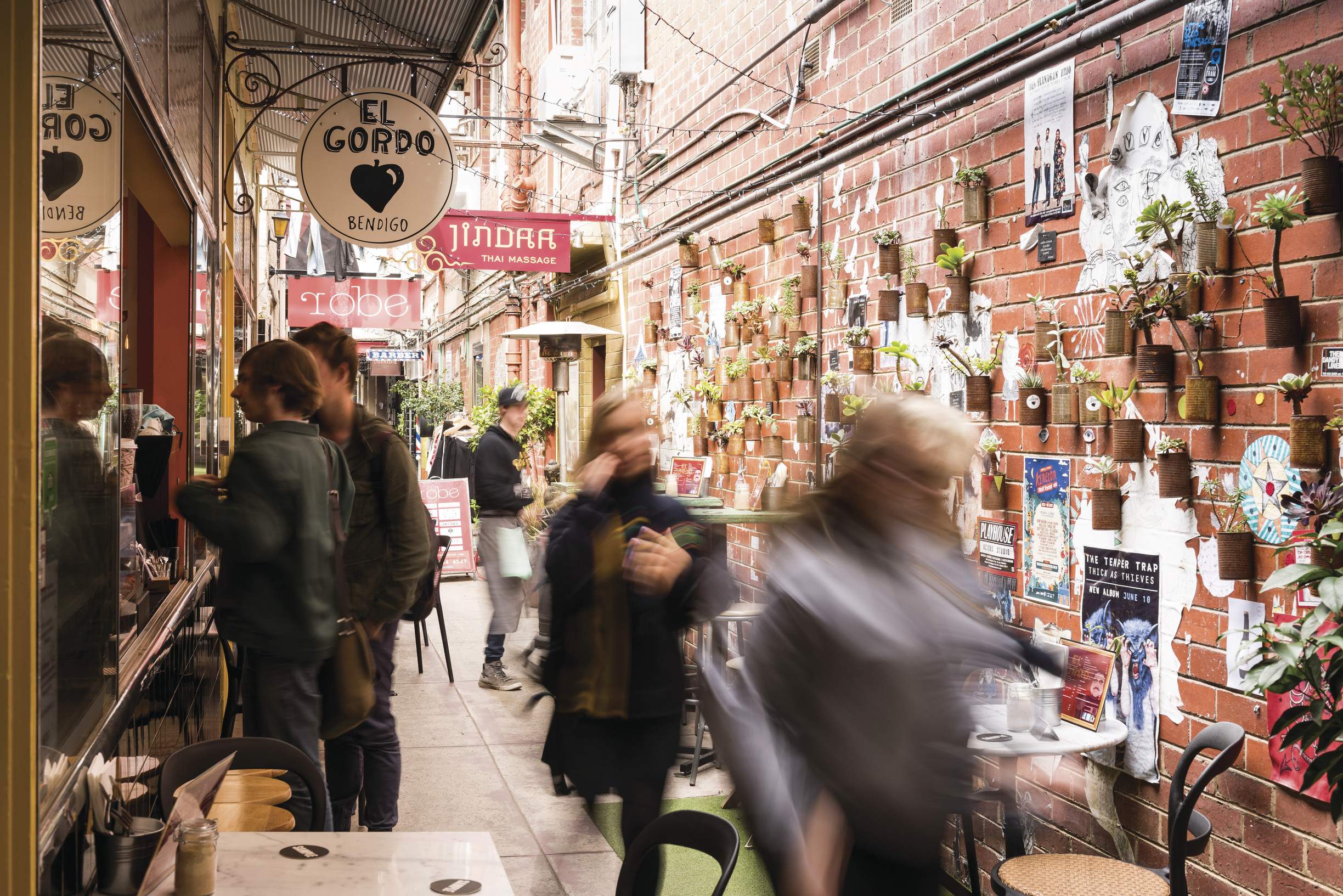 EAT YOUR AWAY ALONG THIS BUZZING LANEWAY
Chancery Lane is Bendigo's answer to the much-loved Melbourne laneway scene — but, if possible, it's even more charming. Enter the black Gaudi-inspired gates, designed by local artist Yvonne George, to find a vibrant laneway filled with salons, boutiques and art. You'll also find a great selection of places to eat and drink along here, too.
Your first stop should be El Gordo, an incredibly popular all-day brunch and Spanish tapas bar. Here, you can enjoy huevos rancheros, bocadillos (Spanish sandwiches) and a selection of traditional conservas and tapas — think sardines with tomato and stuffed squid in ink sauce served with tostadas.
Come dinnertime, make your way to The Dispensary to feast on an array of European- and Asian-inspired share-style plates. You can start with goat and turmeric croquettes or crispy tofu with broccoli before moving on to bao, confit duck cassoulet or charred pork cutlet with ratatouille and pumpkin puree. Peruse the extensive drinks menu or, for something a little different, book in for one of the venue's gin or whisky masterclasses, which will leave you with an in-depth understanding of the selected spirit — and samples, of course.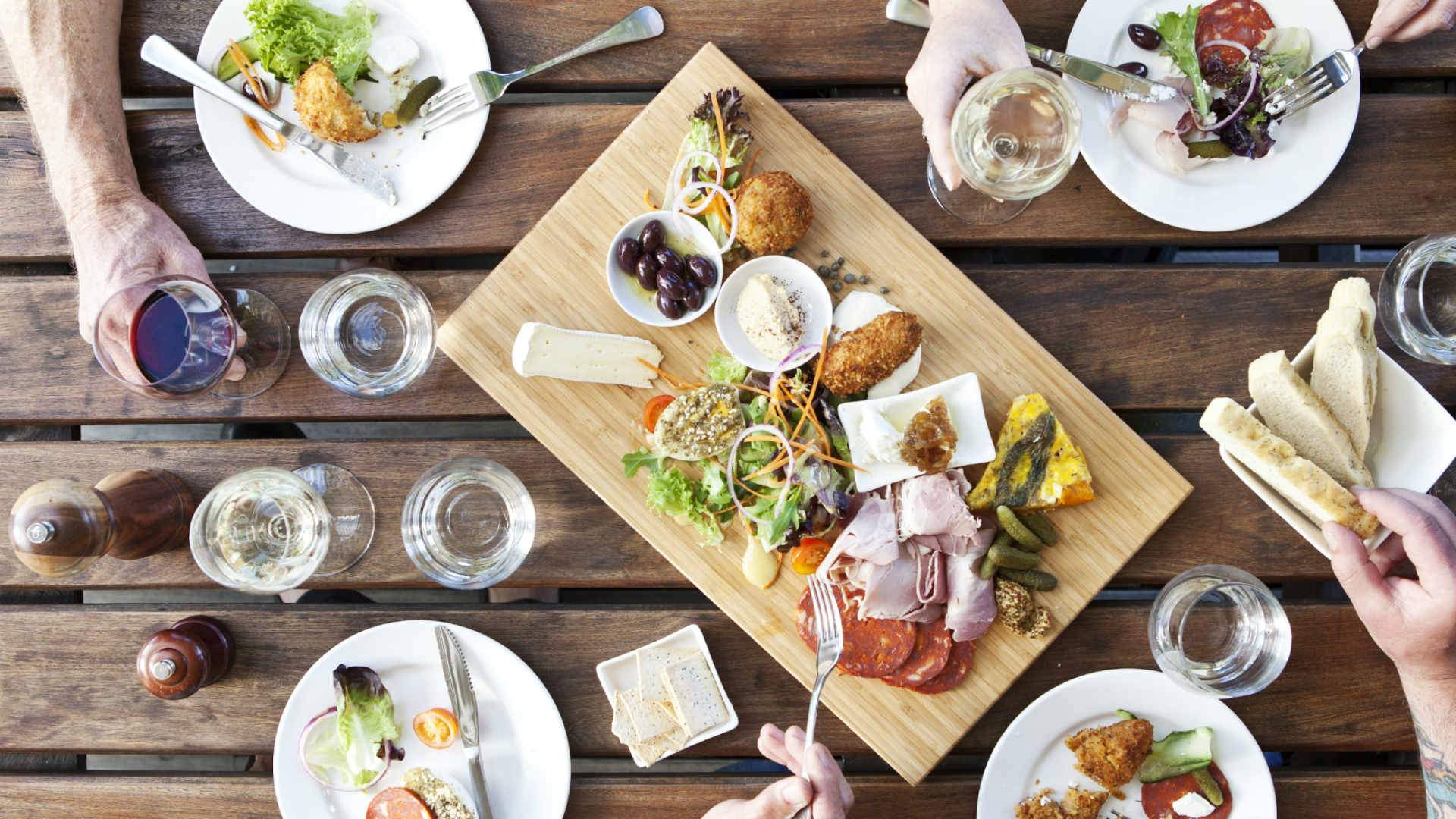 TUCK INTO LOCALLY GROWN PRODUCE AT TALBOT'S PROVEDORE AND EATERY
This bright venue chooses not to describe itself as a restaurant or a cafe — it's simply an 'eatery'. This summarises Talbot Provedore and Eatery's mantra for everything: simple, adaptable, everything going back to the absolute basics. Everything that's served, from the garnishes to the wine, is really and truly local — all grown or made within around an hour's drive from the kitchen. Some of it is grown in the community-maintained garden next door to the restaurant, and often Talbot residents and foragers will simply leave boxes of excess produce at the eatery's door. This means there's no menu for you to peek at before visiting, as it changes regularly depending on what produce is in — yet it's all consistently top-notch.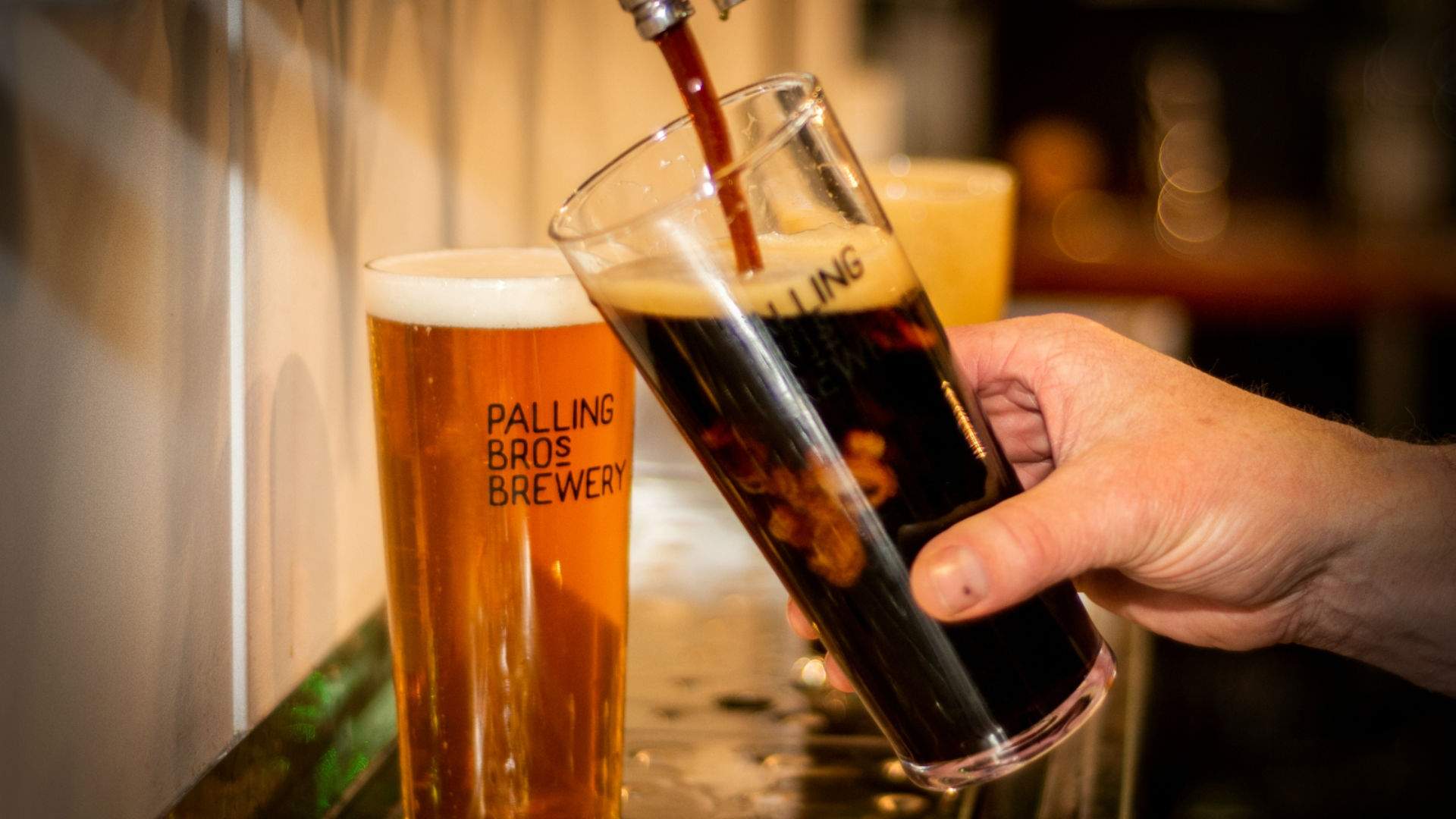 HOP BETWEEN THE HEATHCOTE BREWERIES
If you're a beer lover, then no Bendigo weekend is complete without a day trip travelling between the impressive array of nearby breweries. Start at Palling Bros — a captivating craft brewery named after Henry 'Rood' Palling, an 1850s convict who developed many of the institutions that established the area. The brewery offers a food menu that wanders far beyond your average pub grub, so you can demolish some gyoza, a pork belly yellow curry and a chocolate porter while learning all about the titular larrikin who put Heathcote on the map.
Next stop is the Tooborac Hotel and Brewery. The 'Tooby' is the oldest National Trust listed country pub in Victoria, so there's plenty of history here — the brewery taps pay tribute to the working traditions of settler Australia with titles like the Shearers Lager and the Woodcutters Ale. If you're in need of a feed at this point, the hotel offers classic pub meals, as well as an in-house pie shop. 
Also worth a visit is Cornella Real, a microbrewery that focuses on traditional British ales. Cornella Real is located at The Shiraz Republic, right in the heart of wine region, so you can hit up the cellar door and taprooms in one go. Finish your visit with a leisurely pizza in the sunshine overlooking the grapevines.
WANDER THROUGH AN ART AND FOOD PRECINCT
The days of the old Castlemaine Woollen Mill being empty and derelict are gone. This is now the spot of The Mill Castlemaine — a creative hub for art and food lovers alike. Inside, you'll find a thriving food precinct including a cafe, coffee roastery and specialist stores for bread, cakes, beer, smallgoods. There is also an artisan and vintage precinct. 
It's worth putting aside a few hours to spend here, so you can spend time thumbing through the secondhand goodies at Castlemaine Vintage Bazaar and browsing the different art galleries. But when you get hungry, head to Das Kaffeehaus. This spot emulates a Vienna cafe with an element of grandeur. You can eat sausages, cold cuts, Viennese coffee and cake while surrounded by lavish period paintings, gold-framed mirrors and a chandelier.
After lunch, make your way to The Taproom. It's a laidback space offering pints of a wide range of beers from the on-site Shedshaker Brewing ranging from classic ales and IPAs to more enigmatic brews such as espresso black lager and a hemp pale ale. Or, if you're more into your vino, pay a visit to Boomtown Wine, a shared co-op where winemakers can come to make (and taste) small-batch, locally sourced wines of all varieties.
To start planning your trip to Bendigo — and to discover more of what's happening in the region — head to the Bendigo Regional Tourism website.
Concrete Playground Trips
Book unique getaways and adventures dreamed up by our editors