Through Love and Legacy: Abigail Adriano Chats About Her Lead Role Debut in 'Miss Saigon'
From law student to the Sydney Opera House, Australia's own Abigail Adriano is making waves in her captivating portrayal of Kim.
in partnership with
Miss Saigon, the award-winning tale of love and loss, has arrived at Melbourne's Her Majesty's Theatre after a stellar run at the Sydney Opera House. Since its 1989 debut, it has charmed audiences, earning a string of awards and global praise, and proved a testament to the power of theatrical storytelling. Miss Saigon weaves an epic story of love and loss amidst the emotional tumult, chaos and danger of the Vietnam War, weaving a captivating narrative that continues to resonate with its intense, heart-wrenching themes.
One of the show's stars is Sydney's Abigail Adriano, who plays the role of Kim, a young Vietnamese woman working in a bar in Saigon. The story begins during the final days of the war, and it's here that Kim meets and falls in love with an American GI. Their passionate but brief relationship is at the heart of the narrative that transcends cultures and generations — not a bad gig for a 19-year-old former law student.
We sat down with Adriano to find out what it's like behind the scenes, why Miss Saigon continues to captivate generations, and how a last-minute audition — driven by a blend of passion and destiny — catapulted her into the role of a lifetime.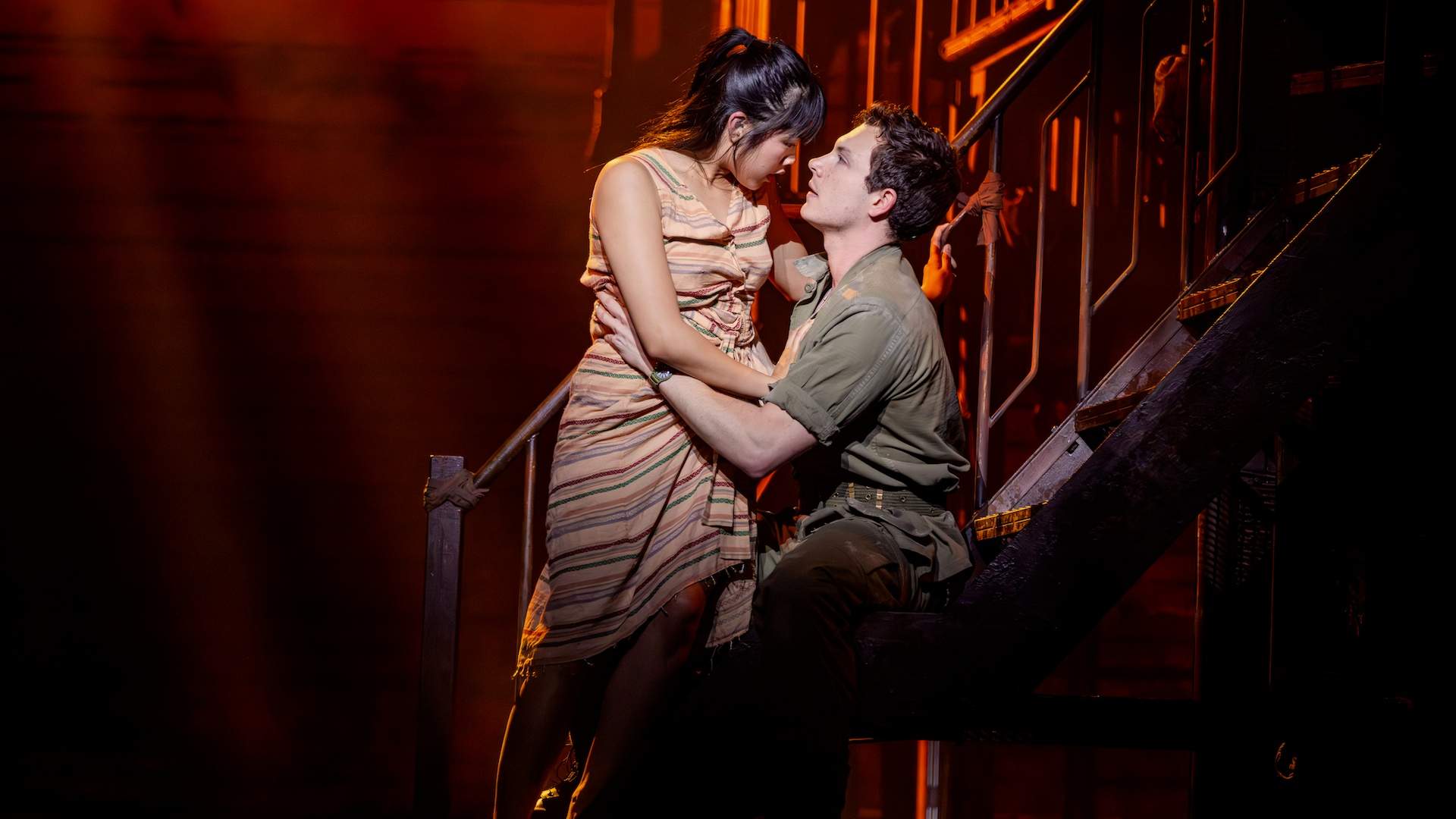 Kim is a pretty big role — what has your journey towards landing this gig been like?
I've always known about the role of Kim because I come from a really big Filipino family — and the first person to pioneer the role was the iconic Filo girl Lea Salonga. She's become a legend in theatre, and she put us Filos on the map when it came to performing arts.
But also, I've always just loved the music from Miss Saigon. As an Asian girl growing up, you don't see a lead character who's Asian. When I did music as a subject in high school, people would ask me, 'What's your favourite musical theatre show?'. And I'd be like, 'Miss Saigon', because it was the only show that I could really see myself represented in.
So it's a dream come true that I'm even able to perform such an iconic role. It was crazy that it came around because, at that point in my life, I was really focused on just getting through my academic side of things. And I actually really enjoyed school — so much that I got into law school. I did a year of it and took a pause from performing completely. But one day, my singing teacher reached out to me and said, 'I remember you telling me that Miss Saigon's your favourite musical — their auditions are closing tomorrow if you still want to submit something'.
Oh wow. No pressure.
So I literally had like ten hours left to submit. It was blood, sweat, and tears into that audition tape. But I knew that this was meant to be. I just had this gut feeling that I had to submit.
That's pretty amazing. So what was the moment like when you found out you landed it?
Oh my God. Look, the audition process was quite challenging. They were workshopping with me a lot. I think I had three rounds, and so I was putting all this effort into our audition calls. It took about a month or two before I heard anything back. In this industry, if you don't hear anything, that's your sign that you didn't get it, and you just have to move on. I was sitting my first-semester law exams at the time, so I just kind of put it to the side.
I was also tutoring primary and high school kids. So I was in the middle of a tutoring class on Zoom when I got the phone call, and as soon as I saw my agent's name on my phone, I was like 'Okay, this is it'. So I said to my student — and he was only five years old at the time — I was like, 'Hey buddy, I just need to go to the bathroom'. And then I picked up the phone, and all he said to me was, 'You got it'. I was instantly crying. I was on the floor.
That must have been such an incredible moment. You've just wrapped Sydney's run and, having grown up in Sydney, it must have been pretty special playing the Opera House.
I'd never stepped inside the Opera House until I got to play the role. So It was really cool because, growing up in Sydney, I've always been past the Opera House, taking pictures with it — I have baby pictures with it. So I think it was really cute that I could put those pictures side by side — me playing Kim and me as a child. It was really fulfilling; it was just amazing.
Miss Saigon has been a significant musical for decades. Why do you think this musical resonates so strongly with audiences across generations?
Oh yeah, that's a great question. I think if we just look at the current climate in the world right now… there's this one line that I sing to my child in the show: 'Why do you learn of war or pain?'. This is a story about survival and the emotional tolls of war and, oh my God, it's just written so well. It just speaks to what we see in the world today, and the music resonates with people because of its universality.
People need to see tragedy sometimes to be woken up. It's really, honestly, unlike other shows. This is a story that we need to hear because it's a story that's still happening around the world today.
I imagine playing Kim is not only physically draining but also emotionally quite taxing — how do you decompress after a show?
Actually, after giving a lot of emotions like that on the stage, I think it almost naturally encourages the cast to be really bubbly after the show. I think what we give on the stage is... very honest and very genuine. So, as soon as we get off the stage, there's just a natural lightness that we all have, and everyone checks up on each other. Honestly, I get home, and I put on a rom-com, I eat my ramen and I take Gaviscon so it doesn't affect my vocal cords the next day.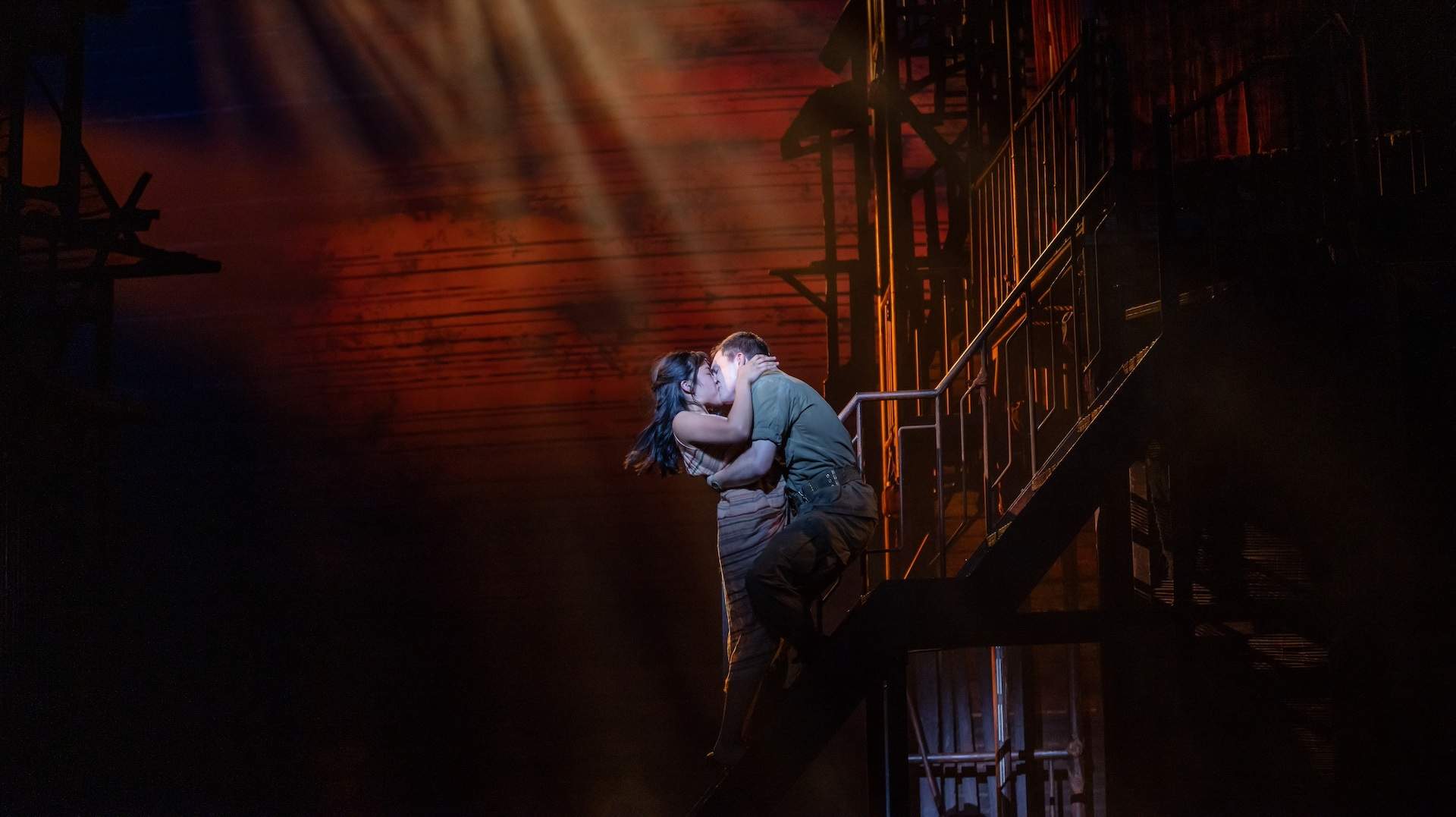 Could you give us a glimpse into the behind-the-scenes dynamics of the show — what's something regular theatregoers might not know that goes on backstage?
So much happens backstage. There was this one time my best friend replied to my Instagram story, and she was like, 'I can't believe you guys are making TikTok dances while someone is crying their eyes out on the stage'. Or sometimes I'll go into Seann Miley Moore's room because our dressing rooms are right next to each other, and we're just dancing to Blackpink songs because we both love K-pop. There's also this really funny thing that Seann and I do before we bow — we do this K-pop dance move just before we run onto the stage. There was also a time when we had Halloween, so everyone dressed up in costumes for warm-up, and it's just things like that, you know, it's always fun.
That does sound fun. What's a typical show day like for you?
So, depending on the day, I usually do night shows, so it's actually really nice I get to have a relaxed morning. It used to be I'd wake up and have breakfast with my fam because my mum loves cooking. But now that I'm living on my own, I wake up and I go to Woolworths by myself, and I grab breakfast. Or I go to a really nice brunch place — I just love avocado on toast; that's my go-to.
I do a vocal warm-up in the shower. Sometimes I meet up with some friends in the cast — but we're not actually needed until an hour before the show. So we get there an hour before, do a warm-up, and then when the show happens, we make magic.
Hell yeah. So, what do you hope the audience takes away from their experience of watching Miss Saigon?
I want girls who look like me, or anyone who looks like me, to be able to feel like they have more than an opportunity to be on that stage. Because when I was younger, if I didn't have Miss Saigon, I wouldn't have believed that I could do a lead role. But for audiences in general, I hope they take away that there's so much we need to do, to learn and talk about, to make this world a better place.
I think our musical doesn't give the answers. But it wakes us up to realise that these things are still happening — and this musical was made 35 years ago. On opening night, we had some politicians coming through, and before the show started, we were all like, 'Let's do it so that they can hear our story'. That's what I want people to take away.
Catch Miss Saigon at Her Majesty's Theatre until Saturday, December 16. Grab your tickets here. 
Concrete Playground Trips
Book unique getaways and adventures dreamed up by our editors