ARTS & ENTERTAINMENT
At Home Is the New Video-On-Demand Platform Run by Four Australian Cinemas
It's the latest venture from the teams behind Sydney's Ritz and Melbourne's Lido, Classic and Cameo cinemas.
Before the COVID-19 pandemic, there was hardly a shortage of streaming platforms and online viewing services, all offering up plenty of movies for avid cinephiles to watch from the comfort of their couches. Since cinemas closed a few months back to help stop the spread of to the coronavirus, even more digital options have hit the market, including FanForce TV, Quibi and the Amazon Prime Video Store — as well as the latest newcomer, At Home.
A video-on-demand service, At Home has a major point of difference: it's run by the team behind four Australian cinemas. Offering up recent and retro pay-per-view films for online rental, it's the new venture from the folks at Sydney's Ritz and Melbourne's Lido, Classic and Cameo cinemas.
Launching today, Thursday, May 14, At Home's range spans movies from well-known distributors like Madman, Umbrella, Roadshow and StudioCanal — as well films that mightn't have received much attention in Australia otherwise, such as classic genre movies from sources like the American Genre Film Archive. New titles are added weekly, with the lineup curated by the teams from the four cinemas. Prices start at $4.99, with movies available for viewing over a 48-hour window.
That means that film buffs can currently check out the straight-to-streaming movies like Hugo Weaving-starring Aussie drama Hearts and Bones and sci-fi mind-bender Vivarium; see recent cinema releases such as Parasite, For Sama, Color Out of Space and Portrait of a Lady on Fire; and look back at flicks from the past few years, including God's Own Country, Aquarius and Shoplifters. Themed strands focus on female filmmakers, LGBTQI+ cinema, and Jewish and Israeli films, as well as Australian flicks, music and fashion documentaries, and weird and wonderful genre fare.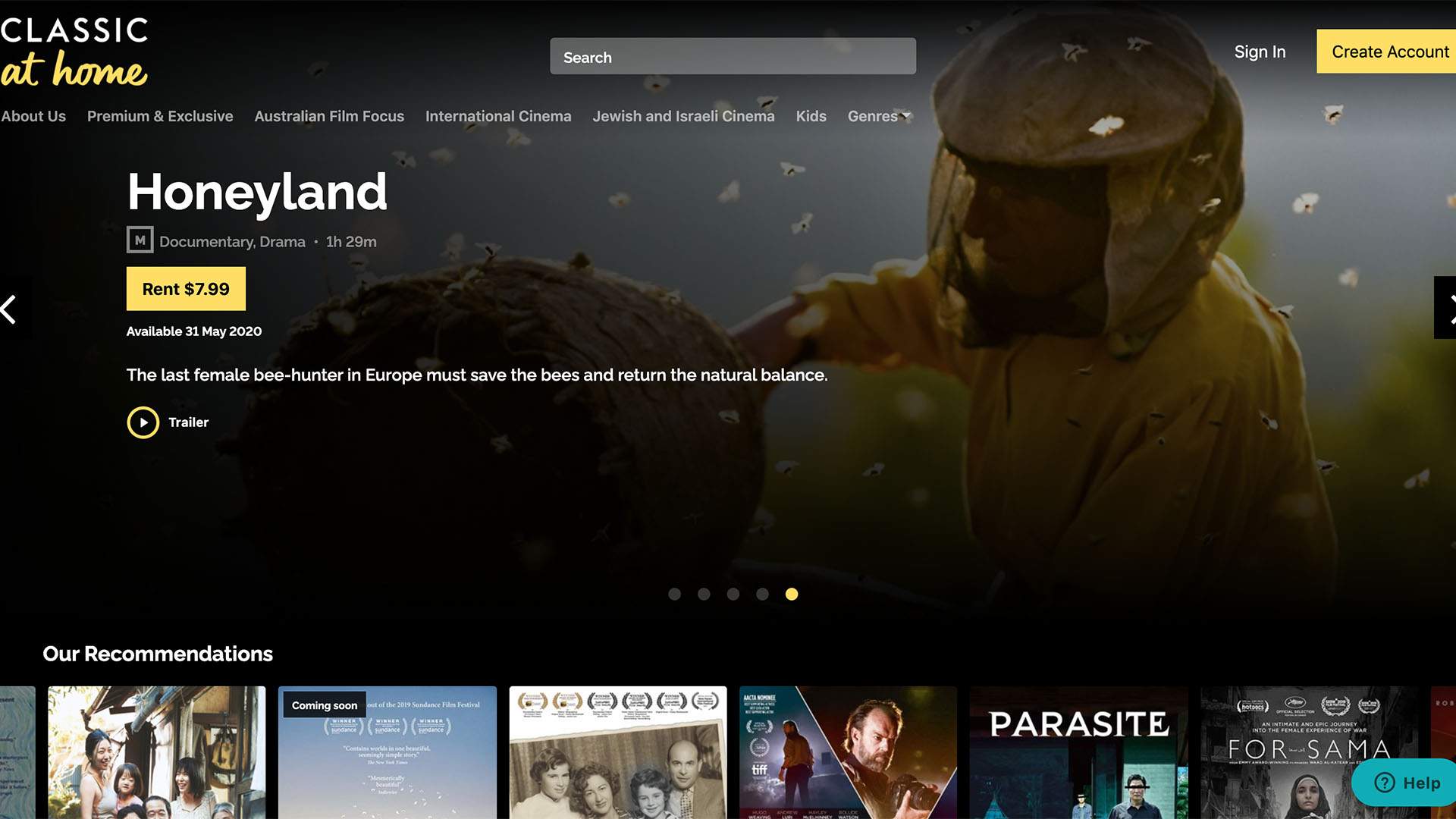 If the idea of cinemas jumping into the streaming game sounds a little out of character, that's understandable. As the battle between the big-screen experience and streaming at home has heated up in recent few years, cinemas and online platforms haven't always gotten along. Case in point: the number of Australian picture palaces that have been reluctant to screen films such as Roma, The Irishman, Marriage Story, Brittany Runs a Marathon and True History of the Kelly Gang, which all released in theatres just a few weeks before they made their way to streaming services such as Netflix, Stan and Amazon Prime Video.
That makes At Home an interesting move, with Ritz, Lido, Classic and Cameo owner Eddie Tamir seeing the VOD service as complementing watching a movie in cinemas — when they reopen. "We are thrilled that our new At Home platform allows us to present great films of the recent and distant past alongside our cinema experience," he said in a statement. "Our At Home platform allows us to place the new releases in our cinemas in context of what came before them."
For more information about At Home, visit the Ritz, Lido, Classic and Cameo At Home sites.
Published on May 14, 2020 by Sarah Ward