Pixar's 'Turning Red' Has Hit Streaming and It's as Smart, Sweet and Heartfelt as the Studio's Best
For its 25th film — and its first solely directed by a female filmmaker — the acclaimed animation studio follows a teenage girl who transforms into a red panda.
What'd happen if the Hulk was a teenage girl, and turned into a giant, fuzzy, super-cute red panda instead of going green and getting ultra-muscular? Or, finding a different riff on the ol' werewolf situation, if emotions rather than full moons inspired a case of not-quite-lycanthropy? These mightn't be questions that most folks have ever even thought of, but writer/director Domee Shi certainly has — and they're at the core of Pixar's Turning Red, her debut feature after winning an Oscar for gorgeous 2018 short Bao.
As many of the acclaimed animation studio's movies do (see also: Finding Nemo, Up, Brave and the Cars franchise, for instance), Turning Red takes its title literally. But, for the second time in the past year following 2021's Luca, it sees Pixar ask a question that isn't simply "what if toys/bugs/monsters/vehicles/fish/superheroes/rats/robots/dinosaurs/elves had feelings?" (or even if feelings had feelings themselves, or if souls did as well). It still ponders a spin on that notion, wondering what'd happen if red pandas sported human-style emotions; however, the Disney-owned company has also been musing on people becoming other kinds of critters of late, with particularly astute and endearing results here.
Now streaming on Disney+ after bypassing cinemas completely, Turning Red spends its time with 13-year-old Chinese Canadian high-schooler Meilin Lee (Rosalie Chiang, also making her movie debut). The year is 2002, and she loves three things: meeting her strict but doting mum Ming's (Sandra Oh, The Chair) expectations; hanging out with her pals Miriam (Ava Morse, Ron's Gone Wrong), Priya (Maitreyi Ramakrishnan, Never Have I Ever) and Abby (Hyein Park, also Bao's story artist); and ridiculously popular boy band 4*Town. And while her mother doesn't approve of her friends or her taste in music, and would prefer for her to either be at school or helping out at the family's temple at all times, Mei has become quite accustomed to juggling everything that's important to her.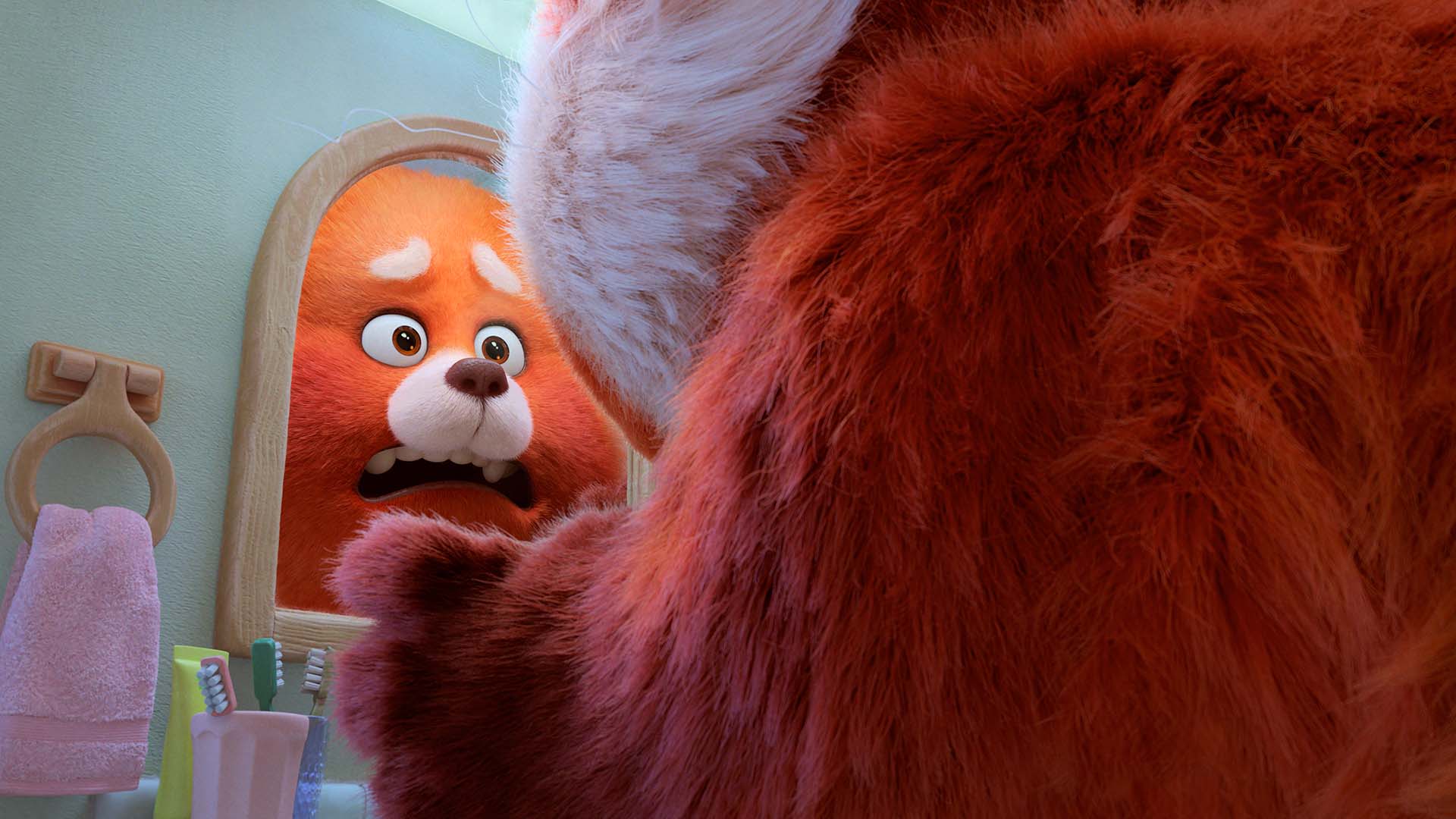 Then, after a boy-related mishap — Mei realises that she has a crush on a 17-year-old convenience store clerk, but Ming finds out and embarrasses her in public — the red panda appears. Mei goes to bed feeling normal, albeit angsty and upset, then wakes up looking like a cuddly creature. Like werewolf tales about teenage boys tend to be, Turning Red is all about puberty and doesn't hide it, with Mei forced to face the new version of herself that's awakened overnight.
This is both Pixar's 25th full-length flick and its first solely directed by a woman, and the result is one of the studio's instant classics; when the company isn't throwing love towards childhood obsessions such as toys, monsters and cars, it also adores exploring what it feels like to be a kid — and Turning Red fits the mould perfectly. Of course, while it's easy to spy commonalities among Pixar's 27 years of movies so far, it rarely makes blandly formulaic fare. That's one of its key skills, after all: throwing around familiar parts, premises and patterns, but almost always making whichever movie eventuates feel new, thoughtful and specific.
That remains the case with Turning Red, which is as savvy and delightful as the very best entries on the studio's resume. A charming coming-of-age effort, it flows with warmth and insight as Mei navigates an array of hugely recognisable high-school antics — being certain that you stand out, getting teased, wanting to go to concerts, developing your own interests, growing away from your parents and forging your own identity all included — while also grappling with sometimes being a red panda. Indeed, as struggles and pressures mount, and their protagonist yearns for the space to work out who she really is and what she truly wants, Shi and her co-scribe Julia Cho (Halt and Catch Fire) have also penned a tale of teen rebellion. The movie's heavy use of crimson hues represents many things, from its chosen animal to raging hormones, and a feisty can-do temperament sits high on the list.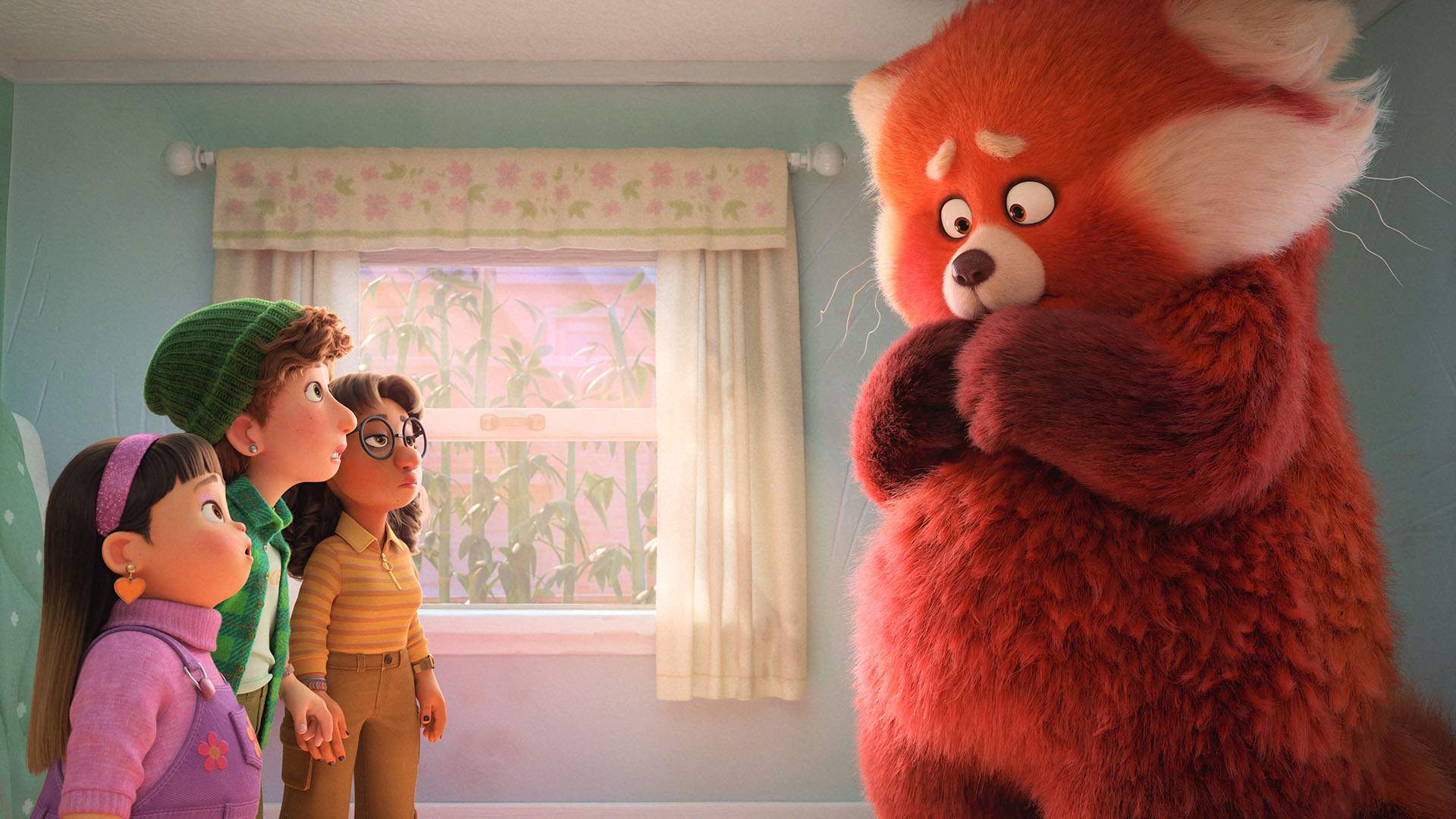 This is a Pixar movie that asks "has the red peony blossomed?" when Ming thinks that Mei has gotten her period, rather than turned into a red panda, for instance  — if there was any doubt on how eagerly and openly it embraces everything that growing up means for teenage girls. It's a film that finds the relatable in the specific in a cultural sense, too, giving Toronto's Chinese community a hefty embrace, pondering generational trauma, and also creating an on-screen world that both looks and feels lived-in. And, it's as joyous about boy bands and their status as an object of obsession for adolescent hearts and minds as the wonderful Aussie documentary I Used to Be Normal: A Boyband Fangirl Story was as well.
Bright, perky but never generic animation brings Shi's vision to life, and a soundtrack peppered with boy band-style songs by Billie Eilish and Finneas O'Connell (the latter also voicing one of 4*Town's members) helps set an upbeat tone. But don't mistake all that gloss, those earworm tunes and that endearing red panda for fluff, though: Turning Red has sweetness, soul and smarts, and it's another of Pixar's gems.
Check out the trailer below:
Turning Red is available to stream via Disney+ from Friday, March 11.
Top image: © 2022 Disney/Pixar. All Rights Reserved.
Concrete Playground Trips
Book unique getaways and adventures dreamed up by our editors