'Why Are You Like This' Turns Twentysomething Chaos Into the ABC's New Must-See Comedy
Set and shot in Melbourne, the six-part series is available to stream now.
More than once during Why Are You Like This, aspiring drag queen Austin (Wil King) attempts to shut out the world by scrolling through memes on his phone. Although the six-part ABC sitcom he's in isn't doesn't show him looking at any of the images that give the series its title, you can bet that he'd stumble across them. He'd have to. It's the internet — they're unavoidable. And, he'd likely do one of two things when he did find the memes on his screen: either flick past hundreds without giving a single thought to how they might relate his life, or keep viewing one after the other until he melts down because they hit a little too close to home.
Irreverent and astute, honest yet hilarious, drawn from reality but also willing to poke as much fun as possible: that's Why Are You Like This' niche. Focusing on characters that can hardly be described likeable but are instantly recognisable, the series takes aim at the minutiae of 21st-century life. Witheringly funny, it knows that simply existing right now involves constantly being online, and also navigating the never-ending onslaught of expectations, information and opinions that comes with it. And, without flinching, it's also aware that just getting through the day in this non-stop environment can feel relentless and hellish.
That's the situation that the show's three main figures, each in their early 20s, all find themselves facing in every one of Why Are You Like This' episodes. The days tick by, and the personal and professional problems just keep coming. It's a familiar laundry list, including getting fired, battling with colleagues, money troubles, hiding boyfriends, losing moon cups and trying to spark a workplace revolution but ending up getting other people sacked. So, yes, this trio is just like the rest of us — and they're just as glued to their phones while they're weathering everything from sudden social media backlash to dealing with frenemies.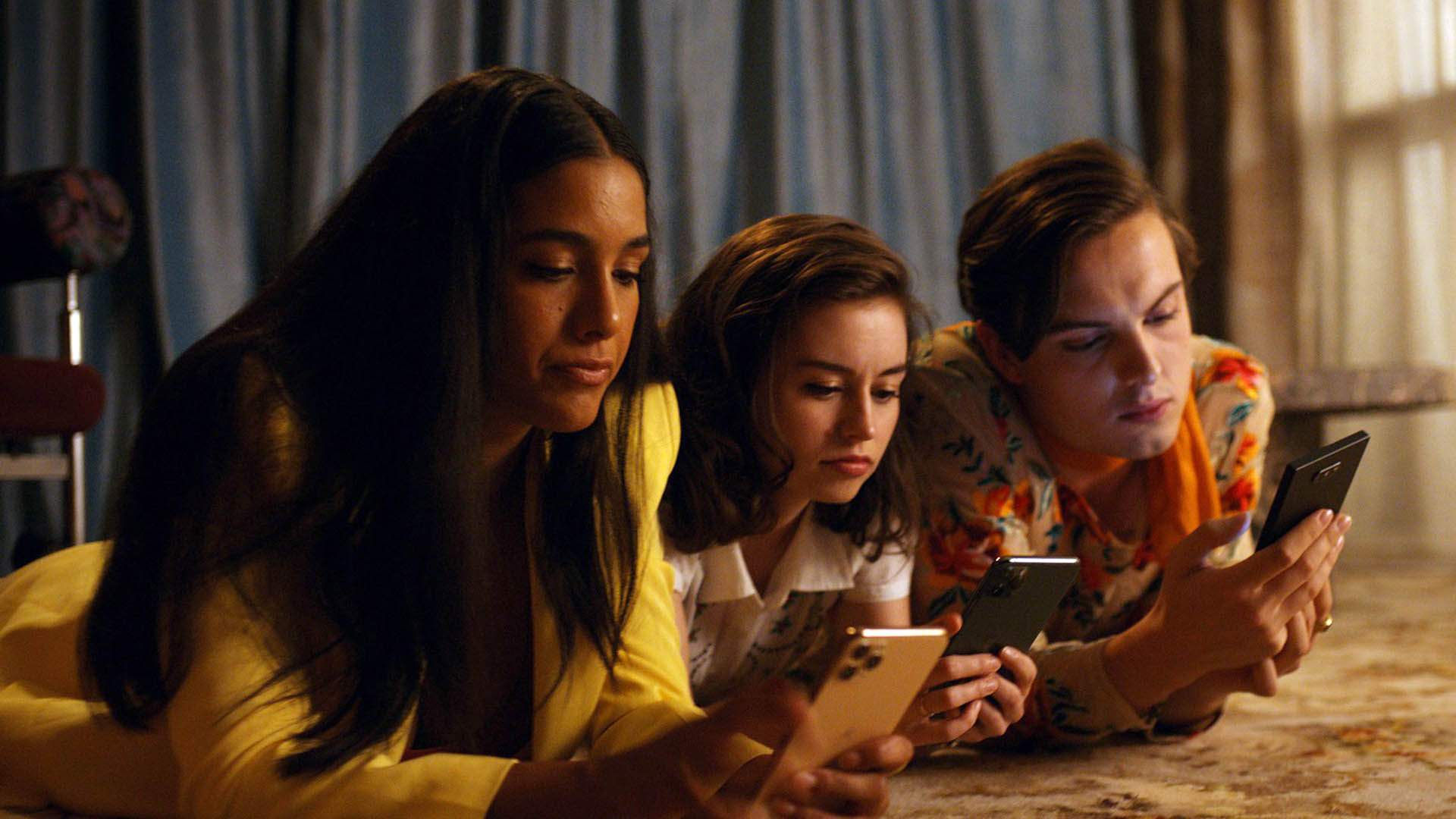 Penny (series co-creator Naomi Higgins, Utopia) wants to be an ally to everyone, a commitment that exhausts anyone who comes into her orbit. Her bestie Mia (Olivia Junkeer, Neighbours) matches that determination with both self-assurance and a self-serving mindset; if she's sticking up for anyone, it's always herself. Rounding out the trio is Penny's housemate Austin, the aforementioned fan of distracting memes. Alas, his glittery outfits, super-sized personality and blistering cynicism can't always hide his internal crumbling.
Across the show's first season, these three friends keep trying to stand out in their own ways. They also routinely demonstrate both their best and worst traits in the process. In one episode, Penny goes overboard while trying to prove that she's Mia's closest friend. In another, Mia helps a new work colleague turn her cosplay hobby into cash — to take advantage of the sad men objectifying her — with creepy repercussions. And, when Austin gets tired of Penny's Marie Kondo obsession, it doesn't end well for her beloved belongings.
The result: a must-see comedy that's as satirical as it is candid and relatable. Why Are You Like This knows that everyone and everything is awful at all times, leans in, and finds both the humour and the insight in that realisation.
And, in terms of the series' style of comedy, the fact that Higgins created the show with lawyer and illustrator Humyara Mahbub and Aunty Donna's Mark Samual Bonanno says plenty. Indeed, like 2020's standout Aunty Donna's Big Ol' House of Fun, Why Are You Like This is ridiculously easy to binge in one sitting, then start re-binging again.
Check out the trailer for Why Are You Like This below:
Why Are You Like This is available to stream via ABC iView.
Concrete Playground Trips
Book unique getaways and adventures dreamed up by our editors