ARTS & ENTERTAINMENT
HBO's Chilling and Horrifying 'Chernobyl' Is the Next Powerful Drama Screaming for a Binge-Watch
It's as masterful as it is haunting and shocking.
HBO's Chilling and Horrifying 'Chernobyl' Is the Next Powerful Drama Screaming for a Binge-Watch
It's as masterful as it is haunting and shocking.
Death and destruction are no strangers to our screens at the moment. When Avengers: Endgame isn't pondering the decimation of half of humanity, then Game of Thrones is getting kill-happy with dragons — and then there's John Wick: Chapter 3 — Parabellum's astonishingly staged action and ample body count, plus Godzilla: King of the Monsters' world-destroying mayhem as well. But when it comes to sheer horror of the bone-chilling kind, not to mention the kind of soul-crushing dismay that can only stem from the bleakest of tales, they all pale in comparison to HBO's hit new mini-series Chernobyl.
Currently streaming on Foxtel Now in Australia and Soho in New Zealand, the five-part show explores the aftermath of the 1986 nuclear disaster, which saw the reactor inside the Ukrainian facility explode. The fallout, unsurprisingly, was catastrophic, with the incident considered the worst nuclear power plant accident in history as well one of the worst man-made events ever. Releasing approximately 400 times more radioactive material than the atomic bombings of Hiroshima and Nagasaki will do that, as will the disaster's significant environmental and human toll.
While the dramatisation begins with the fiery explosion, it's what happens next that earns the show's focus — the initial salvage attempts by workers condemned to suffer and die just for doing their jobs; the arrogant cover-ups, including by stubborn plant supervisors who refuse to believe what's happened; the clean-up and rescue missions, sacrificing more lives to the incident; and the inevitable investigation. Every aspect of the series is detailed, thorough, and even more relentless and unnerving than you'd expect given the real-life situation, with creator and writer Craig Mazin drawing upon meticulous research, interviews with nuclear scientists, chats with former Soviet residents and first-person accounts from those who were there.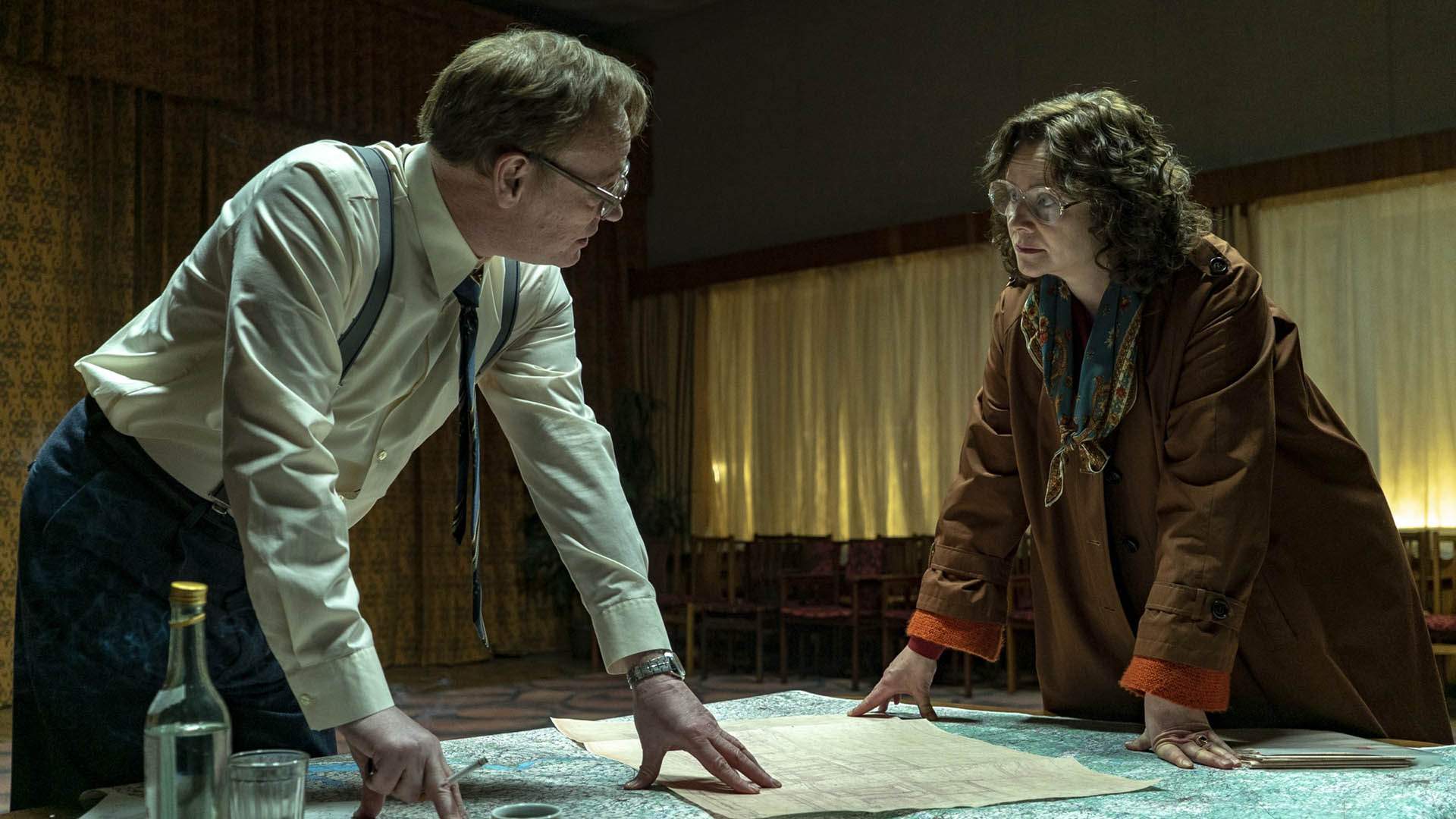 Expect a grim tone, grey imagery, the galvanising feeling that comes from watching such an enormous disaster unfold, and a slew of great performances as well. Mad Men's Jared Harris leads the cast as the Soviet nuclear physicist who first grasps the full scope of the accident, Stellan Skarsgård pops up as the Soviet Deputy Prime Minister assigned by the Kremlin to lead the government commission into the incident, and Emily Watson plays another physicist determined to work out what caused the disaster. Other familiar faces among the hefty cast include Beast's Jessie Buckley, Harry Potter and the Deathly Hallows' Adrian Rawlins and American Animals' Barry Keoghan.
A word of warning: Chernobyl isn't easy viewing. If you're not fond of constantly feeling tense, terrified and panicked, don't fare well with body horror, and have no time for cruel and clueless political machinations from inept folks cowering in the face of catastrophe, this isn't for you. But the US-UK series, a co-production between HBO and British broadcaster Sky, is as masterful as it is haunting and shocking — which is exactly what a show about such a dark chapter of recent history should be.
Check out the trailer below:
Chernobyl's first four episodes are currently available to stream via Foxtel Now and Soho, with the fifth and final episode arriving on Monday, June 3. It'll also air weekly on Foxtel Showcase from Wednesday, June 12.
Images: Liam Daniel/HBO.
Published on May 31, 2019 by Sarah Ward