Five Places to Spy Pop Art in Melbourne's Streets That Warhol Would've Loved
Because works of art are not always confined to gallery walls.
in partnership with

Melbourne's city streets are the canvases for works of art. Around every turn you'll find tributes to beloved artists and brilliant street murals from our own local greats. One famous artist from the history books who would've adored the pop of the city, with its nods to rock, pop and advertising, is Andy Warhol — the mind and paintbrush behind the famous 'Campbell's Soup Cans' (1962).
In partnership with LEGO Art, who've included a tribute to Andy Warhol's 'The Marilyn Diptych' in its latest range of products designed for adults, we've picked out five places in Melbourne where you can spy pop art-inspired street art that we believe Warhol himself would have loved. From the large-scale Keith Haring and Jean-Michel Basquiat mural on Easey Street to the famous Skipping Girl and, of course, AC/DC Lane.
Under metropolitan Melbourne's stage four restrictions, you can only leave your house to buy essentials and for exercise. Bookmark this for when you can explore your city again.
KEITH HARING MURAL, COLLINGWOOD
The Keith Haring mural on Johnston Street in Collingwood was an art project Haring undertook himself with Collingwood Tech when he visited Melbourne in 1984. Collingwood Tech is no longer at the location, but Haring's legacy (the artist passed away in 1990) remains. The New York-based artist was a believer of breaking down barriers of high and low art; he worked with the community to paint the wall and today it's one of only 31 known murals of Haring's that's survived the ages. The Collingwood mural is so precious it is part of a conversation project to restore it to its original glory. Warhol, being a great lover of pop art and a contemporary of Haring, would have loved this mural for all its vibrancy and colour within the urban cityscape.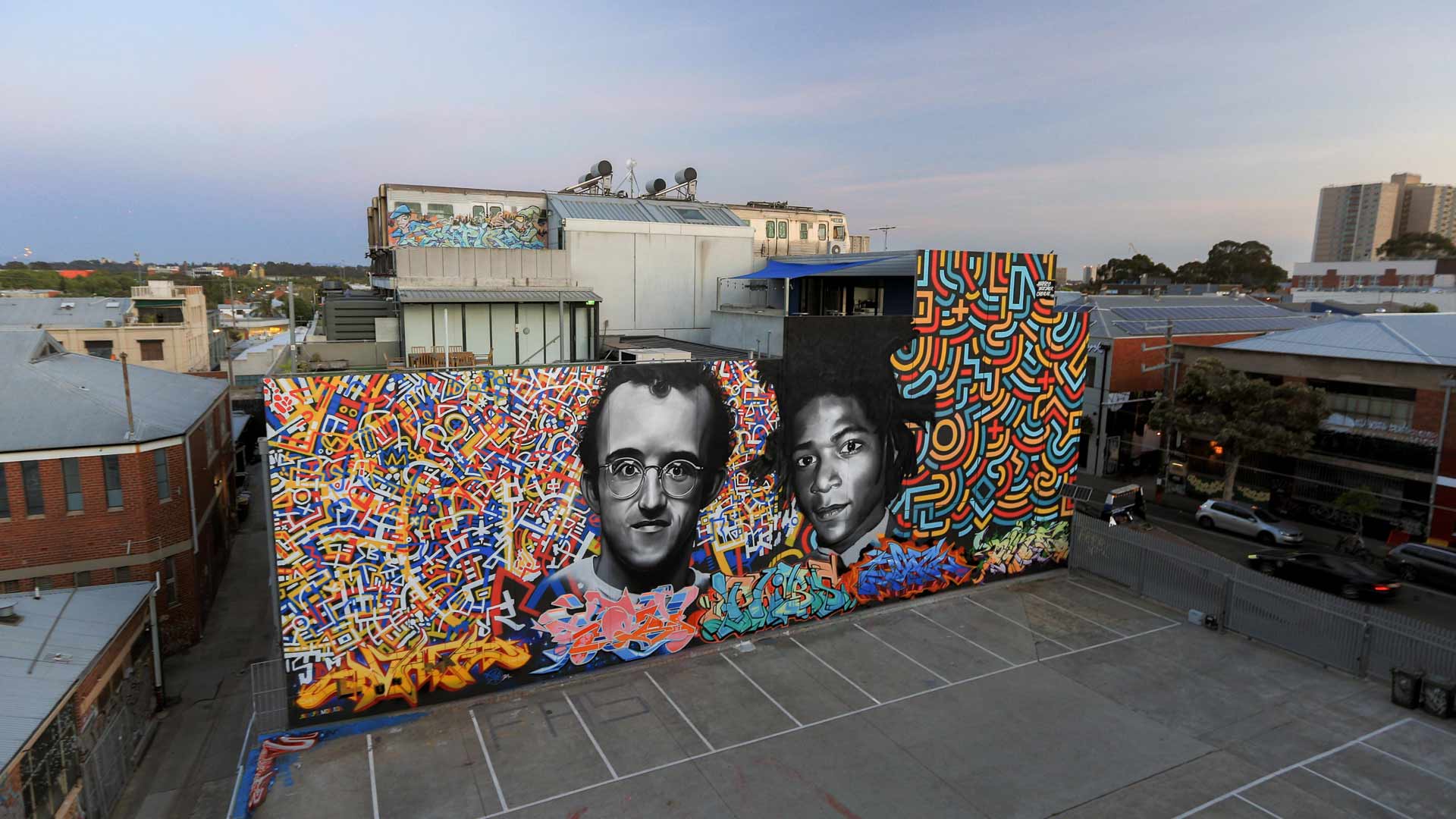 KEITH HARING AND JEAN-MICHEL BASQUIAT MURAL, COLLINGWOOD
If you're on Easey Street in Collingwood, it'd be hard to miss the 11-metre-tall, 30-metre-wide mural paying tribute to American artists Keith Haring and Jean-Michel Basquiat. The piece was painted in 2019 by ten of Melbourne's best street artists — including Heesco, Conrad Bizjak, Chehehe, Ling, Dvate, Phibs, Sabeth and Duke — and features the two artists in black and white portraits surrounded by vivid, abstract line work.
Warhol and Basquiat had a renowned friendship during their time — one that bemused the art world — and even saw them collaborate on artworks. We think Warhol would have enjoyed this tribute to his pop art pals for its striking looks and dominant position in one of Melbourne's coolest suburbs.
DJIRRI DJIRRI DANCERS MURAL, SIDNEY MYER MUSIC BOWL
The Sidney Myer Music Bowl Box Office has received a fresh coat of paint this year with a new mural of performers from the Djirri Djirri Wurundjeri women's dance group. The mural features close-up portraits of Djirri Djirri's singer Jedda Peden and lead dancer Dharna Nicholson-Bux, and it was created by local spray paint street artist Matt Adnate. Adnate's brushstrokes can be seen on large-scale murals right across the city, and he often works with and honours First Nations people within his works. This new mural is following suit by representing Indigenous singers and dancers on the building known for hosting entertainment and art. We think Warhol would love this mural as he was a big fan of working with celebrity portraits, and though the Djirri Djirri dancers have a local fanbase, this mural helps to extend that deserved spotlight even further afield.
SKIPPING GIRL VINEGAR SIGN, VICTORIA STREET
The Skipping Girl, also known as 'Little Audrey', is a much-adored animated neon sign along Victoria Street in Richmond, which depicts a young girl skipping over the word 'vinegar'. Audrey first came onto the scene in 1936, when the sign was erected above a vinegar factory in Abbotsford. She then did a brief stint in Altona, before being relocated back to Victoria Street in 1970 where she's skipped ever since. If you head to the shopping haven Victoria Gardens, you'll see her right across the road. Warhol, being a huge lover and critic of the intersection between advertising and art, would've loved the Skipping Girl as she brightly lights up the city skyline while not-so-subtly encouraging us to buy some vinegar.
AC/DC LANE
AC/DC Lane — formerly known as the very dry Corporation Lane — was given its name change in October 2004 as a tribute to the Aussie rock band, and our city's passion for rock 'n' roll. Now, the laneway is host to a range of street art — large and small — including pieces depicting musicians and fictional characters. You'll even spot a poster of AC/DC guitarist Angus Young there. And, until recently, the laneway housed the city's beloved late-night haunt for cheap espresso martinis and live gigs, Cherry Bar, which has reopened in a new location on Little Collins Street. It's no doubt that Warhol, being a lover of rock 'n' roll — he even managed and produced the seminal rock band The Velvet Underground — would love the lane for its embodiment of everything rock, as well as its symbolism for a city that's always put live music first.
Discover more about the new LEGO Art range, here. 
Top image: Keith Haring and Jean-Michel Basquiat mural by P1xels.
Introducing Concrete Playground Trips
Book unique getaways and adventures dreamed up by our editors