ARTS & ENTERTAINMENT
Four Unexpected Places to Find Works by Famous Street Artists in Melbourne
Find works from world-famous artists right in your own backyard.
Art lovers are absolutely spoiled in Melbourne — on any given day, you can track down works by some of the best and most prolific artists in the world. But if your culture vulture tastes are at odds with your bank account, swinging the entry fee to a museum or gallery can be a little tricky. There's no need to fret, dear art fiends. All you have to do is pop on your comfiest pair of shoes and take a wander through the inner city, because Melbourne is filled with vibrant murals which you can see for free. Sure, you're not going to see anything by Picasso or Matisse, but if you look hard enough — or know where you're going — you'll come across works by some pretty famous street artists.
Here are four works by well-known and celebrated street artists that you should get your eyes on. Some of these works have been around forever — and you've probably walked past them dozens of times without realising their significance.

FIN DAC – WAJAHBARU
Where? Brunswick
Inspired by the Aesthetic Movement of the 19th-century, London-based Fin DAC takes the genre, based upon the idea of 'art for art's sake', and gives it a modern twist. Recognised for his depictions of elegantly dressed women wearing eye masks with bursts of colour, the Cork-born artist unites contemporary stencil art with stunning portraits. On his vast tour of Australia earlier this year, Fin DAC unveiled this Melbourne artwork, Wajahbaru, which can be found tucked away in Brunswick's Sunshine Lane. The attention-grabbing work features local industrial designer Heidi Chaloupka dressed in beadwork from Indonesia's Toraja region, which is symbolic of her family's heritage.

KEITH HARING – JOHNSTONE STREET MURAL
Where? Collingwood
Melbourne's streets are undoubtedly alive with some wonderful examples of street and public art, but few are as beloved as Keith Haring's mural on Johnstone Street in Collingwood. In 1984, the world-renowned artist made his way to Melbourne to speak at the Australian Centre for Contemporary Art, but couldn't resist producing some of his iconic figures on the blank canvas adorning the old Collingwood Technical College. Haring has influenced countless street and traditional artists that followed in his footsteps, so this long-standing Johnstone Street mural is an indisputable Melbourne treasure.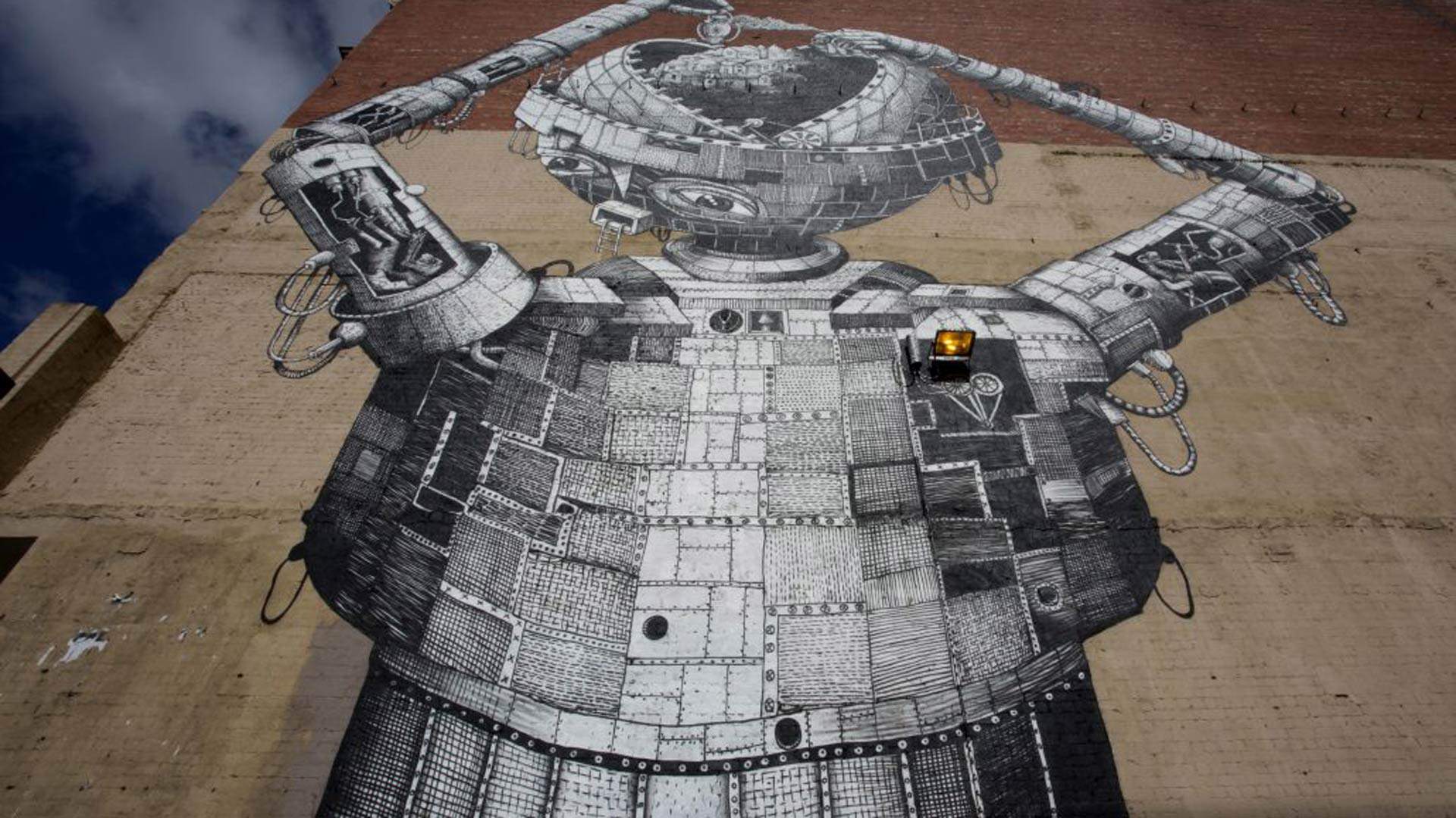 PHLEGM – CHAPEL STREET MURAL
Where? Prahran
Phlegm's wondrous black and white works of odd creatures have brought him worldwide acclaim. The basis of his works is comic-based, so his highly detailed illustrative style is distinguished against traditionally graffiti-based street artists. You can find these intricate hand-drawn murals in urban landscapes all around the world — including your own backyard. Following two years of planning, the UK-based artist made his way to Chapel Street for the 2017 Provocare Festival of the Arts, where he created this towering four-storey robot on the northern wall of the historic Love and Lewis building.

SMUG – WOOD STREET MURAL
Where? Fitzroy
When it comes to photorealistic graffiti, you won't find many artists more talented than Smug. Depicting a slightly crazed self-portrait positioned alongside an array of cute characters (that look a little worse for wear), this mural in the backstreets of Fitzroy pops a little more than most. You can find another of Smug's massive murals — a portrait of his own grandparents— near the corner of Lonsdale and Spencer Streets, gracing the huge wall of a former power station. Impressively, Smug's murals are always produced freehand; he paints using only aerosol cans for days or even weeks.

Top Image: Smug – Wood Street via Dean Sunshine.
Published on November 07, 2019 by Hudson Brown