ARTS & ENTERTAINMENT
Tony Award-Winning Musical 'Hamilton' Is Finally Coming to Melbourne Next Year
After opening in Sydney in March this year, the hit musical will head to the Victorian capital from March 2022.
Melburnians, get ready to sit in the room where it happens — because Lin-Manuel Miranda's game-changing, award-winning, rightly raved-about Hamilton is finally coming to town. After initial rumours back in May suggested that the hit show would play Her Majesty's Theatre from March 2022, that news has just been officially confirmed and announced. So, mark Wednesday, March 16 in your diary, and don't throw away your shot to see the biggest thing in musical theatre this century.
The Broadway blockbuster finally made its way to Australia earlier this year, opening at the Sydney Lyric Theatre in March with a cast that includes Jason Arrow as Alexander Hamilton, Chloé Zuel as Eliza Hamilton, Lyndon Watts as Aaron Burr, Akina Edmonds as Angelica Schuyler, Matu Ngaropo as George Washington, and Victory Ndukwe as Marquis de Lafayette and Thomas Jefferson. When it was revealed last month the Mary Poppins musical would float into the same venue from May 2022, however, speculation about Hamilton's future quickly kicked into gear. Obviously the Sydney theatre can't host two shows at once, after all.
Hamilton is currently selling tickets for Sydney shows until Sunday, December 19, although exactly when the production will finish up in the New South Wales capital hasn't been advised. Still, come mid-March, Arrow, Zuel and company — including Shaka Cook as Hercules Mulligan and James Madison, Marty Alix as John Laurens and Philip Hamilton, Elandrah Eramiha as Peggy Schuyler and Maria Reynolds, and Brent Hill as King George III — will all be exploring 18th-century American politics in song in Melbourne.
Haven't become a Hamilton obsessive yet? Not quite sure why it has been the most-talked about theatre show of the past six years? The critically acclaimed hip hop musical, for which Miranda wrote the music, lyrics and the book, is about the life of Founding Father Alexander Hamilton, as well as inclusion and politics in current-day America. In addition to its swag of Tony Awards — 11 in fact, which includes Best Musical — it has nabbed a Grammy Award and even a Pulitzer Prize.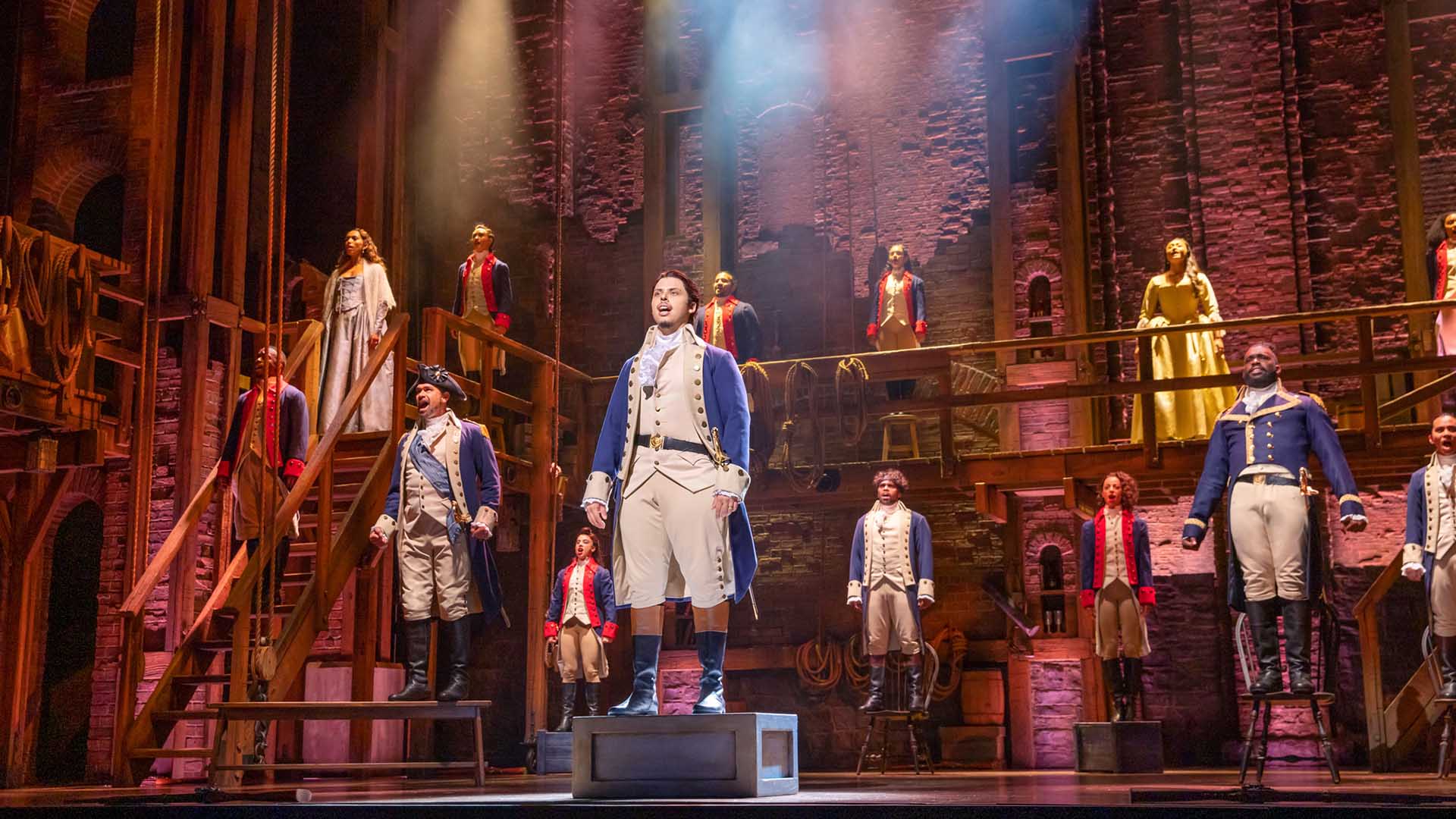 Until now, Melburnians eager to see the show had to be content with trips north or watching the filmed version of its Broadway production, which started streaming via Disney+ in 2020 (and yes, it's as phenomenal as you've heard).
This won't be Miranda's first musical to come to Melbourne, with his take on the classic 2000s film Bring It On: The Musical hitting the city in 2018. And, the news arrives just weeks out from the long-awaited — and lively, vibrant and charming — movie adaptation of Miranda's Washington Heights-set In the Heights reaching cinemas.
Other big musicals, such as The Book of Mormon, have toured the country after their big local premiere seasons, so Hamilton's Melbourne stint was hardly unexpected. Here's hoping the $10 ticket lottery comes with it.
Sydneysiders, if you haven't yet booked yourself in to see the musical, you'll want to remedy that while you can. And Brisbanites, start crossing your fingers that Hamilton plans a move up north after its Melbourne season.
Hamilton's Melbourne season will kick off on Wednesday, March 16, 2022. Head to the musical's website for further details, or to buy tickets from Monday, July 19, 2021 — with presales for Telstra Plus members available from 10am on Thursday, June 24.
Images: Daniel Boud.
Published on June 07, 2021 by Sarah Ward