ARTS & ENTERTAINMENT
Six Works to See at the NGV's World Premiere Keith Haring and Jean-Michel Basquiat Exhibition
'Crossing Lines' charts the influential 80s artists' careers, friendship and untimely deaths — making the joint exhibition both powerful and personal.
This summer, Melbourne's National Gallery of Victoria has brought together works from two of New York City's legendary 80s art figures. The world-first Crossing Lines exhibition showcases the art of Keith Haring alongside that of his good friend and creative rival Jean-Michel Basquiat.
Emerging during the early 1980s, both artists found their start on the street before becoming hot properties in galleries around the world. Regarded as two of the most influential artists of the late 20th century, Crossing Lines draws parallels between the pair's differing and distinctive visual language of lines, signs and symbols. Both Haring and Basquiat commented heavily on society and politics in their practice; Haring was a champion of gay rights and sexual expression and,  as an African-American artist, Basquiat explored race prominently in his work.
Running until April 13, 2020, across painting, sculpture, objects and photographs, the NGV presents 200 artworks amassed from prominent galleries and private collections. Throughout the exhibition, visitors will be taken on a deep dive into each artist's personality and struggles, experiencing how they navigated their way from being relatively obscure street artists to global icons within only a short few years.
As you make your way through Crossing Lines, you'll see some of the work Haring and Basquait created on New York City's streets and subway stations, as well creations from their early shows that propelled their careers onwards. Near the end of the exhibition, there's an array of important works created in the lead up to their deaths, which were both tragically premature.
With so much to unpack, we've picked out six of the most impressive works you can find at Keith Haring | Jean-Michel Basquiat: Crossing Lines.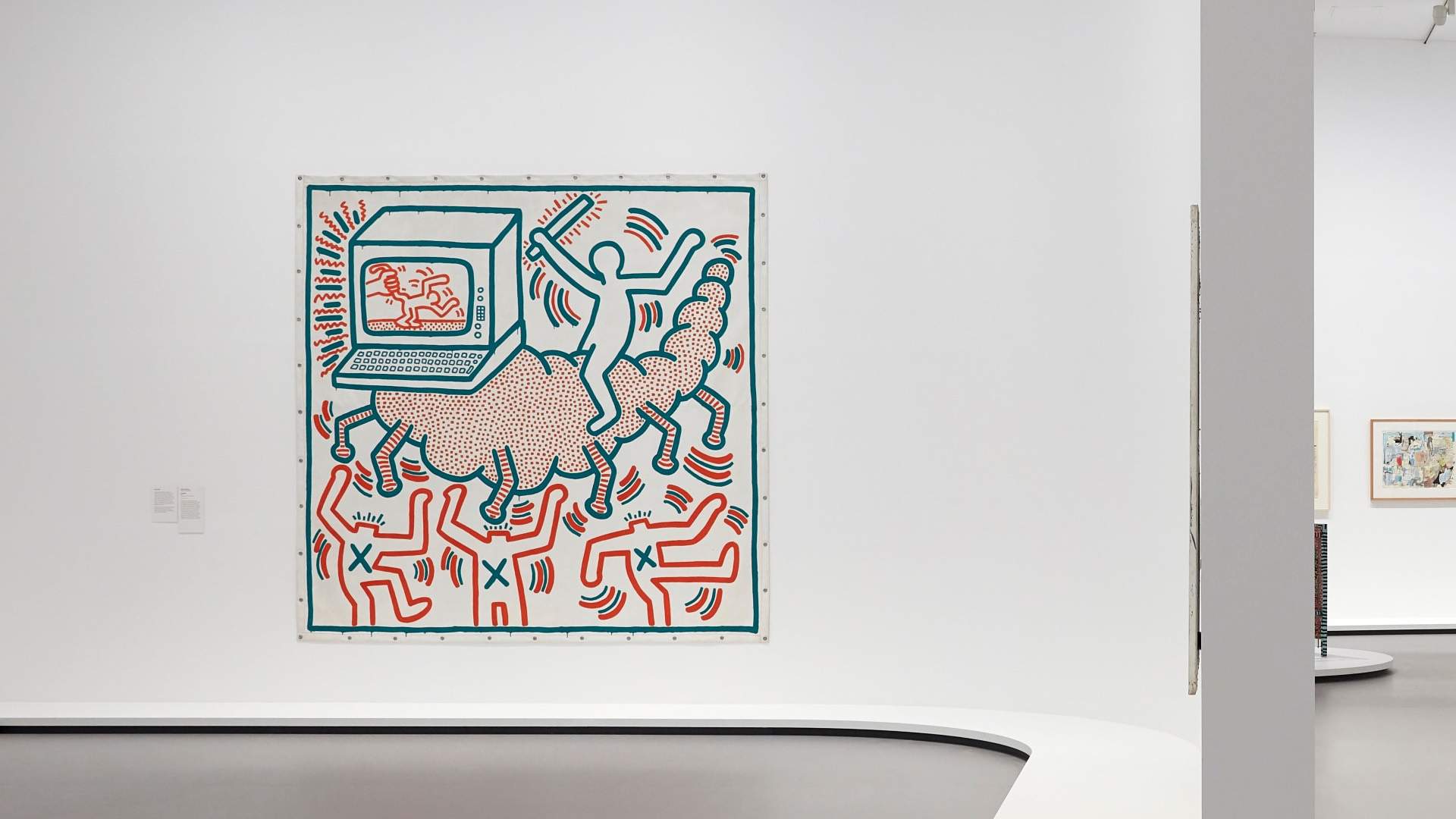 KEITH HARING: UNTITLED (1983)
Featuring many of Haring's trademark characters, this untitled work explores one of Haring's most discussed topics: technology and mass media. From the rise of personal computers to video games and cable television, the 1980s was an era of technological innovation. While many hailed these developments, Haring often expressed his concerns about how computers would influence society and especially its relationship with art. In 1983, Haring wrote: "The human imagination cannot be programmed by a computer. Our imagination is our greatest hope for survival."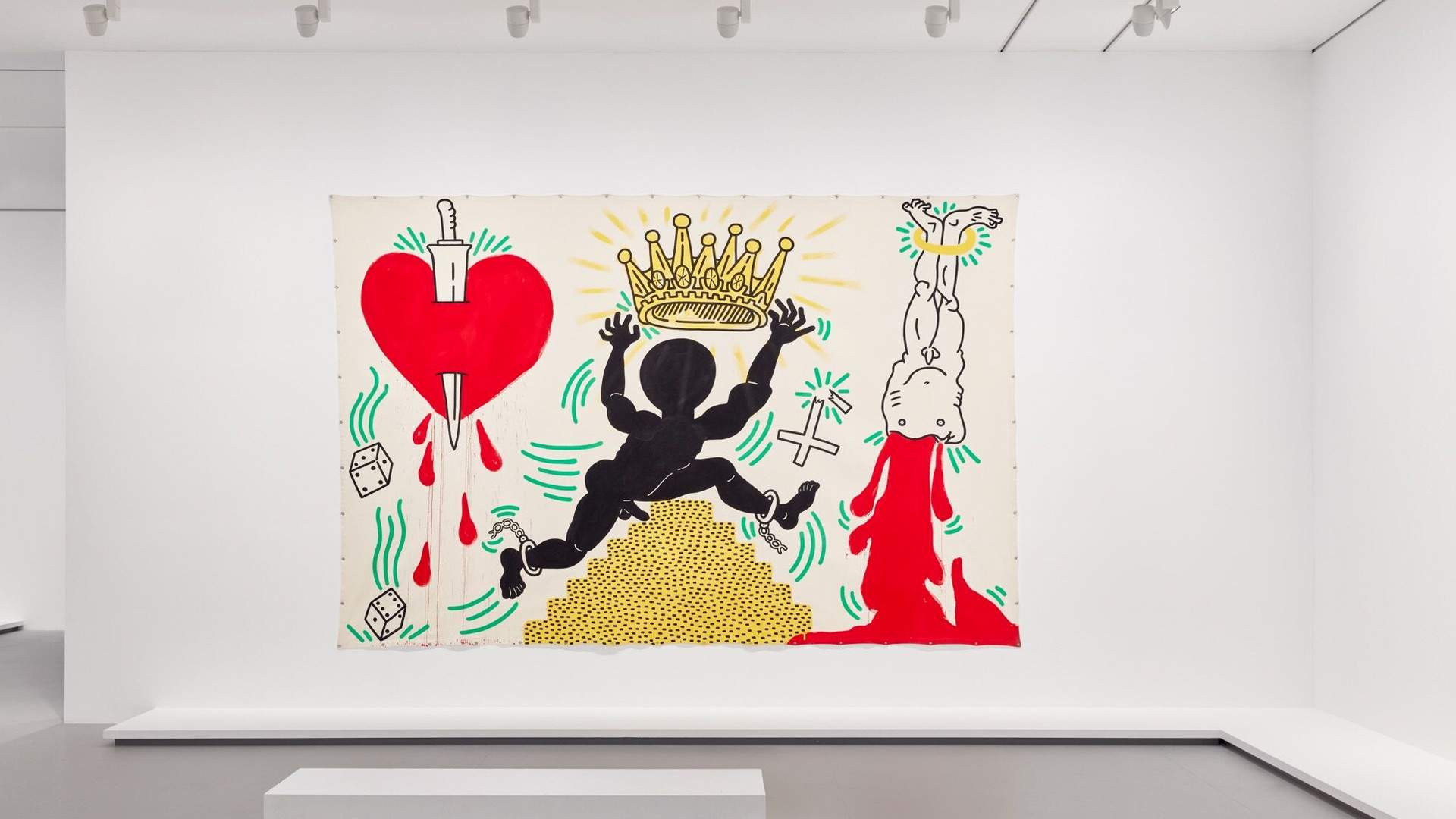 KEITH HARING: PROPHETS OF RAGE (1988)
Whether it was the AIDS epidemic, the anti-apartheid movement or children's health, Haring was renowned for using his art to bring attention to many of society's most important issues. Painted in 1988, Prophets of Rage is Haring's take on race relations in the United States during such a turbulent era. Diverging from Haring's more lighthearted creations, this work demonstrates how he used his art vocabulary to tackle major topics like injustice.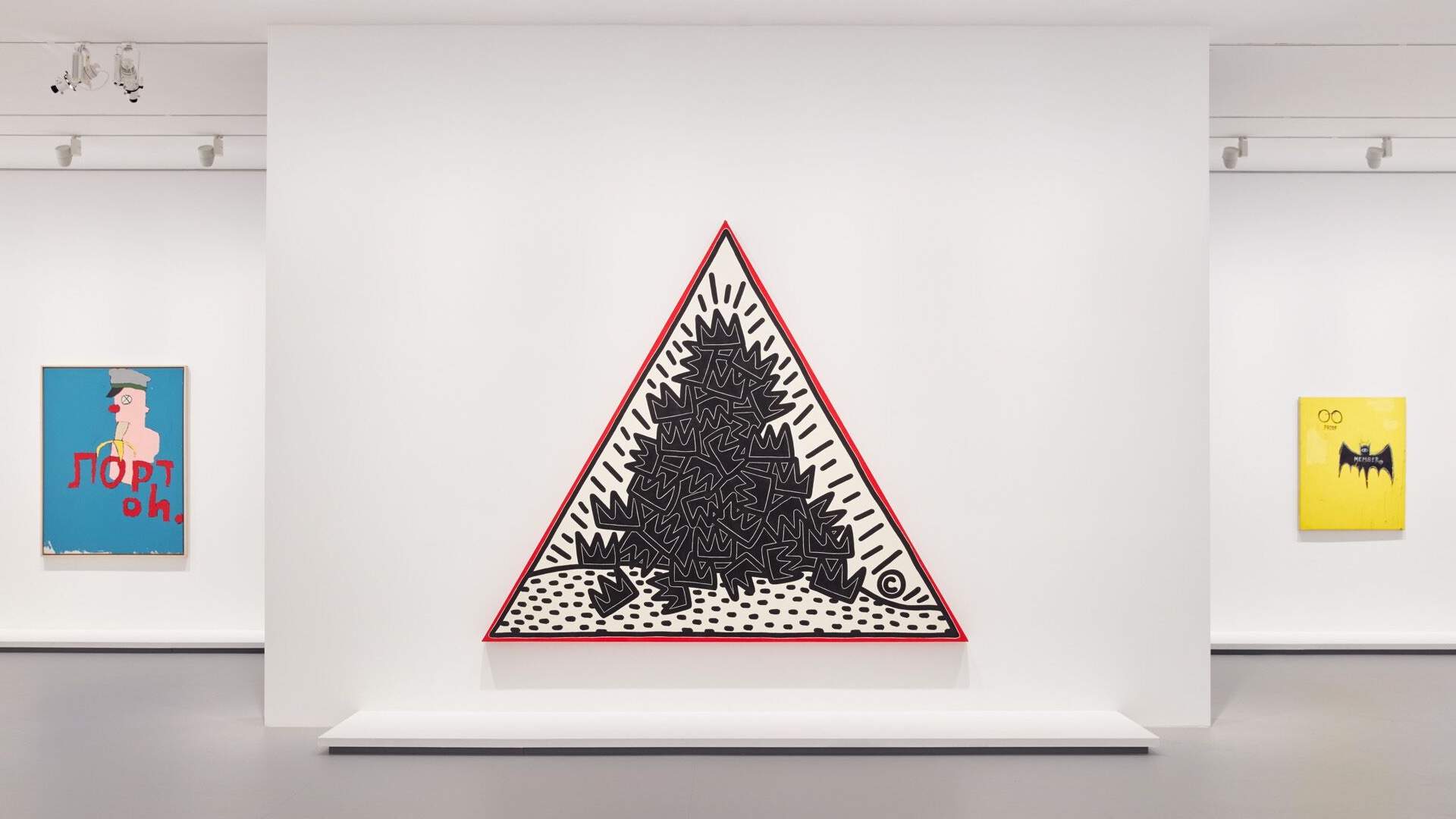 KEITH HARING: A PILE OF CROWNS, FOR JEAN-MICHEL BASQUIAT (1988)
Found towards the end of the exhibition, one of the key pieces presented at Crossing Lines is titled A Pile of Crowns, for Jean-Michel Basquiat. Following the death of Basquiat on August 12, 1988, Haring produced this touching tribute to his friend, combining Basquiat's iconic crown motif with his own distinct use of line and symbolism. Haring was deeply heartbroken by the death of his friend, journaling extensively about his life. Alongside this work, you can find a handwritten draft by Haring for Basquiat's obituary.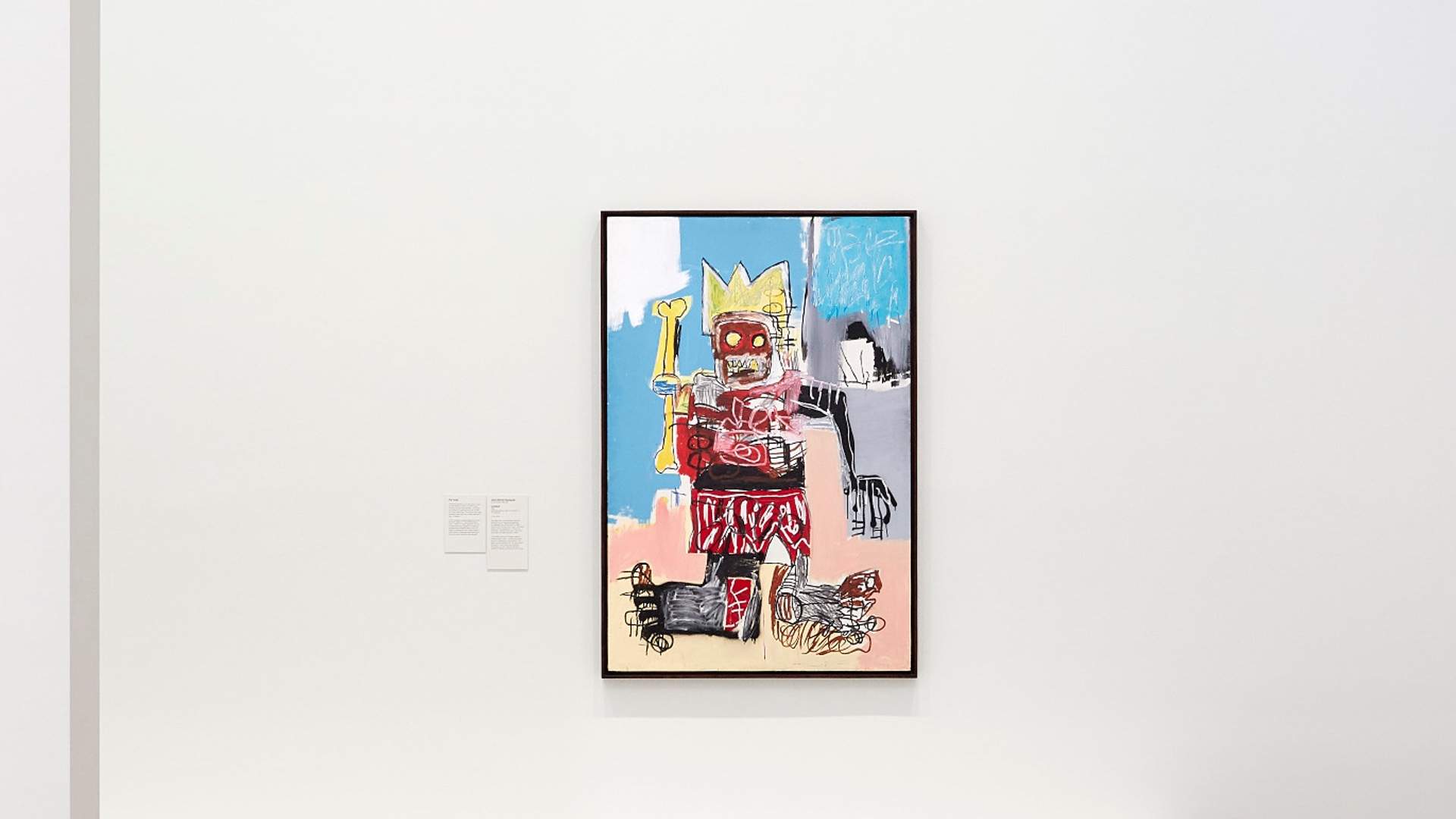 JEAN-MICHEL BASQUIAT: UNTITLED (1982)
While Haring was known to carefully plan out his murals, Basquiat found it almost impossible to stop adding to his. Layered with endless references and metaphors, throughout his work you'll notice his iconic crowns, skulls and copyright symbols. This work from 1982 sees Basquiat at his best, producing a vivid yet chaotic artwork that can be examined through multiple lenses. With the lines, colour and layers coming together with great effect, this work alludes to the concept of American identity.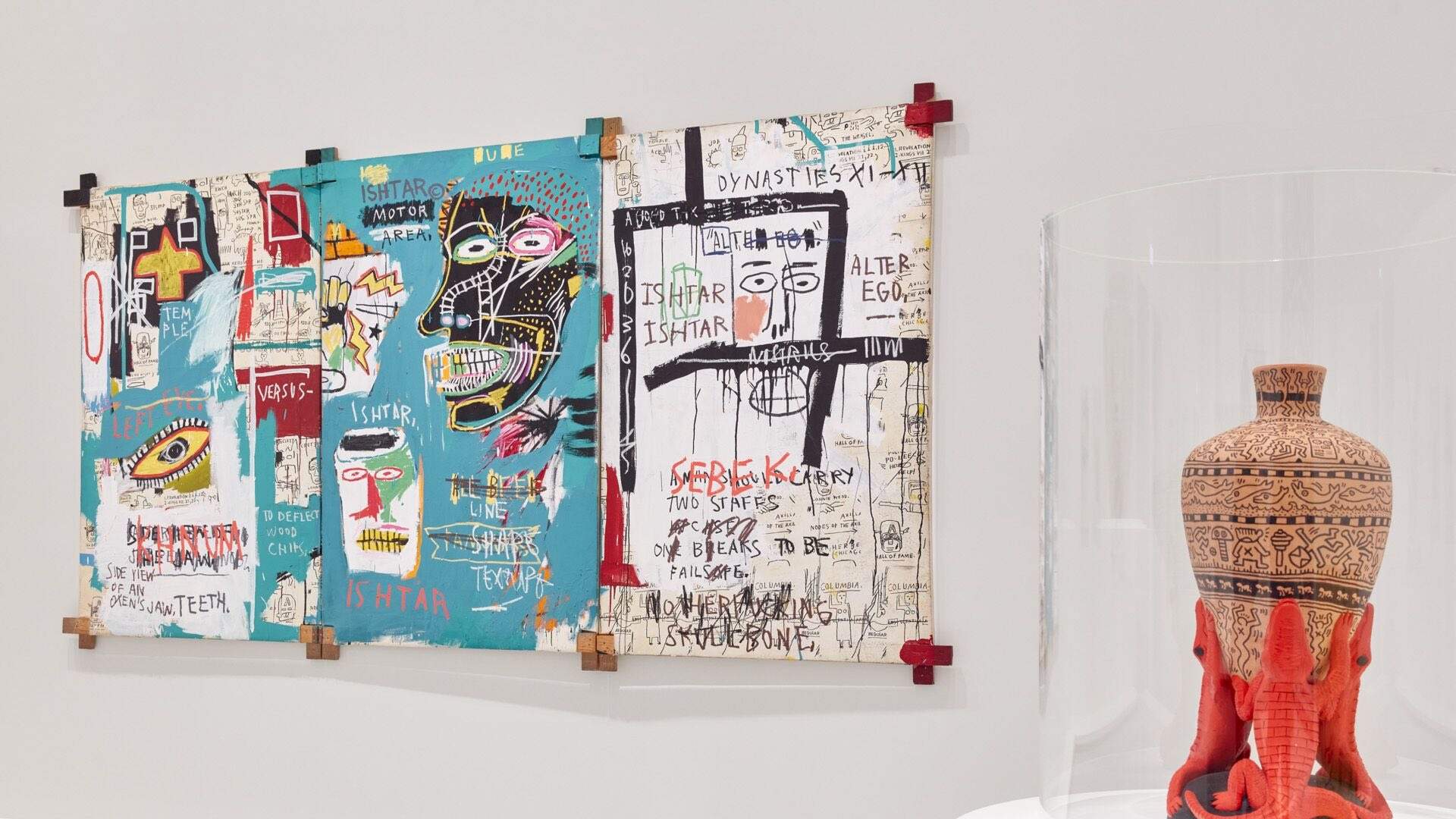 JEAN-MICHEL BASQUIAT: ISHTAR (1983)
Basquiat was known to have a deep interest in ancient mythology. This massive triptych painting — named after the Egyptian goddess of war and fertility — is again layered like almost all of Basquiat's work, with the background created using photocopied drawings, which was a common practice in his work. Drawing from a host of influences and cultural materials, Basquiat would often recreate text from books he was reading. In the top left corner, you can make out a list from Harold Bayley's 1912 book The Lost Language of Symbolism.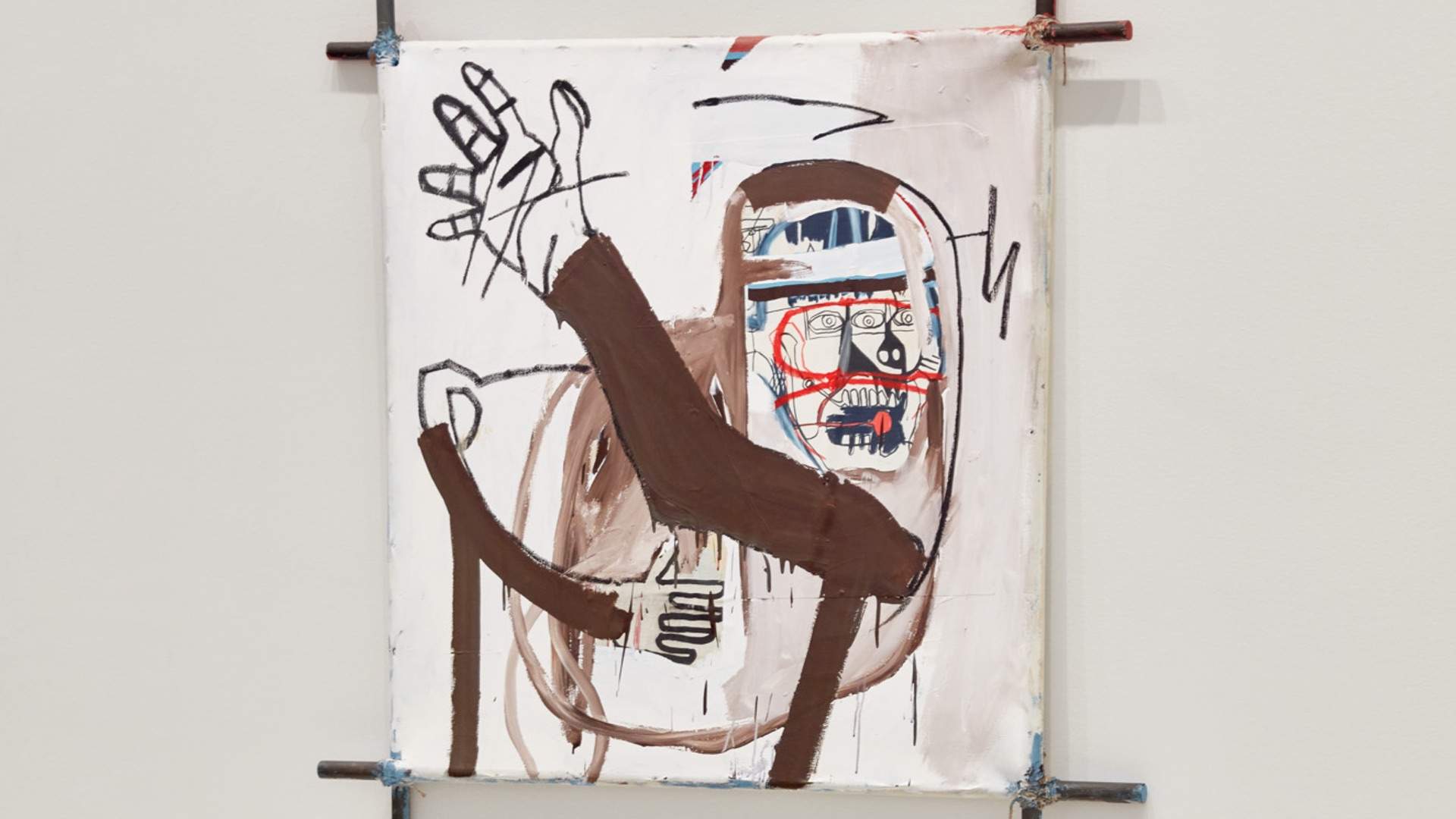 JEAN-MICHEL BASQUIAT: CANTASSO (1982)
As one of Basquiat's landmark paintings, Cantasso marks an important moment in his career where he went from a modest graffiti and street artist to an internationally celebrated star. Featuring bold lines and colours emblematic of Basquiat's work, Cantasso is an attention-grabbing piece that displays his admiration for artists ranging from Pablo Picasso to the frenetic work of Cy Twombly and Jean Dubuffet. Cantasso is also recognised as the first in a series of Basquiat's work that included exposed stretcher-bars, where he would fashion ad-hoc canvasses out of just about any material available to him.

Keith Haring | Jean-Michel Basquiat: Crossing Lines is on display at the National Gallery of Victoria, Melbourne until April 13, 2020. It's a ticketed exhibition — you can buy them in advance on the NGV website.
All images: Installation view of Keith Haring | Jean-Michel Basquiat: Crossing Lines for NGV International. © Estate of Jean-Michel Basquiat and Keith Haring Foundation. Shot by Tom Ross.
Published on December 02, 2019 by Hudson Brown