ARTS & ENTERTAINMENT
This New Exhibition Lets You Have a Peek at the Remnants of Melbourne's Broken Relationships
Here are some of our favourite stories from Melbourne's pop-up iteration of the Museum of Broken Relationships.
When it came time to get rid of my break up shoes (the ones my ex bought for me as he dumped me, a misguided attempt to soften the blow) to avoid wearing any more evidence of my heartache, I (anti-climactically) threw them in the bin. But what are you meant to do with everyday objects that remind you of lost love? Where do the gifts, love notes and left-behind odd socks end up?
In 2006, Croatian-based artists and exes Olinka Vištica and Dražen Grubišić found themselves with a number of physical reminders of their broken relationship. What started as 'what do we do with all this crap?', grew into the Museum of Broken Relationships — first a travelling exhibition, then a permanent museum in Zagreb, Croatia, with an outpost in Los Angeles and a virtual collection online.
Now, as part of the Melbourne Writers Festival's love-themed 2019 program, the cathartic exhibit has set up camp in the CBD's No Vacancy Gallery for the month of September.
After a call for submissions, Vištica and Grubišić have curated a selection of items evoking memories of heartbreak and healing donated by Melburnians, which appear alongside favourites from the museum's permanent collection. Each piece is presented with a story — some simply a few words, others long tales of another time and place — and reflects how we love, and how we cope with loss.
The exhibition will be open in Melbourne until the end of September — here are the highlights.

DECEMBER 25, 1975, AUSTRALIA
The 1970s equivalent of getting dumped by text: ending a ten year relationship with a note. In just a couple of sentences, Marie conveys the hollow feeling we've all felt when disappointed by someone we loved. Did she keep this in a shoe box under the bed, forgotten about for four decades? Did she get it out occasionally and think back on the man she married, who left her for his secretary on Christmas Eve, just months after they found out she was unable to have children? With Marie's parting line we sense how heartache heals over time: "No signature. How dare he assume I would know who it was from."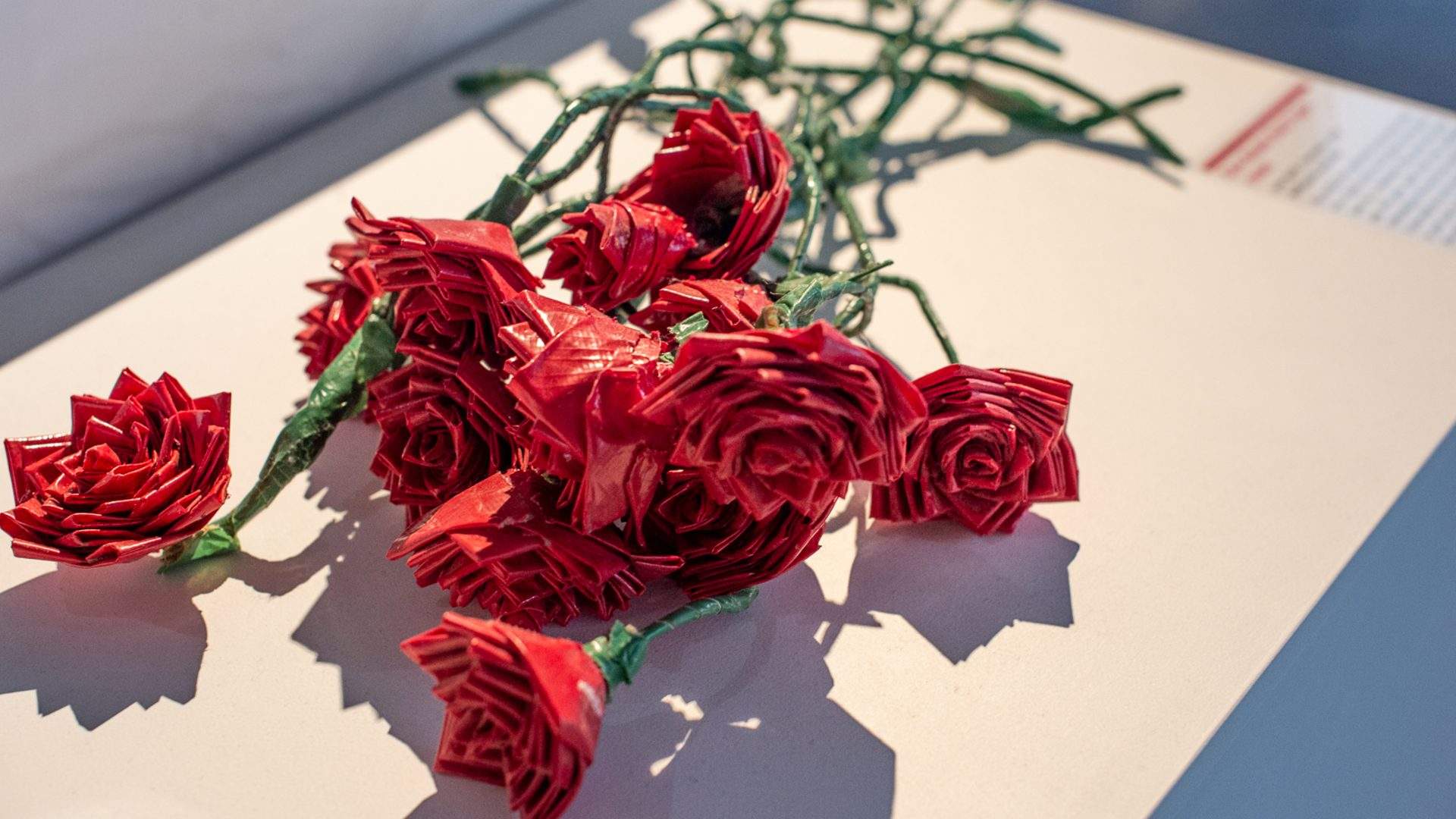 JUNE, 2006–DECEMBER, 2007, MELBOURNE, AUSTRALIA
The owner of a dozen duct-tape roses says, looking back, they serve as a reminder that difficult things pass. Made by a high school girlfriend for Valentines Day many moons ago, the roses are a symbol of the carefree spirit of young love, kept gathering dust for more than a decade, long after that love fizzled out, because it just didn't seem right to throw away a gift made with so much skill, time and patience.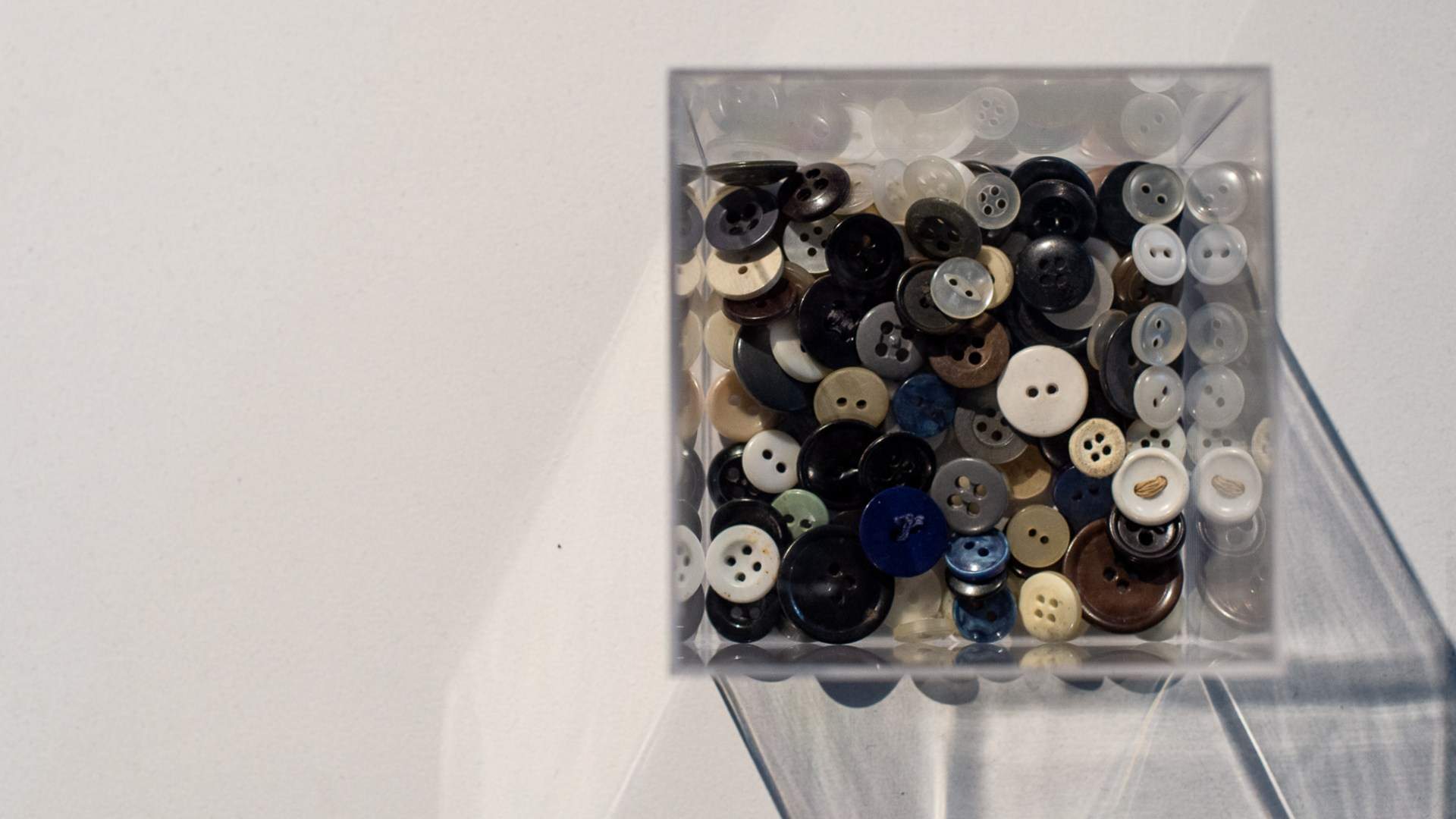 MAY, 2016–FEBRUARY, 2018, MELBOURNE, AUSTRALIA
Amid hundreds of artefacts in the museum's worldwide collection, revenge and vindication are pretty common themes — from the axe used to hack an exe's furniture to pieces, to a toaster taken across the country ("how are you going to toast anything now?"), to voodoo dolls made from shirts belonging to former lovers. Sometimes our methods of coping with pain are more productive than others. These buttons were cut from the clothing of a Melburnian's cheating ex before his possessions were given back to him. The story reads, "I found this act incredibly cathartic in itself, apart from knowing it would annoy him immensely. Sometime later, I sent him some buttons. Not necessarily the right ones."

THIRTEEN YEARS, HELSINKI, FINLAND
If we're looking for themes among the artefacts, infidelity sure is up there — a universal experience felt from Melbourne to Helsinki. In 2012, a wife sat on the floor of her hallway, cutting a small plastic figurine into pieces, waiting for her husband to come home so she could confront him about his affairs. His response to being caught out in his lies? To take the postcards of two American silent film stars, which his wife had said reminded her of them, from their place on her dressing table mirror, and tear them to pieces in front of her face.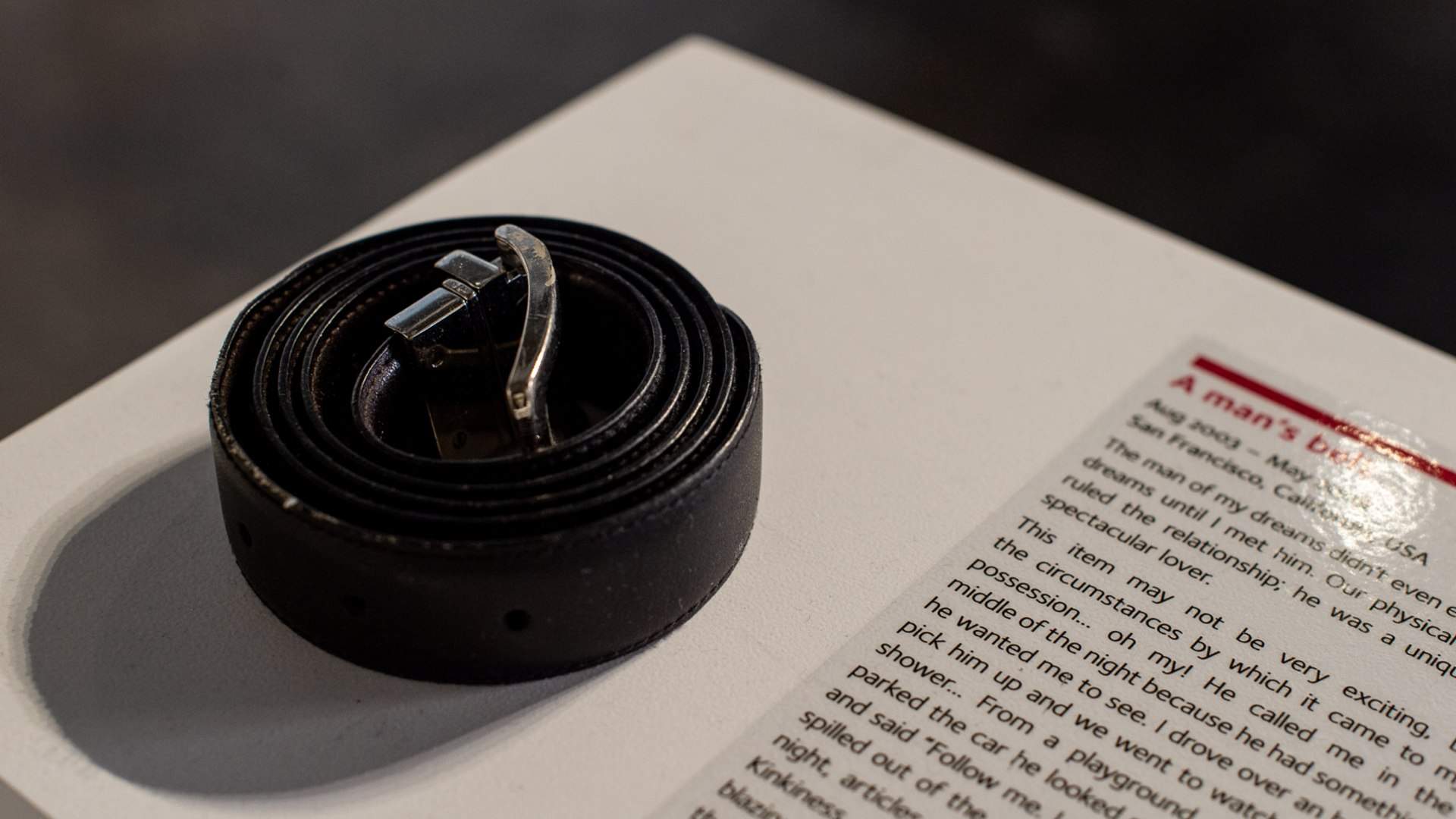 AUGUST, 2003–MAY, 2006, SAN FRANCISCO, USA
A belt left on the back seat of a lover's car, a mere week before a move away brought the passionate relationship to a stuttered end. Under the anonymity of the museum's format, the belt's accidental owner speaks candidly of watching meteor showers, naked, in a playground: "Kinkiness on a park bench underneath a blazing sky, there was more on fire than just those shooting stars." The item is donated as a way of saying thank you to the man that made them feel alive: "I never got the chance to tell him that I love him, but at least everyone who reads this will know."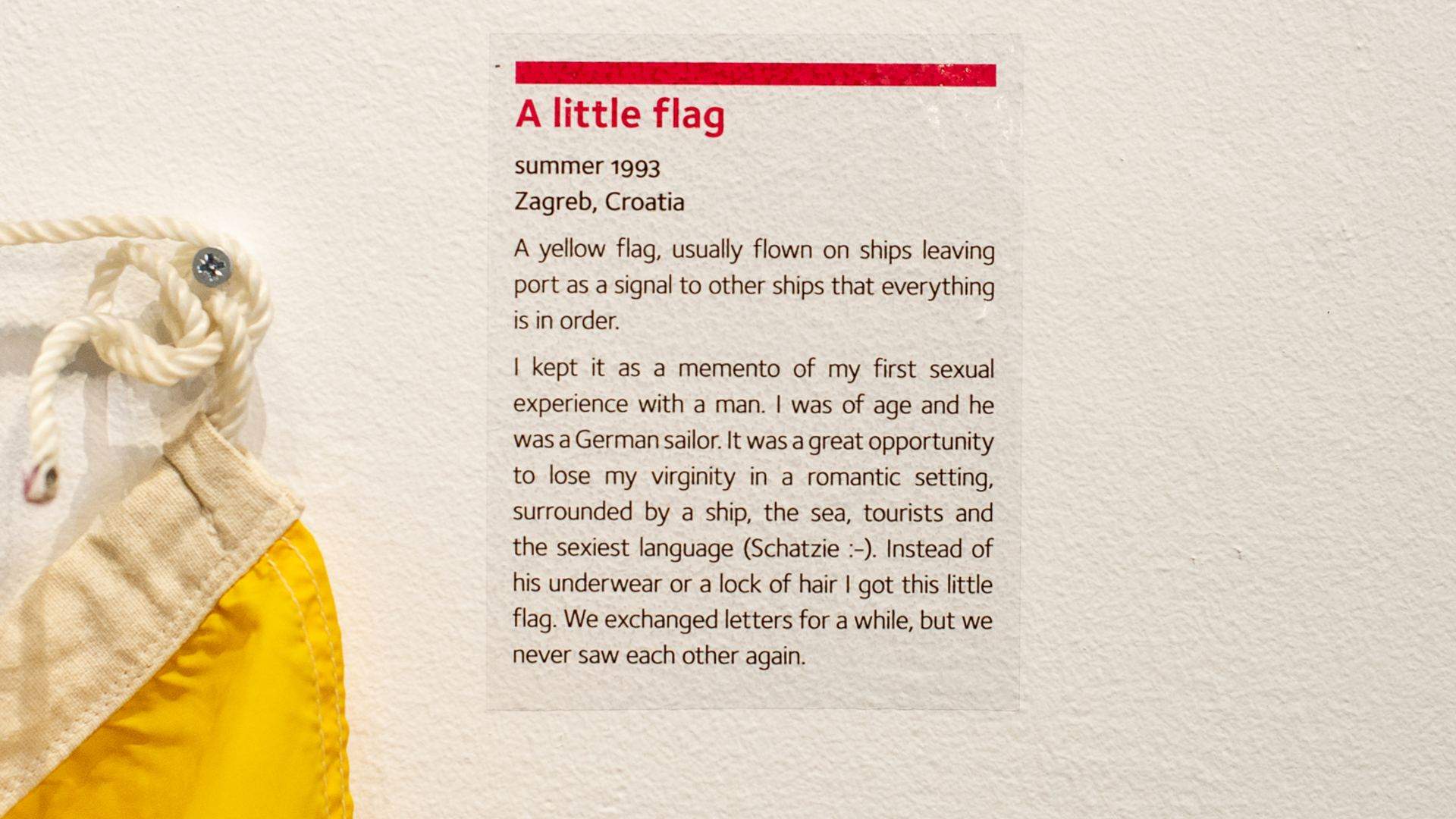 SUMMER, 1993, ZAGREB, CROATIA
Pieces in the museum aren't all representative of tumultuous, decades-long marriages ending in tears. We all have so many relationships throughout our lives — with family, friends, our bodies, fleeting romances and brief encounters — and the collection has become a space for saying goodbye to absent parents, lost limbs, and people we knew for just a little while. From in the middle of the Croatian War of Independence, a first sexual experience is remembered with a little yellow flag from the ship that witnessed it.

The Museum of Broken Relationships is at No Vacancy, Melbourne, from September 1–29. Entry is free and the gallery is open Tuesday–Friday, 12pm-6pm, and Saturday–Sunday, 12pm–5pm.
Images: Tracey Ah-kee.
Published on September 08, 2019 by Leisha Kapor