ARTS & ENTERTAINMENT
Ten of Our Favourite Australian Summer Camping Festivals
It's that time of year again — how many will you tick off?
Ten of Our Favourite Australian Summer Camping Festivals
It's that time of year again — how many will you tick off?
---
in partnership with

Summer is close, and so is the summer festival season. Now is the time to sit down and have a long hard think about where you're going to allocate the festival money you've been saving up this year. We reccomend the ten below. Whether you're in Victoria over New Years Eve for Beyond the Valley, or taking a trip to Tasmania later in the summer to Party in the Paddock, these festivals tick all the boxes when it comes to camping facilities, scenery, amenities, crowds and of course, music. Just so you know, we're running a competition with Teva where you can win yourself a pair of their Arrowood boots, a tent, water bottle and a whole bunch of camping things that will make your life easier. Pack your tent and your 24-hour deodorant — it's summer festival season.

LOST PARADISE
December 29-31
Glenworth Valley, New South Wales
Lost Paradise, held in the picturesque Glenworth Valley an hour from Sydney, has upheld an image as one of the more wholesome Australian music festivals. This is its third year, and it's set to be a banger. Lost Paradise is renowned for its food line-up, but it's well catered for in the camping department too, with the whole spectrum of outdoor living arrangements available — from super luxe glamping to renting a basic tent, with many stylish options in between. The holistic vibe appears in attractions like yoga, massages, sound baths, and kayaking. We're mostly loving the 2016 lineup though — Flight Facilities, Fat Freddy's Drop and Hot Chip are on it. Kapow.

SOUTHBOUND
January 8-10
Busselton, Western Australia
Western Australia's Southbound is popular with people who like tents. You can bring your own esky and food (not booze unfortunately), you can camp with your car and there are have loads of amenities available to use over the three day event. The festival takes place a few hours drive outside of Perth, make a trip out of it and go wine tasting, surfing and sky-diving. This year's line up has Hermitude, Drapht and Boo Seeka, among many others.

PARTY IN THE PADDOCK
February 10-12
Burns Creek, Tasmania
Party in the Paddock is yet another reason to love Tasmania. The festival takes place in White Hills, which is 25 minutes outside Launceston. The range of artists is huge — there's Sticky Fingers, Sampa the Great and The Bad Dad Orchestra, and then there's a huge number of spots reserved for new and upcoming acts. You'll likely find your new favourite band at PITP. It's known as one of the friendliest festivals going around, and there's free camping with a first in best dressed approach. See also: beer gardens, general stores, bathrooms, food and juice bars a plenty.

MEREDITH MUSIC FESTIVAL
December 9-11
Meredith, Victoria
Starting in 1991, Meredith Music Festival takes place in the country town of Meredith, Victoria. It's one of the longest standing festivals there is, and it is blissfully free of commercial intervention. It's finest feature is the fact that it's BYO. Yes, you may bring your own alcohol. Camping is free and self-allocating. Meredith is a nature-focused festival that marches to its own beat. Its extremely strict "no dickhead policy" should be instated at all festival across Australia. Right on. There are massages, Tai Chi and an 'Arch of Love' at Meredith, as well as an outdoor cinema. Also, Peaches is playing. We're in.

BEYOND THE VALLEY
December 28 - January 1
Lardner, Victoria
Having an energy supply tent area is sure to make your festival popular with campers. Beyond the Valley has one, it's called Electric City, and it certainly makes it a popular place to spend New Years Eve. It's free to camp, and the area has a pretty lovely view of Lardner Park in Victoria. There's the basic camping option, the luxury option, and the bell tent option. This year's lineup is killer — it's got Ladyhawke, Jarryd James, The Delta Riggs and Emma Louise.
SECRET GARDEN
February 24-25
Brownlow Hill Farm, New South Wales
With a a big emphasis on fancy dress and high detail costumes, Secret Garden is a 48-hour forest disco, and it's one of the most popular festivals going around. For those who like a condensed party full of shiny, colourful characters covered in glitter that look like disco tree fairies — the Garden might be your festival camping pick. Camping is free, tent hire is available and an always joyous list of acts is only announced after the festival sells out. It sells every year. That's confidence.

PARADISE MUSIC FESTIVAL
November 25-27
Marysville, Victoria
Rather than going for the big names, Paradise music festival focuses on getting the smaller acts, so it's one for the music connoisseurs. The three day event is held in Victoria, and has views over the Great Dividing Range. It's a pretty self-sufficient affair for campers — BYO pretty much everything, which is great news for those who like to do camping their own way. There's an emphasis on local and unsigned acts and a strong level of industry alliance at Paradise, it's not to be missed for devotees or those looking to discover their new favourite band.

STRAWBERRY FIELDS
November 17-20
Tocumwal, New South Wales
A celebration of art, sounds and creative expression, Strawberry Fields is an all encompassing sensory experience. A few hours outside of Melbourne, stages, venues and pop ups are like the pirate ship above are design-focused and curated to showcase art and music. There are workshops, experimental sounds, emerging artists and decor displays — this is an artistic-muso-camper's dream. It's one of the few festivals that allow RVs, teepees, tents, and caravans inside.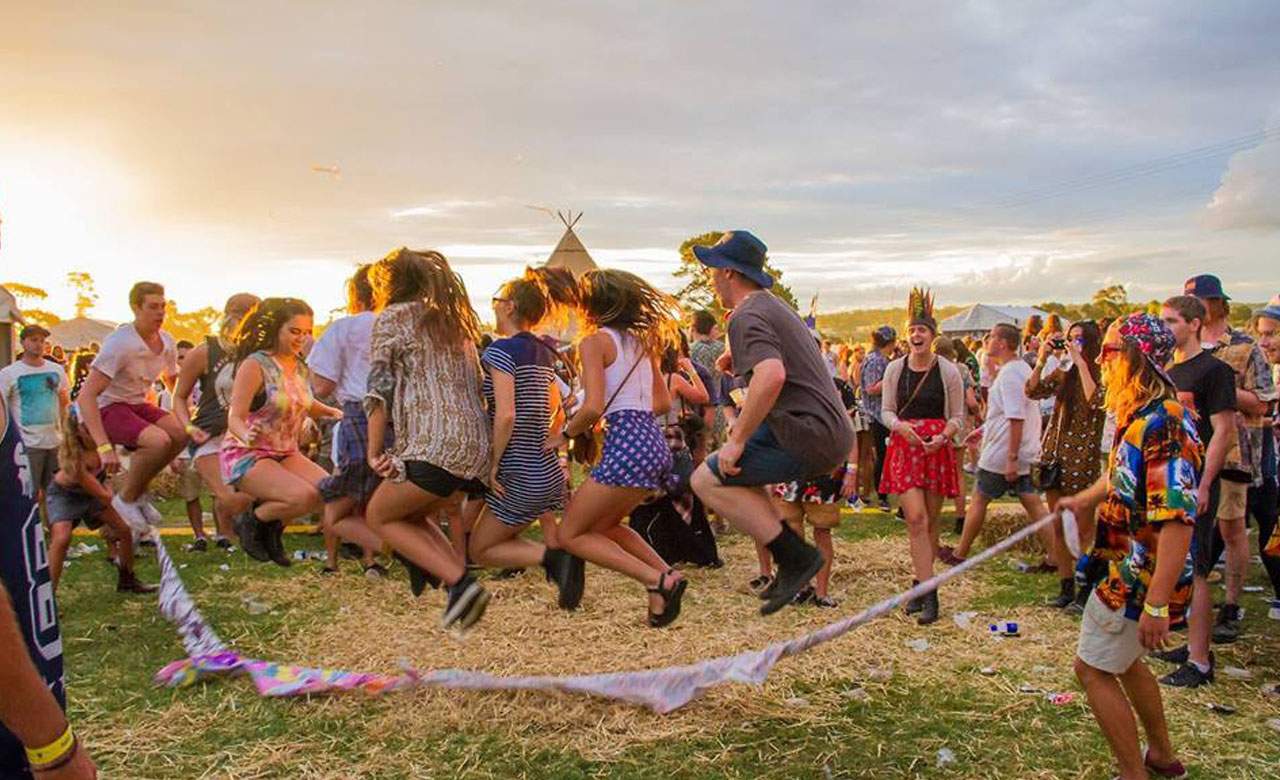 MOUNTAIN SOUNDS
February 17-18
Mount Penang Parklands, NSW
One of the more boutique music and cultural festivals near the Central Coast in NSW, Mountain Sounds scored RUFUS as headliners this year. Cars and camper vehicles are allowed on the grounds, and tents can be hired for the weekend as well. The amenities are basic, but abundant, and while it doesn't have some of the flashier conveniences of the others, it has a low-key and unpretentious vibe.

FALLS MUSIC & ARTS FESTIVAL
New Years Eve
New South Wales, Victoria, Tasmania and Western Australia
The Avalanches are just one of the artists who have just been announced in the full 2016 lineup for Falls Festival this year, alongside Childish Gambino, London Grammar, Grouplove, Broods, Jamie T, Parquet Courts and heaps, heaps more. As always, Falls will be heading to Lorne in Victoria for four nights, and Marion Bay in Tassie and Byron Bay on the NSW coast for three nights over New Year's Eve. They'll also be setting up shop in Fremantle for the first time with Falls Downtown, a two-day city festival slated to take place over the weekend of January 7-8.
We're giving away a whole heap of camping gear, in collaboration with Teva. A pair of hiking boots, a tent, water bottle and a whole bunch of extras will come in very handy this festival season. Head here to enter.
Published on November 03, 2016 by Monique Lane