FOOD & DRINK
Craft Brewery Deeds Is Opening a Taproom and Bar in Melbourne's South-East
The 150-person venue launches this weekend — and it's got a massive 28 beer tap list.
For years, its beery creations have appeared at leading bottle shops, graced the Good Beer Week lineup and sat among the winners of the GABS Hottest 100 Aussie Craft Beers list. Now, finally, Deeds Brewing will have a taproom and tasting bar to call its own with its Glen Iris brewery set to open to the public from this weekend.
Located in a 2600 square metre former mechanics workshop, the new venue will launch on Saturday, June 26. Showing off the results of an extensive six-month makeover, there is room for 150 people across a ground floor and booth-filled mezzanine level, featuring a 20 metre-long bar and a sprawling kitchen. It's a lofty, open, mod-industrial space, offering views of the brewing equipment and fermentation tanks from wherever you sit.
A 28-tap lineup will focus largely on Deeds' own house creations, pouring year-round sips like the XPA and Juice Train NEIPA alongside a rotation of seasonal and limited-edition brews. The beers are backed by a curation of local wine, Aussie spirits and cocktails, plus brewery tours and tastings will also be on offer.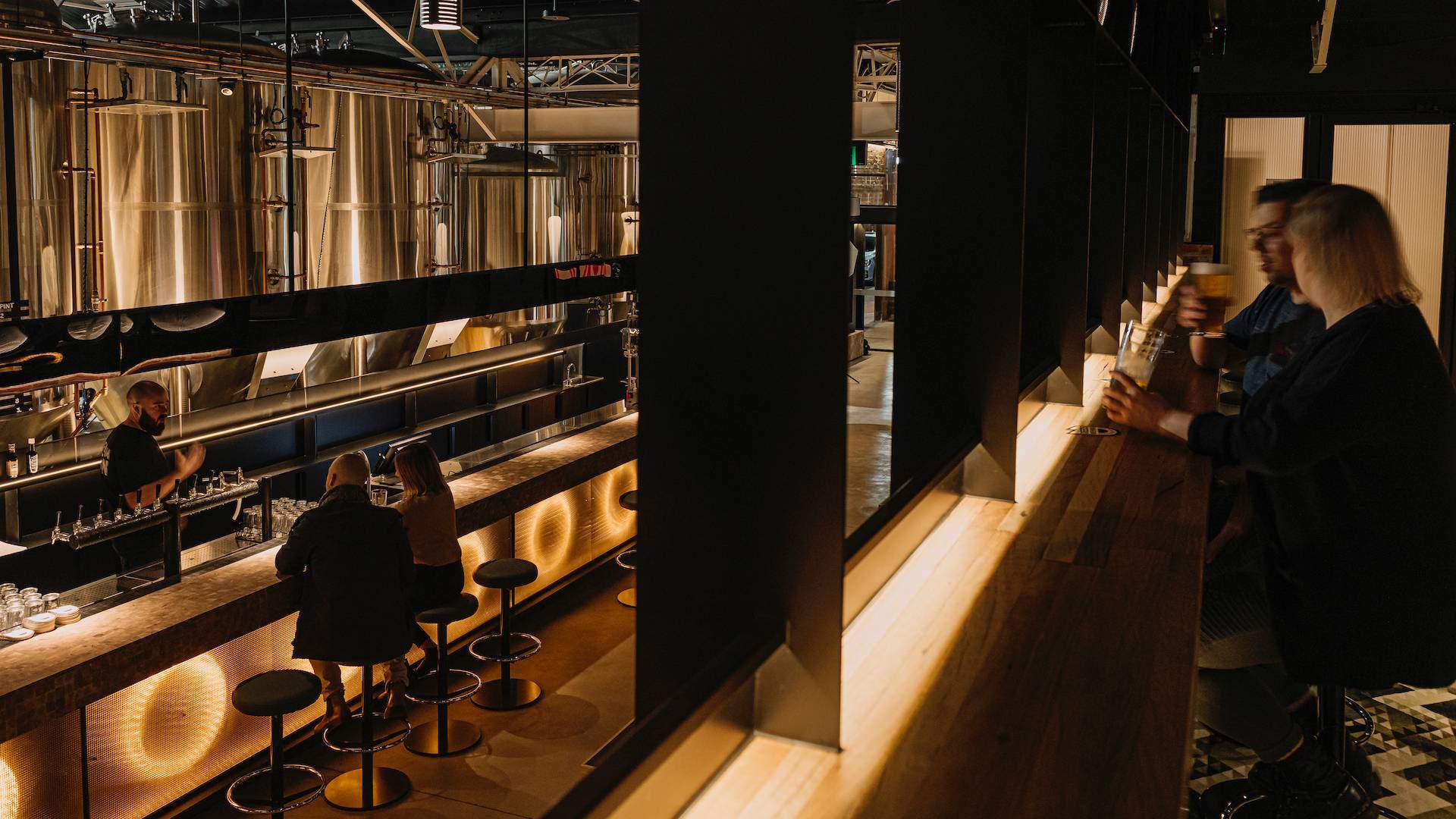 Head Chef Paul Kasten (Stomping Ground, Host Dining) is delivering a menu that's at once approachable and clever, incorporating both beer and classic beer ingredients throughout. You're in for bites like focaccia teamed with malt butter, hop-cured salmon with creme fraiche and Geraldton wax, chicken wings featuring fish sauce caramel, and brussels sprouts with pale malt and onion cream.
Blue Grenadier is coated in a Deeds draught batter then matched with malt vinegar; a wagyu MS9+ blade fillet comes alongside an ale glaze and green chilli harissa; and pork cheeks feature a mole sauce and mizuna (Japanese mustard greens). And if dessert's on the cards, prepare to be won over by the likes of a stout brownie and a malted whipped cheesecake with caramelised puff pastry. Paired with a serve of Deeds' latest dark, malty creation, of course.
Find Deeds Taproom & Kitchen at 4 Paran Place, Glen Iris, from Saturday, June 26. It'll be open 5.30–11pm weekdays, and 12–11pm Saturdays and Sundays.
Published on June 22, 2021 by Libby Curran